There is nothing cozier and inviting than sitting near a warm, roaring fire when outdoors. Campfires have been the symbol for camping trips and festivities for many years and producing that fire has evolved in ways as well. One of its great evolutions is portable propane fire pits.
Portable propane fire pits have been gaining quite a following over the years for those who are constantly out on a camping or glamping trips with friends or with their families. It is lightweight, compact, and easily lugged around, making it a perfect companion for toasting marshmallows or just keeping warm at night. It runs on propane from a tank you can bring with you or connect it to the gas line from your RV. The ignition switch and fuel valve will help you control how much gas is released to create the fire.
There are a couple of reasons why most people would simply choose propane fire pits over woodburning ones:
The propane fire pits burn without smoke or smell which automatically reduces any smokey smell clinging on to your clothes, hair or other camping things.
Setting up these portable fire pits are easier and less messy since you don't need to gather or chop wood just to get a flame going.
Cleaning up after is quicker and easier since you do not have to deal with left over ashes, soot and hot coals once you are done. You simply turn the ignition off, disconnect the valve and store away.
Safety is another advantage that propane fire pits have over wood-burning ones since it does not give off sparks from embers or leave hot coals on the ground which can start wildfires during dry season.
You will have an easier time controlling the heat that your portable propane fire pit gives off with its knobs. As long as you have continuous flow of gas, you will have sustained high or low level of heat unlike a wood campfire's heat output which diminishes as the wood burns down.
A portable propane fire pit could probably last up to 8 to 9 hours with moderate gas outputs. If you are using a 20lb propane tank, probably around 4 hours when you run your fire pit at its maximum output. But, with prolonged use, you will be able to successfully gauge just how much propane you need or can go through when using it.
If you are ready to experience the convenience and efficiency of a portable propane fire pit, we have gathered the 10 best options you can find on Amazon.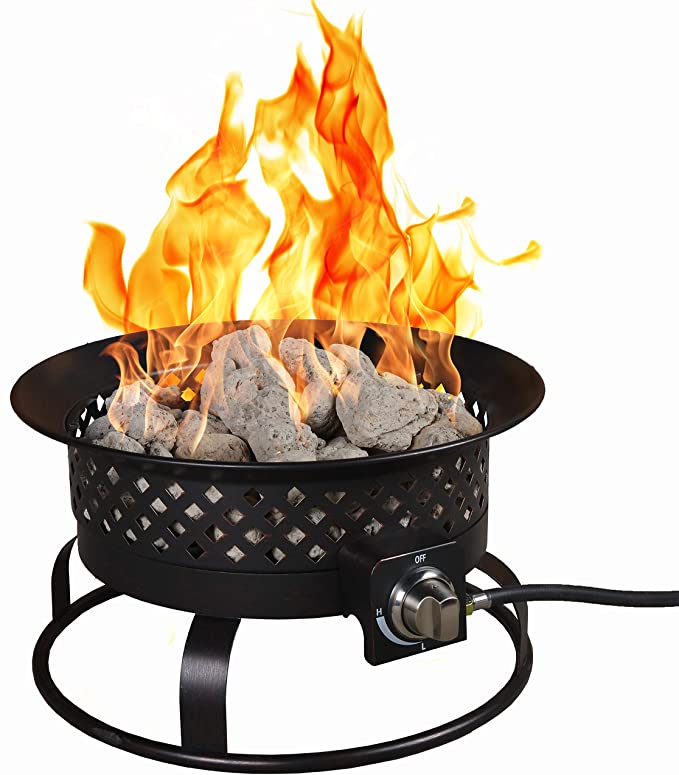 Bond Manufacturing Outdoor Firebowl
This 18.5†Aurora fire bowl is Amazon's choice for portable propane fire pit. It is made out of stainless steel and metal frame with a bronze, stone finish. It weighs about 18lbs and 14.7†high with 50,000 BTU output and uses a 20-pound propane tank. This includes a locking lid, tank holder, gas hose, regulator valve, and pumice stones to create that perfect fire ambiance.
Advantages
Locking lid makes it easier to store and transport.
Easy to set up and comes with a lot of lava rocks.
Auto-ignition function allows for instant use anytime.
Stainless steel control panel and burner.
Disadvantages
Does not include a tank hideaway.
Igniter/Starter can be a little bit tricky in the beginning.
Consumers say that the rocks were of poor quality that turns black and is unsightly.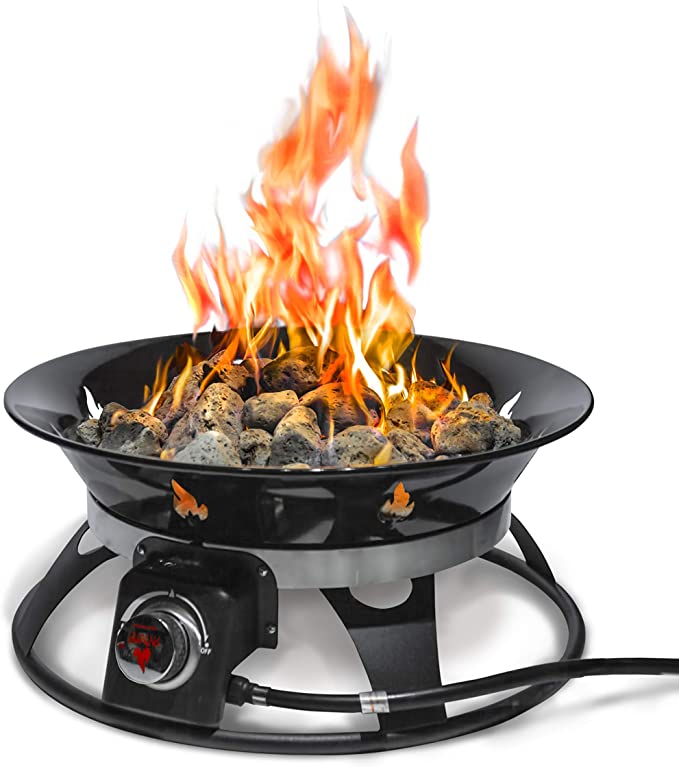 Outland Living Model 863 Portable Propane Fire Pit
The Outland Firebowl 863 is a travel size fire pit which provides a clean and smokeless flame for you to enjoy a warm campfire. It measures L 21†x W 21†x H 9.5†and has a total output of 58,000 BTU/HR with a max gas supply pressure of 250 PSI with manual ignition. This fire pit is made out of durable high-quality steel with protective enamel finish which makes it last longer. The stainless-steel burner and fasteners are durable enough for dependable longevity.
Advantages
CSA approved fire pit which is safe to use during most campfire bans.
Complete fire pit kit that includes pre-attached 10-feet hose, fully adjustable regulator chrome valve knob and 4.4lbs natural lava rock set designed to enhance flickering effect.
Includes cover and carry kit.
1 year manufacturer's limited warranty.
Disadvantages
Hose might flake off and disfigure.
Hissing noise instead of natural cackling fire sound.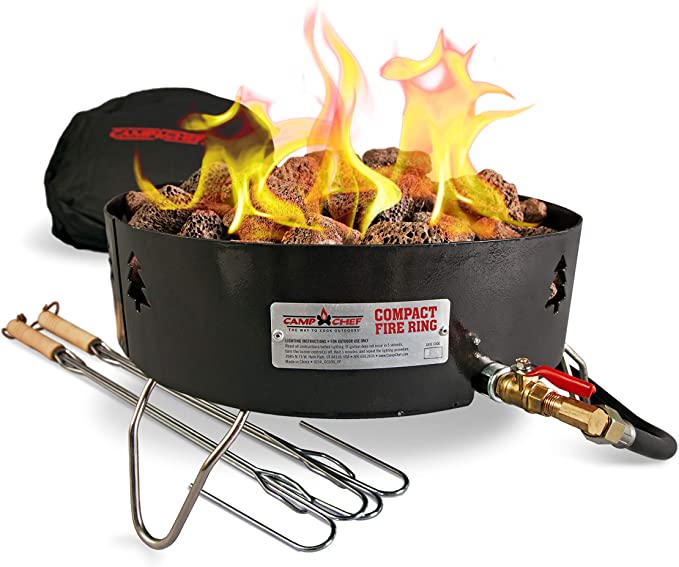 Camp Chef Compact Portable Propane Fire Pit
The Camp Chef travel size fire pit is lightweight and measures 15†x 15†x 7†and has a total output of 55,000 BTU/HR. It comes with a carry bag, 5-ft hose, fully adjustable heat-control knob, 2 extendable roasting sticks, and lava rock set for that natural flickering fire effect. It is made from durable heavy-gauge steel with a decorated pine tree cut out, perfect for roasting marshmallows and even cooking hotdogs.
Advantages
Optional natural gas conversion.
Comes with 12lbs of lava rocks.
Easy to carry and store as legs are foldable.
Easy to put together.
Disadvantages
Lava rock dust spills in the bottom.
There is no starter.
Bake lava rocks for 10 mins before safe from popping.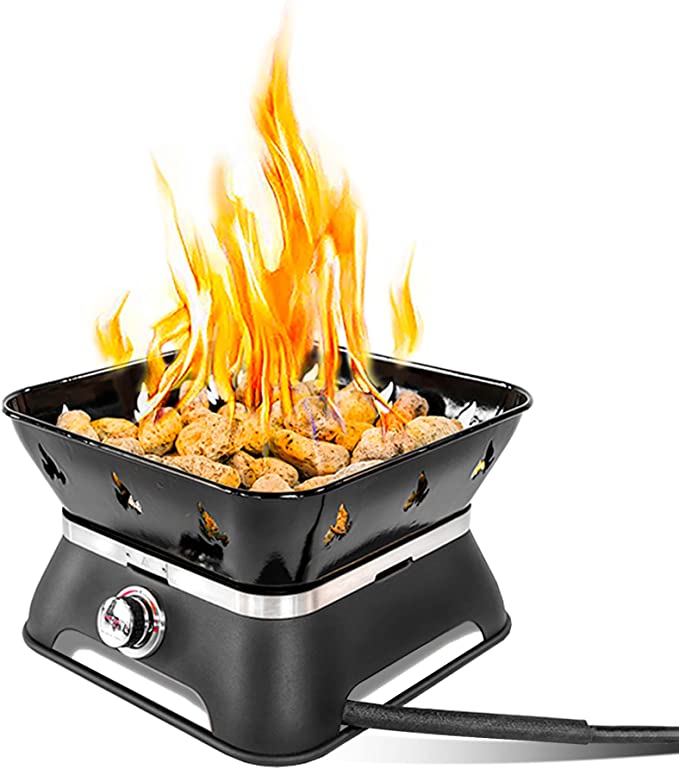 Outland Living Firecube
The Firecube is a square shaped portable propane fire pit is the smallest, lightest and most portable fire pit from Outland Living. It's dimensions are 14†x 14†x 9†and weighs around 19.4lbs and has a total output of 58,000 BTU/HR. This fire pit is constructed with high-quality durable steel and has a protective enamel finish, making it last longer. It also has superior stainless-steel burner, fasteners as well as contemporary decorative belt making it quite stylish. The square shape also makes this fire pit quite unique looking.
Advantages
Comes complete with fire bowl, cover and carry kit, pre-attached 10ft hose, chrome sleek knob and bezel as adjustable regulators and 4.4lb natural lava rocks.
Very quiet gas regulator.
Simple, solid and has modern design.
Folding legs for easy storage.
Disadvantages
Low flame output.
Heavier than expected.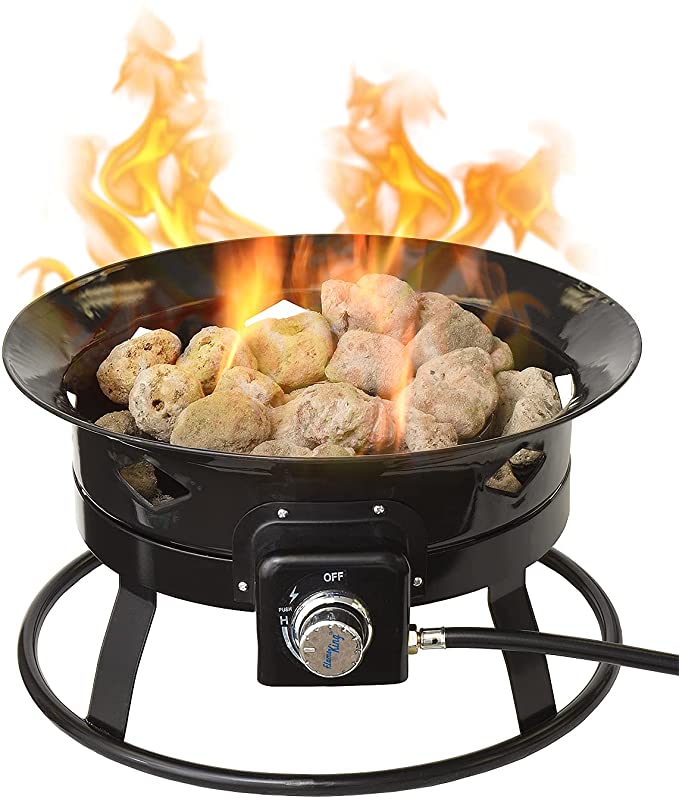 Flame King Portable Propane Fire Pit
The Flame King set is an all-weather fire bowl which delivers smokeless and clean flame. It has a 58,000 BTU/HR output and measures 19â€x 19†x 10†and is CSA approved. It has a pre-attached 10ft hose with regulator, adjustable dial with chrome valve knob and natural lava rock set for that enhanced, flickering fire effect. The fabric strap handle makes it easy and comfortable to transport as well as a propane tank stabilizer ring to keep tank from falling while the fire bowl is being used.
Advantages
Sturdy and portable.
Easy quick set up with no tools required.
No need for a lighter (self-igniting piezo system.)
1 year manufacturer's defect warranty.
24†diameter bowl fit to warm a group of people around it.
Disadvantages
Does not have enough lava rocks.
Some consumers got second-hand products so check upon delivery.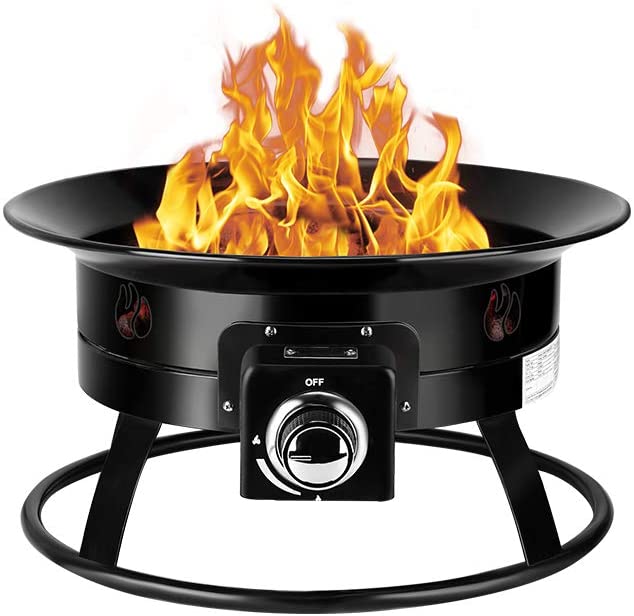 Camplux Portable Propane Fire Pit
Camplux portable propane fire pit is an iron outdoor fire bowl with manual ignition. It is lightweight and compact, fitting nicely in the trunk of your car with its 19.29†x 19.29†x 11.42†and weighs 22lbs. The classic matte black burner has a heat output of 52,000 BTU, perfect for tailgating parties, camping and RV travels. It is made out of high-quality steel and enamel design for longevity and durability.
Advantages
Set ups in minutes and no tools required.
CSA certified and usable during burn bans.
Comes with 8.4lbs of natural lava rocks and 4 pcs cylinder hose.
Enamel design surface for high temperature resistance and easy to clean.
Disadvantages
No handle or cover of any kind.
Rocks might accidently pipe out when in use.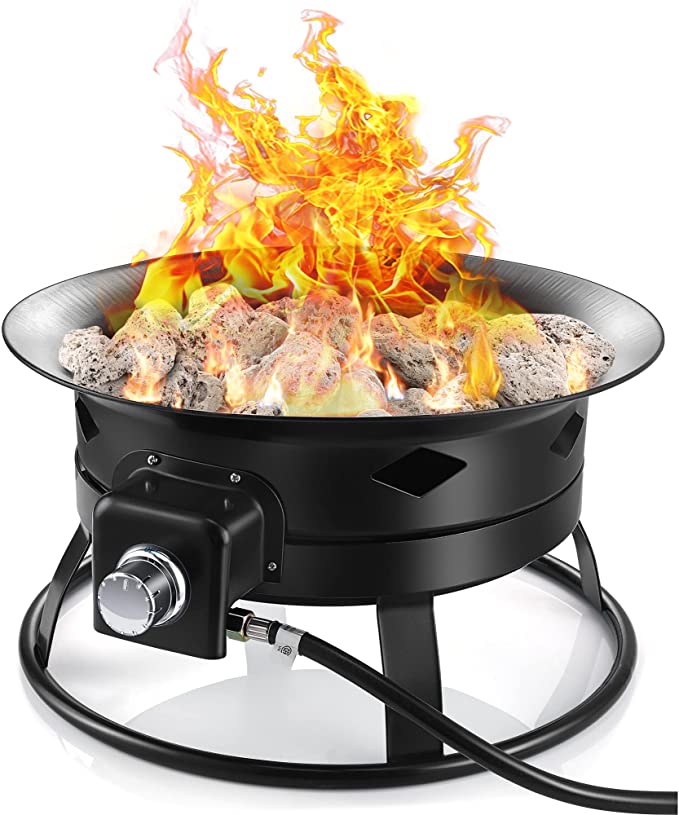 Kohree Propane Fire Pit
The Kohree portable propane fire pit weighs 20lbs and has a 19†diameter, perfect for that cozy campfire set-up. It is constructed from stainless steel with a black powder coating making it weatherproof and rust-resistant even with long-term use. It has a 58,000 BTU fire output and comes with a propane tank stabilizer ring, lid, and strap for easy transportation and storage. This portable propane fire pit requires no assembly before use.
Advantages
Flexible 10ft propane gas hose.
Auto ignition so no lighter needed.
Has adjustable push start valve alloy knob regulator.
4.4lbs of lava rock comes for free.
Disadvantages
Cannot be left in the rain.
Gas hose and some screws might be loose.
Lid has no handle.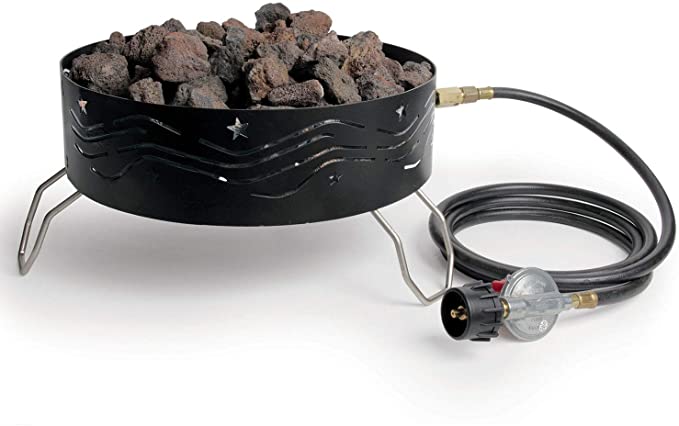 Camco Portable Outdoor Fire Pit
The Camco portable propane fire pit has a 14.5-inch fire tray and has a maximum heat output of 65,000 BTU/HR which is easily adjustable with its regulator. It includes a 8-foot propane hose to connect to any standard LP gas cylinder. The round fire pit has a lovely, whimsical design which makes it pretty stylish. Its dimensions are 16.2 x 15.9 x 7.9 inches and weighs 22.75 pounds making it easily portable and stored.
Advantages
Legs fold in making it storable.
Comes with lava rocks.
Compact and lightweight.
Easy to set up.
Disadvantages
Rocks can pop out and become heated projectiles.
Takes some time to get used to working the safety valve.
Sherbeck Portable Propane Fire Pit
This 20†portable propane fire pit is made out of all-tempered steel construction with a heat-resistant finish ensuring that it can be used for a long time. It is ready to use right out of the box with a one-click spark ignition system which does not need a lighter. This outdoor fire pit includes a fire pit lid, a propane gas hose, a carrying strap, and a propane tank stabilizer. It burns at 52,000 BTU and is easily adjustable.
Advantages
Comes with 10lbs of fire pit rocks.
No assembly is required.
Compatible with any standard propane tank nozzle.
Easy to carry with carrying case. (Weighs 10lbs)
Made of stainless steel with black powder coating, weatherproof & rust-resistant for long-term use.
Disadvantages
Check product upon delivery for damages/dents.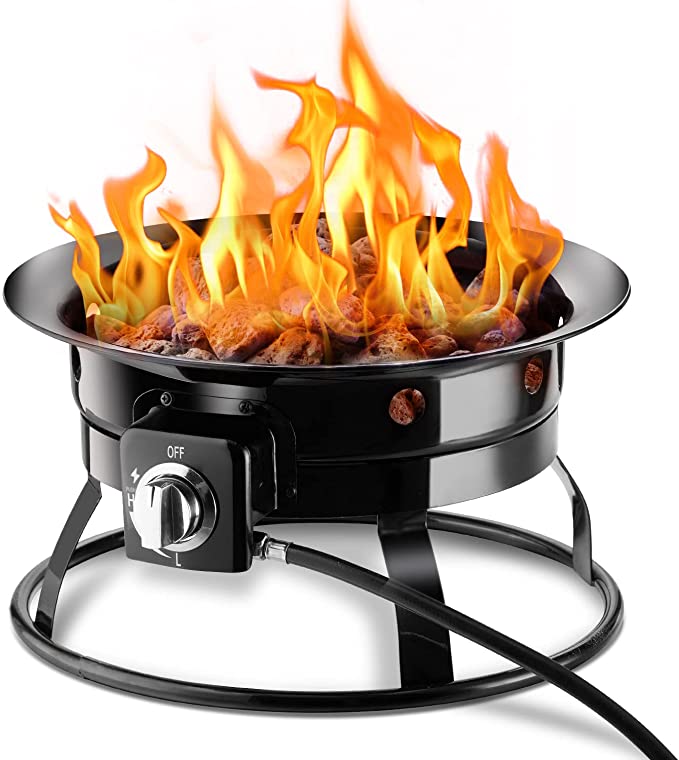 Ainfox Outdoor Propane Fire Pit Bowl
The Ainfox outdoor fire pit bowl is perfect for your camping trips and nights at the beach with its 58,000 BTU heat output. It weighs around 20lbs and has a dimension of 18.5' x 18.5†x 10.24†making it easy to carry and bring to tailgating or outdoor family events. It is designed with an adjustable push start valve alloy knob regulator and auto ignition so you can easily start your fire. Package includes a fire bowl, 10 ft hose, fabric handle, 4 bags of lava rock and a user manual.
Advantages
Easy to assemble without need to purchase additional tools.
High-pressure single burner cooks, boils and grills.
ETL certified.
Steel and Stone construction material making it sturdy and long-lasting.
Disadvantages
Included pumice rocks tend to easily grind to dust.
Final Verdict
There a couple of great propane fueled fire pit but the Outland Living Model 863 Portable Propane Fire Pit is our choice for best outdoor propane fire pit in 2022.
This fire pit might be travel size and easy to bring along in every outdoor activity but it packs a powerful 58,000-BTU heat output so you can be sure to have warm and toasty nights. It is backed up with strong stainless steel burner and fasteners so it is highly reliable.
It comes fully equipped with a cover and carrying kit. Do take extra care of its 10ft hose to keep it in good condition for a long lasting usage.
What to Consider When Choosing Your Portable Propane Fire Pit?
Heat Level – You have to remember that a bigger portable propane fire pit does not necessarily mean that it will automatically burn hotter. These products will not emit the same intensity of heat you would usually get from an actual bonfire. A 58,000 BTU can be high enough to do a good job at keeping you warm outdoors but if you want to have a stronger flame opt for the 65,000 BTU/HR.
Material – You have to make sure that your propane fire pit is made out of stainless steel to ensure its durability and imperviousness to rust. It also is the type of material that will give you the most balance between price, weight and durability. Copper ones can be a little bit more expensive while cast iron options are not really practical because of the weight which defeats the purpose of portability.
Appearance and Accessories- Check what comes with your portable propane fire pit to make sure that you have the accessories that will make using and carrying your fire pit efficient and convenient. Lids with locking features and sturdy handles is also important to be able to transport it without mess. You can also choose a matte or glossy finish as well as designs that can fit your style perfectly.
Safety- Even though propane fire pits are technically safer than burning wood, it is still not an excuse to be complacent. Make sure that you have a longer hose (10ft or longer) to keep the propane tank a good distance from where you are lounging with your fire pit. Remember, you are dealing with combustible gas. Make sure you temper your gas output properly when you are igniting for the first time. If you feel safer with an auto-ignition, then it is best to avoid using a lighter. Also, make sure your fire pit is CSA or ELT approved because it means the parts and accessories of your product has been tested without malfunctions.
Overall, portable propane fire pits makes setting up campfire easy and speedy. You can also take it along with you on the beach, camp sites or tailgating without having to worry about having enough wood or coal to burn. There is no need to struggle with starting a fire or having to consistently tend to the burning embers to keep the fire going or maintain its heat output. It might not have the same intense temperature that a wood-burning fire will produce but it is enough to keep you warm and cozy. Of course, if you want to be able to grill or cook, it is best to opt for a wood burning fire pit however, if you are just thinking of making some s'mores then this portable fire pit is perfect. Most of all, you do not have to worry about the smell of smoke clinging on to you and your stuff while you enjoy sitting by the warm fire all night long. Best of all, you don't have to clean up ash after or worry about burning a patch of the ground or starting accidental forest fires!

Hi, I'm Adam and I'm a HUGE fan of Food and Cooking.
Do you enjoy grilling sessions with your family while staring at the beautiful fire pit flames?
Flame Gorilla is the site to learn how to have that perfect backyard experience.