It is always fun to have a gathering around a roaring campfire as you grill food, make s'mores while enjoying drinks and conversation. However, safety should be one of your top most priorities. You have to remember that when cooking with open flame or even just enjoying the warmth of a blazing fire pit, you are dealing with something live and can be a little unpredictable.
Good thing there are tools or equipment that are made to ensure that your camping or grilling activities remain danger free!
A fire pit ring or a campfire ring is a framework which is set directly on the ground tasked to contain fire and prevent it from accidentally spreading outside its perimeter. This will ensure that you can continuously enjoy your fire pit activities without worrying about starting a forest fire or setting your backyard aflame.
Your fire pit can last up to a year or even a life-time, depending on how well you take care of it. There are fire pits that are made of stone, bricks, or cinder blocks and the best way to reduce the stress from the raging heat and prevent cracks is to have a metal barrier placed in the opening of your fire pit. The ring is also responsible for keeping the integrity and structure of your fire pit and where it is situated by containing some of the extreme heat and flames, slowing down the damages in its adhesive or masonry. This ensures that your pit's long-term façade or appearance is kept protected for a long time.
So, whether you are just building your own fire pit or finding ways to take care and ensure its effectiveness while keeping everything safe, here are the top 10 fire pit rings that can definitely help you achieve your goal.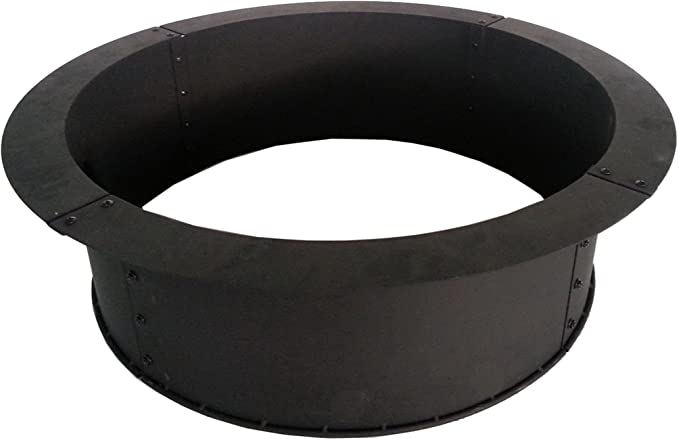 Pleasant Hearth Solid Ring
Pleasant Hearth's solid fire pit ring has a classic style that can fit any backyard fire pit perfectly. The solid, black ring is made out of durable solid steel construction with hardware that keeps the structure solid and secure. Its dimensions are 33.5 x 33.5 x 10 inches and provides heat all around. It is perfect to build bricks around and weighs 36.08lbs.
Advantages
Steel mesh protection for sparks and embers.
Large wood capacity: 28†inner diameter.
Easy to assemble.
Rolled steel at the bottom adds durability.
Disadvantages
Rusts easily, especially the screws and bolts.
The original finish is low quality.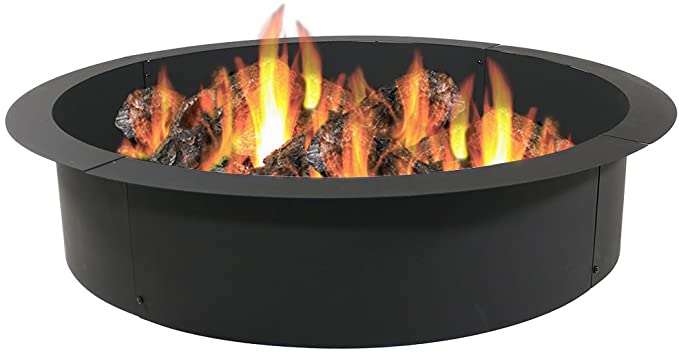 Sunnydaze Fire Pit Ring
This fire pit ring is heavy-duty and made out of 2 mm thick steel metal construction. It is finished with a high temperature paint in order to last all weather types as well as manage and contain the heat efficiently. It has a 39†inside and 45†outside diameter as well as 10 inches tall so it is the perfect size for a gathering around the fire. This can be used in-ground or above ground fire pit liner.
Advantages
Portable and can be moved to any desired location. Weighs 32lbs.
Large 4-piece insert kit is easy to put together and assemble.
Perfect for a DIY fire pit.
1 year manufacturer's warranty.
Disadvantages
Shipping problems may cause dents and damage.
Fire pit ring liner only and has no bottom.
Paint tends to chip off easily after couple of uses.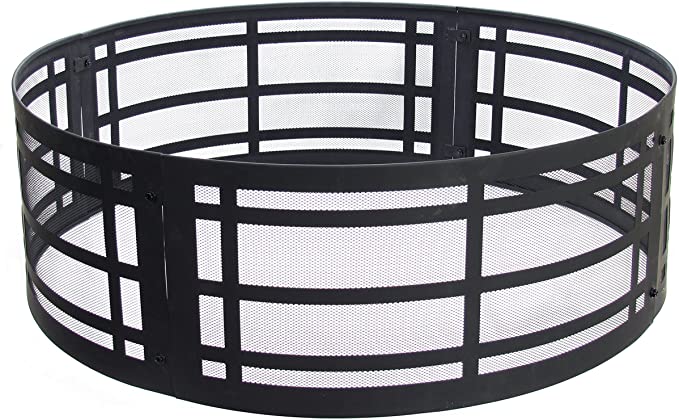 Pleasant Hearth Classic Fire Ring
This fire pit ring is made out of alloy steel which boasts of a sturdy construction. It is Amazon's Choice for fire rings with a large 36†diameter which can fit a load of firewood to keep your fire side party going up to the wee hours of the morning. It weighs 10.12lbs and can be moved, carried or taken to different areas around the backyard or even in outings. It is designed to provide 360 degrees view of the fire, ensuring that you and your guests remain cozy and warm all-around.
Advantages
Size works perfectly with most standard fire pits.
Easy to assemble.
Mesh protects from flying embers and popping embers at the bottom from coming out.
Portable and lightweight enough.
Disadvantages
Metal is a little light and might easily bend out of shape.
Consumers had trouble with the screws.
Material is flimsy and prone to rusting easily.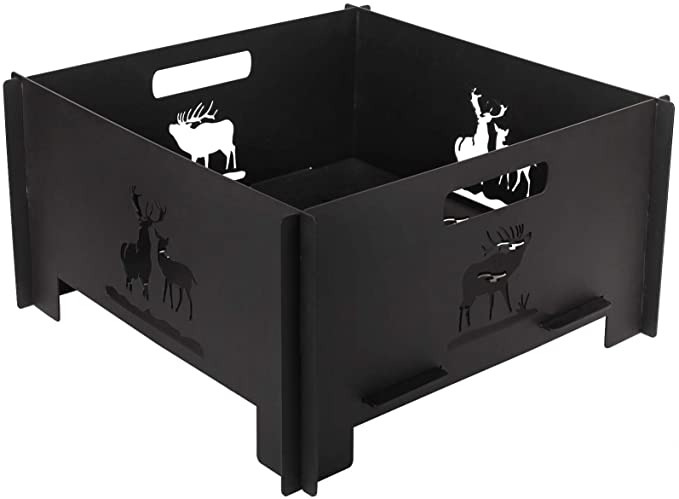 INNO Stage Portable Plug Fire Pit Ring
The INNO Stage portable fire pit ring is designed into 6 pieces which is easily assembled. It has a simple design and style that can add a touch of class in your backyard fire pit. Its dimensions are 15.8†x 7.8†x 15.8†and crafted from heavy duty-iron, 2.5mm thick steel. It features a black coating that is high-temperature resistant. The bottom flame hole ensures efficient combustion of wood or charcoal.
Advantages
Stylish and safe. Spark Screen has a hollow elk design surrounding it.
Comes in two sizes: small and large.
Comes with waterproof cover for protection while not in use or in rainy weather.
Includes portable carrying bag.
Easy assembly by just putting the slots together.
Disadvantages
Bent panels might be hard to slide into groove upon assembly.
Bottom is too low on the ground.
Paint might easily scratch.
Steel might warp after a few uses.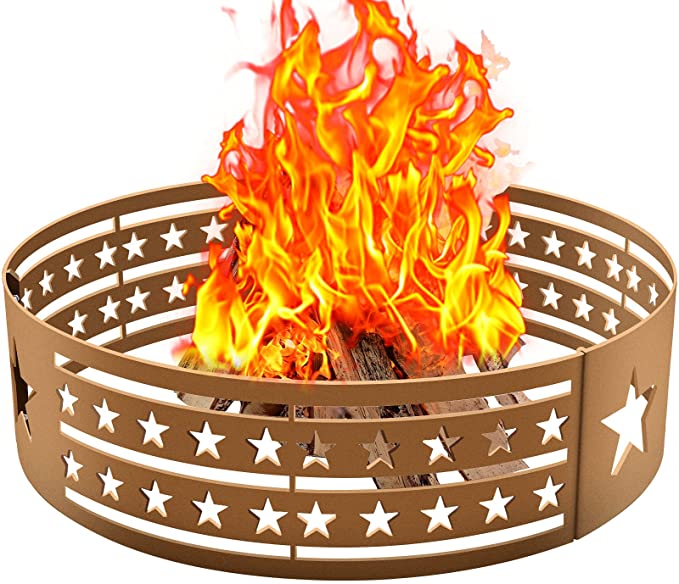 Amagabeli Fire Pit Ring
The Amagabeli 36†fire pit ring is built for heavy duty function with durable 2mm thick steel. This ring is large and deep (36†L x 10†H) which can fit a large amount of wood for the perfect roaring fire to warm up a number of people around it. It is made out of 3 sections that you can simply connect and completely assemble in less the 5 minutes. It is transportable and can be taken anywhere you need it to be whether on your backyard, deck or camping or at the beach.
Advantages
It has a bronze high temperature paint finish for heat and rust resistance.
Stylish cut out and hollow design.
Design openings also allows for great airflow to maintain a good blaze.
Highly portable.
Disadvantages
No mesh or screen protection.
Screws are sometimes misaligned.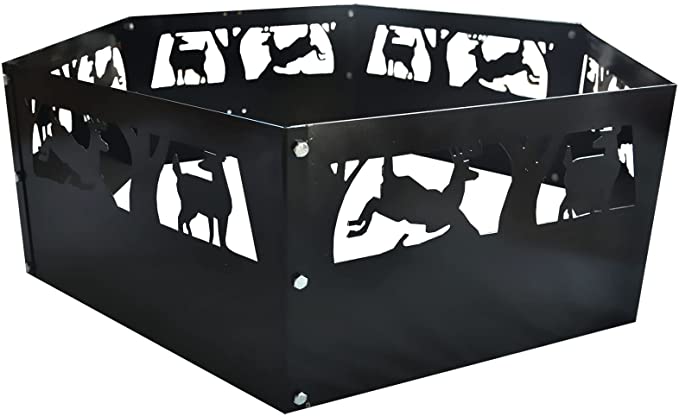 Andgoal Woodburning Hexagonal Fire Pit Ring
The Andgoal Hexagonal fire pit ring is a 6-piece assembly set that comes in two sizes: large (12â€) and small (9â€). It is manufactured as a heavy duty fire pit ring, made with durable steel and coated with high temperature paint for high resistance to heat. The surface is smooth and sturdy, made out of iron sheets, powder-coated as well for high heat resistance. It is portable and can be used as in or above ground fire pit ring liner.
Advantages
Easy to assemble and comes with prepared accessory products: fire pit ring spanners, ring bolts and nuts.
Decorative pattern with tree branches and moose cut-outs for style and improves airflow for consistent fire burning.
Contains toggle hook to easily hold flame and control ashes of fire.
Has 1 year parts replacement warranty.
Disadvantages
Metal seems flimsy and easily deformed.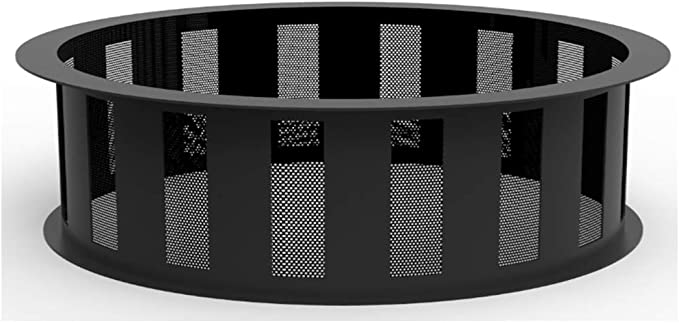 Bond Manufacturing Fire Pit Ring
This Scott's Valley fire pit ring is Amazon's Choice for steel fire ring. It is the perfect solid steel, 4-piece for your backyard's fire pit. The fire ring is 36†in diameter and 12†high, weighing 15.8lbs so it is pretty easy to bring along for any outdoor fun like a bonfire on the beach or a campfire in the woods. The finish of this product is steel and stone which gives it a more organic style.
Advantages
The vertical steel stripes have mesh between them to protect against popping or flying embers.
Comes with a 22†steel poker to keep the fire blazing continuously.
Easy to assemble and can stack neatly after use to conveniently fit storage.
Easy to clean.
Disadvantages
No base surface within the circle if used in a camp or beach setting (fire will burn directly on ground.)
Bolts and bottom seam are not long-lasting.
Poker might be too small for moving logs in the fire.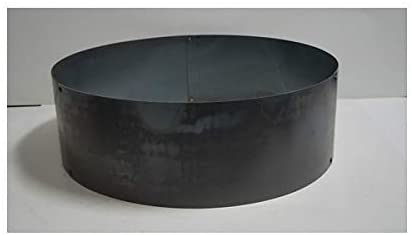 PD Metal Steel Campfire Ring
The PD Metal Steel Campfire ring is a rustic and oval style fire pit ring. It is made with high quality, heavy-duty steel. Its dimensions are 42 x 12 inches and weighs 55lbs making it wide and sturdy enough to withstand a lot of logs for a cozy fire. This fire pit ring has a mild steel finish that will oxidize into a rustic finish.
Advantages
Rolled out to be thick enough but not sharp on the edges which is safe for children.
The raw metal make up makes it less susceptible to too much rusting.
Large and can make a solid permanent fire pit.
Easy to assemble and comes with the tools for it.
Disadvantages
Consumers think its overpriced.
Not light enough to be portable.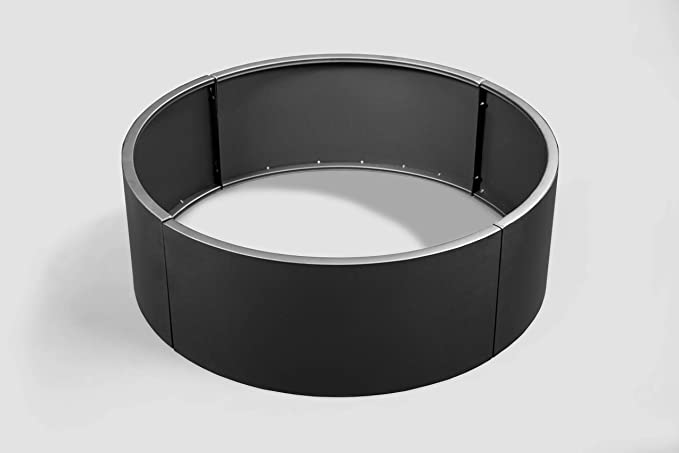 Hanie Design Fire Pit Ring
The Hanie Design's fire pit ring is one of the easiest to assemble, requiring not tools when putting together. The whole thing hooks together per panel and is designed to fit any type of fire pit setting. It is made from powder-coated steel with well-fitted connecting slots which efficiently keep the ring sturdily in place. The size is 29.13†x 29.13†x 9.84†and is easily taken apart to become portable.
Advantages
Easy to set up.
Key and Hole connection means no screws or bolts that an wear or rust in time.
Weighs 9lbs and can be easily transported to outdoor events.
Disadvantages
Can easily be taken down by accident.
Not safe to use on wooden decks, lawns or asphalt surface.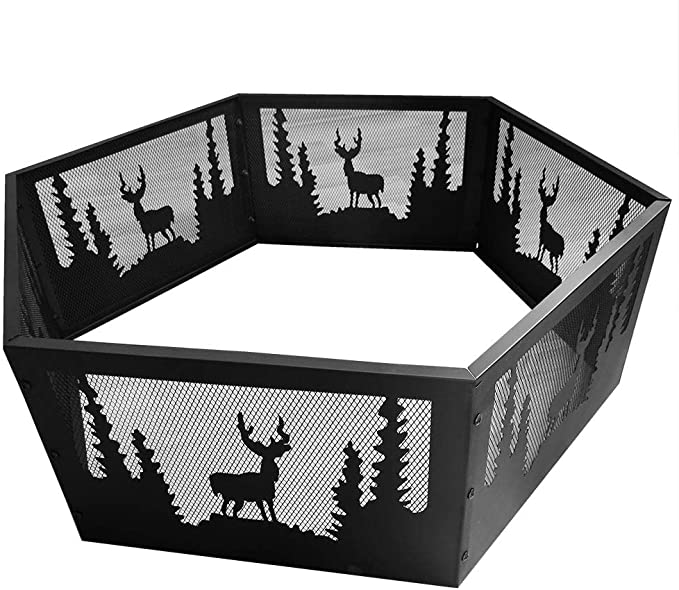 MTB Backyard Wildlife Fire Pit Ring
This fire pit ring from MTB is 36 in diameter and 12 inches tall which makes it the perfect fit to your outdoor gathering be it in your backyard, in a camp site or the beach. It is made from durable steel metal with a high temperature resistant paint finish which also makes it resistant to rusting. The design is also stylish and nostalgic featuring a deer and trees making you reminisce being in the forest even in your backyard.
Advantages
Screws and wrench are included for easy assembly.
6 panels are easy to assemble and has storage for disassembly for transport.
Can be used in different terrains.
Disadvantages
The rings fall apart when not on even ground.
Panels are flimsy and welds are weak.
Final Verdict
The best fire pit ring in 2022 is SUNNYDAZE Fire Pit Ring.
As far as fire pit rings come, we like the fact that this product from Sunnydaze is wide and sturdy enough to provide optimum protection and heat to a large group gathered around the fire pit. It also can be easily assembled just by inserting 4 slats so you do not have to fuss over screws not aligning or not being heat resistant.
If you are looking for the perfect DIY fire ring then this SUNNYDAZE product is your best bet in durability and portability. Plus, with a yearlong warranty, you can be sure you'll be saving money for future repairs (if there are any.)
What to Consider When Choosing Your Fire Pit Ring?
Steel Gauge – You have to consider the thickness of the steel of your fire pit ring. You need a strong, sturdy and heat resistant top quality product. The lower number means the thicker the steel.
Measurement – Consider the size of your existing fire pit to make sure that your fire pit ring is the proper fit. Double check your dimensions and available space to have a snug, proper fit. If you haven't started a fire pit yet, you can choose a fire pit ring that fits your style and needs then start building masonry around it.
Transportability- Do you want to have a fire pit ring that you can carry on your trips? Then choose a lighter weight ring and easily stored in the back of your car. If you are looking for something more of a permanent fixture in the backyard, then you should choose the heavier ones.
Number of Panels – It is always a better idea to get a fire pit ring with fewer panels. It is easier to assemble. Sometimes, too many panels mean too many holes and too many alignments to be considered.
Number of Panels – It is always a better idea to get a fire pit ring with fewer panels. It is easier to assemble. Sometimes, too many panels mean too many holes and too many alignments to be considered.
There is no perfect fire pit at first glance that is why, it is important to take into consideration these factors. It is important to keep in mind that functionality and safety has to take precedence over style or aesthetics. You want to be able to enjoy your campfire party without mishaps and ensure that everyone will have a fun and memorable time. Also, if you are going for a long-lasting and durable fire pit ring, be ready to shell out enough cash because it is better to splurge on one that will be used for a longer duration rather than keep on replacing an easily destroyed one. Finally, if you are unsure of how heat resistant your panels are, a good extra paint over it will not hurt at all!

Hi, I'm Adam and I'm a HUGE fan of Food and Cooking.
Do you enjoy grilling sessions with your family while staring at the beautiful fire pit flames?
Flame Gorilla is the site to learn how to have that perfect backyard experience.