Outdoor fire pits are one of the great additions that you can have in your backyard or in your patio landscape setting. They provide a great focal point for aesthetics and design while providing a nice, cozy and natural setting for people to gather and share stories as well as food around a blazing fire.
Above ground firepits are often the choice since they can easily fit whatever area is available as well as provide a unique artsy décor in your home's outdoor architecture. These firepits are usually made from cast aluminum, iron and steel, all of which can be fantastic choices. However, you should also consider getting copper fire pits. The properties of fire pits made from this metal alloy makes it popular for several reasons:
Portability – The portability of your fire pit will always depend mainly on its size however; copper is a lightweight metal alloy that can offer easier and more convenient transportability around your backyard or even if you plan on bringing it along camping trips or RVing.
Durability – Copper is a material that has a high melting point making it extremely heat-resistant which means it does not easily corrode or rust when constantly used to burn wood or coal. This is also ideal for withstanding exposure to elements such as rain or snow. It does not easily wear thin or break plus, the natural patina finish develops over time and gives it a classic, vintage look which is pleasing to the eye.
Heat Conductor – Copper is one of the metals that is used for cookware because of being a great conductor of heat. Therefore, if it is efficient to cook food, it is excellent for fire pits since you can bask in the radiating heat, warming a greater radius than other fire pits of different materials. One large copper fire pit will keep your entire porch warm and cozy on any chilly night.
Fuel Efficiency – Copper fire pits are usually wood or charcoal burning so you do not need to lug or drag around a propane gas tank to get and keep the fire going. Some will attest to the fact that using dry-wood is more cost-effective than propane gas in the long run. Plus, it brings a more authentic, rugged experience of being warmed by an outdoor campfire.
Attractive Look – It is quite obvious that a copper fire pit looks extremely unique and attractive. It does not matter if it is smooth, hammered, shiny or rustically worn-out, this metal will maintain an attractive, unique aesthetic that is not easily replicated by other materials.
Now, are you ready to find the copper fire pit that suits you and your backyard design best? Check out these top copper fire pits you can find online!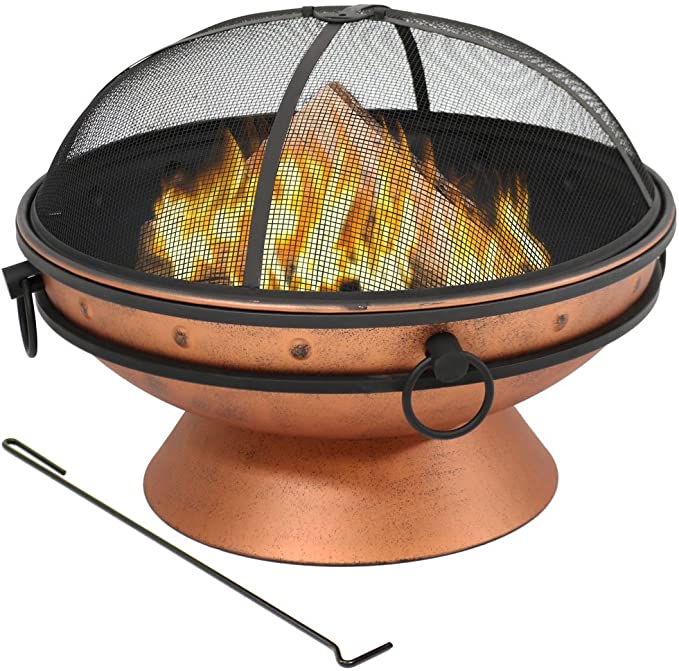 SUNNYDAZE 30†Copper Finish Outdoor Fire Pit Bowl
Dimension: 31 x 31 x 24 inches
Weight: 30lbs
Material: Alloy Steel
Finish Type: Copper, Décor, Steel
Customer Rating: 4.6/5 (331 global ratings)
It does not matter if you're hosting a large or small gathering, the Sunnydaze 30†fire pit bowl is perfect to give you warmth and the benefits of wood-burning fire. It is constructed from 0.7-millimeter-thick steel and finished with a high-temperature copper paint making it sturdy and resistant to rust. The cauldron shape design with the handles and a pedestal base makes it a vintage and classy eye-catching piece for your backyard.
Advantages
Handles on the bowl makes it easy to lift and move the fire pit from place to place as well as makes dumping out ashes convenient.
Includes wood grate which provides optimal air circulation when wood is stacked on it for consistent and healthy fire.
The two holes in the bottom efficiently drains water.
Includes mesh spark screen and a 26†fire poker to maneuver wood and life spark screen so you can enjoy campfire or backyard bonfire.
Disadvantages
Smoke might come from the base so you might need to place a fire pit pad underneath.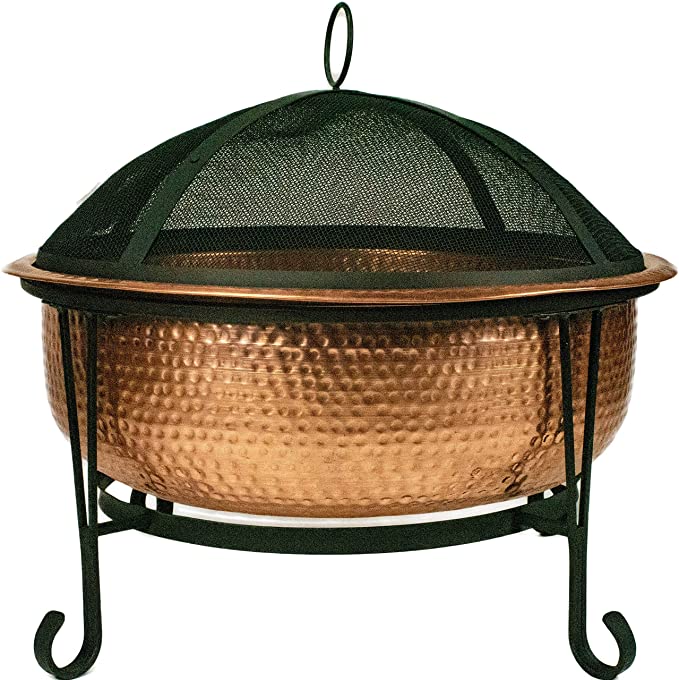 GLOBAL OUTDOORS 26†Genuine Copper Fire Pit
Dimension: 24 x 24 x 18 inches
Weight: 27lbs
Material: Copper
Finish Type: Steel
Customer Rating: 4.3/5 (193 global ratings)
This copper fire pit from Global Outdoor brings to your backyard the beauty and elegance achieved by hand hammered copper. You can be sure that the fire light dancing against the 8†deep inner bowl exudes a relaxing and mesmerizing sight for you and your guests. Plus, you will get that rustic look as it changes color over time after exposed to heat. This fire pit is constructed from 100% genuine copper so you are guaranteed to enjoy rust-proof, high heat-resistant and long-lasting fire pit.
Advantages
Includes: Heavy mesh screen for ashes and ember protection and poker.
Comes with its own PVC cover to protect your fire pit from outdoor elements when not in use or in storage.
Sturdy steel legs for sturdy and stable stand to prevent accidents or tipping over.
Easy to assemble with clear, precise instructions.
Disadvantages
The finish burned off after a couple of use.
Poker is flimsy and bends easily after being exposed to heat.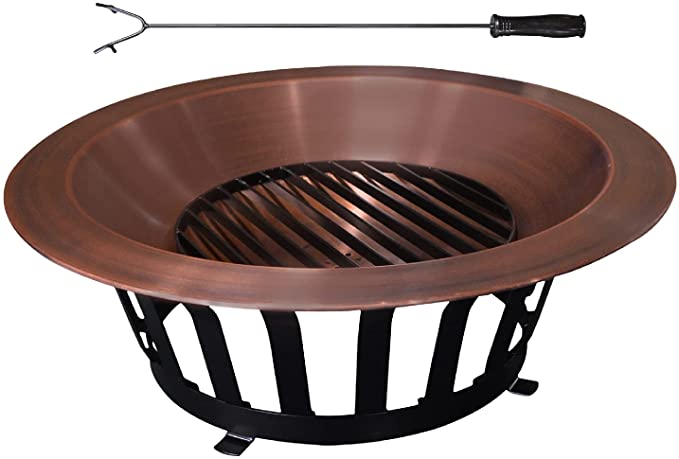 TITAN GREAT OUTDOORS 40†Copper Fire Pit
Dimension: 40 x 40 x 14 inches
Weight: 94lbs
Material: Copper
Finish Type: Steel
Customer Rating: 4.6/5 (132 global ratings)
The lovely, reddish-brown finish of the large copper fire pit from Titan Great Outdoors exudes elegance and will certainly put some class into your backyard. The fire pit is constructed from pure copper metal making it durable as well. It can withstand high heat and extreme weather without rusting or oxidizing unlike those bowls which are only copper-lined. The 40†diameter will certainly light and warm up your chilly nights with a huge, blazing fire.
Advantages
Bottom frame is constructed with durable steel so it is durable, stable and will stand the test of time.
Includes a 21.5†steel grate inside which will house enough firewood to build a large, long-lasting fire.
Includes a 27†fire iron tool so you can tend to your flame securely and safely from a safe distance.
Disadvantages
Flimsy fire grate.
Quality control during shipment might be a problem.
FIRE SENSE Palermo Copper Fire Pit
Dimension: 29 x 29 x 21 inches
Weight: 27lbs
Material: Copper
Finish Type: Steel
Customer Rating: 4.4/5 (103 global ratings)
The Palermo fire pit is constructed from pure copper material which makes it durable, rust-proof and high-heat resistant ensuring that this beautiful piece remains an eye-catching sight in your backyard. The fire bowl is supported by steel legs so it is strong and sturdy, keeping it balance and safe as you enjoy a roaring fire with your family or friends.
Advantages
Equipped with heavy duty steel screen mesh guard to protect you from flying embers or ash.
Separate and replaceable steel grate.
Includes screen lift tool and vinyl covering to protect the fire pit when not in use.
Powder-coated steel frame constructed stand for rust-resistance and long-lasting support.
Disadvantages
Quality control problem as some units may be shipped with defects.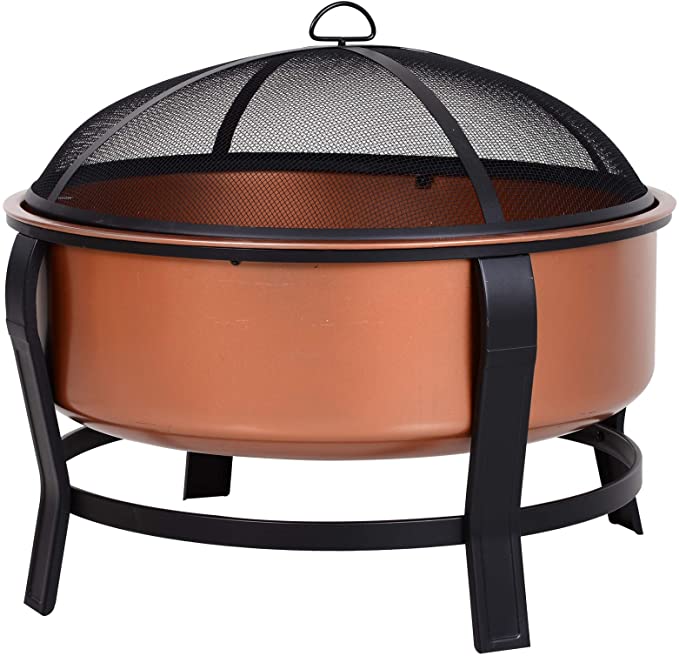 OUTSUNNY 30†Outdoor Copper-Colored Fire Pit
Dimension: 29.75 x 29.75 x 25.5 inches
Weight: 25.75lbs
Material: Alloy Steel
Finish Type: Painted, Powder-coated, Steel
Customer Rating: 4.7/5 (127 global ratings); Amazon's Choice for copper fire pit
The 30 inches outdoor fire pit from Outsunny can certainly bring great warmth to your backyard campfire nights as well as create that ambiance you and your family will enjoy. The fire basin is constructed from durable steel with a high-temperature copper color pain finish. The black steel frame supports and ensures stability for years of reliable use. The copper finish help make the fire pit rust resistant and can withstand high heat that firewood burning will produce.
Advantages
Includes a protective mesh screen to prevent sparks, embers and ash debris from floating out.
Comes with poker with handle to help move logs on the fire pit's log grate.
Special lightweight for easy transport.
Disadvantages
Intended for wood burning only. Cannot use coal, leaves or other combustible materials in the bowl.
Cannot be used on wooden deck or on any combustible surface (i.e grass, mulch etc…)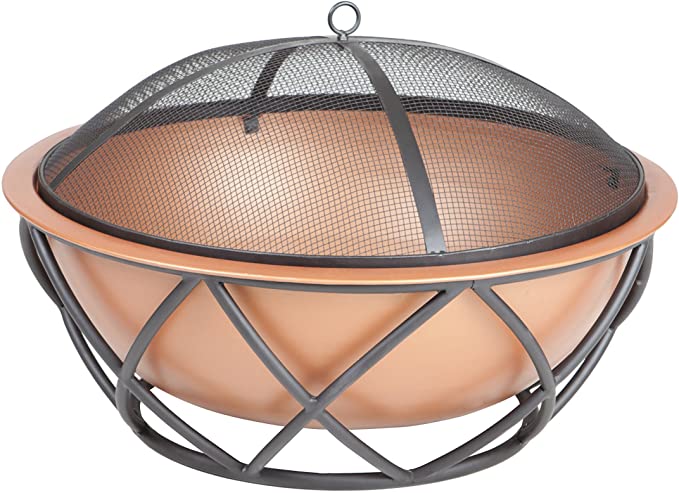 FIRE SENSE Barzelonia Copper-Look Fire Pit
Dimension: 26 x 26 x 16 inches
Weight: 15lbs
Material: Metal
Finish Type: Copper finish
Customer Rating: 4.4/5 (143 global rating)
The Barzelonia fire pit is perfect if you want to enjoy authentic wood burning campfire ambiance in your backyard or a smaller spaced garden. The quaint looking round fire pit is constructed from heavy duty steel metal with its bowl coated with a high-temperature and rust resisting copper coat finish. The body is supported by a decorative steel base painted with black high-temp resistance paint ensuring that you can continue using this fire pit for many seasons.
Advantages
Includes a safety mesh screen cover to protect you from embers, ash or fire sparks.
Lightweight and convenient to transport as well as lift to clean and empty the fire bowl.
Little to no assembly required.
Disadvantages
Outside painting peels off after a couple of uses.
Does not come with cover or poker.
SUNNYDAZE Copper-Finish Outdoor Fire Pit Bowl
Dimension: 32.25 x 32.25 x 25.75 inches
Weight: 23lbs
Material: Alloy Steel
Finish Type: Copper
Customer Ratings: 4.9/5 (15 global ratings)
The Sunnydaze large fire pit bowl is perfect for a large or small gathering with its 11.25†bowl depth, it can hold enough firewood to keep a toasty fire going. This fire pit is made from 0.7mm thick steel metal with a high-temperature copper finish which adds resistance to rust as well a well-constructed, sturdy foundation. It is also backed by Sunnydaze Décor with a 1 year manufacturer's warranty so you can purchase the product without worry.
Advantages
Includes: 29.5†mesh spark screen for protection and safety from embers and flying spark.
Comes with 20.25†poker stick and 17.75†wood grate so you can easily stack and poke the fire wood as you tend to the fire safely.
This has 3 holes in the bottom which allows you to drain out water in case rainwater gets into the bowl.
Bowl shape enables easy cleaning by simply dumping cooled ashes out.
FOUR SEASONS COURTYARD ZHEJIANG YAYI 30†Fire Pit
Dimension: 31.6 x 31.6 x 12 inches
Weight: 30lbs
Material: Metal, Copper
Finish Type: Powder coated, Black Finish
Customer Rating: 4.7/5 (8 global ratings)
The Zhejiang Yayi 30 inches fire pit bowl is sized just right to provide you and your friends a warm, cozy campfire in a huge or smaller sized backyard. Its bowl is constructed from copper material which makes it rust proof and highly resistant to high heat. The bowl is supported with steel legs that are powder coated with black finish making it heat resistant and ensures that your fire pit bowl is standing on sturdy, well-balanced legs.
Advantages
Includes tools that you need to complete the campfire experience: protective mesh spark screen, poker and wood grate.
Comes with protective cover.
Easy to assemble.
Disadvantages
Rings on the base is just pain coated and easily scratched.
GLOBAL OUTDOORS 30†Hand Hammered Copper Fire Pit Bowl
Dimension: 30 x 30 x 19 inches
Weight: Not Specified.
Material: Copper
Finish Style: Steel
Customer Rating: 3.8/5 (29 global ratings)
The 30†fire pit bowl from Global Outdoors is made from genuine copper and has a beautiful, classic hand hammered design which will definitely make it stand out in your backyard or patio. The low bowl fire pit has a 9†inner depth and is able to hold ample amount of firewood to create a big fire which will easily keep warm and cozy the people gathered around it. Its sturdy legs is constructed from strong steel but kept classy by a decorative banding to support the bowl safely.
Advantages
Comes with mesh spark screen guard for protection from flying embers and ashes.
Easy to assemble (3 pieces only.)
Copper bowl is 2-3 mm thick.
Disadvantages
Wood grate is sold separately.
Legs and mesh metal are flimsy.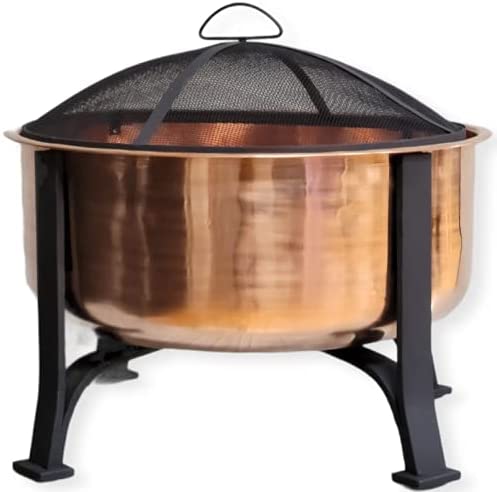 GLOBAL OUTDOOR 26†Deep Bowl Fire Pit
Dimension: 27 x 27 x 12 inches
Weight: 19lbs
Material: Copper
Finish Type: Steel
Customer Rating: 3.9/5 (16 global ratings)
This 26†deep bowl from Global Outdoor boasts of genuine copper material so you will certainly enjoy the benefits of having a copper fire pit. It is high-heat resistant and it will keep your fire pit rust-proof so you can use it for a long time without worrying about wearing it out. The deep bowl allows you to place ample firewood to create a large enough fire to heat up the people gathered around its radius and allows for great roasting as well.
Advantages
Includes mesh spark screen cover, poker and PVC cover.
Easy to assemble and clean.
Deep but not necessarily too large and can fit in a quaint space of the patio or backyard.
Disadvantages
Bowl is thin.
Wood grate is sold separately.
No holes for drainage at the bottom.
Final Verdict
We confidently award the best copper fire pit in 2022 to SUNNYDAZE 30†Copper Finish Outdoor Fire Pit Bowl.
Even though this fire pit is not constructed of pure copper, the high-temperature copper finish makes it perform like it is made of the material entirely. It is just as sturdy, rust resistant, durable and conducts heat efficiently so, users will not even notice that it has a 0.7 millimeter thick steel body underneath the copper finish.
We also like that it has vintage, classy look that adds a certain charm to its surroundings especially when lighted. Although you have to use a fire pit pad at the base for extra security, it just provides you the chance to actually enhance your fire pit's décor! It features everything you need in a copper fire pit from optimal air circulation to convenient drain holes making it the perfect companion to your large or intimate outdoor parties.
Why Buy a Copper Fire Pit?
Well, a copper fire pit is a great choice for several reasons:
It looks great! – Its true! Copper is a very attractive metal. The golden copper color is much more attractive than many of the dull black cast iron firepits. It stands out and really sets the firepit off as a great accent piece to a beautiful backyard setting. So for the fashion and beauty conscious, a copper fire pit is a great choice! You can find fire pits with smooth copper or hand-hammered copper as pictured above.
It's long-lasting – Copper has a very high melting point, much higher than cast iron. Therefore, over repeat usage cast iron can slowly erode, eventually thinning out and breaking. Copper lasts much longer, it is almost unheard of for a copper fire pit to break, even after thousands of hot fires! Also, copper does not corrode or rust. Therefore, for an outdoor fire pit it is ideal! Cast iron can rust with exposure to air and does not do well with water.
It conducts heat well – Copper is used in cookware because it is such a good conductor of heat. In your fire pit this means that it will transmit all that wonderful warmth from your fire to you sitting around enjoying it.
So what are the downsides to copper? There are not many. The primary downside I can think of is that copper fire pits tend to cost more than others. In general, cast iron fire pits are about half the cost of a good copper pit. This is a generalization and you might find some good sales. But in the long run, paying the extra tariff for copper may pay off in terms of beauty and longevity.
What to Consider When Choosing Copper Fire Pits?
Material- You may notice that there are two types of ways that a fire pit can feature copper. One is the bowl is made from 100% copper and the other is that the steel bowl has a copper finish which is not entirely made from copper but instead coated with a layer of copper deposited on the metallic surface through use of electric current. This usually adds extra corrosion protection to steel or iron fire pit bowls. Genuine copper material fire pits tend to be more expensive since the material guarantees not to rust or blacken but instead transform into a patina which fades the color but protects the copper from rusting or deteriorating. Think of how much you want to invest when it comes to having a copper fire pit since having a genuine copper fire pit is meant to last longer even with many uses.
Size – Consider how large you want your copper fire pit will be in relation to the size of your space where you plan to have your bonfire. Also, do you want a lighter kind so you can easily move from one place to another or take with you on trips or do you prefer a wider, larger sized type that is a constant fixture in your backyard? The size will of course determine the number of people who can benefit around it.
Look/Design – Copper is really pretty and shiny but you have to consider its façade in the long run. There are types that have hand hammered design which has more texture so if that matches your backyard aesthetics then go for it. Keep in mind though that copper will not maintain its shiny exterior unless you constantly clean it and polish it after you use it. Others just let the patina change its color to get that more vintage, classic look that gives your fire pit earthen, weathered look but not necessarily eroding or corroding.
Price – Always think of your budget and remember that although copper is ideal, it can get expensive. Ensure that you check the warranty on the product so that you can get your money's worth. Still, if you shell invest more money to get copper fire pits, the material in itself will give you your ROI in the long run.
Copper fire pits are truly elegant and has that cozy, warm beauty which will really stand out in your backyard. Unlike other fire pit materials, copper fire pits guarantee that your fire pit will remain strong, durable and dependable for decades. It means less expense because you will not have to keep on replacing your fire pits as frequently as you would with other types of firepits.

Hi, I'm Adam and I'm a HUGE fan of Food and Cooking.
Do you enjoy grilling sessions with your family while staring at the beautiful fire pit flames?
Flame Gorilla is the site to learn how to have that perfect backyard experience.