Fire pits are one of the most popular additions to your backyard or patio setting. It provides a great eye-catching focal point while bringing warmth and coziness to any outdoor event or relaxation you and your family might have in mind. It definitely brings people together as you gather by the relaxing fire, sharing stories and enjoying food while adding more entries to your memory bank.
Just like architecture and landscaping have evolved over time and has leaned towards a more modern and industrial aesthetic, fire pits have also been created to fit whatever scenario any owner might what it to be part of. Modern, more streamlined looking fire pits or fire tables are now providing a wider variety for homeowners to select the best fire pit that matches their homes.
One of these modern, sleek looking fire pits are concrete fire pits. There are quite a few reasons why people choose a fire pit that is made from concrete materials:
Durability – Concrete is considered one of the most durable materials in the world. It can weather harsh climate conditions which perfectly works for outdoor fire pits. It is also environment-friendly and reduces waste as well as pest-resistant, rust-resistant and corrosion-resistant. Plus, with proper care and maintenance, a concrete fire pit will last a lifetime.
Low Maintenance – Concrete fire pits are relatively easy to maintain and take care of. You can definitely clean it with mild soap and water without having to worry about any water or chemical damage to the product. It also does not require frequent cleaning. It also does not require any UV protective paint since it will not discolor or chip off so you also don't need sealants as well. Of course, cracking might occur however, a concrete patch is an easy-fix solution.
Streamlined and Modern Design – Concrete fire pits are sleek, clean and will easily fit into any modern home's design aesthetic. It can be ideal for large or intimate events. Concrete fire pits can also be transformed from plain looking color to an even more attractive color by tinting or decorative painting, making it stand out or blend more with its surroundings.
Low-Cost – Concrete fire pits are a little less expensive when compared to ceramic or bricks. It is also cheaper to install or build and with its low maintenance features, you do not have to consistently shell out extra cash to have it repaired or cleaned.
If a concrete fire pit is what's lacking in your outdoor landscape, then, here are the top choices you have online which can help you pick the right fit for you and your space.
Concrete Fire Pit Table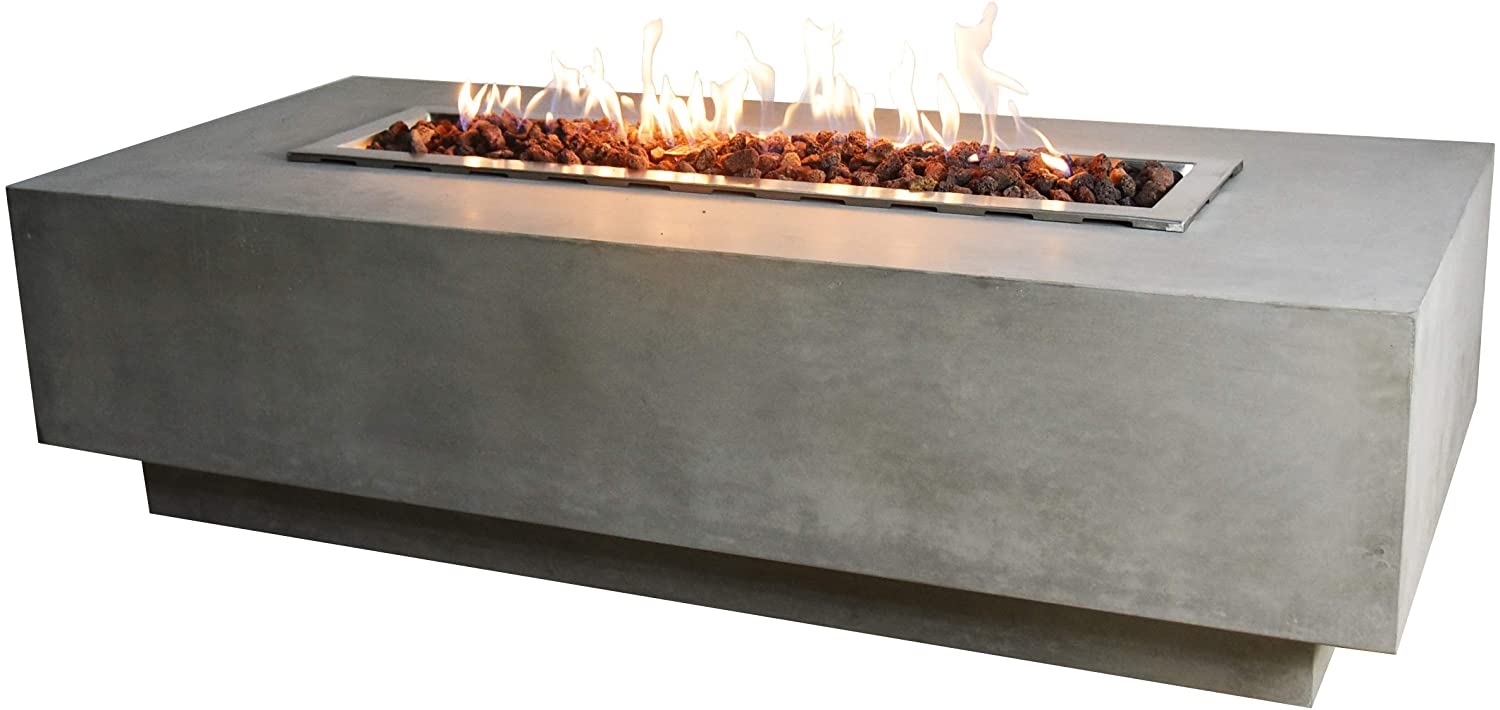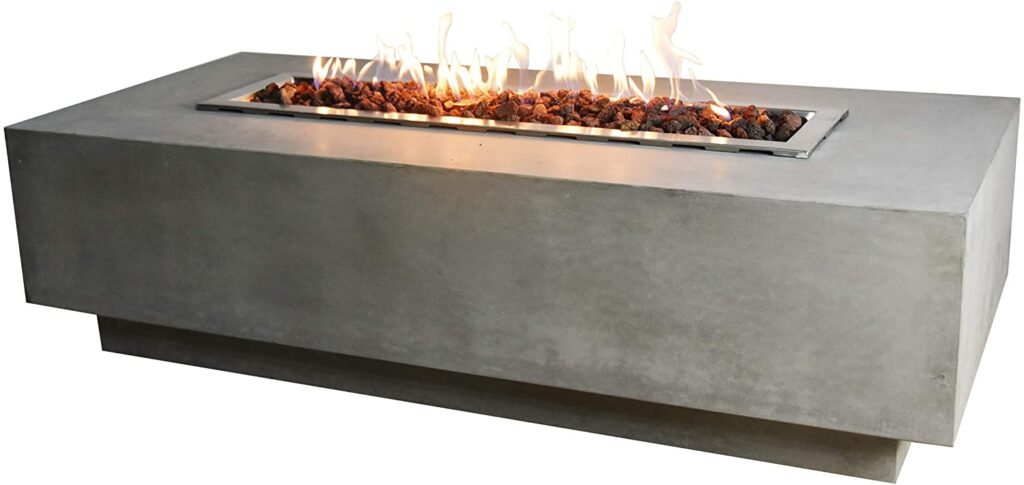 Elementi Granville Fire Table
Dimension: 60 x 27 x 17 inches
Weight: 176lbs
Material: Concrete
Fuel Type: Liquified Petroleum Gas
The Elementi Granville is a heavy duty outdoor concrete fire pit crafted to brighten up your backyard as an impressive outdoor centerpiece. It is made from high performance cast concrete which is durable and built for long-lasting use. The fire pit also has a high resistance to heat finish so you can safely enjoy its warmth without worrying about corrosion or cracks due to high temperature. It runs on gas and produces 45,000 BTU with a dancing flame of 4 to 5 inches.
Advantages
Uses electric ignition for easy lighting and has auto safety shut-off.
Includes configured (as ordered) fire bowl, lava rocks and fire pit canvas cover.
Rectangle fire pit can be converted into outdoor dining table or patio coffee bar.
Table is open at the bottom so you can conveniently hide gas tank.
Disadvantages
No remote control available.
Glass guard is sold separately.
AKOYA Outdoor Essentials Fire Pit Table 70″ Rectangular
Dimension: 70 x 24 x 23.5 inches
Weight: 260lbs
Material: Concrete and Crystal
Fuel Type: Liquified Petroleum Gas
Akoya Outdoor Essential's concrete fire table is an impressive addition to your outdoor space. The smokeless fire table has perfectly crafted straight edges and is constructed from lightweight, fiber-reinforced concrete with a gray finish over a sturdy steel frame. It not only grand in size but highly durable to withstand any of the elements outdoors. It is smokeless with a heat output of 50,000BTU which can perfectly warm you and your gathered guests around it.
Advantages
Easy push button electronic ignition with flame level control valve.
Can run on propane gas fuel or natural gas (conversion kit sold separately.)
Rust proof tank drawer burner and stainless-steel lid.
Includes: Tempered glass guard, fire glass and protective cover.
Disadvantages
Poor quality finish and might require constant re-painting.
Quite heavy to move around or reposition.
Elementi Manhattan Outdoor Gas Firepit Table
Dimension: 36 x 36 x 16
Weight: 142lbs
Material: Concrete
Fuel Type: Liquified Petroleum Gas
The Manhattan outdoor fire pit table is truly a modern, artsy addition to your backyard or patio. It is beautiful and functional, perfect for entertaining guests or just casually gathering around with your family while keeping warm outdoors. Stay warm and cozy with its 16-gauge, 304 stainless steel burner pan. The fire pit is constructed from glass-fiber reinforced concrete with a 45,000BTU heat output, it not only enhances your outdoor experience but assures you a durable, long-lasting, sturdy fire pit that you can enjoy for years and years.
Advantages
Automatic safety shut off.
Electronic ignition button and control knob for easy lighting and managing of flame height.
Can choose between natural gas or Liquid Propane upon order check out.
Includes repair kit, canvas cover and lava rocks.
Easy to set up.
Disadvantages
Propane gas tank cover, stainless steel lid, glass wind screen, gas conversion kit is all sold separately.
Does not come with tank holder.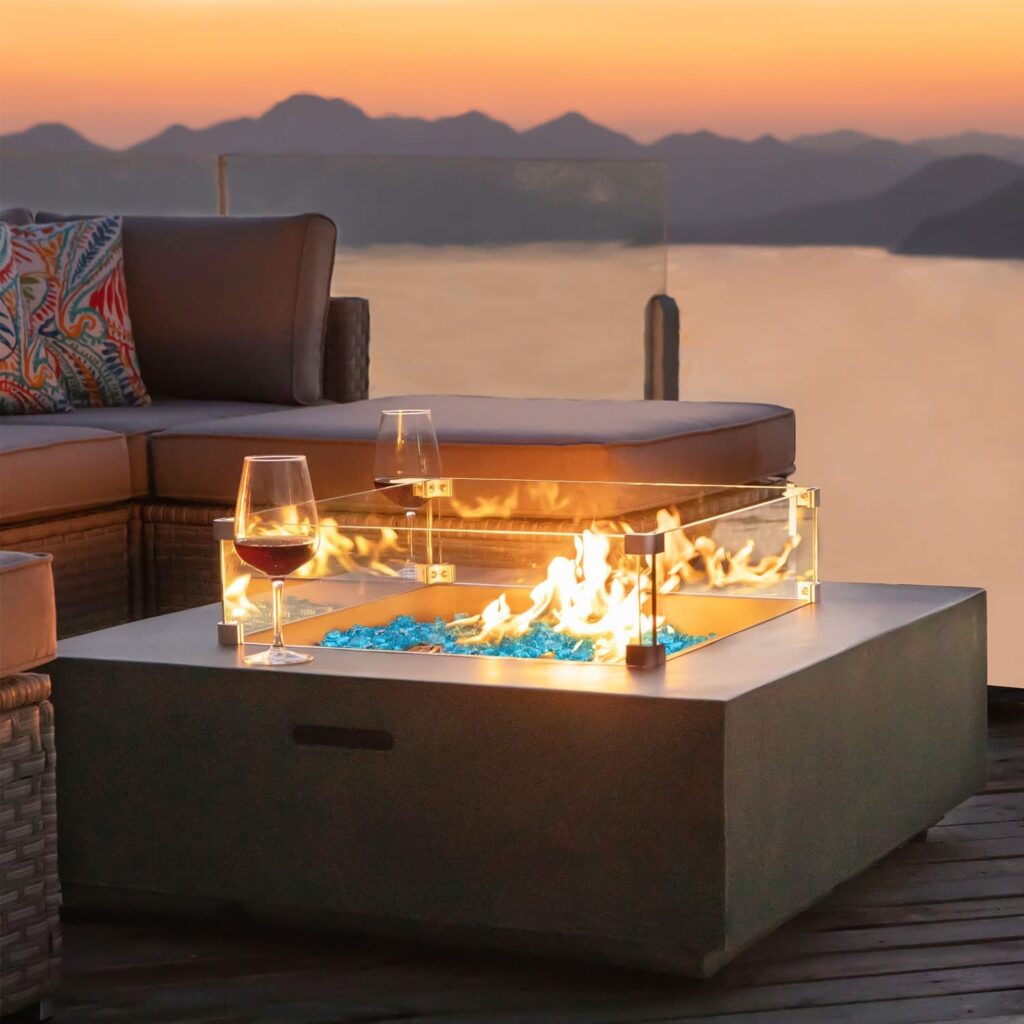 COSIEST Outdoor Propane Square Fire Pit Table
Dimension: 35 x 35 x 13 inches
Weight: 84lbs
Material: Concrete
Fuel Type: Liquified Petroleum Gas
Cosiest Outdoor offers one of the most ultramodern looking portable concrete fire pit tables in the market. The greyish-green faux stone appearance is definitely something chic and stylish which makes for a great eye-catching centerpiece for your outdoor setting. It is constructed from sturdy, durable, fire retardant magnesium oxide concrete and has a 50,000BTU heat output with highly durable stainless-steel burner. You can be sure that you don't need to stoke anything to keep the flame steady and lit so you can just sit back and enjoy smokeless fire with no soot or ashes to clean up after every use.
Advantages
Table area is large enough to hold brandy snifters, wine-glasses and plates.
Lights with a push-button auto ignition and fire adjustment knob.
Side handles are built-in for easy lifting and shifting.
Includes: Tempered glass wind guard, lava rocks, fiber glass rocks, metal lid and protective cover.
Disadvantages
No propane tank cover.
Not recommended to use or convert to natural gas fuel.
Might have some shipping damage issues.
Concrete Fire Pit Bowl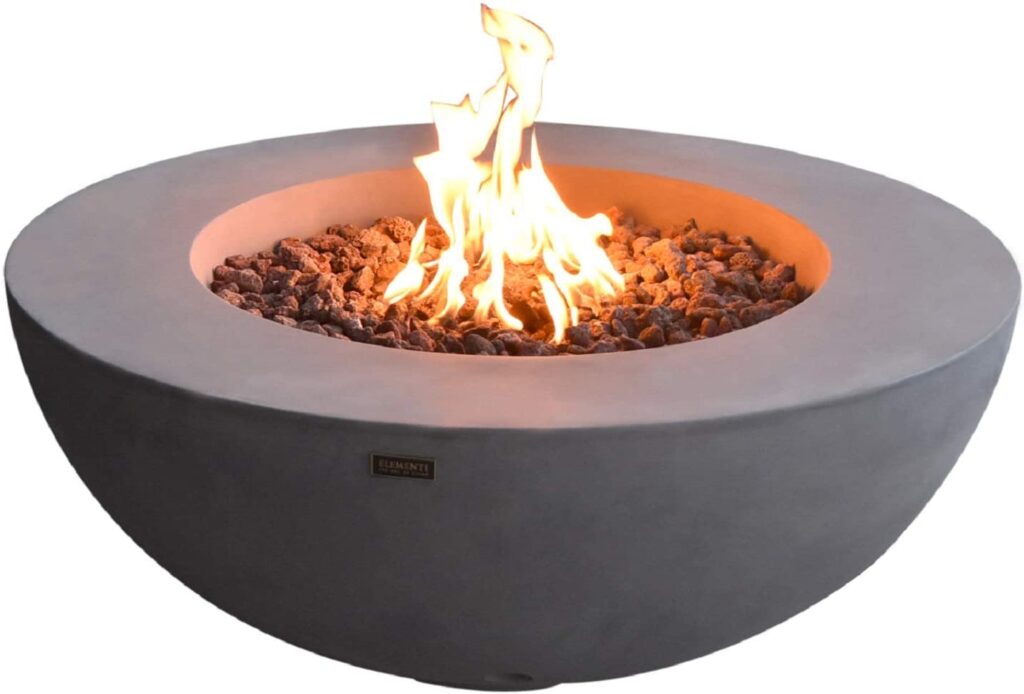 Elementi Lunar Bowl Outdoor Fire Pit 42″
Dimension: 42 x 42 x 16 inches
Weight: 143lbs
Material: Concrete
Fuel Type: Liquified Petroleum Gas
This heavy duty outdoor Lunar Bowl from Elementi is constructed from durable cast concrete and has a high-heat resistance finish making it perfect for your backyard or patio. It is an eye-catching centerpiece that will provide warmth and cozy dancing flames as you gather around it with friends or family. It produces 45,000 BTU with a 12†diameter firepit ring burner providing about 18 to 20 inches of dancing, smokeless flames. The unique, round shape comes configured as ordered.
Advantages
Automatic electronic ignition button and flame control knob with auto safety shut-off featured.
Can be used as dining fire table when not turned on.
Includes: Fire pit canvas cover, lava rocks, repair kit.
Can be used on a wooden deck.
Disadvantages
Wind guard, stainless steel lid, propane tank cover, conversion kit sold separately.
Ignition button issues (some customers needed to use lighter to light up the burner.)
Not easy to move around.
AKOYA Outdoor Fire Pit Bowl 30″
Dimension: 30 x 30 x 17 inches
Weight: 20lbs
Material: Stainless steel, Alloy, Concrete
Fuel Type: Liquified Petroleum Gas
The Akoya 30†fire pit bowl is constructed from lightweight fiber-reinforced concrete with a sturdy steel frame and a gray finish. It is subtle yet a great eye-candy for your outdoor setting. The compact, lightweight design also allows you to fit this concrete fire pit into any part of your backyard, patio or deck area. It features a rust-proof stainless steel burner with 50,000BTU heat output that can surely warm you and your guests up as you enjoy each other's company around it. You don't have to worry about safety as it has been constructed with the highest safety standards with built-in multiple fail-safes in place.
Advantages
Easy to use push button electronic ignition and flame level control knob.
Includes: Protective cover, Stainless steel lid, gas hose, lava rocks.
Can be used with natural gas fuel type but conversion kit sold separately.
Stylish, easy to move around and store.
Disadvantages
Does not have a propane tank holder.
Accessories such as glass wind guard sold separately.
Easily scratched and not pre-casted.
Modern Concrete Fire Pit Table Bowl Ayoka 42″
Dimension: 42 x 42 x 15 inches
Weight: 105lbs
Material: Wicker and Concrete
Fuel Type: Liquified Petroleum Gas
Revamping and reinventing your outdoor space into a more modern, stylish design will definitely benefit from Ayoka's 42†modern concrete fire pit table. This perfectly round half-moon shape is constructed from lightweight fiber-reinforced concrete with gray finish over sturdy steel frame is not only durable and sturdy but elegant looking enough to impress your guest and family. It is truly a statement piece that can highlight your fire pit as well as provide cozy warmth while you gather around with friends and family.
Advantages
Effortless push-button electronic ignition with flame control knob.
50,000BTU heat output with multiple fail-safes in place.
Includes: glass guard, fire glass, stainless steel lid, gas hose and protective cover.
Enough space to place drinks and small plates on the table.
Disadvantages
Propane tank hideaway sold separately.
Glass not attached to the fire pit and breaks little by little when moved.
Some assembly difficulties.
Concrete Fire Pit Tabletop
Colsen Tabletop Rubbing Alcohol
Dimension: 5 x 1.97 x 3.5 inches
Weight: 4.71lbs
Material: Concrete
Fuel Type: Rubbing Alcohol
If you are looking for easy, highly-portable and can be placed anywhere inside and outside the house then this Colsen tabletop concrete fire pit is what you need. It is light and easy to transport so you can move it around or bring it everywhere with you. You can use 70-91% or greater isopropyl alcohol as fuel so it's pretty convenient and not messy. Don't assume its durability by its small size and light weight because it is constructed from durable and sturdy concrete material. Just remember not to pour or refill fuel while there is an open fire or when burner is not cool to touch.
Advantages
Designed for tabletop and can be used both indoors or outdoors.
Quick and easy to use without ash, smoke or soot or mess to clean up after each use.
Flames last approximately 40-50 minutes depending on room temperature.
Disadvantages
Limited heat output as it is relatively small.
Manual lighting and limited flame life.
Cannot be lit outdoors and not recommended to be used on windy days.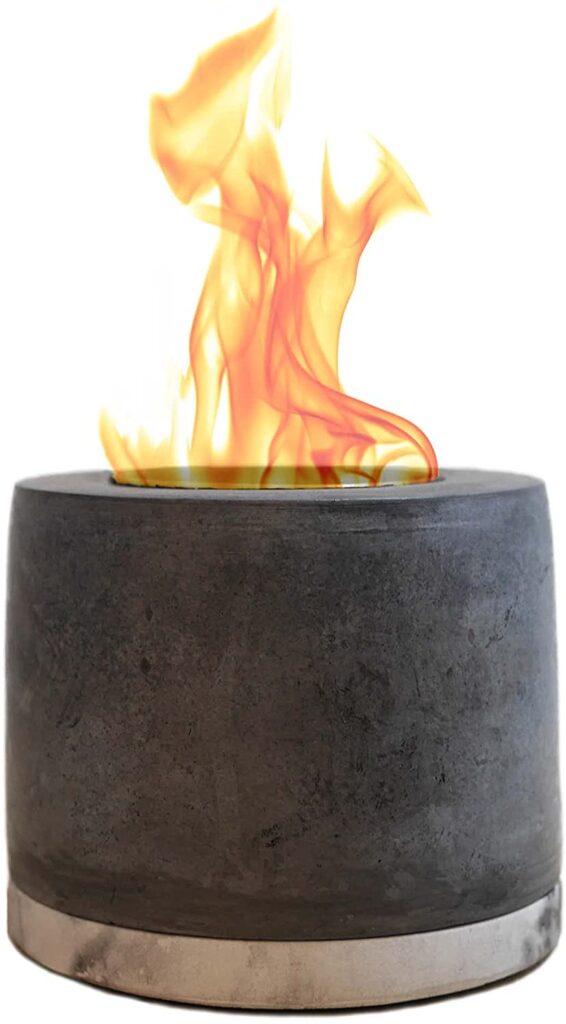 ROUNDFIRE Concrete Tabletop Fire Pit
Dimension: 5 x 5 x 4 inches
Weight: 3.52 lbs
Material: Concrete and stainless steel
Fuel Type: Rubbing Alcohol or Bioethanol Fuel
The concrete table top fire pit from Roundfire might be small but it definitely stands out when placed in any area of the house. The graphite-colored concrete fire pit provides around an hour of burn time compared to most table top fire pits. It is made from durable concrete material and can run on multiple alcohol fuels. You can choose bioethanol, isopropyl or rubbing alcohol and even spirits within its burn chamber. Roundfire also sells their own bioethanol fuel. The marble effect base aids in dissipating the heat produces by the firestone while protecting your table or other surfaces from the heat output.
Advantages
Lightweight and easily transportable.
Fitted with stainless steel burn cup to ensure no fuel leakages and rapid cooling of the burn chamber.
Shorter time between refuelling.
Includes flat stainless steel extinguisher tool to safely and quickly smother the burn chamber to put out the fire.
Roundfire ceramic wool sponge extends burn time to 2 hours (sold separately.)
Disadvantages
Low heat output, relative to size.
Fire pit gets hot so don't move while being used.
Missing items during shipping.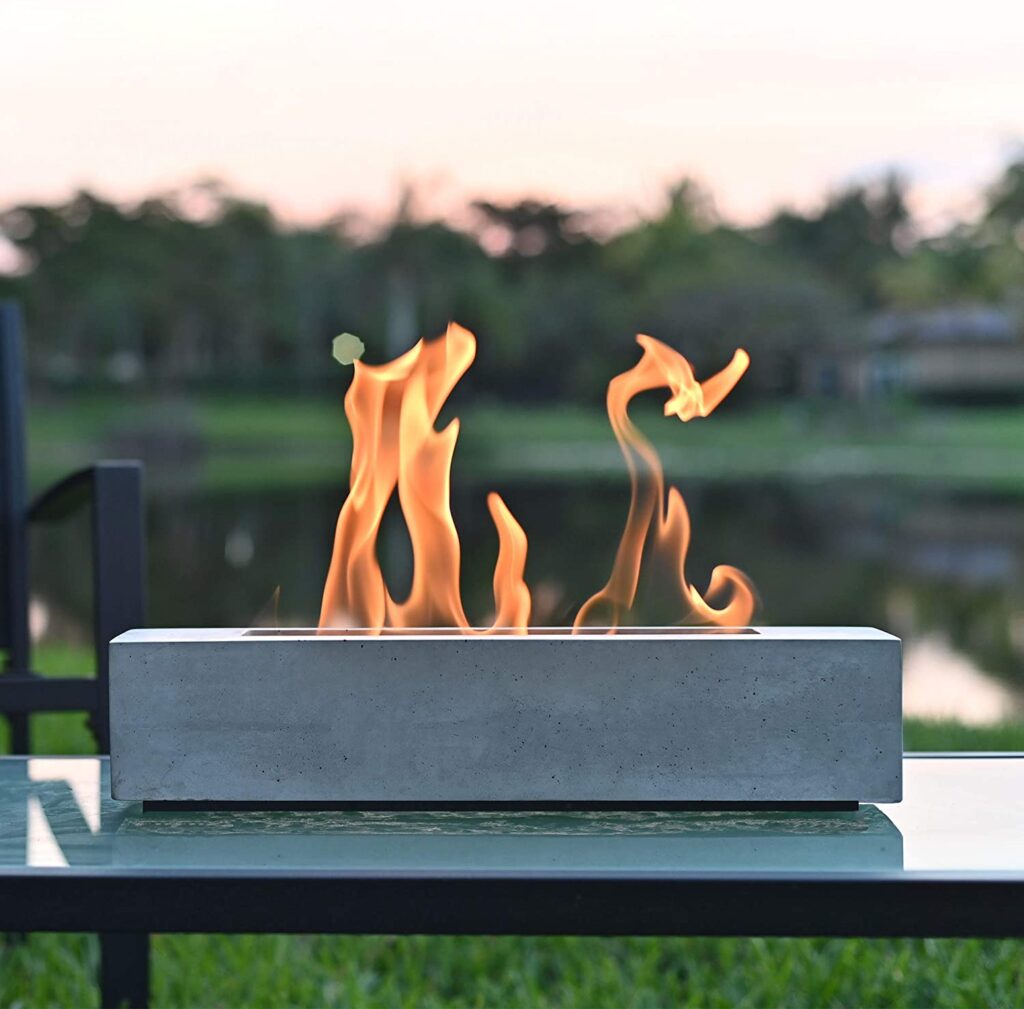 Colsen Tabletop Rubbing Alcohol Rectangular
Dimension: 18 x 4 x 4 inches
Weight: 18lbs
Material: Concrete
Fuel Type: Isopropyl Alcohol
The Colsen rectangular table top fire pit is the perfect shape and size if you are looking for a lightweight, small centerpiece that you and your family can enjoy while sitting very close to a fire. It is made from durable and strong concrete material but still light enough to be transported around the house or even brought outdoors on trips in an RV or on the beach. It can be enjoyed indoors since it is smokeless, odorless and mess-free as it runs on 70-91% isopropyl alcohol with around 60 minutes burn time.
Advantages
Lightweight and portable, can be used on any table top surface.
No assembly required.
Can use to cook marshmallows to make s'mores.
Solid and stays relatively cook even when use because of the thick concrete build.
Disadvantages
No snuffer included. You just let the alcohol burn out entirely to shut it off.
Looks like a slab of concrete or brick when not in use.
Provide proper ventilation when used indoors otherwise, might set off smoke alarm.
Final Verdict
In conclusion, we choose the AKOYA Outdoor Essentials Fire Pit Table 70†Rectangular as the best concrete fire pit in 2022.
This fire pit provides a good heat output with 50,000BTU and can surely warm you and your guest when seated around it. It also provides along with it the necessary accessories to maximize its performance as a fire pit so it means, you can save extra bucks because there is no need to purchase things separately.
Although the AKOYA fire pit table might require some repainting from time to time, it is constructed from strong, solid and sturdy material which guarantees long lasting usage as it is proven to withstand outdoor elements. You also benefit from the convenience of having a rust-proof tank drawer so you can keep your propane tank out of sight and keep the surrounding stylish.
What to Consider When Choosing a Concrete Fire Pit?
Fuel Type – It is important that you are aware of what type of fuel that you will be most comfortable in using. Most free-standing concrete fire pits are run by liquified petroleum gas and if you are unsure about safety, it is best to have an expert install or set up your fire pit. If you are just looking for a more personal, quaint and small table top fire pit then alcohol burning types are best. Also, consider if you want to use Natural Gas or Propane since both are installed differently.

Natural gas-powered fire pit is more convenient if you are adding a fire pit to an existing deck or backyard. It requires to be hard-piped in but you will not be using or needing a tank and you will not need to replace or update it ever. Propane gas however is easier to hook up because you just need to buy a tank, connect it to the fire pit gas hose and you're good to go. Of course, you need to refill/replace the tank once it's empty.
Size and Shape – As with any furniture or fixture in your backyard or home, you have to consider the size and shape of your concrete fire pit. Keep in mind the number of people it can fit around it as well as its design aesthetic. Are you going for style or function? Some fire pits can be tables when not in use. Do you want softer, smaller shapes like a bowl or round fire pit? Or, do you prefer the hard, streamlined lines of rectangular shaped one? The size and shape are also relative when it comes to heat output. Consider the versatility and aesthetics of a concrete fire pit before choosing one.
Accessories – Concrete fire pits always work better with accessories so choose products that has glass wind guards, protective cover, tank cover etc… It is always to you advantage if it comes with the firepit you ordered but, if not, you definitely have to consider buying it separately.
Concrete fire pits are truly great, less expensive additions to your backyards or patios. You do not have to think twice about its durability. Enjoy low-cost, low-maintenance and sleek, modern designed firepits all year round!

Hi, I'm Adam and I'm a HUGE fan of Food and Cooking.
Do you enjoy grilling sessions with your family while staring at the beautiful fire pit flames?
Flame Gorilla is the site to learn how to have that perfect backyard experience.