Trying to find the Best Rectangular Fire Pit?
Times have changed and it is clear that most home owners are more inclined to choose a modern and cleaner design when it comes to their houses. Some people are into clean lines, sharp angles and well-structured homes with the same futurist aesthetic when it comes to their backyards or patios which complements their homes. However, no matter how forward-looking one's home is, it cannot be denied that some traditional activities remain a poignant part of it.
One of these traditions is having the family gather around a camp fire while roasting marshmallows or grilling food, sharing stories and just relaxing. It is apparent that no matter how contemporary a person's style is, a fire pit will always be something that will always have a place in people's homes.
It is a good thing that fire pits have also evolved to accommodate the ever-changing architecture and preference of most people. Fire pits are no longer just elaborate holes, dug on the ground to contain fire but are now also free-standing vessels that run on different fuel types to fit anybody's need. Plus, fire pits now come in premade structures of different shapes and sizes.
Most individuals prefer to have a rectangular fire pit because it gives their backyard a classier and more elegant look. It is similar to a square fire pit since both gives that high-end feel however, rectangle shaped fire pits provide more seating options. The lines and angles features appear more modern and will certainly fit any home setting.
Rectangular fire pits can also be a good fixture which will help an individual who takes pride in gardening make his or her garden stand out. Also, when a rectangular fire pit is placed along an elongated seating wall, a sofa or love seat can be placed on the other side to complement it while providing enough room for more people to sit on.
Most rectangular fire pits run on gas fuel type and double up as a table which is pretty convenient. Although, if one is more inclined towards wood burning types, there are some steel or iron made rectangle fire pits which run on traditional firewood as well. However, it is clear that most people do opt for the duality of a fire pit table when it comes to getting a rectangular and angular shaped fire pit.
If you are still trying to decide which rectangular fire pit is right for your taste and your home, here are the top choices that you can choose from online.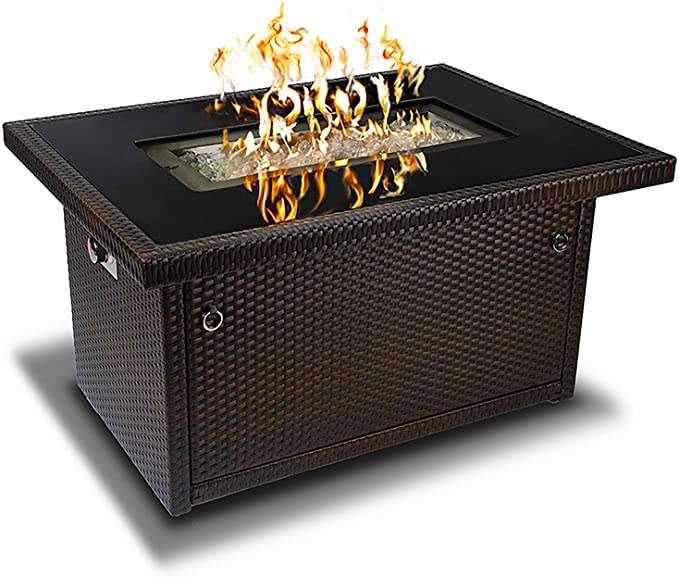 OUTLAND LIVING SERIES Fire Table
Dimension: 44 x 32 x 24 inches
Weight: 96lbs
Material: Aluminum, Stainless Steel
Fuel Type: Liquified Petroleum Gas
Customer Ratings: 4.8/5 (1,756 global ratings); AMAZON'S CHOICE for fire pit coffee table
The Outland Living Series 403 espresso brown fire pit table adds the modern style plus functionality for your backyard or patio fire pit gatherings. It complements any outdoor space and can be a good focal point for family and guests. It has a maximum heat output of 50,000 BTU which will be enough to keep you and people seated near warm and relaxed while enjoying the evening sky. It should be installed or put on a non-combustible floor and a well-ventilated space to prevent any accidents or fire hazards from happening while you enjoy a 100% smoke free fire pit.
Advantages
Constructed from sturdy, durable steel and aluminum frame which provides a strong base with tempered glass table top for drinks, glasses, plates etc…
UV HDPE wicker exterior makes this fire pit all-weather resistant for longer use.
Push button spark ignition system gives a simple and instant control when lighting.
Chrome valve allows for manual control of flame height.
Includes pre-attached 3 ft hose with regulator, 8 mm black tempered glass tabletop and arctic ice decorative glass rock set.
Disadvantages
Does not come with burner lid and protective cover.
Accessories are sold separately.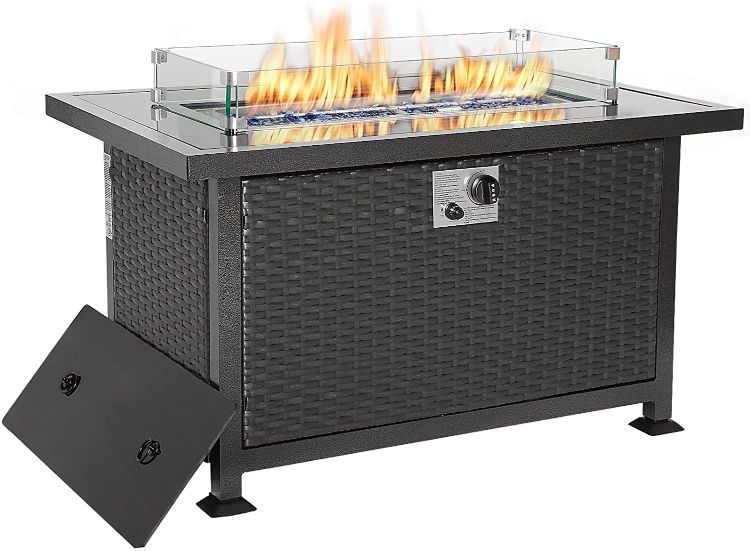 U-MAX 44†Fire Pit Table
Dimension: 44 x 28 x 25 inches
Weight: 11lbs
Material: Stainless steel, Aluminum, Stone
Fuel Type: Liquified Petroleum Gas
Customer Rating: 4.6/5 (1,718 global ratings)
The U-Max outdoor fire pit runs on propane gas to provide clean and stable burning fire that you can enjoy while gathered outside. The elegant rectangular fire pit table frame is made of powder-coated aluminum which is rust and heat resistant. It also is designed with a reliable all-weather resistant PE Rattan while providing durability and strength through a classy style perfect for any backyard or patio. It has a heat output of 50,000BTU which provides ample warmth while creating a romantic, smokeless bonfire atmosphere for your friends and family.
Advantages
Push button spark ignition system with 304 stainless steel control panel for easy light up and convenient adjustment of flame height.
Unit includes: Burner lid, Water-proof fire pit cover, stainless steel burner with pre-attached 2.4ft hose and regulator, tempered glass wind guard, decorative glass stone set.
Comes with accessories bag for necessary screws, nuts and washers and manual for easier assembly.
Tempered glass table top wide enough to place glasses, drinks or plate of food.
Disadvantages
Spark ignition wire is too short.
Assembly might be a little complicated.
Cover is not RAIN PROOF.
BALI OUTDOORS 42†Rectangular Fire Pit Table
Dimension: 42 x 24 x 24 inches
Weight: 77.5lbs
Material: Alloy steel, Stainless steel
Fuel Type: Liquified Petroleum Gas
Customer Ratings: 4.6/5 (1,615 global ratings)
Bali Outdoors rectangular fire pit table has a 60,000 BTU heat output which can provide enough warmth and comfort as you cozily sit outside with your guests or family. The fire pit is constructed with a zinc plated fire bowl and has a very stable steel constructed base to provide durability and strength for long-time use. It is the perfect, elegant centerpiece outdoors and can also function as a table when not in use for its smokeless, ashless flame. Just use the cover lid and voila!
Advantages
Integrated piezo ignition for easy, no-match fire lighting.
Includes: gas regulator, hose, black steel cover lid, 6 ceramic tiles, blue fire glass.
Ceramic tiles are independent of one another and can be switched out with different colored ones.
Disadvantages
Slight problem with assembly.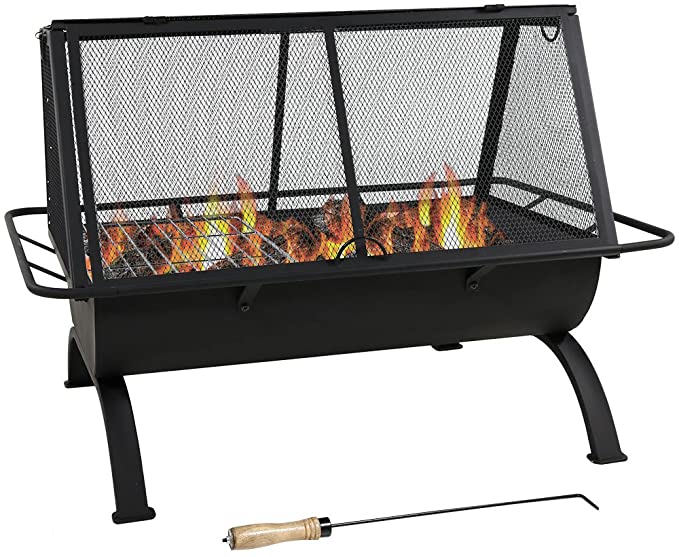 SUNNYDAZE Northland Outdoor Rectangular Fire Pit and Grill
Dimension: 36 x 27 x 25 inches
Weight: 30lbs
Material: Alloy Steel
Fuel Type: Wood
Customer Rating: 4.5/5 (1,562 global ratings)
Sunnydaze's northland rectangular fire pit delivers traditional wood burning fire while providing a modern look to fit any backyard aesthetic. The large 36†fire pit can create bonfires that you can enjoy for warmth while grilling your favorite food on its cooking grate. It is constructed from durable thick steel and has a black high-temperature finish making it resistant to heat and rust. The tubular metal rail that encircles the brazier makes the unit portable and you can even bring it along on camping trips.
Advantages
Includes full grill set, rectangular chrome cooking grate for serving food, spark screen to protect from flying embers or sparks, poker tool to easily control flame.
Built-in hinged door on the mesh screen makes it safer and easier to add logs or to stoke the fire.
Includes weather-resistant vinyl cover.
1 year manufacturer warranty.
Disadvantages
Flimsy material and prone to rust.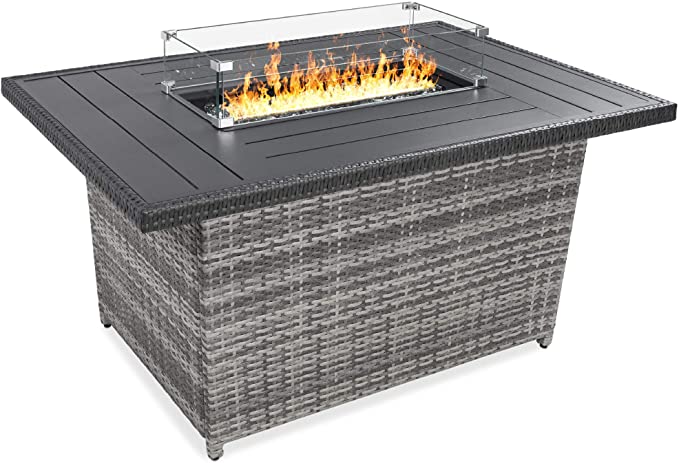 BEST CHOICE 52†Rectangular Fire Pit Table
Dimension: 52 x 34 x 24.75 inches
Weight: 100lbs
Material: Aluminum
Fuel Type: Liquified Petroleum Gas
Customer Rating: 4.6/5 (1,152 global ratings)
An elegant choice which can also be a good outdoor furniture is the rectangular fire pit table from Best Choice Products. It is the perfect combination of functionality and style with its beautiful wicker design and sturdy, all-weather proof aluminum tabletop. It has a convenient pullout gas tank holder to swiftly change propane tank and tuck it away so it's out of sight as you enjoy the 50,000BTU flame output. The frame is constructed from sturdy aluminum frame to provide long-lasting use and stability. Cover the pit when not used for heating and create extra table space for the family to enjoy a good meal.
Advantages
Includes a glass wind guard to keep the fire burning even during a breeze.
Comes with durable, weather protective cover to ensure the table is protected when not in use.
Removable lid to transform from fire pit to table in seconds.
Hidden hooks hold removable lid for space-saving storage.
Disadvantages
Not easy to unpack and assemble.
Ignition is finicky and sometimes does not work.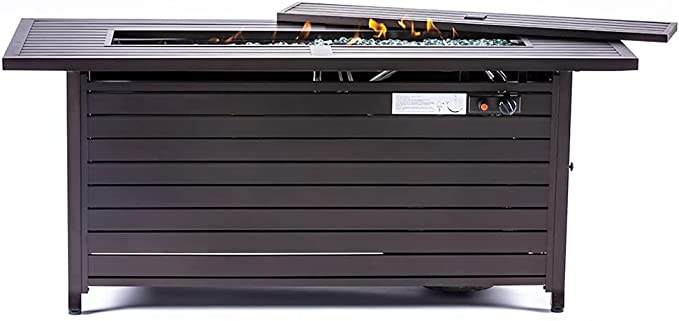 LEGACY HEATING 57†Rectangular Bronze Fire Pit
Dimension: 57 x 21 x 24 inches
Weight: 77lbs
Material: Iron, Stainless steel
Fuel Type: Liquified Petroleum Gas
Customer Rating: 4.5/5 (583 global ratings)
The 57†rectangular fire pit table from Legacy Heating is the answer for people with big families and lots of friends who enjoy sitting around a warm cozy fire together. It has a modern classic design which can easily pair with the furniture in your patio and a good backyard décor as well. The tabletop is made from strong steel with rust resistance powder-coating with an automatic igniter that can easily light a fire as you enjoy a heat output of 50,000BTU. The fire table also comes with a lid to easily convert it into a long table that you can use for eating when not being used as a fire pit.
Advantages
Includes: high quality hardware, hose, full stainless-steel burner, fire table lid, glass beads.
Comes with waterproof cover for the fire table when not in use.
12 months warranty.
Large size and easy to clean.
Disadvantages
Does not come with glass wind guard.
Some assembly problems.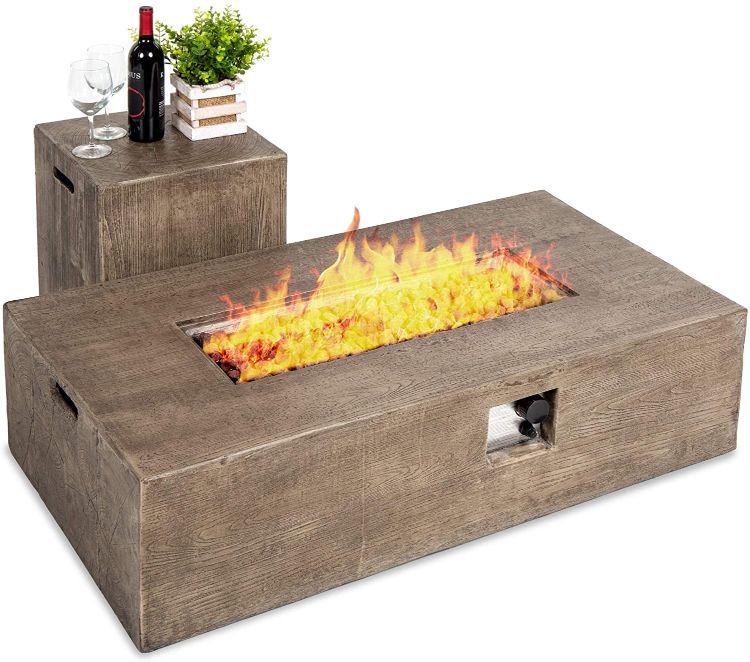 BEST CHOICE PRODUCTS Outdoor Rustic Farmhouse Fire Pit Table
Dimension: 48 x 27.25 x 13.5 inches
Weight: 100lbs
Material: Stainless Steel
Fuel Type: Liquified Petroleum Gas
Customer Rating: 4.1/5 (547 global ratings)
The simple, elegant, rectangular design of Best Choice Products' fire pit table is perfect for entertaining without forgetting functionality. It is the perfect setting to gather around with friends and family while roasting marshmallows and exchanging stories. The farmhouse slab style design adds an adorable, whimsy touch of rusticity in your outdoor area. It is constructed from strong steel and cast wood with a natural wood finish look so it is sturdy and weather-proof as well. The tank storage can also act as a side table to hold drinks, food or décor.
Advantages
Easy automatic ignition button and knob to instantly turn on fire and control flam height.
Includes hose, glass rocks and a weather-resistant pit cover to protect from outside elements when not in use.
Built in side handles to easily transport or move around for change of scenery.
Disadvantages
Side table does not come with weather-resistant cover.
Igniter problems (sometimes does not start.)
Awful customer service.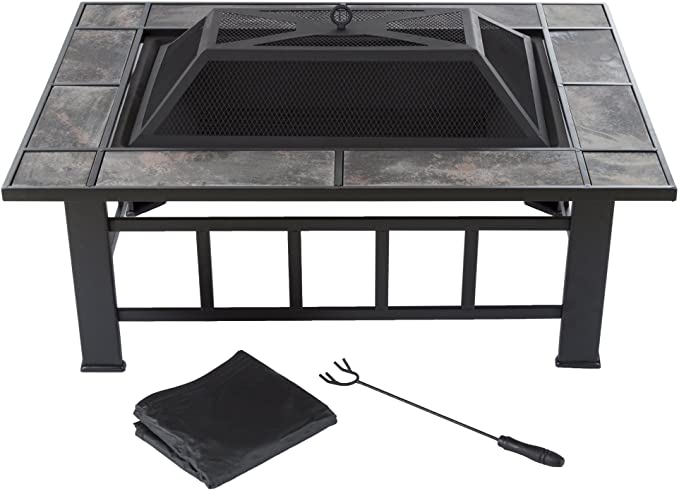 PURE GARDEN Marble Tile Rectangular Fire Pit
Dimension: 37 x 28 x 14 inches
Weight: 42.1lbs
Material: Stainless Steel
Fuel Type: Wood
Customer Rating: 4.6/5 (521 global ratings)
The marble rectangular fire pit table from Pure Garden is a focal point in your backyard or patio that you will want! The contemporary, modern design is accented with beautiful marble where you can enjoy your tile wood burning. The table is constructed from steel with powder coated finish for rust resistance. It is lightweight as well and will not be an imposing figure within your patio or deck set up. You can be sure that your fire burning is done in a safe, stable manner with the table's steel leg construction making it not only decorative but highly reliable and strong.
Advantages
Easy to set up and require low maintenance and upkeep.
Easy to clean with a slightly damp cloth with no chemicals or cleaning product required.
Includes: safety log poker, log grate, spark screen, assembly hardware.
Comes with weather-resistant PVC protective cover.
Disadvantages
Not safe on wooden or combustible decks, requires fire mat.
Tiles might break during shipping.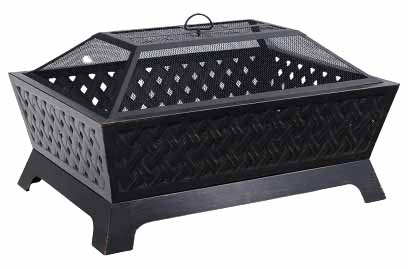 PHI VILLA Rectangular Deep Bowl Fire Pit
Dimension: 34 x 36 x 19.5 inches
Weight: 33.4lbs
Material: Alloy Steel
Fuel Type: Wood
Customer Rating: 4.6/5 (70 global ratings)
The Phi Villa rectangular fire pit has an 8.3†depth which means you can fit enough fire wood in it to create a roaring fire without having to constantly add wood. It is made from stable steel construction with heat-resistant painting so it can last long even after constant use. The bronze finish and decorative lattice design cut-out not only displays classy, stylish outdoor design but also provides great visibility of the flame as you sit around it enjoying a conversation over grilling food or just making s'mores.
Advantages
Lightweight and portable.
Includes: Heavy-gauge spark screen, 17.7†steel poker, steel fire grate.
Lattice design, additional steel net provides continuous airflow for consistent flame.
Disadvantages
Cannot be placed on wooden deck.
Does not come with protective cover.
Need to be stored indoors when not in use to avoid rusting.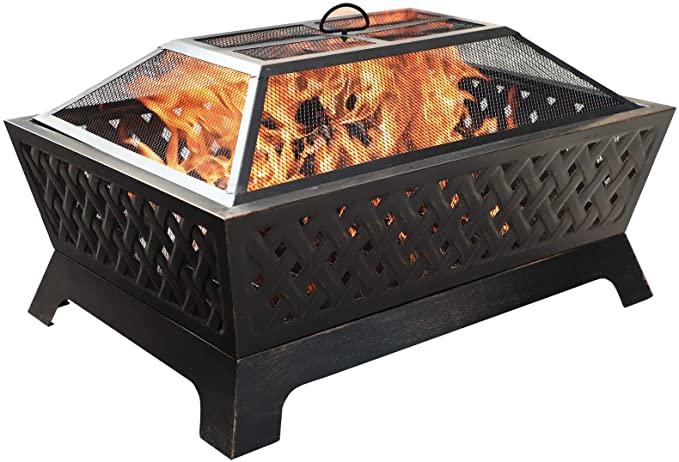 SOPHIA & WILLIAM Outdoor Rectangle Fire Pit
Dimension: 33.9 x 24 x 12.6 inches
Weight: 35.2lbs
Material: Alloy Steel
Fuel Type: Wood
Customer Rating: 4.6/5 (36 global ratings)
This wood burning rectangular fire pit from Sophia & William is made of high-quality steel with special bronze high temperature powder coating finish that helps keep it from rusting. It is light enough to move around outdoors or bring along with you in a camping trip or RVing. You can also purchase a grilling grate and barbecue food over it while enjoying its warmth as you gather around it. The lattice design on the bowl allows for good airflow and view of the fire while an inner spark mesh protects you from flying embers or sparks.
Advantages
Includes: Mesh spark lid, fire poker and steel fire grate.
Easy to assemble and clean out.
Durable 4 legs design for sturdy and stable usage.
8.3†deep bowl to hold lots of firewood.
Disadvantages
No protective cover.
Log rack on bottom gets easily distorted by heat.
Final Verdict
The Outland Living Series Fire Table is not only Amazon's choice for fire pit coffee table but also our winner as the best rectangular fire pit for 2022.
Although this rectangular fire pit table does not come with its accessories like a burner lid and a protective cover, it's still the best value for your money at the end of the day. Assembly is not complicated and its UV HDPE wicker exterior makes it sturdy enough to withstand any weather with our without a protective cover.
We also like that the Outland Living rectangular fire pit has a chrome valve which you can manually control the flame height and a reliable push button spark ignition for hassle-free lighting. Let us not forget that we love the outdoorsy, sleek wicker, espresso brown design giving an elegant and welcoming atmosphere to guests.
What to Consider When Choosing a Rectangular Fire Pit?
Fuel Type – You have to know what kind of fuel you want to use for your fire pit. Propane gas with automatic ignition built-in the fire pits offer convenience and ease during lighting but will have a limited amount of heat output, smokeless and ashless plus, you can't really barbecue or grill anything over it. Wood burning type fire pits can have greater heat output and can be used for barbecuing food but will require manually starting a fire as well as develop ash residue and smoke as it continues to burn all-through the night.
Material – As with any outdoor equipment, especially when dealing with high-temperatures, you have to pick a fire pit that is constructed from sturdy, durable material that is not prone to rust and can withstand high temperatures. Consider the upkeep and how much you will be using the firepit so you will know just how much money you want to invest in.
Function/Style – You can choose between a rectangular fire pit table or a deep bowl fire pit once you think about what functions you expect from it. Again, table top fire pits are generally not intended for grilling or cooking food but, can double up as a table when not used for fire. A deep bowl is ideal for burning logs and if you put a grilling grate on top of it, you can surely cook up barbecue for you to enjoy. Plus, consider what would look best with your outdoor set up since you don't just use the fire pit for warmth but it is also part of your entire landscape design.
Regulations – Check your area or neighborhood if you are allowed to have a fire pit (wood burning camp fire or smokeless propane gas) before you purchase one. There are some places where fire pits are not allowed in properties.
You can enjoy the benefits of having a built-in or above ground, free standing rectangular fire pit all year round. It is a tradition that you will want to keep with family and friends so do not hesitate to check out what works best for your garden, backyard, patio or deck set up. It does not matter if you want to go old-school or opt for that structured, modern design. What matters is that you continue to make great memories around the fire.

Hi, I'm Adam and I'm a HUGE fan of Food and Cooking.
Do you enjoy grilling sessions with your family while staring at the beautiful fire pit flames?
Flame Gorilla is the site to learn how to have that perfect backyard experience.