Looking for Tabletop Fire Pit for Indoor and Outdoor Use?
Fire pits are the best place to gather around with the family or with friends. The roaring fire provides a cozy and warm ambiance that immediately makes any gathering extra special. The stories, laughter and food shared around a fire pit is truly memorable which is why it is one of the best traditions every family incorporates in every generation.
Most fire pits are enjoyed outdoors and some even create their own in-ground campfire space right at their backyards; others simply purchase free-standing vessels that can create a camp fire using gas or wood. There is just something significant in being able to enjoy a warm, relaxing fire within the comforts of your own property. Plus, starting a fire pit nowadays can be less of a hassle with the automatic ignition starter types which sets off a crackling fire at the touch of a button sans matches.
Unfortunately, not everyone has the space or the disposition to enjoy this past time outdoors. Some have limited yard space and just do not have a decent place to put an in-ground fire pit or a portable one. There are others who live in apartments or condominiums that does not have a private yard and definitely cannot burn some wood or even let a copious amount of smoke inside their unit or spaces. Believe it or not, there are also a lot of people who would rather stay indoors and not venture so much to enjoy outdoor activities, let alone sit by a fire pit in the middle of the woods.
It is a good thing though that these circumstances do not hinder people from actually enjoying the same ambiance and benefits of having a fire pit. The only difference is that they have a set up using an indoor fire pit or better yet, a tabletop fire pit.
These tabletop fire pits offer the same cozy ambiance as their outdoor counterparts only in a smaller, more portable shape and size. Usually, they are built to be lightweight, easy to move which enables the owner to put it anywhere around the house or the apartment with a flat, secure surface where they want to enjoy an open flame.
Indoor tabletop fire pits are also created to run on LPG and even rubbing alcohol because they have to be smokeless and odorless so that it does not stench up the interior and most importantly, does not set the fire alarm off.
If you are the type who is rather inclined to own an indoor fire pit, do not worry about the task of having to choose which one it should be. Here are the Top 10 best tabletop fire pits you can find online!
COLSEN TABLETOP CONCRETE BOWL FIRE PIT
Dimension: 5 x 5 x 3.5 inches
Weight: 4.71lbs
Material: Concrete
Fuel Type: Isopropyl Alcohol
Customer Rating: 4.6/5 (1,428 global ratings)
Colsen's concrete bowl fire pit can illuminate any part of your room with its warm and cozy glow. It is designed to fit any space, Tabletop or flat surface indoors and outdoors making it easy to transport. The fire pit is smokeless, odorless and easy to light using rubbing alcohol which should be 70-91% or greater isopropyl alcohol as fuel. Wherever you might want to situate it, this small personal fire pit can easily add the ambiance to your side table in the living room, work desk or even act as a centerpiece for your main dining area.
Advantages
Flame lasts up to 40-50 minutes (depending on room temp and climate.)
Quick and easy to use without mess so there is no need to clean-up after it.
Easy to light and extinguish.
Made from sturdy, reliable material for long-lasting use.
Can be used on top of tempered glass.
Disadvantages
Doesn't get hot in the bottom but can discolor a wooden surface so use a trivet under.
Smaller and does not burn very long so you will need to use a lot of alcohol to keep it burning.
BRIAN & DANY PORTABLE ETHANOL FIRE PIT
Dimension: 7 x 5.7 x 13.8 inches
Weight: 3lbs
Material: Steel base, tempered glass panes
Fuel Type: Ethanol (95% alcohol percentage)
Customer Rating: 4.1/5(862 global ratings); Amazon's Choice for Tabletop fire pit for patio
This Tabletop fire pit is the perfect replacement for wood, log or gas fire pits. It simply runs on ethanol fuel which is easy to access and highly affordable fuel to enjoy 8-12 inches of real flame. You can enjoy the ambiance set by a warm, cozy looking fire without having to worry about ash, soot or smoking up the place. It is well-built with a steel base, durable enough to be used for a long time and the tempered glass panels ensures you can view the flame safely, especially if you have kids or pets indoors.
Advantages
Burn time is approximately 45-60 minutes when fully filled with fuel.
Sturdy and durable, highly portable and lightweight, easy to move around the house.
Package includes: 1 wick, 1 flame snuffer and a manual for easy instructions.
Asbestos cotton core is reusable for a long time without replacement.
Disadvantages
Ethanol is sold separately.
Cannot be used in windy places.
Cannot cook food (even marshmallows) over it.
ROUNDFIRE CONCRETE TABLETOP FIRE PIT
Dimension: 5 x 5 x 4 inches
Weight: 1.6Kg
Material: Stainless steel with concrete finish
Fuel Type: Bioethanol, Isopropyl, Rubbing alcohol
Customer Rating: 4.7/5 (334 global ratings); Amazon's Choice for Tabletop fire pit
This Tabletop fire pit from Roundfire is a great way to bring the aesthetic of outdoor fire pits into the comfort and convenience of your own home indoors. The graphite color concrete finish will definitely help make this table piece as a stunning décor or focal point in any space in your home or apartment unit. It is safe to use because it is fitted with a stainless-steel burn cup so you can be sure that there is no leakage of fuel and rapid cooling of the burn chamber. It also comes with a flat, stainless-steel snuffer which extinguishes the fire quickly and effortlessly. You can enjoy clean burning with sustainable products without producing any smoke or ash. It is mess and odor free!
Advantages
Marble effect base which helps dissipate heat from firestone and protect your table surface from the heat produced.
Can be used with multiple alcohol fuels.
Provides 60+ minutes of burn time.
Strong, high quality-built material.
Produces 6–12-inch flames, 2,000 BTU and 250 sq ft of warmth.
Can be used to make s'mores.
Disadvantages
Marble base can be off-center.
Missing extinguisher during shipment.
12-inch flame might be too large for indoor use to some consumers.
DANYA B. PORTABLE TABLETOP FIRE PIT
Dimension: 10.25 x 10.25 x 11 inches
Weight: 3.5lbs
Material: Metal, Glass
Fuel Type: Bio-Ethanol
Customer Rating: 4.3/5 (308 global ratings)
This ethanol burning fire pit from Danya B. sports a sleek black metal base with clear glass hurricane making it a stylish tabletop fire pit you can place anywhere inside your home. It is the perfect replacement for the traditional wood or gas burning fires and its odorless, smokeless and soot-less! It is the perfect centerpiece for a small, chill gathering with family or with friends without having to venture outdoors to enjoy a live, dancing flame. The beautiful cylindrical glass body burns for 1 and half hour depending on fuel and room temperature.
Advantages
Comes with decorative rocks and snuffer.
Simple, lightweight and highly portable.
Glass provides extra protection from the open flame.
Glass is not too thin but not too heavy as well.
Disadvantages
Fuel is expensive and better bought in bulk.
Needs a lid for the wick container.
COLSEN TABLETOP INDOOR RECTANGULAR FIRE PIT
Dimension: 18 x 4 x 4 inches
Weight: 18lbs
Material: Concrete with matte finish
Fuel Type: Isopropyl alcohol
Customer Rating: 4.5/5 (283 global ratings); Amazon's Choice for Colsen tabletop fire pit
The rectangular indoor tabletop fire pit from Colsen is the perfect addition to your home. Enjoy the warmth and ambiance from a fire that provides elegance and style as well. It is lightweight and highly portable so you can place it anywhere around the house so you can enjoy an evening by the fire with your family or with your guests. It is smokeless, odorless and does not produce soot or ashes for you to clean up after. Made from sturdy, highly durable material, it is perfect for long-time use. This is also the perfect gift for any occasion!
Advantages
Clean burning fuel and can burn from 40-50 minutes.
Mess free and easy to clean.
Well-made and packed with concrete through with leveling feet.
No assembly needed and easy to use.
Disadvantages
Does not come with a snuffer/extinguisher.
Does not come with glass pane to keep the fire from being completely open.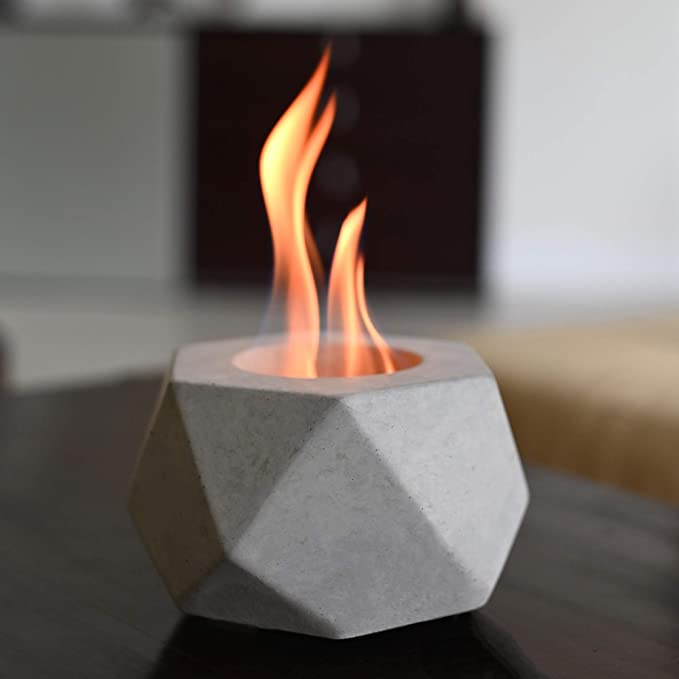 COLSEN TABLETOP PORTABLE HEX BOWL FIRE PIT
Dimension: 5 x 6 x 4 inches
Weight: 5lbs
Material: Concrete
Fuel Type: Isopropyl Alcohol
Customer Rating: 4.7/5 (270 global ratings)
The portable hex bowl from Colsen provides a unique and stylish aesthetic to a tabletop fire pit. It comes in Hex Large, Hex Small and Hex Tesla sizes which can easily fit into any of your home's interior design. It is pretty easy to use without any assembly required and you can immediately enjoy the warm, cozy effects of having a real fire in any area. This smokeless and odorless fueled by alcohol fire pit is lightweight and can easily be brought anywhere with you so you can enjoy your very own personal fire pit within the house or anywhere you want.
Advantages
Sturdy, durable material for long-time use.
Quick and easy use with no clean-up required.
40–50-minute burning flame.
Can be used to roast marshmallows and make s'mores for that extra campfire feel.
Unique and eye-catching design.
Disadvantages
Outer walls get too hot making it untouchable while fire is burning and stays hot for a while even after snuffing the fire out.
Uses up fuel pretty fast (30-40 minutes.)
Does not come with own extinguisher or snuffer.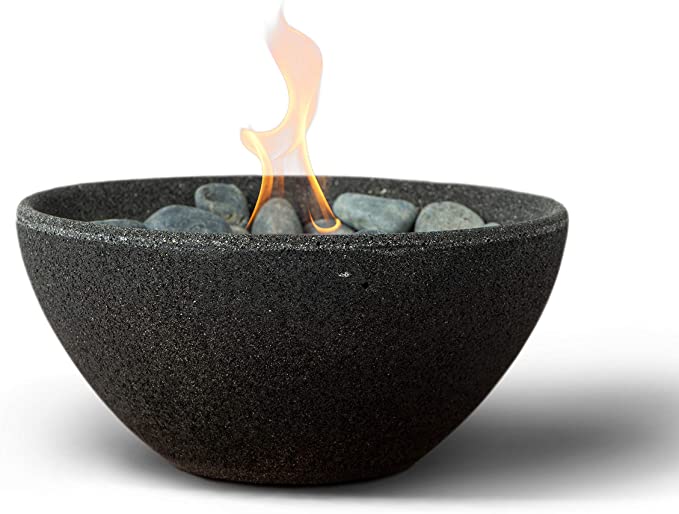 TERRA FLAME GRAPHITE TABLETOP FIRE BOWL
Dimension: 10.63 x 10.63 x 5.13 inches
Weight: 11lbs
Material: Stone
Fuel Type: Ethanol
Customer Rating: 4.4/5 (261 global ratings)
The graphite fire pit bowl from Terra Flame combines the natural essence of outdoors with the stylish, sophisticated setting of indoors. It is the beautiful addition to your home's interior design while providing a mesmerizing flame, creating that warm, cozy ambiance for you and your family. It made from hand-cast organic sustainable concrete and has a polished, sparkly finish which can make it a great centerpiece in any room. It comes with 3 13oz. cans of Terra Flame Gel Fuel that not only provides a 3000 BTU output of flame but provides that crackling sound of a real campfire!
Advantages
Made for both indoor and outdoor.
Fire bowl does not get hot so it is easy to touch and transport even when in use.
Up to 3 hours of burn time per can of Terra Flame Gel Fuel.
Food safe so you can roast marshmallows and enjoy making s'mores with family or guests.
Clean, odorless and smokeless burning.
Disadvantages
Does not come with its own snuffer.
Gives off very little heat.
Chips off and gets easily weathered when left outdoors.
USA PRECAST TABLETOP FIRE PIT
Dimension: 5 x 5 x 3.5 inches
Weight: 5lbs
Material: Concrete with Blasted Finish
Fuel Type: Ethanol, Isopropyl Alcohol
Customer Rating: 4.5/5 (187 global ratings)
You can truly enjoy having an open fire ambiance anywhere inside your home or apartment. Enjoy the ambiance that this concrete Tabletop fire pit provides as you safely burn clean fuel while basking in the warmth of its fire. It is made from durable and sturdy material and comes with a dense, durable felt pad on the bottom which protects your furniture from heat and scratches. This product is lightweight enough to be carried around anywhere so you can have access to its S'mores making ability! The fire pit is hand crafted in the USA so you are sure that the quality is top grade and can be used for a long time.
Advantages
Clean, food safe burning open flame good for roasting marshmallow and even roast weenies.
Depending on temperature, climate and amount of fuel, this fire pit can burn up to 40+ minutes.
Quick, no assembly, no mess, odorless and smokeless use.
Disadvantages
Can crack if not filled with fuel at a high level.
Does not come with a snuffer or extinguisher.
Overpriced for a piece of concrete with a hole in it.
ANYWHERE FIREPLACE TABLETOP LEXINGTON MODEL FIRE PIT
Dimension: 19.5 x 8 x 9.5 inches
Weight: 13lbs
Material: Stainless steel
Fuel Type: Bio-Ethanol
Customer Rating: 4.5/5 (139 global ratings)
Anywhere Fireplace provides you with a Tabletop fire pit that can give you the instant ambiance of a real fire. It is the perfect finishing touch to your home's interior design so it sports not only functionality but style as well. This fire pit can be used anywhere since you do not need to plug it or use a gas line nor a vent for it to produce clean and beautiful burning flame. The product is constructed from high quality materials which is durable and provides longevity in use not to mention a high-quality design and workmanship. Enjoy a smokeless, odorless and pollutant free fire indoors.
Advantages
1 liter of fuel burns up to 5 hours.
No clean up or maintenance needed.
High style, contemporary brushed stainless-steel finish that comes in 6 colors: Stainless steel, high gloss Red Paint, High Gloss Black Paint, High Gloss Blue Paint, High Gloss Beige paint and High Gloss White Paint.
Glass panel provides extra safety to keep kids and pets away from the open flame.
Disadvantages
Fuel sold separately.
Does not come with a snuffer.
Flame has smaller output and heating capacity.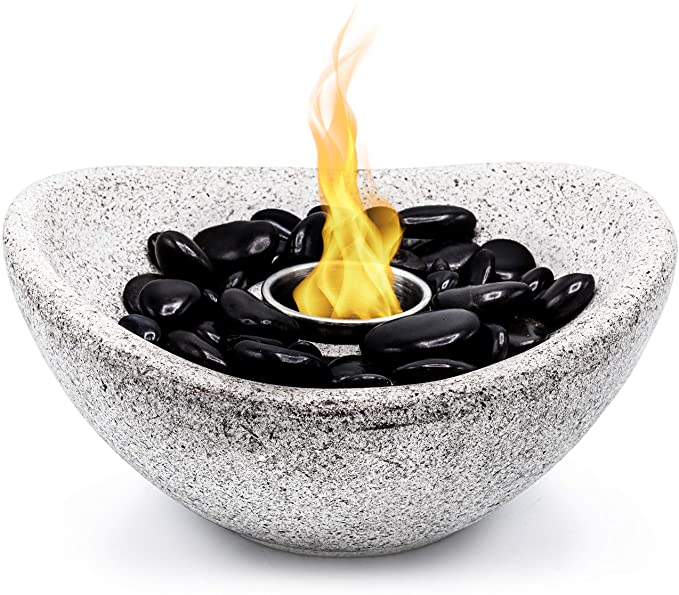 VIZAYO TABLETOP FIRE PIT
Dimension: 11.02 x 10.24 x 5.31 inches
Weight: 7.2kg
Material: Concrete
Fuel Type: Bio-Ethanol
Customer Ratings: 4/5 (111 global ratings)
The Tabletop fire pit pot from Vizayo is easy to use, ventless, smokeless and odorless making it the perfect table centerpiece indoors. Enjoy its stylish design with its functionality as it provides a warm, ambient, open flame for you and your family to enjoy. The modern delicate oval shape with rounded edges is made with sturdy, durable cement frame and concrete and provides a 360-degree view of dancing flames. It truly is an elegant Tabletop fire pit to complete a cozy night of cuddling or wine sharing with your loved one.
Advantages
1 year manufacturer's warranty so you can purchase worry-free.
Modern, sleek design requires no assembly, easy to use and easy to clean.
Upgraded snuffer with long handle for safety and swivels so you can reach fire from different angles.
Includes: Wave Fire Bowl, Black River Stones, Snuffer, Burner Can and Fire pit cover.
Disadvantages
Not food grade flame, cannot be used to roast marshmallows.
Heavier than most Tabletop fire pits.
Prone to cracking after several use.
Final Verdict
The ROUNDFIRE Concrete Tabletop Fire Pit is the clear choice for the best tabletop fire pit for indoors and outdoors in 2022.
Although this tabletop does not come with its own tempered glass panel to protect it against the wind when outdoors, it's 6 to 12 inch flame from its 20,000BTU output can surely withstand being snuffed out right away. You will not need to worry about fuel since this fire pit can run on multiple alcohol fuel types. It also gives off a sleek, stylish look which is perfect for any table setting.
The ROUNDFIRE is small looking but has a solid and sturdy body and will warm up at least 250 sq ft. Plus, with its burn time of almost more than an hour, you can enjoy making as much s'mores as you can with your guests or family.
What to Consider When Buying Your Tabletop Fire Pit?
Fuel Type – Tabletop firepits run on different types of fuel, some a little more expensive than others. Isopropyl and rubbing alcohol are probably the cheapest and easiest to find but if you want to consider a more environmentally friends fuel, then Bio-Ethanol is the choice. It can be a little bit expensive but if your budget allows for it then purchase in bulk so you don't easily run out since it is also a little bit difficult to find in stores. If you plan on cooking marshmallows or roasting small food, then make sure that your fuel type is Ethanol, propane or gel because these are food safe. Read the manual thoroughly so you are sure you're using the correct fuel type to utilize your fire pit's full burning potential.

Be sure to read up on the safety and caution procedures when handling fuel to ensure that there will be no leakage or accidental spillage. Alcohol burns up pretty fast and if it spreads out of the container, easily combustible materials surrounding the fire pit can easily get caught up with the fire.
Material – Tabletop fire pits should not weight so much since you want it to be transportable and easily shifted around the house, depending on the setting and ambiance you want to create. Choose a product which is constructed from sturdy, durable but lightweight materials so you can enjoy your fire pit without worrying about cracks, breaks or exploding glass panes. You also have to consider the finish and the design, shape so it can match the aesthetic style you have in your home.
Accessories – Most Tabletop fire pits come with a kit but it is better to check out what is included in the package to make sure you have all the elements you need to enjoy a hassle-free use of your purchase. Some fire pits do not come with its snuffer or extinguisher so you have to buy it separately.
Keep in mind that Tabletop fire pits do not have the same burning capacity or heat output as their larger, free-standing counterpoints. The fuel that they use burns quicker and less hot than the traditional wood or gas type so, manage your expectations. The purpose is to experience and enjoy an open, dancing flame indoors safely and accordingly.

Hi, I'm Adam and I'm a HUGE fan of Food and Cooking.
Do you enjoy grilling sessions with your family while staring at the beautiful fire pit flames?
Flame Gorilla is the site to learn how to have that perfect backyard experience.