Gathering around a fire pit with food, drinks and good stories is definitely fun. You sit with your loved ones and with your closest friends while chilling and relaxing. Yes, it is definitely a great pastime especially if you are unwinding after a very busy week.
Unfortunately, not everyone has adequate space in their homes to build and enjoy a permanent fire pit. Even with those free-standing vessels, cleaning around the area and moving the fire bowls around can be quite a chore. This is perhaps one of the reasons why people are inclined to purchase a portable fire pit or a fire pit on wheels.
Imagine the mobility and convenience that fire pits on wheels have to offer! This is the perfect solution if you are one of those people who constantly need to put or stow away their firepits after each use either to free up some space or to protect your equipment when not being used. Towing or wheeling your fire pit towards a shed or its storage area would be a zilch and it will not even require that much lifting power from you!
Cleaning the area where you hold your bonfire or barbecuing will be less of a hassle since you will not be lugging a heavy fire pit back and forth as you try to get rid of residue on the ground and around that area. Plus, you can be sure that no soot or stain will get in your clothes since you will not be lifting a grimy fire pit bowl with your bare hands but rather keep it at a comfortable arm's length as you roll your fire pit on wheels away with ease.
No matter what your reason is for getting a fire pit on wheels, here are some of the choices you can find online. Hopefully, this will aid you in picking out the best one to suit your needs.
FIRESENSE 28†Patio Hearth Bonfire Portable Fireplace
Dimension: 33 x 28 x 46 inches
Weight: 29.92lbs
Material: Alloy Steel
Fuel Type: Wood
Customer Rating: 4.4/5 (1,238 global ratings)
Enjoy the benefits of having an outdoor fire pit with this corrosion resistant porcelain enamel bowl painted in beautiful black and silver. This fire pit on wheels is constructed with strong, powder coated steel frame so it is sturdy and stable as you enjoy warm nights with family and friends. The dome lid helps in pushing the heat outward and not straight upwards which means warmer output even during the cold weather.
Advantages
Steel fire screen with silver high temperature paint to keep fire visible at 360 degrees yet contained, protecting you from sparks and flying ash and embers.
Features a large single door that easily opens so you can add more wood, clean the grate or roast marshmallows.
Large, heavy-duty wheels and sturdy wood handle helps this fireplace become mobile so you can move it from your vehicle to the campsite, around the backyard to the patio with ease.
Comes with removable steel grate for easy placing of logs and adds elevation to the logs for optimum airflow to sustain a healthy fire.
Disadvantages
Handle too short for optimum mobility.
Does not come with assembly screws, nuts and bolts.
LANDMAN USA 28051 Heatwave Fire Pit
Dimension: 28.1 x 31.5 x 45.5 inches
Weight: 35.4lbs
Material: Alloy Steel
Fuel Type: Wood
Customer Rating: 4.6/5 (641 global ratings)
The Heatwave from Landman is designed to fit in your backyard or patio regardless of the space. Its porcelain lid and bowl is well supported by sturdy stainless steel base structure so you can enjoy the roaring fire safely and without worry. The spark guard is made from galvanized steel which is rust resistant and provides you a good 360 degree view of the fire while protecting you from sparks and flying embers. The Bakelite handle on the lid allows you to hang it instead of placing it on a surface to avoid burns or accidents.
Advantages
Features a 28†fire bowl which can hold a good amount of wood for a healthy fire.
Comes with a wood grill grate and cooking grill grate so you can actually put on a few burgers and hotdogs to barbecue.
Fire bowl handle is with heatshield to avoid accidental burning when handling.
Large steel wheels for easy mobility.
Includes bottom storage for your wood and kindling.
Disadvantages
No sliding or hinged screen door for easy access, you have to lift the lid to tend the fire or add wood.
Screws included for assembly is not coated for heat-resistance.
Protective cover not included.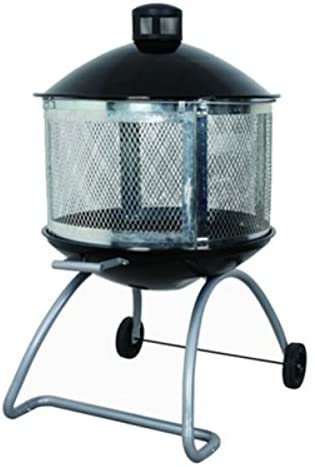 SHINERICH INDUSTRIAL SRFP 2822 Portable Fire Pit
Dimension: 29.53 x 29.53 x 8.27 inches
Weight: 31.4lbs
Material: Porcelain
Fuel Type: Wood
Customer Rating: 4/5 (58 global ratings)
This fire pit on wheels does not require any assembly so you can buy and enjoy its uses immediately. The fire bowl is 28†which can fit ample firewood to get a good roaring fire going and keep you warm as you gather around it. The top lid and bottom bowl is constructed with porcelain baked material for strong, heat-resistant product. It is supported by silver powder coated tube legs for stability. The zinc plated mesh screen provides 360 degree view while protecting you from sparks and embers.
Advantages
Rear wheels with front pull handle provides convenient and easy mobility.
Sliding screen door allows for easy access to tend to the fire or add more log.
Includes charcoal grid and fire poker.
Disadvantages
Does not have a cooking grill grate.
No bottom vent or holes.
Protective cover not included.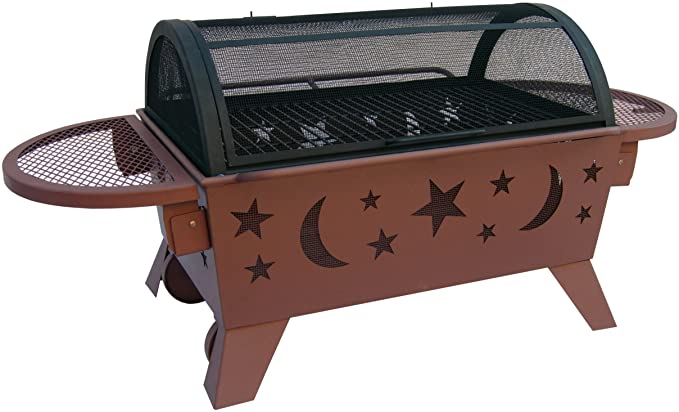 LANDMAN USA 28740 Northern Lights XT Fire Pit
Dimension: 52.5 x 25.25 x 22.75 inches
Weight: 53lbs
Material: Alloy Steel
Fuel Type: Wood
Customer Rating: 3.8/5 (45 global ratings)
The Northern Lights XT is a rectangular firebox which is large (30â€) and deep (20â€) so you can be sure that you will get continuous warmth from a blazing fire all through the night. This fire pit on wheels is made from sturdy steel with a high-temperature sand paint finish making it highly durable. The star and moon cutouts on its sides are more than just a design but also helps in providing consistent airflow to keep a healthy, blazing flame. The sturdy wheel, safety ring and side handle makes this fire pit extremely easy to move around.
Advantages
Includes a porcelain cooking grate so you can cook a few burgers and hotdogs on it.
Firebox handle, safety ring and spark guard with handle and access door for convenience.
Comes with 37†solid steel poker to handle logs and grilling safely and with ease.
Foldable side shelves on each side of the firebox offers extra space to place tools etc…
Disadvantages
Rolls good on hard surface but not on grass.
Putting on the cooking grill is difficult once fire is going.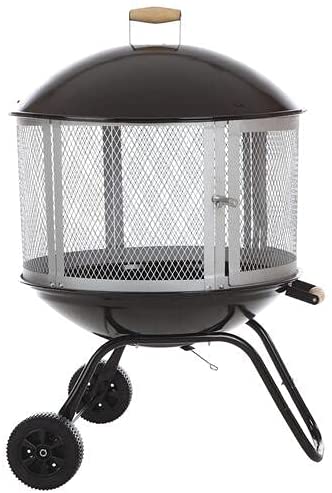 BACKYARD CREATIONS OUTDOOR 28†Mobile Fire Pit
Dimension: did not mention
Weight: did not mention
Material: Alloy Steel
Fuel Type: Wood
Customer Rating: 5/5 (2 global ratings)
This portable round mobile fire pit from Backyard Creations can be the perfect addition to your yard or patio if you are looking for a fire pit on wheels. It has a 28†fire bowl which will hold enough wood to get a good fire going. The porcelain coated lid and base is durable and heat-resistant which is steadily supported by high-temperature steel legs. The wheels are huge enough to provide easy mobility.
Advantages
Spark screen guard has hinged door access so you can easily tend the fire or add more wood.
Comes with steel wood grate.
Galvanized steel spark screen.
Easy assembly.
GENERIC Rollaway Compact Fire Pit on Wheels
Dimension: 23.62 x 23.62 x 5.91 inches
Weight: 32.4lbs
Material: Stainless Steel, Carbon Steel, Metal
Fuel Type: Wood
Customer Rating: n/a
This type of fire pit on wheels combines décor and practicality all in one flat, rollaway tray! It is a 45cm carbon steel bowl painted with high-temperature resistant black paint and sits on a 60cm square tray which features 4 360 degree lockable swivel wheels. You can easily move this rollaway outdoors when in use then pushed under a table or placed in a corner when not in use to save a lot of space. Simply tow to your next desired destination and enjoy BBQ, campfire and s'mores at your convenience.
Advantages
Comes with stainless steel poker.
Easy to clean and quick to assemble. Just attach the 4 wheels to the tray and it's good to go.
Large tray to fit your kindling and wood.
Disadvantages
No consumer rating or review.
No handle for towing.
Final Verdict
All things considered, we have come to the conclusion that FIRESENSE 28†Patio Hearth Bonfire Portable Fireplace is the best fire pit on wheels among the other contenders in 2022.
The FIRESENSE Patio Hearth Bonfire offers all the necessary convenience that we expect from a reliable, high-performing mobile fire pit. The strong alloy steel material, large, heavy-duty wheels and sturdy wooden handle ensures that you can easily bring this fire pit anywhere without any hitches.
The steel mesh screen securely keeps any sparks from flying as you gather around, enjoying the good 360 degrees view of the fire while the removable steel grate allows you to tend to the fire without too much fuss or difficulty. Clearly, this fire pit on wheels offers nothing but convenience, efficiency and relaxation, anywhere, anytime.
What to Consider When Choosing a Fire Pit on Wheels?
Material – It is always important to consider the construction of your fire pit and the portable ones are no exception. Make sure your bowls and its lids are high-heat resistant, rust proof and corrosion resistant. Ensure that all parts of your mobile fire pit does not easily melt or warp when you start using. Keep a particular interest on the construction of the steel legs and the wheels because you do not want your wheels to melt after it's exposed to the heat of the fire pit. This will make it impossible to tow or move and defeats the purpose of having fire pit on wheels.
Size – Since mobility is the focal point of this fire pit, you can expect it to be smaller and lighter than most free-standing fire pits. You have to consider that the size might be too small or compact for a large group but the ease in transporting the vessel should be a worthy trade off. Also, you don't want a fire pit on wheels that weighs heavy since the point of being able to wheel it off is ease and convenience.
Wheels – Again, you have to consider the material make-up of the wheels to ensure that they are durable and will not warp or melt when exposed to extreme heat. The wheels should also be able to roll easily to avoid any mishaps, accidents or inconveniences. It also helps if you have wheels that lock in place just to provide extra stability and safety. You don't want your fire pit to run away from you. Plus, check how your wheels work in different types of surfaces since the terrain you most likely will use involves grass, gravel, concrete, mulch etc…
It does not matter whether you are opting for a mobile fire pit or a stationery one, the same qualities should be considered. You always have to think about getting your money's worth since it is an investment that you plan on utilizing until you can. While there is no harm in choosing to buy inexpensive fire pits on wheels or any fire pit in particular, you have to consider its longevity and durability. Otherwise, you will be throwing out a useless equipment after just a couple of uses. So, it is better to choose a practical approach when making a decision; buy the sturdier, highly durable, pricier fire pit that lasts longer!
A fire pit on wheels is truly a great solution and a sound investment especially if you enjoy the smell of burning fire wood while keeping warm and cozy during the evenings. The convenience and ease it brings because of its mobility makes up for what it lacks in size and perhaps in price. Being able to tug or pull your fire pit, roll it away to storage and safety will provide less work and grit on your part which allows you to continue relaxing long before the campfire party or backyard barbecue has finished. You can clean with ease then sit back and enjoy the rest of your day which is the actual point of taking a breather and just enjoying life.

Hi, I'm Adam and I'm a HUGE fan of Food and Cooking.
Do you enjoy grilling sessions with your family while staring at the beautiful fire pit flames?
Flame Gorilla is the site to learn how to have that perfect backyard experience.