There is a certain elegance and style when you look at a fire pit made from cast iron. It looks impressive and some even majestic as it sits with all its rustic-looking glory in the center of your backyard or patio. Yes, cast iron fire pits have different appeal that makes people gravitate towards them no matter what the shape or the size.
Cast iron fire pits are impressive because they are constructed to withstand all things that has to do with fire or heat. When it comes to campfire or any fire cooking related activities, these vessels are made for heavy duty action. They can take a beating so you can be guaranteed a long-lasting service from them.
There are several advantages that cast iron fire pits offer over their counterparts made from different materials.
Cast iron fire pits are extremely sturdy and durable.
Cast iron fire pits offer extreme warmth amongst other fire pits because of their heat retaining properties.
Cast iron fire pits' material is thicker and denser which might take some time to heat up but they hold in heat longer which makes it the best choice for people living in a cold climate.
Cast iron fire pits are not prone to rust although, they are prone to discoloration if exposed to moisture. This is why most people prefer to use cast iron pans when cooking.
The only downside to getting a cast iron fire pit is that they are quite heavy and expensive compared to steel ones. Also, since they retain heat quite well, it can be dangerous if accidentally touched because it will take some time before cooling off. However, if you have no plans of lugging the fire pit around and will most probably just keep it as a focal point in your yard, then the weight will not matter too much. As for the expense, you can consider it as a good investment since you are able to benefit from a cast iron fire pit longer.
Choosing a cast iron fire pit can be quite trivial so, here is a compilation of the best choices you can find online. You can consider each option and pick the one the suits you and your style!
BALI OUTDOORS Cast Iron Chiminea Fire Place
Dimension: 22 x 22 x 45 inches
Weight: 52.9lbs
Material: Cast Iron
Fuel Type: Wood
Customer Rating: 4.6/5 (1,842 global ratings); #1 Best Seller in Chimineas
This modern take on a classic chiminea is definitely a good addition to your backyard or patio to use for those campfire nights at home. Instead of clay, this fire pit is constructed from cast iron which is sturdier, more durable and can last longer than most chimineas in the market. The good looking fire cage offers a 360 degree view of the fire while you enjoy it safely protected by a protective mesh screen. The round roof, chimney style ensures that the smoke is funneled upward and away from you and your guests so you can relax and enjoy without worrying about smelling like smoke.
Advantages
Comes with a two-piece log grate to hold the wood safely while burning and ensure proper airflow for a strong, steady fire.
Has a handle which slides the mesh door open to easily access wood.
Includes rain cap to protect the fire cage from outdoor elements especially rain.
4 sturdy legs for durable and steady support.
Disadvantages
Can only be used on fire proof base.
Assembly is a little tricky.
AMAGABELI GARDEN and HOME Cast Iron Fire Pit
Dimension: 30 x 30 x 9.4 inches
Weight: 19lbs
Material: Cast Iron, Metal
Fuel Type: Wood
Customer Rating: 4.3/5 (666 global ratings)
This cast iron fire pit is made of durable thick cast iron and has a thickness of 2.28 millimeters and finished with a black high temperature paint. It makes this fire bowl heat and rust resistant, ensuring long lasting quality and use in any type of weather. The base is 2 inches thick so it offers stable, sturdy support while there is enough space to make a large or small fire, ensuring that you will get enough warmth from a relaxing fire even when swimming in your pool. Burning wood outdoors for camping or even at the beach is made possible because this fire pit is not too heavy to be transported.
Advantages
Assembly takes about 5 minutes to complete.
2 side handles allow the fire pit to be highly portable.
Can be used on wooden deck.
Wide enough to fit a lot of fire wood for longer, more constant flames.
Disadvantages
No drain holes.
Does not come with accessories.
CATALINA CREATIONS 52†Heavy Duty Cast Iron Fire Pit
Dimension: 29.53 x 29.53 x 19.69 inches
Weight: 45lbs
Material: Cast Iron
Fuel Type: Wood
Customer Rating: 4.6/5 (538 global ratings)
A cast iron fire pit is a perfect focal point when it comes to your patio or backyard and with the sturdy fire bowl from Catalina Creations, you can put a bit of whimsy along with it. The large cast fire pit is designed with star and moon cutouts which does not only works as a design but also a great way to supply continuous airflow for a stable, constant fire. The cauldron is wide and deep enough to house ample firewood for a huge or small fire and is supported with 4 sturdy legs so you can enjoy a stable and safe campfire at home.
Advantages
Includes 24†mesh spark screen to safely enjoy the fire free from flying ash or embers and screen lifting tool for easy access to tend logs or add wood to keep the fire going.
Log grate is constructed with thick cast iron steel and finished with heat resistant paint.
Heavy duty but not imposing.
Has a drain hole so water can drain out.
Disadvantages
No assembly required.
A little heavy to carry but manageable.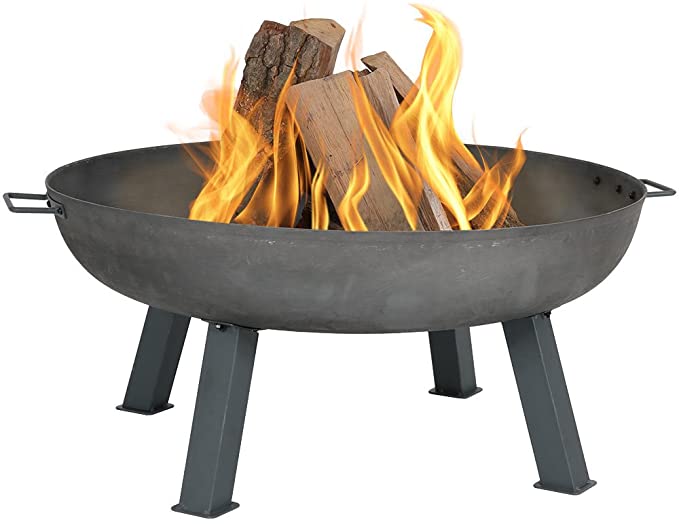 SUNNYDAZE Rustic Steel Colored Cast Iron Fire Pit Bowl
Dimension: 34 x 34 x 16 inches
Weight: 35lbs
Material: Cast iron
Fuel Type: Wood
Customer Rating: 4.6/5 (439 global ratings)
The rustic steel colored fire pit bowl from Sunndaze is 9 inches deep which allows it to handle enough firewood to keep you and your guests constantly warm all through-out the night. It's constructed from steel-colored cast iron material which is oxidized to create a rustic looking metal for a unique style. The color will also change as it is constantly exposed to water and oxygen so if you are looking for cast iron but does not have a black finish, this is it. If you don't want it to change color so much, you can keep the fire pit covered when not in use to lessen its exposure to the elements.
Advantages
Portable with handles placed conveniently on each side so you can easily move/carry it.
Handles allow for easy dumping of ashes and cleaning.
Four 10-inch slanted legs provide extra stability and durability on any surface.
1 year manufacturer's warranty.
Easy assembly.
Disadvantages
No drain holes.
Does not come with protective cover.
Accessories and fire tools sold separately.
ESSCHERT DESIGN USA FF90 Fire Bowl
Dimension: 30.9 x 30.9 x 11 inches
Weight: 80lbs
Material: Cast Iron
Fuel Type: Wood
Customer Rating: 4.6/5 (339 global ratings)
This heavy duty, cast iron fire pit is eye catching because of its simplicity. It is constructed from strong sturdy material and will develop a fantastic patina with constant use by fire and with the weather over time. The timeless design is easy to assemble and has a secure base so you can safely enjoy a roaring fire any time and in any season. The low and open design also allows you a great 360 degrees view of the fire.
Advantages
Can handle 17†logs without concern.
14†thick metal makes this cast iron fire pit stronger and more durable.
Perfect size and height to roast marshmallows and can fit up to 8 people around it.
Disadvantages
No drain holes.
Does not come with protective cover.
Sharp edges and is heavier than most cast iron fire pits.
AMAGABELI Cast Iron Fire Pit BG372
Dimension: 18.6 x 18.5 x 18.15 inches
Weight: 14.77lbs
Material: Cast Iron, Metal
Fuel Type: Wood
Customer Rating: 4.4/5 (145 global ratings); AMAZON'S CHOICE for Outdoor fire pits by Amagabeli Garden and Home
This Amagabeli fire pit is designed to be large and extra deep in order to provide plenty of space for wood to create a continuous burning fire. It is made of high-quality durable iron and has a heat and rust resistant coating so it can withstand incredible heat radiance without you having to worry about cracks or breakage. It is also lightweight enough to be portable so you can bring it on camping trips or beach bonfires. The bronze finish design ads a classic and artistic decorations to your backyard, deck or patio and if you place a grill grate on top, you can easily enjoy barbecue with friends and family.
Advantages
Include mesh spark protection screen to avoid embers and debris from flying out while providing consistent air flow for constant fire burning.
X reinforcement design on the device doubles up the safety and sturdiness of the device.
Professional tripod construction: 3 thicker legs to provide maximum stability.
Easy to assemble and comes with a poker to tend the fire safely.
Handle ring helps in efficiently carrying this lightweight fire pit.
Disadvantages
Does not come with a protective cover when not in use.
Does not come with a spark lid or grill grate.
Mesh screen is too thin and will not last for long.
COBRACO Woven Base Cast Iron Fire Pit
Dimension: 32 x 32 x 25 inches
Weight: 38lbs
Material: Cast Iron, Steel
Fuel Type: Wood
Customer Rating: 3.9/5 (85 global ratings)
The woven base cast iron fire pit from CobraCo is not only heavy-duty but quite eye-catching as well. It is constructed from cast iron and has a sturdy steel base which features a basket weave pattern and is finished with a bronze color to fit perfectly into any outdoor décor. The bowl is also pretty easy to lift so you can dump out the ashes after every use to keep it clean. The four sturdy metal legs are angled outward to elevate the unit while offering complete stability so you can be close to the fire and enjoy it without having to worry about safety.
Advantages
Includes a wire spark screen cover that is painted with high-temperature paint to provide safety from flying embers.
Includes a poker and log grill grate so you can tend the fire safely.
Comes with vinyl protective cover for storage and protection when not in use.
Easy assembly and transportable.
Disadvantages
Does not come with cooking grill grate.
Cover is a little flimsy and easily prone to tearing.
EASOGER Outdoor Cast Iron Portable Fire Pit
Dimension: 21.4 x 21.4 x 14.7 inches
Weight: 13.6lbs
Material: Cast iron
Fuel Type: Wood, Liquified Petroleum Gas
Customer Rating: 4.6/5 (70 global ratings)
Easoger fire pit is perfect for any outdoor activity. It is constructed from cast iron which is heat-resistant and has an industrial, hard-wearing design to keep you warm by the fire within a safe distance. It has a combustion grate with 11 vents so you can fully ignite the firewood and burn fully within 5-10 minutes and it gives out little smoke. It is deep enough to accommodate a number of fire wood so you can barbecue and get cozy by the fire all night long. The cooking grill is also PFOA-free so you are guaranteed that no harmful substances are released while in use.
Advantages
Fire pit bowl is removable so it is easy to clean and dispose of the ashes.
Comes with a cooking grill which is heat, corrosion and wear resistant. It has crossbars so you can easily lift it. PFOA-free so it is food grade and safe to cook on.
Lightweight and is easily mobile and transportable.
Includes spark screen, fire poker for easy handling of wood.
Designed with a windproof structure so you don't have to worry about the fire during windy weather.
Disadvantages
No drainage holes.
Too small for some consumers.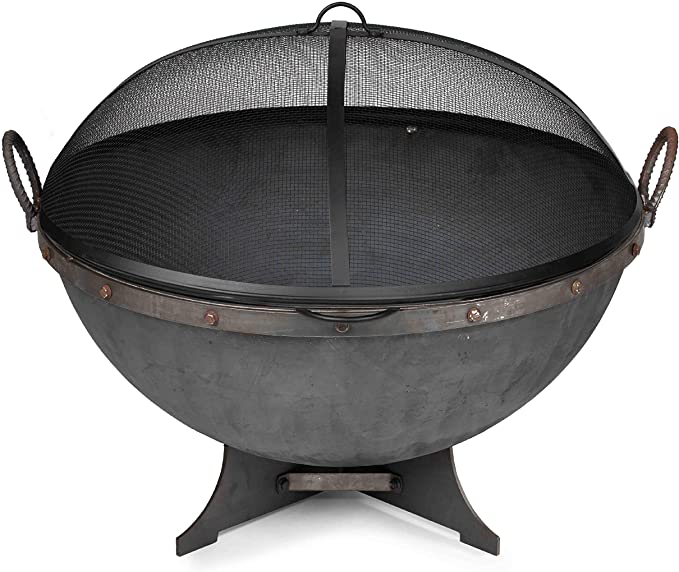 TITAN GREAT OUTDOORS Hemisphere Fire Pit
Dimension: 31 x 32 x 17 inches
Weight: 88lbs
Material: Cast Iron, Alloy Steel
Fuel Type: Wood
Customer Rating: 4.8/5 (52 global ratings)
The Hemisphere fire pit from Titan Great Outdoors is made from cast iron with a natural patina that transforms this fire bowl into a natural rustic, ornamental, antique look. The base is made with high quality steel so you can be sure that it has strong, sturdy and steady wobble free design. The fire pit is hand-welded and has a bolt-on base so you can be sure of your safety when using it. It also features a 0.7 inch drain hole so it will not gather water and can be easily washed off to clean.
Advantages
Includes a grate, spark screen cover and fire poker.
Heat treated fire poker to safely stoke fire.
Includes black reinforced steel mesh spark screen cover.
Rebar handles provides transportability and mobility.
Disadvantages
Shipping damages.
Heavy and huge so not that easy to lift or tip over to get rid of ashes and residue.
SUNNYDAZE Retro Fire Pit Bowl Pot
Dimension: 26.5 x 26.5 x 29.5 inches
Weight: 27.2lbs
Material: Cast Iron
Fuel Type: Wood
Customer Rating: 4.4/5 (27 global ratings)
This fire bowl pot from Sunnydaze might look small but it has a 4.5 inch deep bowl which can pretty much hold a good amount of firewood to make a cozy fire. It is constructed from cast iron metal with a high-temperature paint finish so it can withstand heat and since it site 9†above ground, you can be sure that you are enjoying fire that is safe on the surface. The design brings forth nostalgia as the midsection ring parts add style and creates interesting shadows as the fire dances at night.
Advantages
Features portable handles on both sides so you can move the fire pit around and it is lightweight as well.
Features 3 sturdy, steady and strong legs to provide a stable base.
Includes: mesh spark screen with handle for easy lifting. Lift spark screen off to roast marshmallows. Also comes with a poker.
1 year manufacturer's warranty.
Disadvantages
Does not come with a weather-proof cover.
No drain holes.
Assembly is difficult according to consumers.
Final Verdict
The CATALINA Creations 52†Heavy Duty Cast Iron Fire Pit is by far the wisest choice when it comes to selecting the best cast iron fire pit in 2022.
We believe that this fire pit does not only produce a whimsical and elegant design which adds that extra sparkle in your patio or backyard but also delivers a great deal of warmth to those gathered around it. The fire pit is guaranteed to be strong and sturdy and although it can be a bit heavy to lug around it does not loom or sit heavily in its place.
One of the best features that the CATALINA offers aside from its wide mesh protective screen and drain holes, is its 4 sturdy legs which securely keeps the cast iron fire pit in place keeping you and your loved ones safe from any accident.
What to Consider When Choosing a Cast Iron Fire Pit?
Size- Keep in mind the number of people you want gathered around your fire pit and how much firewood you intend to use. You also have to consider the space in which you will place your cast iron fire pit so better measure the area you plan to place it on precisely to avoid any problems. Cast iron is naturally heavy so be prepared to consider its size and weight in case you plan on buying something you also want to use outside and away from your backyard.
Functionality- It is always better if you can cook or grill on your cast iron fire pit because it makes staying around the fire more fun and of course, highly convenient. There are some fire pits that come with food grade grill grates but if the ones you choose do not, you can always check if you can buy a grill grate that can fit your cast iron fire pit very well.
Accessories- Always keep in mind that cast iron still needs to be protected from too much moisture and oxygen exposure so it is always wise to pick a cast iron fire pit that comes with a protective cover. If you don't have one with the one you choose to purchase, make sure to consider buying a cover to protect your investment.
Cast iron fire pits can be again, extremely expensive but you are actually buying your money's worth. It is one of the most durable and reliable materials you can hope for in an equipment that deals with anything fire or heat related. Try to consider the longevity of the product and its purpose and of course, if you take good care of your cast iron fire pit, it will definitely serve you for a long, long time.

Hi, I'm Adam and I'm a HUGE fan of Food and Cooking.
Do you enjoy grilling sessions with your family while staring at the beautiful fire pit flames?
Flame Gorilla is the site to learn how to have that perfect backyard experience.