This great red curry grilled duck recipe is easy (just 4 ingredients plus salt and pepper!), quick, and simply delicious. Red curry paste is a delicious blend of East Asian spices that just have enough oompf to wake up with rich flavor of duck. In fact, I think duck goes amazingly well with many dark curries. But don't worry, this curry is not very spicy. The red curry paste does have a bit of spice but the small amount blended in with the coconut milk just adds a hint of kick to the duck, it doesn't make it noticeably spicy.
Of note, this same recipe can be cooked in the oven or under the broiler if you prefer. However, the smoky flavors from the grill really highlight the rich duck and curry flavor nicely. Pecan wood worked wonderfully with the flavors but apple, almond wood or other sweet fruit and nut woods would probably work wonderfully.
What You Need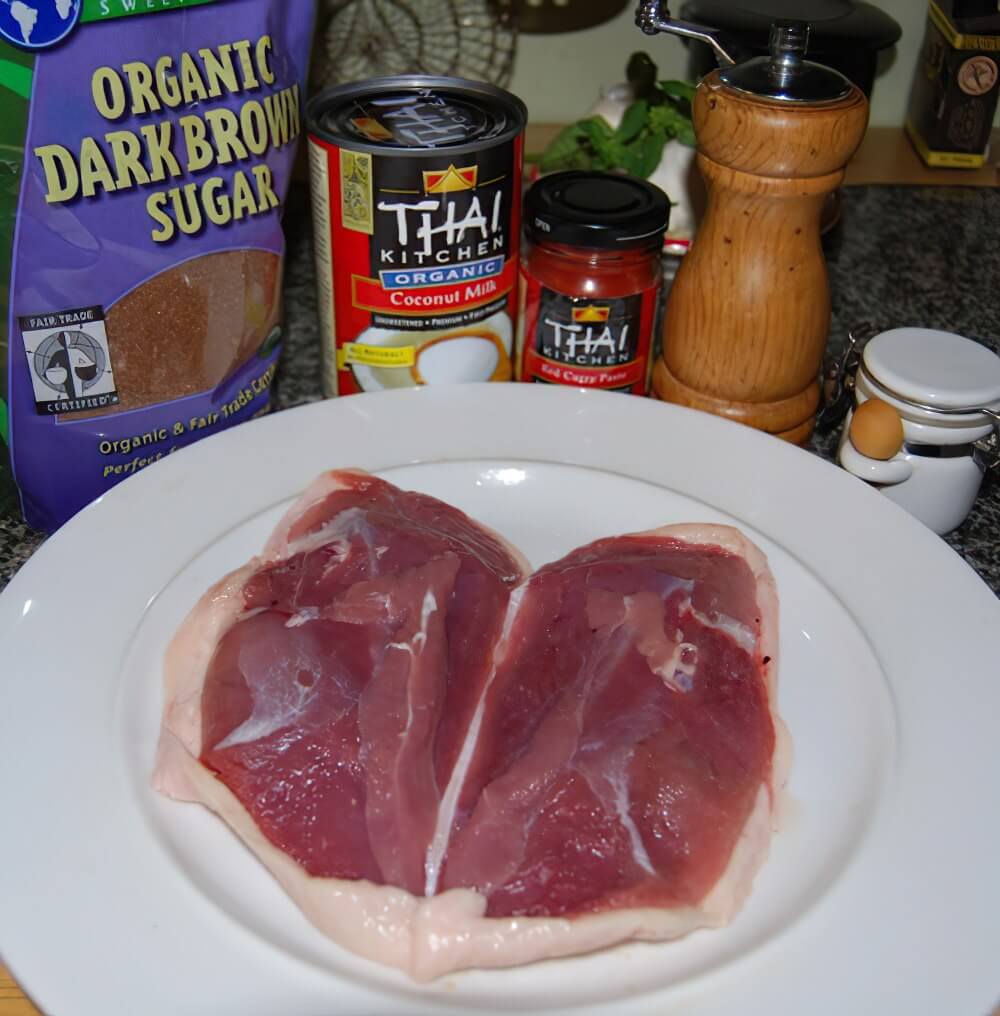 One Whole Duck or Duck Breast and/or Leg pieces
1/4 cup coconut milk – Unsweetened, these can usually be found in a can in the ethnic foods section of your supermarket
2 tbsp red curry paste – also found in the ethnic foods section
1 tsp dark brown sugar
Salt and freshly ground black pepper, to taste
How to Cook this Red Curry Grilled Duck Recipe
If cooking a whole duck, using a heavy duty kitchen shears, clip off the duck wing tips. Cut down each side of the backbone, close to the midline, to fully remove the backbone. Stay as close to the backbone as possible so that you do not remove additional meat (especially the delicious "oysters" which are close to the middle of the back). Spread the cut side out on a solid surface and smack the breast sides with your fist to crack the bones and flatten out the duck. Cut deep slits into the leg and thigh meat to the bone about 1/2 of an inch apart. If using duck pieces you do not need any special preparation, just proceed to the next step


As you get your grill heated up, thoroughly mix together the coconut milk, red curry paste and sugar. Rub over the duck, working into all surfaces, into the slits. Let sit for a few minutes. It does not need to marinate long. Fifteen minutes is fire, no more than an hour or so.
Ideally, set up your grill for indirect heat so that you can cook the duck slowly without burning it. When the grill is ready, season the duck thoroughly with salt and freshly ground black pepper on all surfaces (the salt really brings out the rich flavor of the curry paste so don't be skimpy!).
Grill the duck first on the skin side down, until browned and crisp, but not burnt, about 5 to 10 minutes, covered. Then flip the duck and cover. Cook on indirect heat for about 15 minutes or so until cooked. Ideally you want this duck recipe cooked through but still a bit red in the middle of the breast meat.
Remove duck and let rest 5 to 10 minutes. Carve and serve!
Enjoy this red curry grilled duck recipe!
Hi, I'm Mhen and I'm a HUGE fan of Food and Cooking.
Do you enjoy grilling sessions with your family while staring at the beautiful fire pit flames?
Flame Gorilla is the site to learn how to have that perfect backyard experience.