Do you love to grill? The secret to grilling these pork chops is the amazing marinades.
In most recipes the pork chops are marinated and brushed with BBQ sauce just before grilling. The more you marinade and the longer you keep the pork chops in the marinade the better it is.
These pork chops are seriously delicious, tender, moist and full of great flavor. Take the effort to make the pork chops in large batches and you can save a meal for a rainy day. Just as delicious when you have them the next day.
Grilled Pork Chops Recipes are simple with a handful of ingredients. Just follow the easy guidelines and feed away the hungry folks and guests at home.
Plus, you might want to read the Grilling Time and Temperature article, cause time and temperature are different from other types of meat and nobody wants to ruin the party by undercooked or overcooked dishes!
Spirit Glazed Pork Chops
The pork chops are coated with an apple cider glaze and cooked on the grill to perfection. These savory and sweet pork chops are juicy and moist and are perfect for any time you have a desire for meat.
Recipe from Delightful E Made
Tangy Pork Chops
Pork chops marinated in vinegar and cornstarch marinade. The honey gives a new twist and a sweetness to the recipe. Incredible flavours and what more can you ask.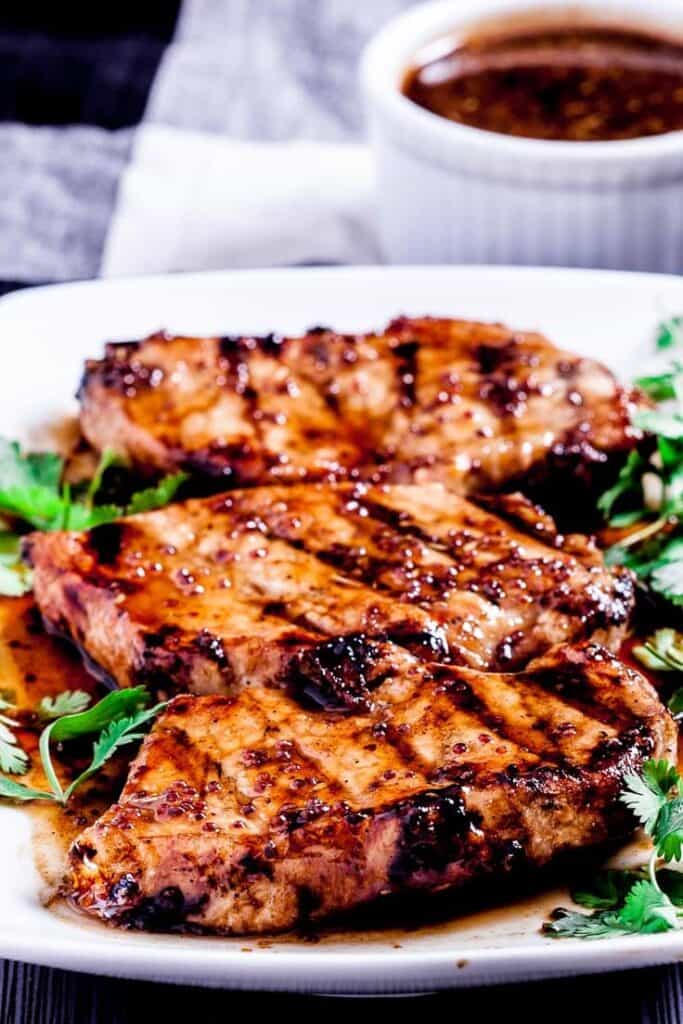 INGREDIENTS
2 tablespoons apple cider vinegar
0.50 teaspoon cornstarch
0.50 cup pure honey
3 tablespoon whole grain mustard
1 teaspoon onion powder
0.25 teaspoon cayenne pepper
0.25 cup brown sugar, packed
Kosher salt
Freshly ground black pepper
4 pork chops
DIRECTIONS
Place cornstarch and vinegar in a saucepan and whisk well until the mixture is dissolved and no lumps left.
Stir in mustard, honey, cayenne, onion powder and brown sugar and combine well.
Allow the mixture to simmer for 6 minutes.
Reserve half of the marinade for serving and keep the other half for glazing.
Pat dry the pork chops with kitchen towels.
Combine ½ teaspoon salt with ½ teaspoon black pepper and sprinkle the chops with the mixture.
Grease the grill grates and preheat the grill to medium high.
Place the chops on the grill for 4 minutes on each side.
Baste the chops with the marinade and grill for another 2 minutes on each side.
Serve warm with the kept aside glaze.
Recipe from Chew Out Loud
Buttered Pork Chops
Easy Grilled Pork Chops and you are on your way to a well-balanced healthy diet. Once grilled the warm pork chops are rubbed with creamy herb butter for full flavor. This dish is very suitable with Sambal Matah recipe by Azlin from Linsfood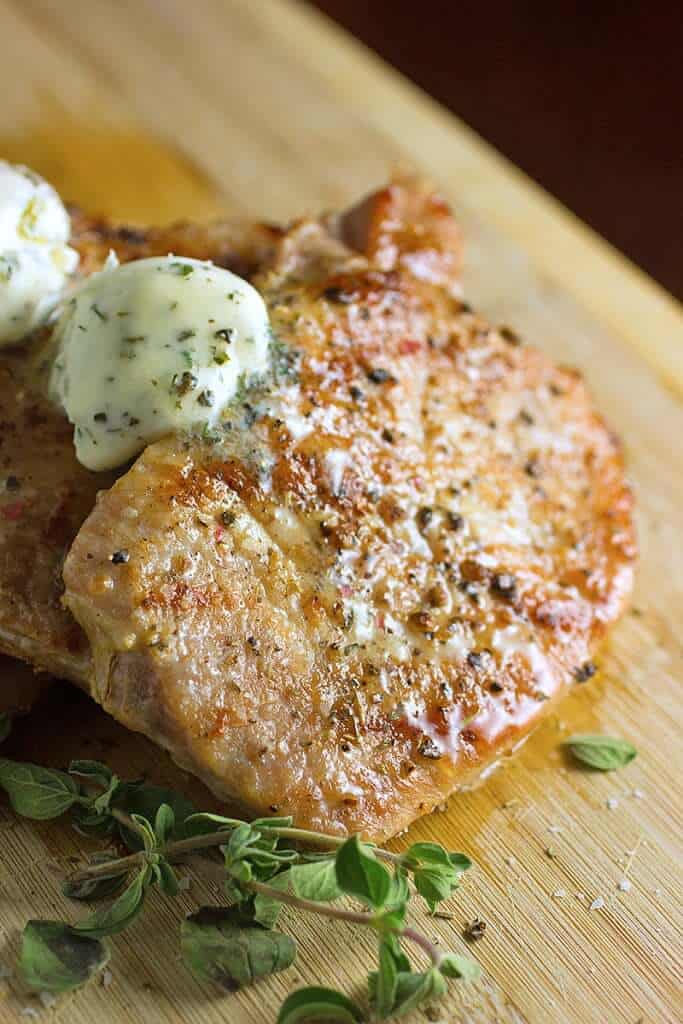 INGREDIENTS
4-3 ounces Lean Pork Chops
Non-Stick Olive Oil Spray
1 stick unsalted butter
0.50 teaspoon oregano leaves
0.50 teaspoon basil leaves
0.50 teaspoon Italian seasoning
0.25 teaspoon rosemary leaves
Pinch of salt
DIRECTIONS
Preheat the grill to medium.
Rub the pork chops with salt and pepper.
Place the pork chops on the grill and cook on both sides for 5 minutes.
Once grilled, cover with an aluminum foil and keep aside.
Combine the butter, basil, oregano, rosemary, Italian seasoning and salt in a bowl.
Place the marinade in the refrigerator.
When the pork chops are still warm, brush with 2 teaspoons of herb butter on each pork chop.
Serve warm.
Recipe from Brown Sugar
Bada Bing Pork Chops
A memorable and simple recipe for grilled pork chops with pineapple. The pork chops are marinated in a pepper jelly and pineapple mixture, then grilled to perfection on the grill.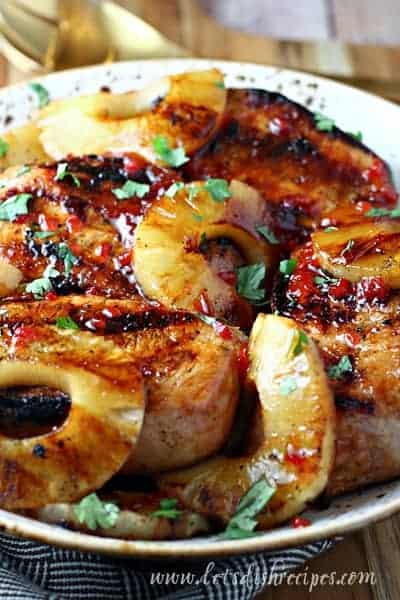 Recipe from Let's Dish
Green Onion Grilled Pork
These delicious pork chops can be made in less than half an hour. The green onions add a tangy flavor and the mild caramelization gives the Pork its incredible flavor.
INGREDIENTS
4 center cut pork chops
Salt
Pepper
0.25 cup balsamic vinegar
3 tbsps honey
2 tbsps Dijon mustard
2 garlic cloves crushed
0.50 tsp oregano
0.50 tsp basil
0.50 tsp thyme
Green onions
DIRECTIONS
Rub salt and pepper on the pork chops.
Place the balsamic vinegar, honey, garlic, Dijon mustard and the spices in a saucepan.
Allow the mixture to boil and cook for 2 more minutes.
Preheat the grill to high and then turn to low.
Leave the pork chops on the grill for about 8 minutes.
Brush the marinade on the pork chops.
Serve garnished with chopped green onions.
Recipe from Recipes, Food and Cooking
To make these dishes, I believe you will need one or some awesome charcoal grills that will ensure the quality of your recipes. Enjoy it!
Hi, I'm Mhen and I'm a HUGE fan of Food and Cooking.
Do you enjoy grilling sessions with your family while staring at the beautiful fire pit flames?
Flame Gorilla is the site to learn how to have that perfect backyard experience.