Fire roasted pepper recipe is easy to make, delicious and they are good for you! The smoke flavors complement the sweet syrupy juices that are thrown off by the peppers as they roast. They make a great side dish when grilling. Come on, you can't eat just meat when you are firing up that barbeque or fire pit!
What you'll need:
Ok, here's what you'll need to make these rich sweet roasted peppers:
Several bell peppers also known as sweet peppers, I like to use an assortment of the red, yellow and orange types to give some variety and to dazzle the eye as well as your tastebuds!
Extra virgin olive oil
Salt and freshly ground black pepper
Red wine or balsamic vinegar (optional)
Plastic bag or paper bag
How to prepare this Fire Roasted Pepper Recipe
After admiring those beautiful peppers for a while, get your grill, fire pit, or even fireplace nice and hot. To really do this recipe right you need high heat and you need to be able to get the peppers right up close to some scorching hot embers. If your barbeque or fire pit grill grate is too high, you can even do this without the grate. The roasted peppers will be skinned eventually so it's ok if they get a bit dirty during roasting.
Put those whole peppers right up next to your hot embers to roast. The skins will start to blister and turn black if the heat is hot enough. If after a few minutes they are not turning black, move them closer to the embers. Once one side is getting nice and blackened, turn them with barbeque tongs. Continue this process until most of the surfaces of the roasted peppers are blistered, burnt, and blackened. This should take somewhere between 10 and 20 minutes depending on the heat of your embers and how close the peppers are to the heat.
Side note: if you don't have a grill you can even do this on your stovetop in a pinch. Simply turn your burner on medium heat and place the peppers right on the burner grate. The roasted peppers won't get that nice smoky aroma and flavor from a real wood or charcoal grill but they will still be pretty tasty.
Next, place your peppers immediately on a large platter or in a bowl and cover with a plastic bag. Secure the bag under the bowl or plate to keep in the steam. You can also put the roasted peppers in a brown paper bag and secure it. Leave the peppers to rest until they are cool enough to handle (another 20 minutes or so). The peppers will steam in their own juices, loosening their skins.
When you open the bag, gently rub off the skins that are now loose and blistered. Some pieces may require scraping a bit. Do your best to reserve the fluid that is given off by the peppers in the plate or bowl. Next, remove the stem and seeds inside. There will be a bit of syrupy fluid within each pepper, be sure to keep this in the bowl! It will make a delicious dressing for your roasted peppers.
Once all your seeds are removed you can pass the juices through a sieve to get rid of extra seeds and save the juice.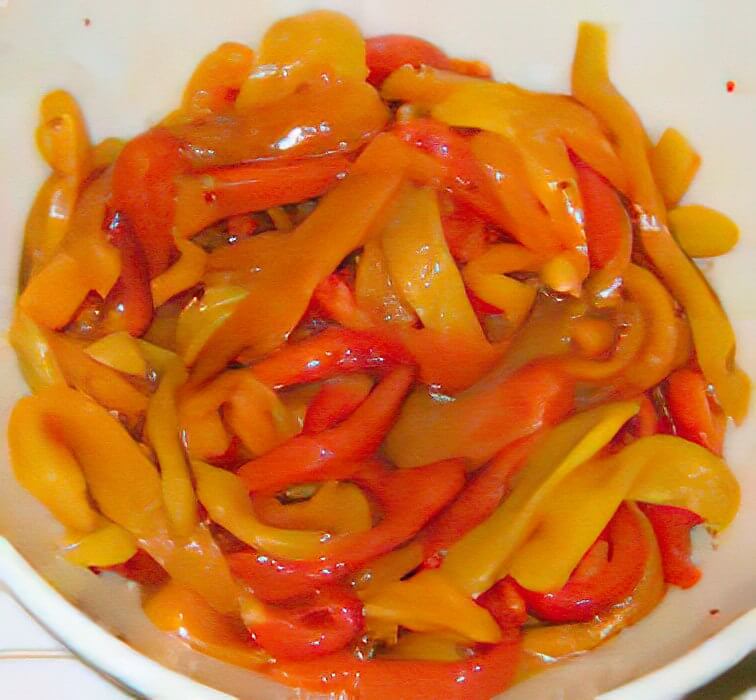 Now slice up those roasted peppers into half-inch strips. Put the sliced peppers back in a bowl with the reserved juices. Add a couple of tablespoons of olive oil and toss gently to coat. Now season to taste with freshly cracked black pepper and coarse salt. If you want, you can also add a few drizzles of a nice wine vinegar of your choice.
You're all done! Serve these alongside your favorite grilled meats and you've got yourself a complete meal. Enjoy!
Hi, I'm Mhen and I'm a HUGE fan of Food and Cooking.
Do you enjoy grilling sessions with your family while staring at the beautiful fire pit flames?
Flame Gorilla is the site to learn how to have that perfect backyard experience.