Looking for the best smoker box for gas grill? We have collected the top 10 best for you.
People are into grilling or barbecuing food, especially meat, because of the distinct and delicious flavor it develops. There is a special kind of taste that emerges when you cook something over an open flame and the char-grilled tang really gets the mouth salivating. Of course, there are more than one way of cooking protein over a grill or an open fire pit. People have also been developing the smoking technique for centuries.
Smoking meat is another way of cooking meat over an open flame, normally through using firewood. It is a process of flavoring, browning or preserving food by exposing it to smoke while it cooks in a slow and controlled temperature. There are many ways to smoke meat and it takes a while to get the correct and precise process which is why not all those who enjoy grilling dabble with it.
However, it is not impossible to get the same coveted results from smoking meat. It can even be done over a propane gas grill or charcoal fueled grill. A simple home cook can input additional and mor flavor into his barbecue through the use of a smoker box.
A smoker box is essentially a small metal box that houses wood chips. You light up these chips inside the box, close the lid and place it on top of your grill together with your meat as it cooks. The holes in the box will release the smoke from the burning wood chips and infuse with your food. It is pretty simple and the best way for beginners and those new to the art of grilling to try and impart different fusions of flavor into their barbecue.
As with everything, there are going to be PROS and CONS to using/owning a smoker box:
Smoker boxes produce better flavored food however, it can take up some space on the griller.
Smoker boxes come in various shapes and sizes however, some are expensive and certain materials are easily prone to rust and corrosion.
Smoker boxes can be used in any grill, easy to clean after use however, temperature control can be a little time consuming.
In case you really want to start and try your hand at smoking your meat, the smoker box is the best, easiest and most convenient way to start. It will not take too much calculations on your part plus there are a whole lot of wood chips (i.e. Apple, Mesquite, Hickory, Oak, Cherry etc…) in the market which will elevate your grilling into another level.
If you are ready to dive into the added wonders of having a smoker box for gas grill then here are some of the best options you have available online. These will guide and help you consider which is the best smoker box for you and the grill you already have.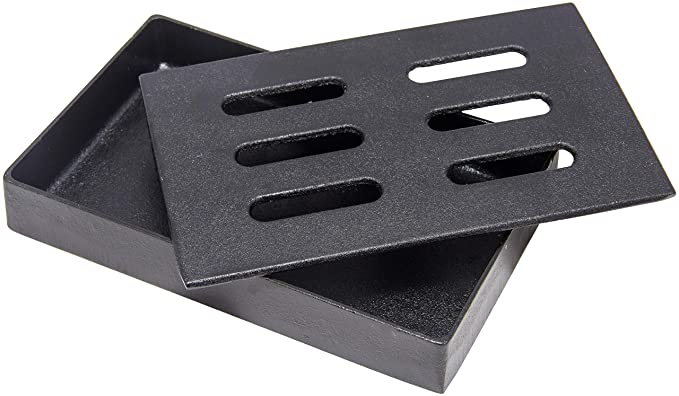 CHAR-BROIL Cast Iron Smoker Box
Dimension: 1.38 x 5.13 x 8.12 inches
Weight: 3.6lbs
Material: Cast Iron
Customer Rating: 4.5/5 (4,420 global ratings); Amazon's Choice for charbroil rotisserie kit for grill
Enjoy the enhanced flavor of your protein as it cooks on your grill with Char-Broil's smoker box. It is made from durable cast iron body and lid and works with most grill types. Cast iron can retains heat pretty well so you won't worry about your wood chips catching fire in hotter grilling temperatures. The box is vented to direct smoke towards food as the wood chips are smoldered in it and not flame up.
Advantages
Cast iron is sturdy and durable so if treated properly it can last for a long time.
Releases slow, steady smoke which is ideal for imparting flavor into the meat.
Ideal size and will not take too much space on the griller.
Disadvantages
Cast iron smoker box needs to be prepped and treated with oil as you would cast iron pots and skillets to keep it in good condition and prevent rusting.
Proper cleaning after use might take a bit more time.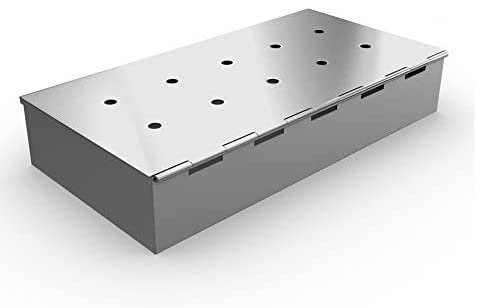 CAVE TOOLS Grill Smoker Box
Dimension: 9 x 3 x 1.5 inches
Weight: 1.3lbs
Material: Stainless Steel
Customer Rating: 4.5/5 (3,131 global ratings)
The Cave Tools smoker box is constructed from 25% thicker stainless steel which makes it more durable and less prone to warping when exposed to high temperatures. You can be assured that you will be able to reuse it over and over to get that extra flavor into your barbecue. It fits perfectly between flavorizer bars, grill grate or on top of charcoals. This smoker box is also used by award winning competition barbecue teams.
Advantages
Hinged lid provides easy access to the inside of the basket so you can add wood chips safely and conveniently even when it's hot.
Large wood chip capacity so you can have more of the flavor.
Comes with free meat smoking guide that has 25 recipes and detailed grilling tutorial videos as well as access to meat smoking journal and bbq recipes exchange community.
Disadvantages
Not suitable for electric grills
CHARCOAL COMPANION V Shape Smoker Box
Dimension: 4.21 x 13.78 x 2 inches
Weight: 1.29lbs
Material: Stainless Steel
Customer Rating: 4.4/5 (1,619 global ratings)
The V shape smoker box from Charcoal Companion is the perfect partner for your gas grill so you can still get that smoky flavor into your perfectly grilled meat. The V shape bottom fits between the flame deflector bars of a gas grill which puts it right under the cooking grate and allows for a more intense flavor from the smoked wood chips. The sturdy stainless steel construction ensures that it is able to hold against high grilling temperatures and can be used for a long time.
Advantages
Hinged lid enables easy access to add wood chips during cooking process.
Ashes are kept in the smoker box so it does not get on your grill, keeping it clean and easy to pour out after use.
Recommended for electric grills.
Easy to clean, just hose down with water once it cools down after use.
Disadvantages
Prone to rusting after prolonged use.
Smoker box can sit too low and the wood chips can catch fire.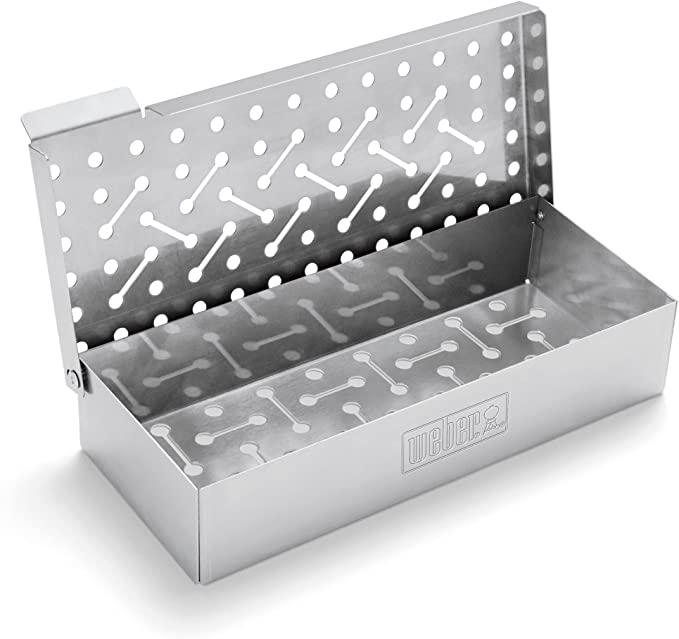 WEBER Universal Smoker Box
Dimension: 9.8 x 4.5 x 2 inches
Weight: 1lbs
Material: Stainless Steel
Customer Rating: 4.6/5 (1,461 global ratings)
The Universal smoker box from Weber is one of the lightest that you can sit right on top of your cooking grates in order to transform any gas grill into a smoker. This provides smoky and rich flavor to your meat, veggies or whatever food you might want to cook inside the grill with it. The stainless steel construct makes it heat resistant and the holes are adequately spaced to provide maximum smoking capacity.
Advantages
Fits most standard sized grills.
Hinged lid helps in putting additional wood chips in while cooking.
Heavy duty steel is sturdy enough to prevent warping.
Disadvantages
Gap in the hinge can be cumbersome since chips can get stuck in between.
Difficult to regulate smoke output.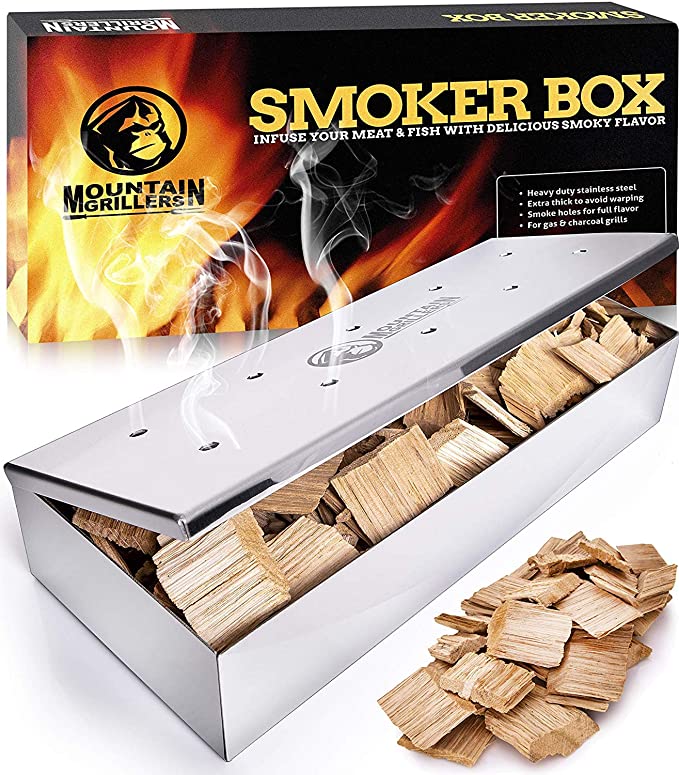 MOUNTAIN GRILLERS Smoker Box
Dimension: 9.06 x 3.74 x 1.57 inches
Weight: 1.06lbs
Material: Stainless Steel
Customer Rating: 4.5/5 (1,265 global ratings); Amazon's Choice for Smoke Box for Grill
This heavy duty smoker box from Mountain Grillers can be positioned underneath the grill grates or above the burners and you can enjoy delicious smoky smell which will penetrate and infuse with your barbecued meat or any other food. It is certainly one of the products to try when you are just a beginner at smoking on a grill. It is made from sturdy stainless steel which is perfect for high temperatures of a grill. Mountain Grillers also pride themselves for producing inexpensive products for you to achieve that divine smoky flavor for your gas grill.
Advantages
Portable smoker box has hinged lid so you can easily add, switch, take out wood chips during grilling.
Chrome finish makes the smoker box sleek looking.
Enough holes to allow perfect ventilation for more flavor.
Disadvantages
Warps after a couple of uses.
Does not come with instructions or any smoker barbecue guide.
CHAR-BROIL Stainless Smoker Box
Dimension: 3.75 x 1.6 x 9.25 inches
Weight: 14 ounces
Material: Stainless Steel
Customer Rating: 4.4/5 (1,081 global ratings); Amazon's Choice for smoker box
The stainless steel smoker from Char-Broil is a good choice if you want to add that's extra flavor of smoke to your grilled protein or food. You can be sure that the wood chips you add will not catch fire but instead smolder inside the sturdy steel smoker box. So, if you add flavored marinades or juices in your wood chips for extra zest, you won't have to worry about burning it.
Advantages
Perforated lid helps get rid of smoke so fires will not start.
Can be used in electric smoker.
Less expensive than most stainless smoker boxes.
Works great with wood pellets.
Disadvantages
Discoloring develops after a few uses.
Takes a while to smoke up.
GRILLAHOLICS Smoker Box
Dimension: 8.75 x 3.75 x 1.75 inches
Weight: 14.9 ounces
Material: Stainless Steel
Customer Rating: 4.4/5 (1,006 global ratings)
Grillaholics' smoker box is your solution if you keep burning your wood chips fast before you can even finish cooking your protein. This heavy duty smoker box can be placed above a grill grate or directly over an open wood or charcoal flame and you will start smoking your food in no time at all. The box is made from extra thick stamped stainless steel which does not easily warp even when placed on open flame making it durable and can be used for a long time.
Advantages
Easy access hinged lid that you can pop open to add more wood chips.
Extra-large wood chip capacity so you will infuse more flavor while grilling and spend less time refilling so you can relax and hang out more with guests or family.
Well-spread number of holes ensures more smoke imparting more flavor without your wood chips catching fire.
Perfect for all grill shapes and sizes. Also for electric grill.
Disadvantages
Regulating heat takes a lot of trial/error.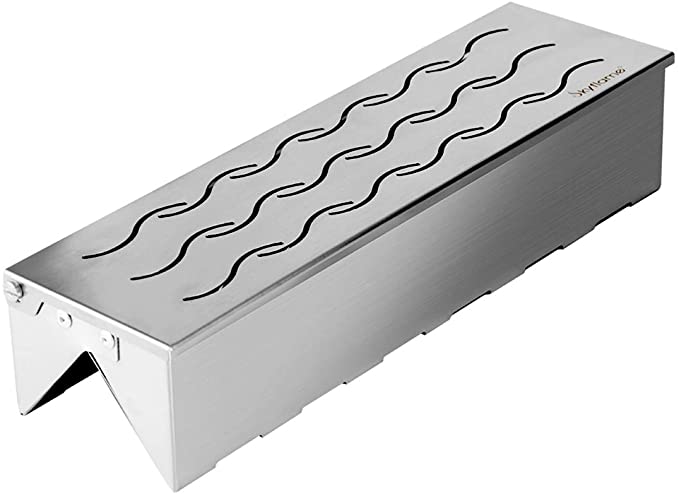 SKYFLAME Smoker Box
Dimension: 12 x 3.3 x 2.5 inches
Weight: 1.2lbs
Material: Stainless Steel
Customer Rating: 4.4/5 (960 global ratings)
The Skyflame smoker box has a U.S. patented design and constructed from thicker, sturdier stainless steel making it hold up great under high temperature heat of any grill whether gas, wood or charcoal. The box also has a wide capacity to hold a lot of your favorite wood chips so you can infuse more flavor into your meats while grilling. The unique hinge design also allows you to add and remove wood chips from the box while in use without having to worry about getting burned.
Advantages
Dense wavy vent design instead of holes provides more smoke and a larger smoked area making the effect on food more even and the smoky flavor more permeable.
Unique W-shape makes it fit on the flame deflector bars on gas grills.
Ashes remain in the smoker box so it's easy to empty and it won't go into your grill or food.
Disadvantages
Edges are slightly razor sharp so be careful when handling.
Screws on hinged door rust easily.
Chips can catch fire.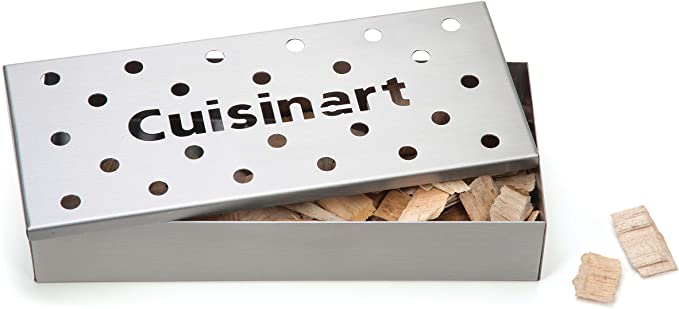 CUISINART CSB-156 Smore Box
Dimension: 8.8 x 3.9 x 1.8 inches
Weight: 1lbs
Material: Stainless Steel
Customer Rating: 4.4/5 (666 global ratings)
The wood chip smoker box from Cuisinart is great to use to infuse smoky flavor to all your grilled food without making a lot of mess. The compact size can fit any full size or portable grill so you can take it anywhere with you. The box is made from high quality durable stainless steel so you don't have to worry about it warping when exposed to high temperatures. The vents are placed to channel the right amount of oxygen to heat wood chips quickly and allows smoke to distribute evenly.
Disadvantages
Regulating temperatures needs trial and error.
No holes on the bottom.
XI-HOME Smoker Box
Dimension: 9 x 3.9 x 2 inches
Weight: 300 grams
Material: Stainless Steel
Customer Ratings: 4.4/5 (659 global ratings)
The smoker box from XI Home is good to use with gas grill or charcoal grills. It is constructed from 25% thicker, sturdier stainless steel to make sure it holds up against high-heat. The strong metal also ensures that it does not warp or bend out of shape easily. It is compact enough to fit any grill which can be great for any cookout or picnics or backyard fun.
Advantages
Hinged lid for easy adding or removing of wood chips.
Large wood chip capacity.
Holes distributed evenly and properly for efficient smoking capacity.
Disadvantages
No holes in the bottom.
Metal is flimsy according to some customers.
Final Verdict
At the end of the day, when it comes to a smoker boxes, we believe that nothing beats the durability and efficiency of a well-seasoned cast iron smoker box. Thus, we choose the Char-Broil Cast Iron Smoker Box as the best smoker box for your gas grill this 2022.
We all know how reliable cast iron is when it comes to retaining heat and this is important when smoking wood chips as you grill. You do not want your wood chips catching fire but you still want it to get smoking enough in whatever temperature you set your grill on. Plus, this smoker box does not take too much space in your grill so, you can still cook a lot of food at one time.
It's true that you will need time to season this smoker box but you will soon realize this extra care put into a cast iron will serve its purpose well through the rest of your grilling days. It ensures that you will not ever have to deal with rust or corrosion which in truth, saves you a pretty good amount of money in the long run!
What to Consider When Choosing a Smoker Box for Gas Grill?
Material – The construction of your smoker box is crucial since it is going to be placed on direct heat. You have to pick a material that can withstand high temperatures of open fire or gas grill. People have the option to get cast iron or stainless steel however, both have pros and cons and it is up to you to decide which one you can actually deal with. With cast iron, although high resistant to heat and maintains its shape, it is easily prone to rusting and needs to be treated with oil before and after each use. You can't get the cast iron wet as well since it will speed up rusting. Frankly, it takes too much time prepping and cleaning. As for stainless steel, depending on the quality of the material, it is more easily prone to warping or getting deformed. Stainless steel is easier to clean and does not need any type of prepping before use. But, both materials are the best ones in terms of retaining heat while guarding the chips from catching fire.
Shape and Size – There are smokers which are flat in shape while there are V or W shaped. Not all grills can accommodate flat boxes while the V shaped ones are easily slot between your burner covers. Consider if your grill can host a flat shaped box before choosing one. Also, consider the depth of the smoker box to make sure it fits between your burners and the grill grate. It is prudent to measure the distance before selecting a smoker box. You have to consider how much wood chips you can place inside as well so you won't be spending most of your cooking time adding more chips and opening that grill more than necessary.
There are different ways to effectively use smoker boxes and wood chips. Others would suggest soaking your wood chips while there are instances wherein you wouldn't need to. Either way, it is up to you to experiment and get your groove on when tempering the heat which will produce a lot of smoke for your food. Elevating food in flavor is a process and should be a fun one at that. So, go and use your smoker box to your heart's content. No matter what your journey with smoking barbecued meat is, the reward at the end will be nothing but delicious!

Hi, I'm Adam and I'm a HUGE fan of Food and Cooking.
Do you enjoy grilling sessions with your family while staring at the beautiful fire pit flames?
Flame Gorilla is the site to learn how to have that perfect backyard experience.