Barbecuing is probably one of the most famous and often sought-after food whenever it is present on the menu. There is nothing more filling and satisfying than a well-cooked slab of meat fresh off the grill. The rich, smoky and juicy flavor oozing out of every savory bite really sets the mood of any feast towards success.
This is the very reason why portable charcoal grills has become popular and in demand. It does not matter whether you are in the comforts of your own backyard, somewhere in the middle of the wilderness, tailgating or hanging out at a beach party, being able to grill burgers, steaks or ribs is definitely a must. There are portable gas grills as well but, most people still prefer the smokey and organic flavor that only charcoal barbecuing can provide.
Here are a few highlights on why a portable charcoal grill is a must-have.
NATURAL SMOKEY TASTE – Most successful BBQ pit masters swear that the secret ingredient to a highly delicious barbecue is the natural taste that charcoal grilling brings out of any type of meat.
HEAT– Charcoal can easily reach a maximum heat of 700 degrees Fahrenheit no matter what size the kettle you are using. Many of the portable gas models cannot reach that high temp.
LOW MAINTENANCE AND EASY TO ASSEMBLE– Small portable charcoal grills are easy to maintain although the grate is something that you will have to replace from time to time as it wears easily. Assembly is also pretty easy since a kettle or table top portable charcoal grill has a minimal list of parts: a drum base, 3 legs, grate and a lid. Put them all together and you are good to go.
LIGHTWEIGHT – Portable charcoal grills are obviously more convenient to carry around for camping or beach trips but that's not all. A bag of coal is lighter to bring than lugging around a tank of propane gas!
There are many small, portable charcoal grill in the market and picking one that suits you best can be confusing. So, to help you with the process, here are the 10 best ones on Amazon!
Weber Go-Anywhere Charcoal Grill
Dimensions: 11.5 x 19.5 x 15 inches
Weight: 13.44lbs
Material: Porcelain-Coated Cast Iron
The Weber Go-Anywhere Charcoal Grill is Amazon's choice for small portable charcoal grill and is one of the most fun portable charcoal grill you can have with you for your picnics, beach fests or tailgating trips. This grill can easily be assembled and disassembled so you can take it instantly with you for that perfect on-the-go barbecuing.
Advantages
Compact and lightweight for grilling on the go
Porcelain-enameled lid and base retain heat, and won't rust or peel.
Durable plated steel cooking grate retains heat and is easy to clean.
The lid locks for easy portability and dampers allow you to easily control the temperature inside your grill.
Easy to assemble. Could be assembled within 10 minutes
Disadvantages
Height is shallow. The distance between the food and the charcoal is so small.
Food may burn easily because of the food is too close to the charcoal.
Needs checking for missing parts
Screws can sometimes be loose or doesn't fit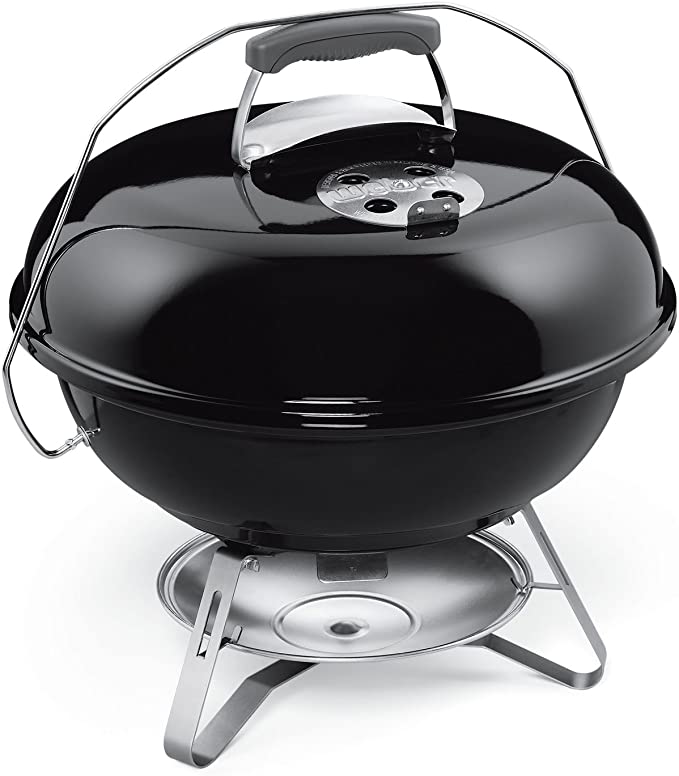 WEBER Jumbo Joe Charcoal Grill
Dimension: 19.75 x 20.5 x 19.75 inches
Weight: 18lbs
Material: Alloy Steel
The Jumbo Joe portable charcoal grill is compact in size but has a large grilling area which is perfect for your weekend parties on the beach, backyard or even during your camping trip. It is lightweight for easy lifting and will fit conveniently in the trunk of your vehicle. It can hold up to 8 burgers or any meat you want to grill on the go. The Tuck-N-Carry features a lid lock that doubles as a lid holder as well so you don't have to place the lid on the ground when not in use.
Advantages
Porcelain-enameled lid and bowl retains heat without peeling or rusting.
Heavy-gauge steel charcoal grate.
Lid handle has heat shield for safer grilling.
Aluminum ash catcher and Plated steel cooking grate for clean and safe cooking.
Dampers will allow you to control temperature inside the grill with ease.
Disadvantages
Difficult if you plan to cook from indirect heat.
Easily prone to rusting.
Top air vent can be difficult to open.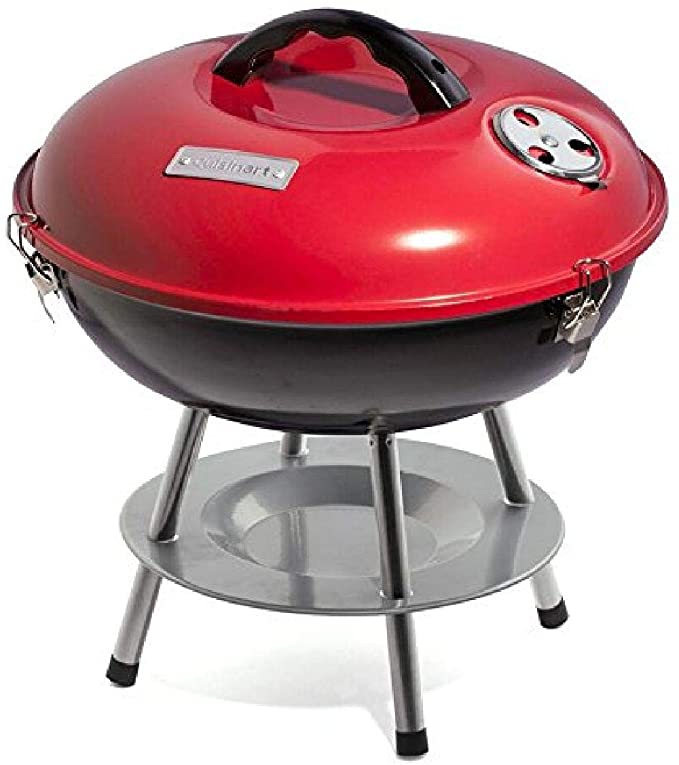 CUISINART Portable BBQ Charcoal Grill
Dimensions: 14.6 x 5.5 x 14.6 inches (RED)
Weight: 4.2lbs
Material: Alloy Steel
This portable charcoal grill from Cuisinart has a 150 square inch chrome plated cooking rack which gives ample space for food at once. The dual venting system features provide evenly distributed heat while conveniently giving its user ultimate charcoal management and temperature control. It is easily one of the lightest portable grills in the market and is perfect for any tabletop setting whether you are out camping, on the beach, RVing or tailgating.
Advantages
3 secure lid locks making it easier and safer to transport.
Enamel coated firebox and ash catcher for mess-free and safe cooking
Strong and durable enough to survive the harshest grilling conditions.
Disadvantages
Top grill is unstable.
Grill takes a while and does not get hot enough.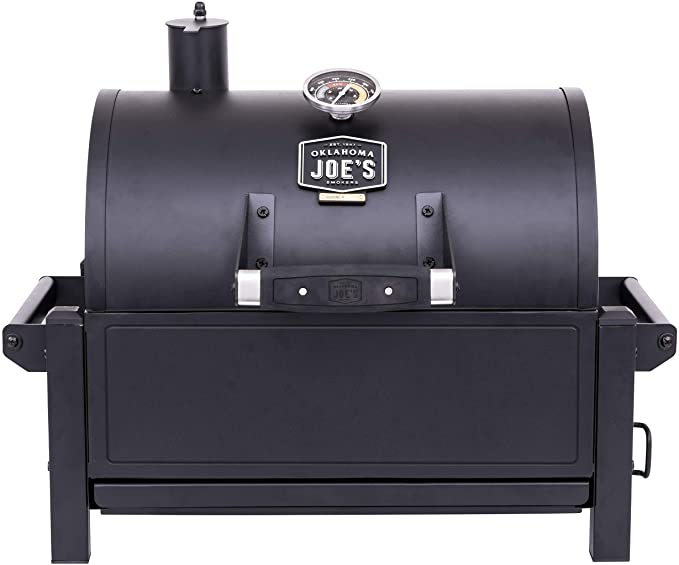 OKLAHOMA JOE 19402088 Rambler Portable Charcoal Grill
Dimension: 19.5 x 26.8 x 21.8 inches
Weight: 1Kg
Material: Alloy Steel
The Rambler takes all the best parts of having a heavy duty grill and putting it into something portable and handy for you to bring on your next outdoor adventure. It is made out of heavy duty steel for high durability and comes with thick cast-iron grates that produces the perfect sear to your grilled meat. It has a 218 sq. inch grilling surface and large air dampers for great airflow control to maintain desired temperature.
Advantages
Height-adjustable charcoal tray so you can opt to grill with high heat or cook low and slow.
Removable, full-sized ash pan for easy clean-up.
Sturdy side handles for easy transport.
Rubber, easy to grip handle on the lid stays cool to touch.
Professional temperature gauge with glow-in-the-dark accents.
Smoke stack mounted on the lid aids in airflow and temp control.
Disadvantages
Body corrosion is evident after a couple of uses.
Lid does not close completely.
JJ JUJIN Portable Charcoal Mini BBQ Grill
Dimensions: 16.54 x 11.42 x 11.42 inches
Weight: 3.6 Kilograms
Material: Steel/Iron
This portable mini charcoal grill is easy to assemble and can be enjoyed by 3-5 people. You can grill with charcoal or smoke your meat using wood chips to create multiple taste experiences when you grill fish, meat, vegetables or poultry. The unit is constructed from sturdy and durable steel while its grilling net is made of 304 stainless steel which makes it non-sticky, high temp resistant and provides even heat conduction for that perfect cook. It is small and portable enough to be carried around and will take up little space in the trunk of your vehicle plus the handle and safety buckle allows for efficient transport.
Advantages
Vertical pipe smokestack feature has innovative cylindrical design to create 3 dimensional heating to lock in the juices, freshness and tenderness of your grilled meat.
Thermometer on lid helps regulate and observe temperature.
2 adjustable air vents on the side for airflow and vent on the chimney for better braising.
Disadvantages
Slow and difficult to get even heat on.
Lid gets damaged after long exposure to heat.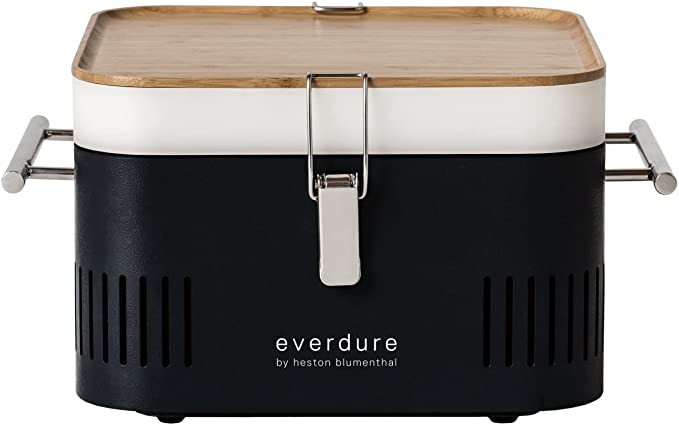 EVERDURE CUBE Portable Charcoal Grill
Dimensions: 13.67 x 16.73 x 9.05 inches
Weight: 15.43lbs
Material: Lightweight Steel
Colors: Graphite, Matte Black, Khaki, Orange and Stone
The Cube is one of the easiest and most lightweight portable charcoal grill you can transport and bring with you to any outdoor setting. The unit has an integrated base which protects any surface you place it on plus the built-in heat protection shield enables it to be placed on any tabletop surface which is pretty convenient. The cube features a 115 square inch of grilling space which can feed a group of people. Grill up to 6 small burger patties or 3 medium steaks on this portable stove. Its high quality design and steel construction makes it durable and built to last for a lifetime of use.
Advantages
Integrated storage tray for accessories or food.
Includes bamboo cutting board for meal prep, charcoal tray, firebox and removable grill rack. Two safety latches fasten everything in one small square grill.
Easy to clean.
Cool and lightweight handles make it convenient to touch, carry and transport.
Compact and stylish design that comes in different colors.
Disadvantages
No outside cover or carrying bag.
Needs to use more charcoal than stated.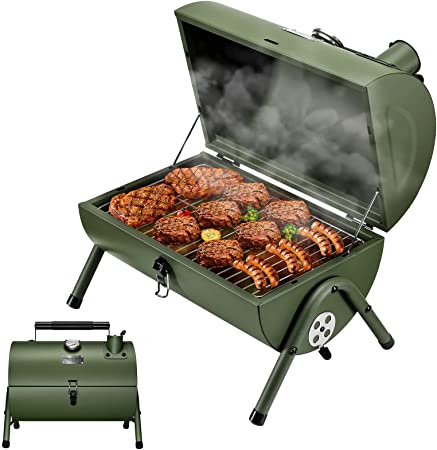 MAISON HUIS Portable Charcoal Grill
Dimension: 16.5†x 11.8†x 14.1â€
Weight: 2 lbs
Material: Stainless Steel
This portable charcoal grill can be easily lifted with one hand and placed in the trunk of your vehicle, taking up little space. It is suitable for camping, picnics, beach parties and other outdoor barbecue events, cooking food for up to 8 people. This grill is also a portable smoker that can cook up to 6 burgers, 16 hotdogs or sausages, 8 chicken breasts, 4 steaks or 2 pounds of fish. The grill is made out of iron so it's rust-proof, scratch resistant, heat-resistant and makes it safe and hygienic enough to cook on. The stable, sturdy handle and lid latch makes it safe and convenient to lift, avoiding accidents.
Advantages
Thermometer on the lid helps you observe and regulate temperature while cooking.
2 adjustable air vents on the side and a chimney vent for good air circulation for precise cooking.
Charcoal grill rack is removable and easy to clean.
Comes with high quality accessories and detailed installation manuals for quick assembly.
Smoker grill feature adds extra flavor to the food.
Disadvantages
Body corrosion is evident after a couple of uses.
Lid does not close completely.
It wobbles so it's a little unstable.
Thermometer might be unreliable as per consumer reviews.
Requires non-stick spray so food does not stick to the grate badly.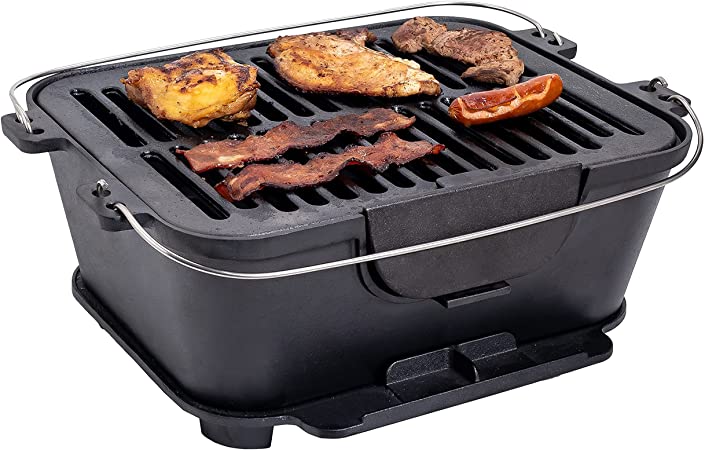 BRUNTMOR Heavy Duty Portable Grill
Dimensions: 19.75 x 14.75 x 10.15 inches
Weight: 38.9lbs
Material: Cast Iron
The BRUNTMOR hibachi style, heavy-duty portable charcoal grill is made from sturdy cast iron material which is pre-seasoned making it scratch resistant and highly durable. It also has a natural non-stick feature which requires users to use lesser oil for healthier cooking. This is perfect for outdoor cooking and can fit any tabletop. The multi-stage air door temperature control design allows you to control the airflow which helps evaporate the charcoal and heat the food evenly.
Advantages
Dishwasher safe or handwash with soap and water.
Metal handles allow for easy lifting and convenient portability.
Provides consistent and steady heat flow.
Disadvantages
Might be heavier than most portable charcoal grill.
Handles are too flimsy.
Only 1 level and no adjustable height.
IRONMASTER CI-1608 Charcoal Grill
Dimensions (LxWxH): 16†x 10.5†x 7.9â€
Weight: 22 Pounds
Material: Cast Iron
The IronMaster portable small charcoal grill is designed with high-quality cast iron materials which makes it very durable and sturdy enough to bring to any party setting where you want to barbecue. Cast iron's natural thermal conductivity is best to lock in moisture of the food you're grilling, making it tase better without drying meat out. This mini design is good to use indoors or outdoors, on table or countertops and can provide hibachi style barbecue for up to 5 people. It is also safe since it is precoated with 100% vegetable oil without any chemical or paint coating plus it has natural, physical non-stick effect.
Advantages
It has a coal door which allows you to easily add charcoal in.
The large-diameter vent allows the coal to burn more fully while the sliding oxygen door helps in adjusting the temperature with ease.
Grill has two adjustable heights.
Cast iron retains more heat naturally so you don't need to use a lot of charcoal.
Highly compact and portable with an easy assembly feature.
Disadvantages
The grate is prone to rust easily.
Does not have a grill cover.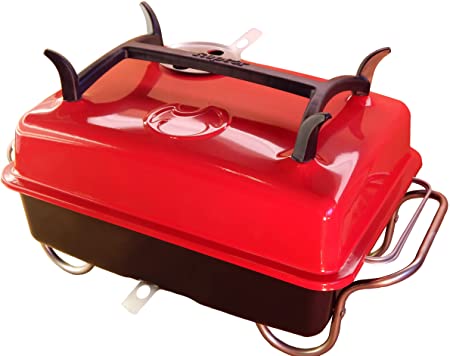 RAPTOR GRILLING Portable Charcoal Grill
Dimensions: 23†x 15†x 7â€
Weight: 16lbs
Material: Stainless Steel
The Raptor Grilling small and portable charcoal grill is a versatile cooker that has a large chrome plated steel grate that provides 230 square inches of cooking surface. It is the perfect small grill to take anywhere. Cook to char-grill, broil, open the top for hibachi style or use as a portable offset smoker to grill juicy steaks or smoke some ribs. One of its best features is its rapid cooldown wherein the griller can easily go from cooking temperature to room temp in about an hour making it quick and ready for transport or storage. Its porcelain enamel coated body is made out of 20 gauge steel coupled with stainless steel legs, air valves and chrome plated fuel basket and cooking grates, this Raptor grill is built to serve you for a long time.
Advantages
Cook mess free with its clean hands technology. Handles on the grate and charcoal basket along the lid helps you avoid touching ash or charcoal.
Class A exclusive sealed lid and tight tolerance air valves allows for the perfect grilling temperature.
Reduces use of charcoal by 75%.
Stay-cool valves enable user to adjust temperature of the grill with their hands.
Disadvantages
No after-market accessories.
Some lightweight parts are flimsy.
Final Verdict
The WEBER Jumbo Joe Charcoal Grill is the best small and portable charcoal grill in 2022 as far as we are concerned.
Do not be fooled with the word Jumbo because it does not pertain to how much it weighs. You can easily bring this grill at any campsite or beach because it's lightweight. However, it's portability and size does not compromise the amount of cooking space that you will get from this great grill.
This grill from Weber is sturdy and reliable with a heavy-gauge steel constructed grate. Although, this is not the best grill to try and cook food indirectly from heat, the dampers will help control heat temperature for that sweet, perfect cooking temperature anytime, anywhere.
What to Consider When Choosing Your Small and Portable Charcoal Grill?
Material – Consider the construction of your chosen grill and make sure that you pick the type that is built to last any weather or environment. The material should also be high resistant to heat since you do not want your grill to corrode or warp after just a couple of uses. Also, make sure that your grill is made up of materials that will make it easy to clean so that you do not stress over messy, stuck, charred food on your grate.
Cooking Surface Area – Just because you are opting for a small and portable charcoal grill it does not mean you have to settle for a cramped cooking surface area. There are small, compact grills that have large enough grilling surface which can easily accommodate a family or a group of friends. So, consider how many people you are grilling for and choose the correct cooking surface area!
Dampers- Portable grills need to have dampers to regulate airflow in and out of the fuel chamber to efficiently burn charcoal. Opening the dampers provide more oxygen to cultivate the flame. Opt for a small charcoal grill that has at least 2 dampers.
Mobility– The reason why you want a portable, small charcoal grill is the convenience and ease it provides when you want to grill while on the go. Always choose the type that can be easily packed away, folded down, or disassembled without requiring too much storage space in your vehicle.
Added Features- Not all portable charcoal grills are made the same way and others have extra features that should be worth considering:

Ashtray- You always want to have an ash catcher or tray to hold any grilling residue so you can keep your area clean and avoid getting ash in your food.
Adjustable Grate- A hinged or adjustable grate is helpful when you want to regulate your cooking temperature. Adjusting the grate can raise or lower your food towards the heat. Also, having a hinged grate will allow you to tend, and adjust the coals without having to remove the grill grate.
Thermometer– A steady and precise guide for your temperature is always a handy thing to have when grilling or barbecuing to avoid disaster.
Every perfect getaway does not only require great company or juicy, grilled, perfect barbecues; it also calls for equipment that can bring ease and a stress-free environment where you can enjoy cooking and chilling at the same time. A small and portable charcoal grill is a good investment not only because it provides that distinct smokey, charred goodness that you look for in a barbecue but at the same time allows you to look forward to a relaxing celebration outdoors with family and friends.

Hi, I'm Adam and I'm a HUGE fan of Food and Cooking.
Do you enjoy grilling sessions with your family while staring at the beautiful fire pit flames?
Flame Gorilla is the site to learn how to have that perfect backyard experience.