A fire pit is not complete without the perfect fire pit chairs around it. There is nothing more relaxing than lounging comfortably in a seat by the roaring fire toasting marshmallows, drinking beer, or tending to the delicious barbecue being cooked on an open fire. Plus, gatherings around the warm, toasty fire with food and drinks are better when it lasts longer thus, getting extremely cozy in your chair is a must!
There are those who install a fire pit in their backyard for landscape, and design aesthetics while there are some who just truly enjoy spending time outside with their friends or family, grilling and shooting the breeze. Whatever reason you might have for having this warm, blazing contraption in your home, it is imperative that you get the most out of your seating in both function and style!
Just like there are different types of barbecue grills and fire pits, there are also a couple of fire pit chair designs for you to choose from. There are chairs that are portable, and lightweight while there are Adirondack types. There are also great wicker outdoor furniture seats as well as a family-sized premium seating design.
Selecting what type of fire pit chair might seem like a mundane task but for most people, it can be quite confusing. So, to help you through the process of finding the perfect seating arrangement around your firepit, here are the top 10 choices you can find on Amazon!
Fire Pit Folding Chairs
It is obvious that not all fire pit gatherings are done in the comfort of your own home that is why owning a good, sturdy and functional portable fire pit chair that you can easily pull out for a cozy night in the backyard or take along on camping trips, is important!
GCI OUTDOOR FREESTYLE ROCKER
The GCI Outdoor rocker is the perfect companion for roughing it outdoors around a campfire. It provides you enough comfort while being in style even if you are in the middle of the woods! The frames are made out of powder-coated steel which is sturdy enough to hold up to 250 pounds of weight. This chair has padded armrests with a mesh backrest which provides extra cozy support for you. It is easy to open and close so you can quickly enjoy a relaxing time by the fire without the fuss.
Advantages
Patented Spring-Action Rocking Technology so you can enjoy the relaxing rocking motion as you sit by the fire.
Lightweight and portable perfect for tail-gaiting, camping or lounging in the yard.
Folds flat for easy storage.
Come with cup holder for easy access.
Disadvantages
Pads on the armrest is not long enough.
Seat is shallow especially for tall people.
Rocking motion is not as smooth on any surface.
GCI OUTDOOR POD ROCKER
This full-size collapsible chair from GCI comes with its own carry bag which allows you to easily bring it along on camping or beach trips and even for a quick, extra seating in case too many guests arrived in your backyard barbecue! The structured sling-style seat with mesh seat panels will ensure that you are kept comfortable and cool while relaxing outdoors. GCI outdoor rockers are made from sturdy powder coated steel so it can withstand whatever environment you might want to use the chair in.
Advantages
Built-in beverage holder and side phone pocket.
Sling style type is made to fit you so it ensures all-day, all-night seating comfort.
Spring action rocking technology rocks on any surface.
Leans perfectly back for a comfortable sitting position.
Disadvantages
Awkward size for smaller/shorter people.
Stitching on the chair is not as sturdy and rips out after just a few uses.
No air flow as the chair wraps around you.
Some consumers felt restricted in their arms and shoulder area.
Lamberia Outdoor Portable Chair
The Lamberia folding chair is made from sturdy steel frames with a strong metal X-shape support which offers the strength and durability needed for a good fire pit chair. The seat is a double layer durable 600D oxford and helps support up to 330lbs of weight. The ergonomic build has a 21†high back design which provides support for the back and the waist, perfect for prolonged seating. This chair is easily folded and stored in its own carrying back making it extremely portable and convenient.
Advantages
It has padded armrests, cup holder and storage pocket for personal belongings.
Each leg is adjustable and has a rotating foot to provide stability, safety and durability in any terrain imaginable.
Keeps in shape and does not slack.
Incredibly sturdy especially for heavier/bulkier people.
Disadvantages
Rubber plugs on the ends of the chair easily comes off.
KINGCAMP LIGHTWEIGHT CHAIRS
The KingCamp's chair is made with comfort and relaxation in mind. The high back design is recommended by Orthopedic specialists because it has a horizontal tube and double-layer fabric cotton that fully supports your head and neck comfortably. It is made with 7075 aviation grade aluminum alloy brackets making the chair lightweight yet highly durable. The folding chair uses tear-resistant 600D oxford fabric which can support up to 265lbs. It is also ultralight, weighing only 3.7lbs with parts easily detachable for easy storage and portability.
Advantages
It has breathable polyester seat with gauze structure on both sides for cool, relaxing air flow to provide comfort in hot weather.
It also has exothermic padding that you can stick to the bottom of the chair to keep you warm in cold weather.
Comes with adhesive side pockets for phone or snacks.
Disadvantages
Detachable parts means that there is some assembly required.
Does not offer rocking motion.
Armrests might be shorter for most people.
The Adirondack Chairs
The Adirondack type of chairs are often considered more comfortable than any type of outdoor lounge chairs available which is perfect to have around the fire pit. The contour design, tall slatted back, wide armrests make it easy for people to recline on as well as have extra space for cushions and pillows to provide cozy and plush seating.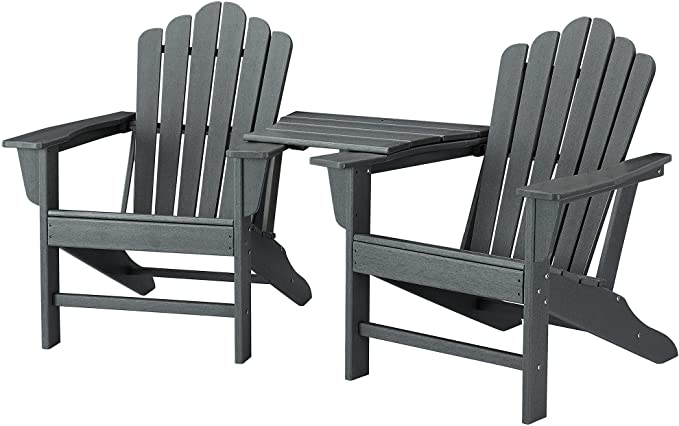 EHOMELINE CLASSIC OUTDOOR ADIRONDACK
The Ehomeline classic outdoor Adirondack chairs are unique for having a connecting plate set where you can place your drinks, plate of food or other things you need for your fire pit gathering or barbecuing. It is pretty resistant to all kinds of weather and sheds rainwater easily making it more suitable for outdoor. The virgin high density polyethylene (HDPE hard plastic) material has a wood grain finish in a slate grey color which looks classical stylish and blends perfectly with any outdoor furniture.
Advantages
Provides great back and neck support.
Comes in 5 different stylish colors.
The connecting plate and wide armrests provide additional space.
Easily cleaned with mild soap, water and brush.
Can carry up to 350lbs load.
Disadvantages
Screws are a little bit hard to align.
Assembly is can be quite complicated for some.
Screws (hardware) are too exposed.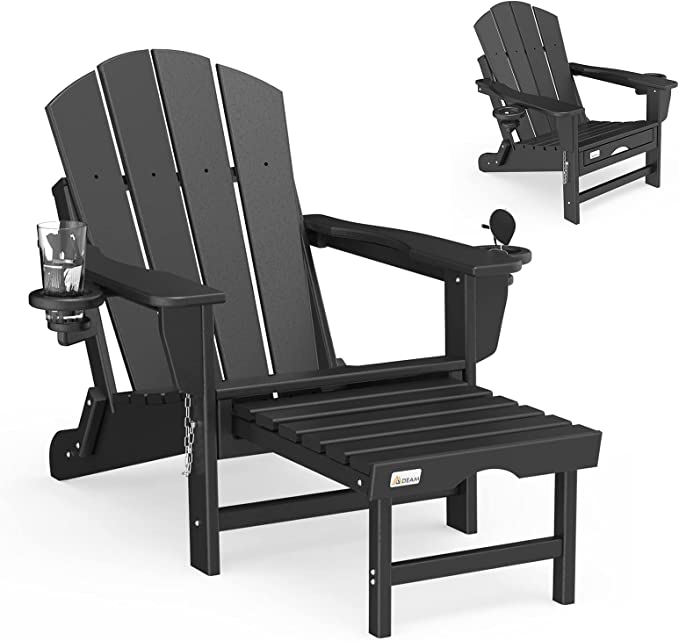 MDEAM LAWN OUTDOOR FIRE PIT CHAIR
The MDEAM Adirondack chairs is made from HDPE material which boasts of a no-crack and no-fade durability. It is also made environmentally friendly with PS and PC materials and perfect for all types of weather. The design is unique with a built-in retractable ottoman which will provide good support for your feet so it's not just your back and neck that is comfortable to make your body relaxed. The ottoman can shrink when you don't want to use it. The load capacity is 380lbs.
Advantages
Stainless steel screws which make it rust-free for a long time.
Easily cleaned with a normal rag.
Has pull-out stainless-steel bolts to fold chairs easily.
Easy to assemble and light enough to be portable.
Has built-in 2 hidden cup holders for your wine and drinks.
Disadvantages
It is not light enough to be moved around.
Assembly can be a little bit complicated for some shipments.
POLYDUN ADIRONDACK CHAIR
The Adirondack chair from Polydun is made out of high-impact polystyrene (HIPS) and marine grade stainless steel hardware which makes this fire pit chair withstand all kinds of harsh weather. It can hold up to 350lbs of load and the 23†wide armrests make the chair suitable for any body type to relax on when sitting around a fire pit. The curved seat and high backrest, 103° elevation design easily makes sitting more comfortable and extremely relaxing. The chair is also recyclable.
Advantages
UV Proetec – UV inhibitors and stabilizers protect the chair from harmful environmental degradation.
Low maintenance as it is resistant to stains, corrosive substance, not easily breakable.
Cheaper than original Polywood.
Easy to assemble.
Disadvantages
Chair is not lightweight and might be difficult to move around for some people.
It has pores in the plastic and not as smooth as original Polywood.
KINGYES FOLDING ADIRONDACK CHAIRS
The KINGYES Adirondack chair's folding and stackable design makes it easy to store while the lightweight frame makes it portable and easy enough to relocate around your fire pit. It is made from Polyethylene (HPE) material for durability and gives this chair a waxier feel instead of real wood and the color does not fade easily. It is built to withstand all types of climates and does not dent, crack, rot or peel off like wooden chairs.
Advantages
Waterproof chair with large seat, ergonomic backrest and 22†armrest for complete rest and relaxation.
Sturdy and has 360lbs load capacity.
Comes in 10 colors for more stylish options.
Folding design for convenience.
Easy to clean and low maintenance.
Comes with 3-year warranty.
Disadvantages
Chair needs to be assembled (15 minutes installation)
The Luxurious Fire Pit Chairs
There are some people who prefer a more luxurious, stylish looking fire pit in their backyard and this calls for more elegantly styled chairs. These are more expensive than the usual Adirondack or foldable chairs but can be great eye pieces which can comfortably and elegantly seat an entire family.
BALI OUTDOORS FIREPIT CHAIRS
The Bali outdoors fire pit chair is a stackable outdoor chair that saves a lot of storage space as well as provides a quick and easy fix after a party. It is made from Polyethylene rattan which makes it flexible and has a smooth surface to provide comfort. It is perfect for all types of weather and does not deform or crack while being exposed outdoors. Each chair can hold up to 30.8lbs and the package comes with a 2-pcs set.
Advantages
Easy to clean with feather duster or vacuum or wipe down with a soft, damp cloth.
Comes in a gorgeous wicker weave design perfect for an elegant single fire pit seat.
Heavy and sturdy but comfortable.
Disadvantages
Consumer claims it's difficult to assemble.
Armrests are bare, hard rectangular metal with sharp edges that makes it uncomfortable.
CHRISTOPHER KNIGHT HOME CAPE CORAL OUTDOOR SET
The Cape Coral outdoor set comes with four club chairs, one three-seater love seat, a fire table and a tank holder. It is the perfect outdoor set to enjoy sitting around the fire with your family and friends over good drinks, conversation and awesome grilled food. The club chairs and love seat are made from top quality aluminum frame that has been treated to withstand the weather. The fire table is made from sturdy magnesium oxide built to last for years.
Advantages
Fabric cushions are water resistant.
Cool and modern design.
Great for intimate conversations with the group around the fire pit.
Easy to assemble and highly comfortable.
Disadvantages
More expensive than Adirondack or foldable rockers.
Might have manufacturing issues upon delivery.
Ships in several boxes and might be shipped separately.
Final Verdict
Fire pit chairs come in different size, form, shape and functionality. However, it is obvious that there is a specific chair for every specific person so, to make things easier, we will be pointing out the best fire pit chair in 2022 per its style.
A popular fire pit chair is the Adirondack which people usually see in most fire pits and even pool sides. For our best pick, we selected the EHOMELINE CLASSIC OUTDOOR ADIRONDACK. Aside from its great neck and back support, it features a unique connecting plate set which is convenient for barbecue parties. The HDPE plastic material it's constructed from guarantees structural integrity and all-weather resistance.
For those who prefer their fire pit chairs foldable and highly portable, the best fire pit chair for 2022 is the Lamberia Outdoor Portable Chair with its sturdy double layer 600D Oxford material supporting up to 330lbs of weight. Perfect for prolonged seating anywhere, anytime.
To those who are looking for a luxurious seating set around their fire pits, we prefer the Christopher Knight Home Cape Coral Outdoor Set. It is perfect for the all-around country club, elegant, stylish seating withstanding just about any outdoor element. It can be pretty expensive (as all luxurious fire pit chairs are) but this set is worth every penny.
What to consider before choosing your fire pit chair?
Design – Are you looking for a seat that can host a couple of people around your fire pit all at once? Do you want something that can fold and unfold the stowed away once guests are done or when you are no longer using it? Do you want single seating or a three-seater love seat with cushions? You have to consider whether you are buying your fire pit chair for style or function so that you may pick the correct type and build for your seats.
Materials – Make sure that you choose the best products with the sturdiest and most reliable materials and pieces (nuts, bolts and screws) so that you do not wear and tear your chair so fast. Remember, these chairs are to be used and probably left outdoors and will be exposed to different types of weather and it should be built to last a long time. Also, you want to keep in mind that you will be using it near a blazing fire so whatever style of chair you use, it should at least be not flammable.
Comfort – There are folding fire pit chairs that are comfortable enough to use but you should gauge the level of cozy you want you, your family or guests to experience. You might prefer a wider chair that has water-resistant cushions or a spacious reclining Adirondack to lie back in while enjoying the warmth of the fire. Do you want a single seater that swallows you up in a cozy sling style or do you want one that allows you to put your feet firmly on the ground as you laze back?
Portability – Think of where and when you will be using the chairs and how frequently you will be using them. Do you plan to have a permanent fixture in your backyard fire pit or do you want something you can unfold and fold then stow away until the next barbecue? Are you looking for something you can bring along in the beach or during camping and can fit comfortably in the back of your car? Decide if you want lightweight, easily carried chairs or heavier, sturdier fixtures that you can leave outside.
There are indeed many types of fire pit chairs to choose from and each one has its own merit and advantages. However, choosing one should not be a chore as long as you keep in mind the important facts that make owning quality seats significant. Remember, think of your current fire pit's style so you can perfectly match your chairs with it. Do not forget to think of safety as well when putting your chairs around the pit and maintain a reasonable distance. Also, clean your outdoor seating regularly so that you protect it from sparks of flying embers or ash from the fire pit. A thorough thought process in selecting and buying a fire pit chair should be easy enough so you can enjoy a relaxing, cozy time around the warm fire with your family and friends.

Hi, I'm Adam and I'm a HUGE fan of Food and Cooking.
Do you enjoy grilling sessions with your family while staring at the beautiful fire pit flames?
Flame Gorilla is the site to learn how to have that perfect backyard experience.