Weber Charcoal Grill
You've all seen them. The Weber Grill is the most recognized grill in the world. And for good reason! This is the classic charcoal grill. It is classic and irreplaceable. It is about as simple and straightforward as a grill can get, and that's a good thing! These are workhorse barbecues that outperform even more expensive grills on the market. Do not ignore the Weber grill, they are made well and made to last.
The classic Weber grill is the "kettle" grill, so-called because of its kettle shape. This shape, besides being familiar, is functional in that the round, curved sides are perfect for heat convection within the grill, perfectly cooking your foods.
I've said it before, but one of the nice things about Weber® is that they have a great range of products. From the entry-level, inexpensive One-Touch® Silver Weber charcoal grill to the top-of-the-line Performer® Weber charcoal grill, they all offer great advantages and features.
Another great thing about Weber® is that they have been making grills for so long, so you can feel confident they know what they are doing! Also, their support, accessories and availability of replacement parts and servicing are second to none. Every Weber grill comes with a limited warranty and most come with a Weber cookbook.
It will come as a surprise to many that the Weber kettle grill comes in several models with different features.
Here is some info about the various Weber charcoal grills currently marketed:
One-Touch® Silver – This is the basic, entry-level Weber grill (as pictured above). It may be simple and more inexpensive than some other fancy grills, but don't be mistaken, this is a serious grill! Everyone from novices to hardcore grill-heads will be able to cook first-class barbecued meals on this puppy. It comes in two sizes, the 18-1/2″ and 22-1/2″, the size referring to the diameter of the round cooking area. They both include heavy-duty plated steel cooking grates, no-rust aluminum vents and ash catcher, porcelain-enameled bowl and lid, handles, and crackproof all-weather wheels. In addition, these grills have the One-Touch cleaning system which allows you to easily empty your ashes through the bottom. The wheels make this Weber charcoal grill easy to move around and its size is such that it even fit in a large car or truck to take on the road.

Don't be fooled by the entry-level price, this is a great grill. While it doesn't have all the bells and whistles of more expensive grills, you will be able to accomplish the same great charcoal grill cooking as any grill.
One-Touch® Gold – This grill looks very similar to the Silver line, with the classic Weber kettle grill shape. However, this step up the barbecue ladder features a heavy-duty plated steel hinged cooking grate which allows you to access your coals while cooking. This is particularly helpful for indirect heat grilling. These also have an integrated high-capacity ash catcher with the One-Touch™ cleaning system, allowing you to empty your ashes directly into the catcher, avoiding mess and simplifying clean-up. The catcher can then be easily removed to dispose of the ashes. The other features are the same as the Silver line and these also come in two sizes, 18-1/2″ and 22-1/2″.


Performer® – The Performer® Weber charcoal grill has even more features. While the basic core grill is similar in form and function to the 22-1/2″ Gold series with all of the same features, these grills have several additional add-ons. For one, there is a side working table for chopping and staging food or sauces. It is built into a heavy-duty steel cart frame with a wire bottom shelf. It has a lid holder, a lid-mounted thermometer, 3 tool holders and a very nifty weather-proof charcoal storage container which does away with mess charcoal bags. Lastly, this charcoal grill has a special gas assist feature to light your charcoal quickly, fueled by 14.1 oz. or 16 oz disposable propane bottles (good for up to twelve 10-minute ignitions). This is the top-of-the-line Weber charcoal grill and has all the features you need to cook comfortably and efficiently.


Ranch Kettle® – The Ranch® Kettle grill is built for people with a lot of mouths to feed! It has a monstrous 1104 square inches of the cooking area! It has all the great features of the One-Touch® grills described above on a heavy-duty steel cart. It functions basically just like a big, wide version of the other smaller kettle grills. This is perfect for big crowds, cookouts, and pig roasts.
Weber Portable Grill Line
The Weber portable grill line is an excellent option for a portable barbecue you can take with you. Whether you are picnicking at the park, camping at the lake, at the beach, or just going to a friend's house with no grill, a portable outdoor grill is convenient, simple to use, and allows you to cook most of the same great barbecue foods you would on a larger grill.
These grills got the Weber® name and all the years of experience, support, and features that you've come to expect from Weber®. These portable grills come in both gas and charcoal models. They can sit on the ground, on a picnic table, or on any other solid surface.
All Weber® grills come with a Weber cookbook and a limited warranty.
Below are the different types of Weber portable grills that are available currently:
Go-Anywhere® Series – The Go-Anywhere® series includes both a charcoal and gas Weber portable grill. Both have a 160 square inch cooking area with a porcelain-enameled base and lid, heavy-duty folding legs. Its rectangular design is compact, easy to carry and fits in any car easily. The gas version has a push-button igniter and runs on disposable 14.1 oz. propane cylinders which are not included. Optional adapters to a 20-lb. tank is also available. This is a great, easy portable barbecue for any trip.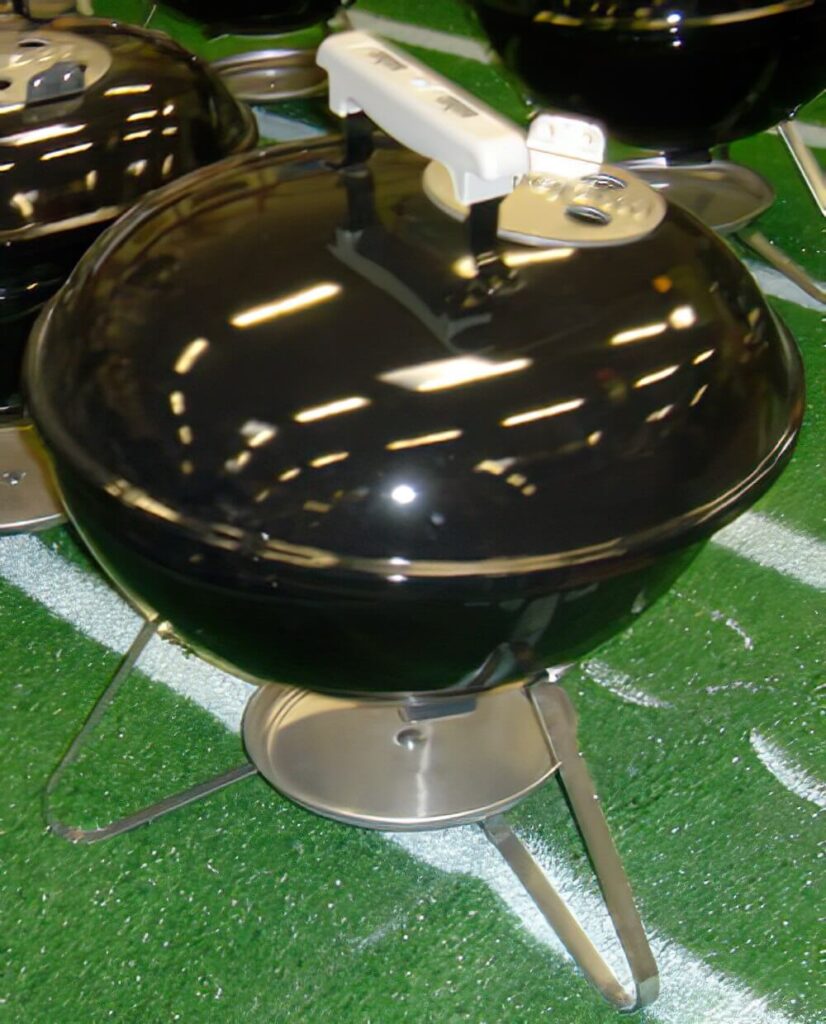 Smokey Joe® Series – The Smokey Joe's are basically a mini version of the famous kettle-type Weber charcoal grill, the One-Touch® Silver and Gold, with the familiar kettle shape. They are simply smaller and with short metal legs for portability. It comes in a Silver and Gold model. Both feature a porcelain-enameled bowl and lid with a 14.5-inch diameter cooking area (just slightly larger overall surface area than the Go-Anywhere® series). The Gold version incorporates a lid lock for carrying which also lowers and doubles as a lid holder while cooking, making this version slightly easier to transport and for functional. Another great Weber portable grill with the classic kettle grill design.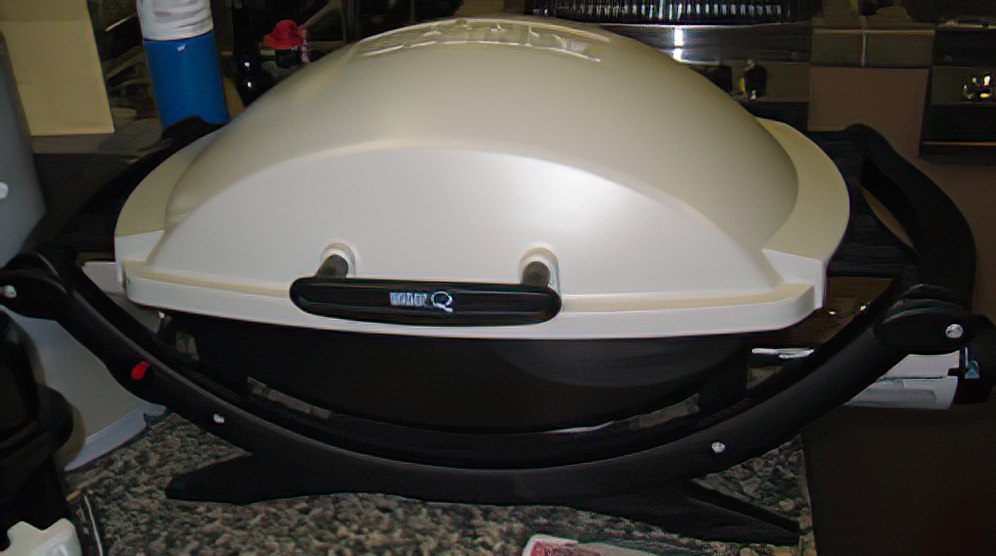 Weber® Q' Series – The Q' series grills are a completely different design. Compact and lightweight, these are very portable and work well. They are all gas powered grills, operating on a disposable 14.1 oz. propane cylinder. Adapters to 20-lb. tanks are optional. They also have an incorporated, hinged lid that raises and lowers easily. There are 5 different versions:



Q-100: This is the smallest Q-grill with 189 sq. in. of cooking area and 8,500 BTU-per-hour output. Stainless steel burner, removable drip tray, porcelain-enameled cast-iron cooking grate and push button ignition all come standard.Q-120: This Weber portable grill is basically the same as the Q-100 with the addition of folding work side-tables with tool holders. There is also an optional rolling cart that is specifically designed to hold this grill.Q-200: This portable grill is a bit bigger, with 280 sq. in. of cooking area and 12,000 BTU-per-hour of heat. The other features and options are similar to the Q-120 with side work tables.Q-220: This is the same size and power as the Q-200 but has an in-lid thermometer and has an optional stationary or rolling cart.Q-300: This is another step up in size to 393 square inches and 21,700 BTU with 2 stainless steal burners. It uses a 20-lb. propane tank and bolts to an included stationary cart with wheels. This grill, because of its added size and cart is really not as portable as the other Q™ series barbecues. It is compact compared to other full-sized gas grills, with a small footprint. However, for optimum portability, this is probably not the best option.
Weber Gas Grill Lines
If you are looking for a great grill, look no further than the Weber gas grill. Weber® is a name that is virtually synonymous with barbecue and outdoor cooking. They have years of experience in making top grills and have several options to choose from. You really can't go wrong with Weber, you can take that from the Flame Gorilla© because I have no relationship to Weber. I'm just simply an admirer of their products!
One of the nice things about Weber® is that they have a great range of products. From the entry level, inexpensive Spirit® line of Weber gas grill to the top-of-the-line Summit® series of Weber gas grill, they all offer great advantages and features.
Another great thing about Weber® is that they have been making grills for so long, so you can feel confident they know what they are doing! Also, their support, accessories, and availability of replacement parts and servicing are second to none. Every Weber grill comes with a limited warranty and most come with a Weber cookbook.
The last great thing about these grills that I'd like to mention is that all of the Weber gas grills now come in Weber natural gas grill models. This means that you have the choice to use propane or clean-burning, inexpensive natural gas to power your Weber gas grill.
Here is a little bit of info about the various Weber gas grill lines currently produced: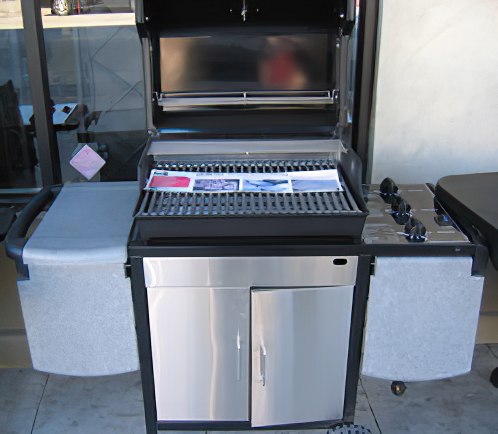 Spirit® Gas Grill – This is Weber's entry-level gas grill line. It includes the slightly smaller E-210 and the bigger E-310 Weber grill. The E-210 is a great entry-level gas grill with 2 stainless steel burners, 350 sq.in. of cooking area, and 26,000 BTU-per-hour input. The E-310 is bigger with 3 burners, 424 sq. in. of cooking space and 36,000 BTU's. Both have warming racks and warm-up basket areas. They are both porcelain enameled with a thermometer, wheels for easy portability, a large work surface on the side, a storage cabinet below, 3 tool holders, condiment baskets, and an easy ignition system.

The Spirit® line of gas grills is a great basic grill with more features than most entry-level grills.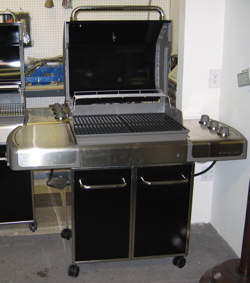 Genesis® Gas Grill – This is the next step up in Weber's line of gas grills. The E-310 and E-320 are both available in three colors, black, dark blue and green! They both have large working areas of 507 sq. in., 3 stainless steel burners, 42,000 BTU-per-hour input, cast-iron cooking grates as well as a warming rack. They also both have heavy duty caster wheels, 2 stainless steel work surfaces, cabinet, 6 tool holders and all the other usually features. The E-320 additionally has a flush-mounted 12,000 BTU-per-hour side burner! This is a great addition because it allows you to cook your soups, sauces, chili or vegi's right there next to your grill! No more running into the house. When you don't use it, the top flips down and you can use it as a work surface!



The Genesis® Weber gas grill line also features the S-310 and S-320. The basic features are the same as the E-class, with the S-320 offering the flush-mounted side burner just like the E-320. The S-class grills come in a beautiful polished metal design with 7mm diameter stainless steel rod cooking grates and a center-mounted, industrial-grade thermometer. These are very classy and functional grills with power and versatility.
Summit® Gas Grill – This is Weber's ultra-premium line of gas grills. Four models to choose from, the S-420, S-450, S-620 & S-650. These all have a new advanced individual burner ignition system not available on other models. They also share the following features: they all have a 12,000 BTU-per-hour side burner, 3/8″ or 9.5mm diameter stainless steel rod cooking grates, warming rack, polished stainless steel, enclosed cart cabinet and tank storage area, 2 stainless steel work surfaces, heavy duty caster wheels, 2 handle lights, and 6 tool holders.



The S-420 and S-620 are basically the same in terms of features, just differing in size. The S-420 has a 538 sq. in. primary cooking area with 4 stainless steel burners while the S-620 has 693 sq. in. of cooking area with 6 stainless steel burners. They both share all the standard Summit® features described above.

The S-450 and S-650 Weber gas grill are also the same in terms of features but differ in size, the S-450 having 538 sq. in. of cooking space with 4 stainless steel burners and the S-650 having 693 sq. in. with 6 stainless steel burners. These are huge grills, capable of cooking up a delicious meal for the whole football team! In addition to all the Summit® features listed above, these grills have an 8,000 BTU-per-hour smoker burner and stainless steel smoker box, a 10,600 BTU-per-hour infrared rear-mounted rotisserie burner, a spit fork rotisserie attachment with a heavy-duty motor. These grills literally have every bell and whistle you can find on today's best grills. You really cannot find a grill recipe, style or trick that this beautiful gas grill can't tackle. These are the epitome of elegant, powerful, functional, and versatile outdoor cooking!
Weber Grill Accessory
Looking for a Weber grill accessory? Weber makes grilling easy with great charcoal and gas grills. They make it even better with a huge range of grill accessories. Sure, you can get by with the barest essentials, but why suffer? Take your grill cooking to the next level with some of these great grill accessories.
In fact, there are too many accessories to discuss all of them here in detail. I am going to give you some tips on the Weber grill accessory items that I think are the most useful and unique to use with your Weber barbecue.
Weber Poultry Roaster – This neat dish holds your chicken upright and you can fill the pan with beer, wine, or juice so that your roast bird is steamed and roasted to juicy perfection. Helps to avoid burning your poultry and prevents drying out.
Rib Rack – This rack holds whole racks of ribs or even other things like chicken pieces on their sides, freeing up valuable space on your grill's cooking surface.
Roast Holder – This Weber grill accessory is a wire basket which holds your roasts so that they can be easily transported to and from your grill while not getting in the way of perfect cooking and smoking.
FireSpice Cooking Woods – Weber has a line of both wood chunks (for longer cooking times, smoking or using as a fuel source) and wood chips (for shorter cooking times and quick supply of aromatic smoke). They have both in Hickory and Mesquite, adding diversity of flavors to your barbecued meals. These can be used both in charcoal grills and smokers as well as gas grills with a smoker box (see smoker attachment below).
Grill Covers – I strongly recommend every grill owner has one of this Weber grill accessory. Frankly, I don't know why all grills don't come standard with a cover. Are you listening Weber? Weber makes covers specially designed for each of their grill types, from kettle grills to large gas grills. Protect your investment and you will have many more years of grilling pleasure from your barbecue!
Weber Wok for Kettle Grills – This is a neat new Weber grill accessory that I love! It sits in your charcoal kettle grill in place of the grill grate. It is a Chinese style wok which allows you to cook stir fried Asian recipes outdoors and with a smokey charcoal heat source.
Weber Slide-Aside™ Lid Holder – Those big dome lids on Weber kettle grills can be a bit cumbersome. This Weber grill accessory attaches to the side of your grill and allows you to slide your grill lid to the side, holding it in place. This makes opening and closing your grill much easier! No more placing your grill lid on the floor!
Weber Chimney Starter – The Flame Gorilla© is a huge fan of these charcoal starters! A chimney charcoal starter allows you to rapidly get your charcoal started without messy and toxic chemical lighter fluids. Simply light a few pieces of wadded up newspaper in the bottom of the chimney and in minutes your charcoal is ready to go! Many companies make chimney starters but Weber are my favorite because they are bigger than most other brands, so that you can get all the coal you need started right off the bat!
Grill Motorized Rotisserie – These are a welcome addition to the Weber grill accessory lineup! Weber now makes rotisserie systems that fit onto your grill. They even have one that fits on the charcoal kettle grills now! They have heavy-duty motorized rotisserie motors so that your turned roasts cook to juicy perfection. They have models that fit both their charcoal and various gas grill models.
Replacement Cooking Grates – Grill grates do get quite dirty and even rusty after a long time. Rather than struggling with scraping them, eventually you'll want to replace your grill grate. The nice thing about this is that they have hinged replacement grates so that you can lift up one side to access your charcoal, allowing you to tend your heat source or add coals during cooking.
Condiment Holder – This handy little accessory hooks onto the side of your grill and lets you hold your condiments, marinades or basting mixtures for easy access.
Charcoal Briquet Fuel Holders – These metal baskets hold two piles of charcoal neatly on either side of your charcoal grill. This Weber grill accessory is essential for ideal indirect heat grilling. Indirect heat allows you to grill larger roasts for extended periods of time, allowing the interior to cook fully before the exterior burns. This is great for roasting whole chickens, racks of ribs, tri-tips, or other large roasts.
Smoker Attachments for Gas Grills – One of the disadvantages to a gas grill is the lack of real wood smoke flavors and aromas that get into your food. You can alleviate this problem with smoking woods. These smoker boxes attach to the side of your gas grill near the side burner. You simply fill them with water-soaked wood chips or chunks (see above) and in a few minutes your grill will be filled with savory wood smoke aromas!
Weber Utensils – Of course, Weber also makes great cooking utensils to make grilling easier and faster. Everything including tongs, spatulas, barbecue forks, cleaning brushes and scrapers, fish turners, skewers, basting brushes and more! All made by Weber so you know they are perfect for grilling and for your Weber grill.
Other Weber Grill Accessory Items – As I said, there are so many Weber grill accessories that it would be impractical to discuss them all in depth here. Suffice to say that they have numerous other accessories including wireless meat thermometers, patio torches, side burners, fire-starters, cookbooks, barbecue mitts, and barbecue aprons.
Seems like a lot of stuff to think about, doesn't it? Don't get overwhelmed. Pick one Weber grill accessory that sounds fun to you and add it to your grill cooking repertoire. Before you know it, you'll be looking for more grilling tricks! Come back and Flame Gorilla© will have some new grilling suggestions to improve your outdoor cooking skills.
Looking for a Weber Grill Part?
I can help you find your Weber grill part! Weber grills are ubiquitous, meaning they're EVERYWHERE! I bet you have a Weber kettle grill, I do! Well, do you need a replacement part? Weber grills are well built and sturdy, but with all the use you are giving them, you can break or lose parts.
Luckily, Weber is a great company and has great support for its products. So get ready to tune up your old Weber grill so that it is working like new!
I've got a secret that can help you find the weber grill part you need in no time…should I tell you? OK, you talked me into it. Actually, it's not really a secret. But when you are done finding your replacement parts, remember who pointed you in the right direction and come back.
Weber Replacement Parts
Weber has a great system for finding replacement parts for your grill. Would you expect anything else from a company like Weber which has been making grills and barbecues for so long? Go to the Weber replacement parts page. There, you will find a series of prompts to click on your type of grill, starting with choosing charcoal, gas, or portable. Each page hones in on what type of specific grill you have so that you can find the right Weber grill part. In the end, you'll find a list of replacement parts specifically made for your Weber grill with prices and ordering information. Everything from replacement grill grates, ash catchers, lid handles, and wheels are there.
If you still can't find the right part for your grill, call 1-800-446-1071 for Weber Customer Service and you will be helped out. You should be able to find just about anything you need.
I hope this helps you find your Weber grill part quickly and easily. When you're all tuned up come back and get some grilling ideas and tips or a grilling recipe to test out on your newly refurbished Weber grill!

Hi, I'm Adam and I'm a HUGE fan of Food and Cooking.
Do you enjoy grilling sessions with your family while staring at the beautiful fire pit flames?
Flame Gorilla is the site to learn how to have that perfect backyard experience.