There are varying traditions on how to cook meat in an open flame as well as in smokers but one thing is for sure, all of them do not involve burning or overcooking the protein! This is why the technique of grilling over a fire pit or in an open flame barbeque contraption using wood or coal, needs some time to perfect. That is why every barbeque expert knows how important it is to have a trusty, reliable grill rack.
People love to cook different types of meat and all of these have different cooking times. Thus, having the correct grill rack is important because it will give you enough control over how close or far your food is from the heat of an open flame. Flame is temperamental and as a cook, you need to be able to handle what you can manipulate to get that right sear and temp for your rack of ribs or roasted lamb.
A sturdy grill rack also assures that you double the amount of meat you are cooking in a lesser time, after all, not everyone has the same space on their grills. Having the means to stack, stand and position your ribs on the barbeque will easily create extra space as well as help you protect different proteins at varying degrees of heat.
In order to find the best grill rack that will help you get that perfectly cooked steak, chicken, or beef short ribs, here are the top 10 products you will find online.
SOLIGT Extra Long Rib Rack
This extra-long and properly wide rib rack from SOLIGT can hold up to 3 full racks of baby back ribs. So, if you are looking to feed a good number of people, this one is for you. The grill is also made from premium 304 stainless steel material making it highly durable and sturdy. It also has no coating on it ensuring that there will be no scraping or peeling off the material when used for a couple of times. The size and length allow for a good enough room for each slab of meat ensuring an even cook all around.
Advantages
Hassle-free cleaning
Holds 3 full rack of ribs vertically.
Fits most 18†or larger grills.
Easy to prepare and use.
Disadvantages
Non-stick feature is questionable.
Cannot be used for oven.
Very difficult to clean because sauces stick to the material.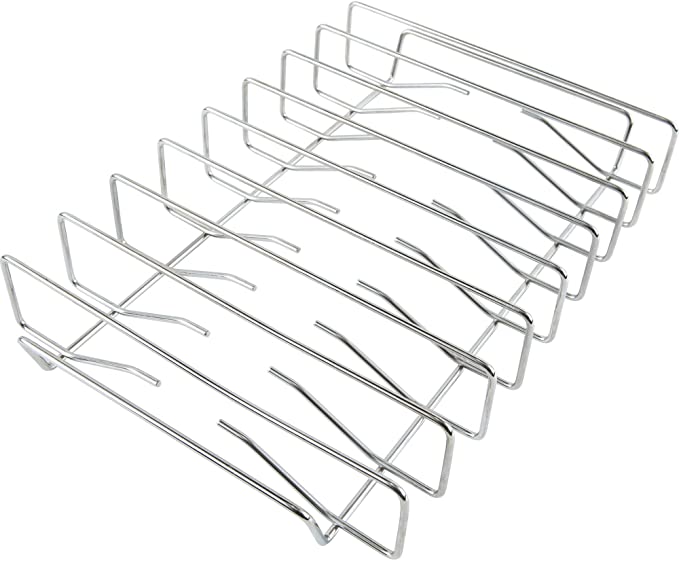 TRAEGER Grills
All of TRAEGER's grilling accessories are made from top-quality stainless-steel materials. The brand boasts of sturdy and reliable grilling racks as well. Their barbeque grill rack has a dimension of 17 1/2″ L x 12″ D x 3 1/2″ H. It weighs about 2. 8lbs and fits almost every standard barbeque grill on the market. Traeger grill racks are also versatile and can be used in an oven.
Advantages
Fits up to 8 racks of ribs
Handles are conveniently placed front to back for perfect fit.
Oven safe.
Offers great grilling space capacity.
Disadvantages
It is not a non-stick grill so it is not easy to clean.
Might rust easily.
Rack gaps are a little wider and might cause ribs to forward or back.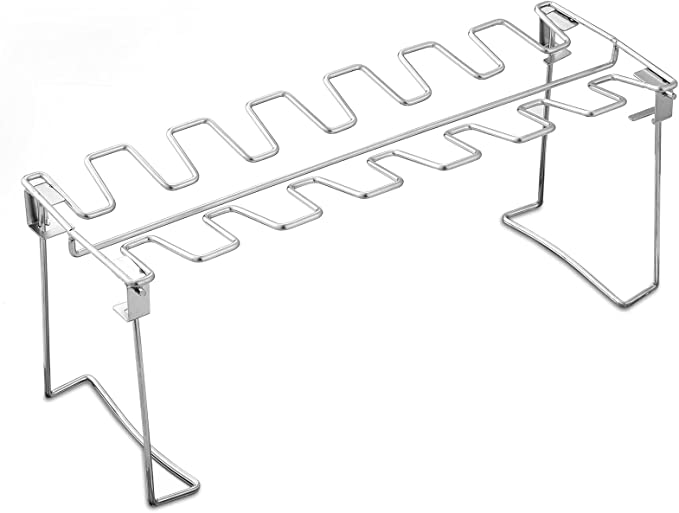 RTT Chicken Leg and Wing Rack
This grill rack is perfect for barbequing, smoking or roasting your chicken drumsticks. It fits the standard size oven, griller as well as smoker with its 13.4†x 6.5†inch size. It is made from high quality stainless steel which will last long, withstanding prolong exposure to high temperature. You don't have to worry about burning your chicken as you enjoy time with your guests. Just hang and leave this 14-slot chicken holding rack and get perfectly cooked legs and wings.
Advantages
Can be compactly folded for easy storage.
Dishwasher safe or easy soak in water and clean with dishwashing soap.
No need to turn your food while cooking to get an even cook on all sides.
Fade resistant and non-corrosive for longer use.
Disadvantages
Some consumer claims its flimsy on a griller.
Height might be too tall for some standard grills.
Might be tricky to set up and can easily break down.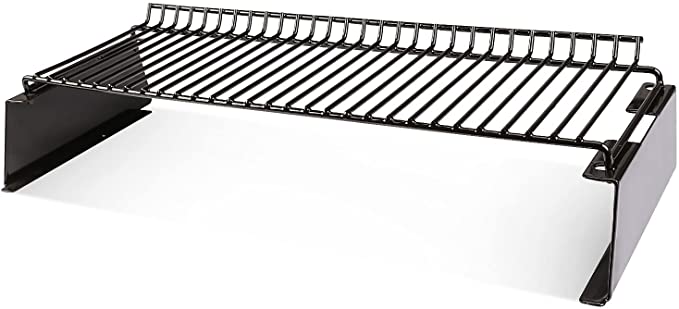 TRAEGER QuliMetal Grill Rack
The QuliMetal rack is made from porcelain enameled steel which boasts of a smooth and non-stick surface perfect for your barbequing requirements. It weighs approximately 4.29 pounds. The rack provides an extra 154 sq. in. of space on your grill which can easily hold up to 12 hotdogs or 8 burger patties.
Advantages
Drop in addition to your griller and does not need tools to mount.
Easy to clean just by washing with soap and water.
Highly durable.
Disadvantages
Coating might chip easily especially on the legs part.
Might encounter problem with the manufacture welded brackets.
Green Mountain Grills
The collapsible upper rack from Green Mountain Grills is a good product to help create more space in your standard grill. It will also leave enough room between the open flame and your meat to avoid burning and provide you with that perfect bark texture to your meat. Its dimensions are 20 x 16.3 x 1 inches and weighs about 3.7lbs, making it a good companion for a huge barbeque cookout with friends and family.
Advantages
Stainless steel make up making it rust-free and sturdy.
Built in leg locks to prevent it from collapsing on the grill.
It is 4 to 5 inches high making it ideal for indirect cooking of meat.
Easy to clean and wipe-off.
Disadvantages
Rack is said to collapse easily.
Height might make it difficult to close the tops of smaller grills.
Mydracas Grill Expander
The Mydracas grilling rack is made from high quality and thick 304 stainless steel which makes it sturdy and safe to grill any type of meat or food. The quality boasts of rust-free, long lasting, high-quality performance. The product weighs about 2.89lbs and has a dimension of 15.7 x 14.9 x 1.8 inches which adds about 70% of additional cooking surface on your griller. The 3 legs on the grill rack stacks and raises your meat from the main grate about 5 inches.
Advantages
Height provided off the main grate makes for perfect slow grilling or cooking.
Easy to clean by soaking in hot water for 5 minutes then wash with soap.
Fits large to extra-large Big Green Egg, Kamado, Joe Classic and most 18†or bigger grilling surfaces.
Easy to use and store with its foldable 3 leg extender.
Grate is sturdy.
Disadvantages
Inconsistent fit in some grillers so double check dimensions.
Can only hold up to 10-15lbs of meat.
Duke Grills
The Duke Grills Omaha rib rack fits and matches most standard barbeque grills from Green Egg, Traeger, Weber, Kamado Grill etc… The item weighs about 1.98lbs with a dimension of 14.92 x 12.01 x 5.67 inches. This grill can smoke up to 6 racks of ribs and allows more air flow for better circulation resulting to a smokier flavor as well as even, consistent cooking.
Advantages
Reversible rack which can be flipped for cooking chicken, roasts and prime ribs.
Stainless steel built which makes it non-stick and dishwasher safe, easier to clean.
Material is sturdy and reliable.
Disadvantages
Not long enough to hold a slab of ribs.
Will not fit a small, standard sized smoker.
AISHN BBQ Rib Holder
One of the most requested barbeque products is a perfect rack of pork ribs. The AISHN grill rack can hold up to 4 racks of ribs in an upright position. It is constructed out of heavy-duty steel wire which supports your meat properly avoiding any rib tipping problems when cooking on your grill. The size is 11.5†in length x 10.3 " in width and about 3†in height. With the double grilling capacity this rack provides, you will surely satisfy guests with outstanding, perfectly cooked ribs!
Advantages
Designed for all-around airflow which cooks the meat faster and evenly.
No need to constantly flip or turn your meat while cooking.
Perfect for cooking outdoor, camping and indoor oven.
Used for smokers, traditional ovens, gas and charcoal grills.
Easily cleaned with soap and water or simply put it in a dishwasher.
Disadvantages
Rack could be made taller to enable ribs to stand straighter.
Some consumers think that the size could be bigger.
Quality of material might be questionable for some consumers.
EasiBBQ
This versatile grill rack boasts of expanding your grilling surface up to 200%. The package includes 2 half-moon cooking grates, 1 base rack, 1 accessory rack and drip pan. All these parts are made from solid stainless steel. Its dimension is 0.25 x 20.16 x 6.77 inches and weighs 9.33lbs. It is perfect for your Large Big Green Egg as well as other 18†Kamado grills.
Advantages
Multiple heating zones can be used with heat deflectors, grills, baking pans, pizza stones etc…
Different matching accessories brings different grilling experience.
18-inch stainless steel expander with multi-level flexible cooking racks
Easy to clean with water and dish soap.
Disadvantages
Might not fit most standard grills.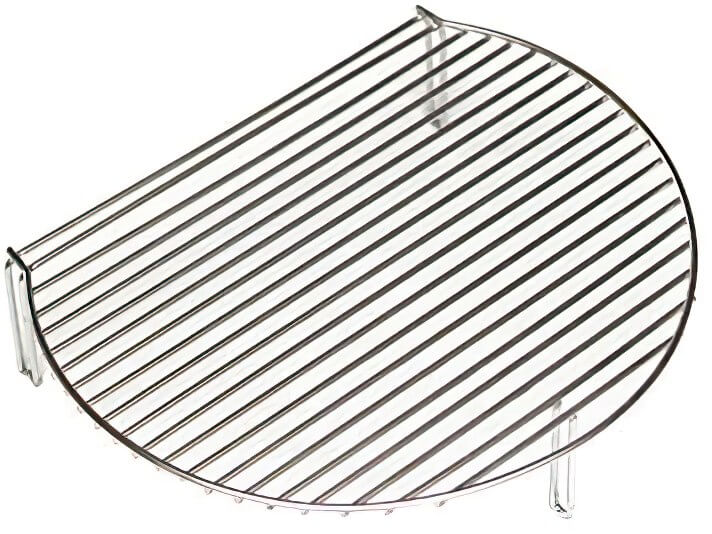 AURA Stack Rack Grill
The Stack Rack grill from AURA will instantly expand your cooking surface by adding an additional 152 sq inch space. It fits most large grillers like kamados, smokers or kettle grills. The contraption is made from stainless steel with a dimension of 15.5†in width, 12.25†in length and 4.5†in height. This portable grill rack weighs at 1.98lbs so it can be easily carried making it conveniently portable for picnics, camping or just plain outdoor cooking.
Advantages
Elevates meat efficiently to keep them from burning.
Perfect to smoke/grill 3 racks of ribs.
Fits and works well with Large Green Egg grills.
Easy to clean with soap and water.
Disadvantages
Welds in the product are easily broken.
Easily broken upon shipping.
Final Verdict
If you are the type that loves to cook different ingredients on the grill at different temperatures, then you probably want the best grill rack your money can buy. So, we highly recommend the TRAEGER QuliMetal Grill Rack as the best choice in 2022.
It is the perfect addition to your barbecue requirements with its non-stick and smooth surface so you can easily get your proteins on and off the grill without hassle. It cleans easily too! You do not have to worry about screws as it mounts on your grill easily and highly durable to withstand a lot of cookouts.
The TRAEGER grill rack provides enough extra space so you do not have to worry about falling short on serving your guests and family.
What to consider when choosing the perfect grill rack for your barbeque cook out?
Grill Rack Material – The make-up of your grill rack should be top priority. Aside from ensuring that you get a sturdy, wear-resistant and long-lasting rack, you have to make sure that the surface where you cook your meat on is safe from harmful substance and chemicals. Choose from cast iron, stainless steel, chrome, enameled and aluminum. Of course, consider the type and cut of meat you are cooking as well since produce have different cooking times and might work best on a specific surface.
Type of Grill Rack – A grill rack's purpose is universal but there are different types available for different types of cooking. There are grill racks that are net meshes and cross-grill types perfect for barbequing steaks and chops while there are rib grill racks made specifically for cooking ribs as well as chicken grill racks, bacon grill racks and even jalapeño and taco grill racks.
Size – Remember, a grill rack is also ideal for creating extra space on your cooking surface so consider how much food you intend on cooking at a certain time. Do you need larger or extra-large grill racks that can hold a bigger amount of food on the grill? Do you need a higher distance off the grate for slow cooking your meat or smoking them? How much space can your current griller or grate hold? Always check the dimensions of your existing grilling area before purchasing a grill rack to help you in your cooking. A grill rack is usually used for large to extra-large size of grills but there are some racks well-sized enough to fit the smaller green egg or kamado grills.
Convenience and Efficiency– A grilling rack should help you grill or barbeque with ease and that includes the after party. Make sure that the rack you will be using is easily cleaned and does not chip, tarnish or rust when soaked in water. Easy to clean racks are always the best choice however, do not settle for just any cheaply built material since cleaning might scratch or chip away the coating.
You can tell that a barbeque is good when it has the right amount of smokey flavor and a juicy interior with wonderful grill marks found on the meat. It does not matter if you are a professional chef, a master griller or just a simple home barbeque enthusiast, the goal is to serve good tasting and great looking food off that hot barbeque grill.
You do not need to cramp your barbeque grill just to feed your guests enough good food. There is no need to waste good quality meat by burning them just because it has been left forgotten, very close to the fire. Organize and conveniently distance your meat as well as other ingredients on top of your open flame to have a successful and mishap free barbeque party! Truly the grill rack is one of the most important, must-have grilling tools at your disposal.

Hi, I'm Adam and I'm a HUGE fan of Food and Cooking.
Do you enjoy grilling sessions with your family while staring at the beautiful fire pit flames?
Flame Gorilla is the site to learn how to have that perfect backyard experience.