The fire pit is one of the features that people invest their money on. It is obviously something that is significantly used by a lot of people for entertainment as well as a cozy gathering place for friends and loved ones. The fire pit also is utilized all year round so keeping it in good shape is important.
There are traditionally built fire pits that are designed to withstand all the elements of being outdoors since it is constructed from brick, stone or concrete. These are the types that require little to no maintenance since it's dug on the ground and designed to last in its natural state. However, for those who have a non-traditional built fire pit, protecting their equipment which are above ground is crucial.
Most portable or above-ground, free standing fire pits are constructed out of steel or iron which makes it sturdy and durable against all types of weather. Unfortunately, it still does not erase the fact that in order to keep your fire pit in tip top shape and be able to use it at its utmost best, you have to take care of it. Plus, not all fire pits are designed to be rust-proof or waterproof when left outside, under the sun and rain when not in use.
This is why investing in a good, top quality fire pit cover is a must. It will not only guard your fire pit from the outside elements but it will also effectively hide it in case you need it to be scarce or stored away properly. As there are different shapes and styles of fire pits, thus there are also a variety of fire pit covers to accommodate any model.
In order to help you figure out which is the best product for your personal fire pit, here are the top 10 fire pit covers found online.
Square Fire Pit Cover
Dimension: 32 x 32 x 24
Weight: 2.2lbs
Material: Fabric
Customer Rating: 4.8/5
The fire pit cover from Shinestar can fit most 28-32 inch fire pit and with its 600D fabric with PVC and anti-UV coating, it is guaranteed to protect your fire pit against the elements outdoors. It is 100% waterproof and will not fade right away so it keeps its fresh, clean look even under long-term sun exposure. It keeps the fire pit table or any free standing square fire pit dry on rainy days with its side vents that allow moisture to escape after the rain.
Advantages
Easy to clean with a cloth because of the smooth rubber coating on the outside.
2 drawstrings at the bottom help keep it fit and securely in place even when there are strong winds.
Sturdy handles for easy lifting and placing of cover.
Disadvantages
Gap in the bottom allows water to leak inside.
Dimension: 32 x 32 x 24 inches
Weight: 2.74lbs
Material: Oxford Cloth and PVC layer
Customer Rating: 4.8/5
The QH.Home fire pit cover will fit just about any square shaped fire pit you have at home. It is made from 900D heavy-duty Oxford cloth and has a PVC layer to make it weather, water and dust resistant. It is also tear-resistant. You don't have to worry about your fire pit table getting worn out by dirt, rain, wind, snow or sunlight. This cover is also made of waterproof vinyl with upgraded sealed seams for water-pressure resistance. This helps keep water from penetrating the fabric no matter how strong the pressure is, providing extra strength and durability to the cloth.
Advantages
Fabric is woven from high-strength Anti-UV primary color yarn that has undergone laboratory aging tests and long-term outdoor testing. Prolonged sun exposure will not destroy or fade its color.
Structured vents at 2 sides stay open to prevent the cover from being lifted by high wind.
Attachment strap buckles offer extra security and secures the cloth further.
Elastic cord and hem for faster and custom fit.
Disadvantages
Color might be too yellowish instead of beige.
Large QH.HOME logo bothers consumers.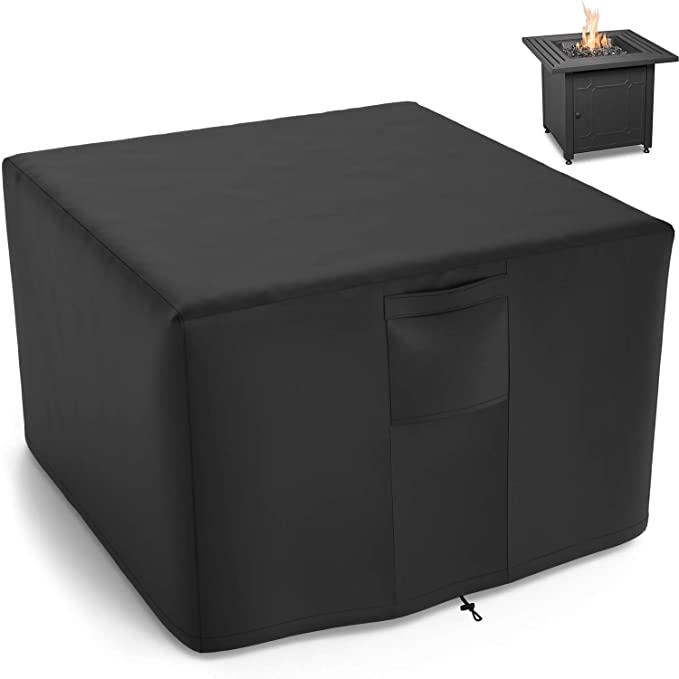 Dimension: 32 x 32 x 24 inches
Weight: 2.12lbs
Material: Vinyl with Polyester lining
Customer Rating: 4.8/5; Amazon's Choice for propane fire pit cover
The Nupick square fire pit cover is constructed from thick 600D commercial vinyl with polyester lining which is 100% waterproof. It guarantees to keep you fire pit dry and clean in every weather imaginable with its extra water repellent coating on the outer cover. The high-level material is also fade resistant so you don't have to worry about it looking shabby as time goes by. This product is also available in 36 inches.
Advantages
It has special concealed mesh vents at both sides to allow moisture to escape and reduce condensation on the inside.
Air circulation through the vents will also prevent the cover from being blown away if the wind is high.
Handles made from reinforced fabric are added on top for easy fitting and removal.
Drawstring lock system provides adjustable fastening straps on both sides for a customized fit and added security on windy days.
Disadvantages
Drawstring tends to tighten and bunch up to one side and is not elastic.
Dimension: 31.1 x 31.1 x 24.02 inches
Weight: 2.1lbs
Material: Oxford Fabric with PVC Coating
Customer Rating: 4.8/5
The square fire pit cover from Songmics provides all-weather protection for your fire pit all year round. This cover is constructed from 600D Oxford fabric which is also backed by thick PVC lining that passed the 2500 mmH2O Hydrostatic Pressure Test. It shields your square shaped fire pit from rain, wind, snow, dust, pollen and sunlight to keep it fresh and clean, always ready for use. This fabric covering won't discolor in time meaning you can enjoy its BEIGE or BLACK color for a long time.
Advantages
Built-in air vents to facilitate airflow and prevents condensation on the inside.
Smooth elastic drawcord along the bottom help secure the cover on windy days.
Sturdy built in side handle enables easy fitting and lifting off of the cover.
Guaranteed 100% fade resistant having passed the test of color fastness to light and water by TüV Rheinland.
Disadvantages
Not ideal for places that have strong sunshine like California. Keep away from high temperatures and store in cool place.
Round Fire Pit Cover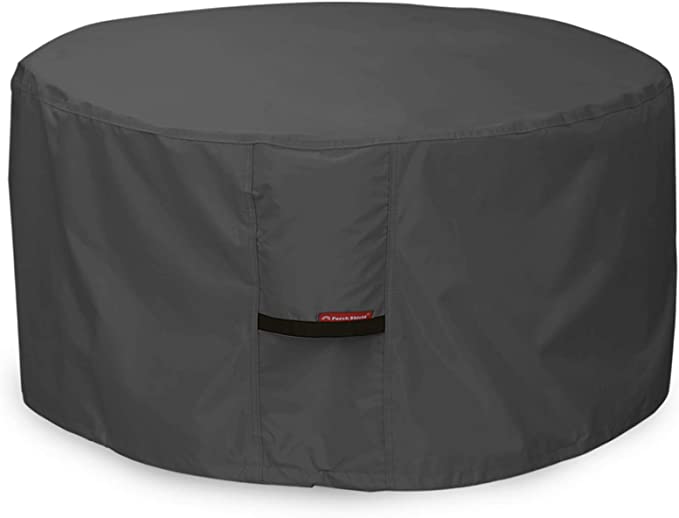 Dimension: 32 x 32 x 16 inches
Weight: 2.68lbs
Material: Polyester
Customer Rating: 4.7/5; #1 Best Seller in Fire Pit Covers
The Porch Shield square fire pit or fire table cover is made out of 600D Polyester fabric and a waterproof laminated undercoating. It provides full coverage and protection against sun, rain, wind, dust and dirt. By making sure that the top of the cover is placed at a higher level, you can make sure that there will be no rain water collection. The product also features an elastic hem cord and sturdy, secure straps for custom, secure fit. With its heavy duty ribbon woven handles on the air vents, it is easy to remove or put the cover on.
Advantages
High level double stitching in the fabric as well as all seams sealed with sealing tape prevents tearing, fights wind and ensures no water leakage to the inside.
Air vents at two sides for extra ventilation and no condensation preventing rusting.
Comes with extra material to use as a patch kit.
3 years warranty.
Disadvantages
Gap in the bottom allows water to leak
Color faded after a few months.
Durability lessens after a year-long use.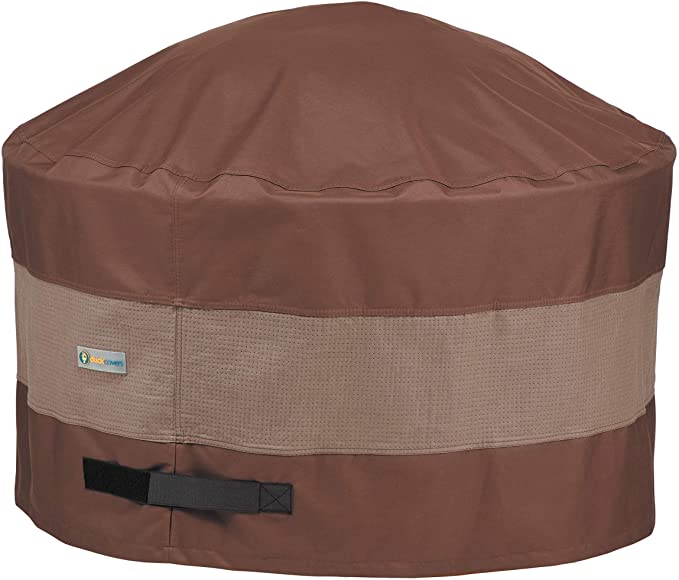 Dimension: 36"D x 24" H
Weight: 1.5lbs
Material: Polyester
Customer Rating: 4.7/5; Amazon's Choice for fire pit cover round
Duck Covers offers a different style and efficiency when it comes to round fire pit covers. The unique mocha cappuccino colors certainly sets itself apart from the usual black, beige or gray cover colors ensuring that it adds warmth to any patio or backyard setting. It is constructed from waterproof polyester fabric which is ideal for high moisture or rainy climates and manufactured with high-strength polyester top panel which provides durability.
Advantages
Innovative multi-layer breathable wrap-around panel eliminating the need for vents.
UV stabilized material with double-stitched seams for long lasting strength.
Seam sealer tapes to prevent water from seeping into seams and penetrating the cover.
Rip and grip straps for a snug, custom-like fit.
Disadvantages
Not designed to entirely cover the legs or wheels in case you have round table fire pit.
Color fades after long UV exposure.
Dimension: 36" D x 24" H
Weight: 1.85lbs
Material: Polyester Canvas Fabric
Customer Rating: 4.8/5
This round fire pit cover from SheeChung is made from premium quality 600D density polyester canvas with PVC coating making it highly durable, 100% water and weather proof. You can be sure that your fire pit will stay protected from the outdoor elements. It features two air vents at two sides providing extra ventilation with heavy duty ribbon weaving attached as handles on the vents for the cover's easy removing or fitting.
Advantages
Fabric top is elegant with protective water-repellent laminated backing.
Protective dark splash guard skirt.
Adjustable drawstring tightens easily for a custom fit and adjustable hem.
Disadvantages
Cannot be left exposed to high temperature or strong sunlight as it will melt the PVC waterproof coating inside.
Black color fades to gray after a couple of exposure outside.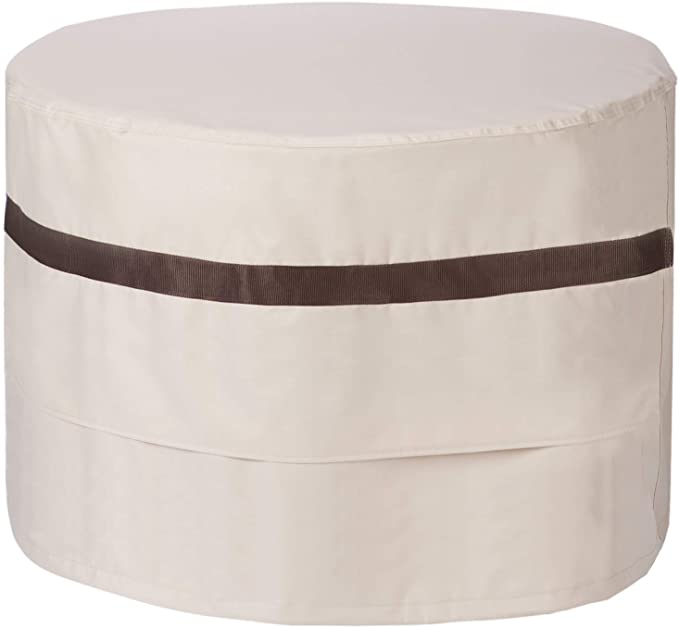 Dimension: 36" D x 24" H
Weight: 2.33lbs
Material: Oxford Polyester fabric
Customer Rating: 4.8/5; Amazon's Choice for fire table cover round
The Patioasis is a universal round fire pit cover which guarantees full coverage for fire pits that are 32, 33, 34 and 35". It is constructed from heavy-duty 600D high density oxford fabric with PVC waterproof coating. Say goodbye to your worries when it comes to outdoor elements like rain, snow, dirt etc… Your fire bowl or round fire pit table is safe and looking stylish with this cover.
Advantages
Easy to put on or pull off with double durable handle design.
2 adjustable drawstring at the hem for snug fit.
Sizeable mesh air vent provides air circulation, speeds up heat dissipation and internal moisture evaporation.
Cover is easily folded and won't take up space when stored.
Disadvantages
Prone to leaks so better reinforce with water repellent spray.
Rectangular Fire Pit Cover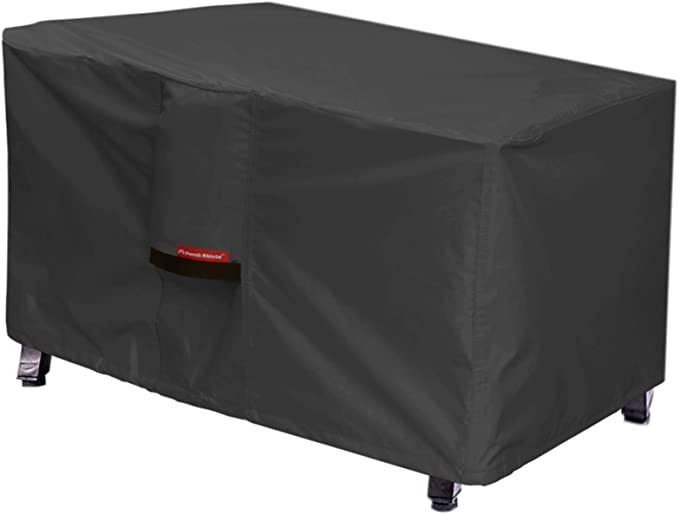 Dimension: 48" x 28" x 24"
Weight: 3.83lbs
Material: Polyester
Customer Rating: 4.7/5; Amazon's Choice for fire table cover rectangle
Porch Shield's rectangular fire pit cover is made from heavy-duty 600D polyester fabric with high level double stitching which provides you durable and long-lasting cover protection for your fire pit table or deck box. It also comes with 3 years warranty so you don't have to worry about replacing it in case it gets damaged. All seams are sealing taped to prevent tearing, leaks and fights high, strong wind.
Advantages
Elastic hem cord with buckles at the bottom to give snug fit and keep cover securely fastened to prevent it from slipping or flying off.
Air vents on the 2 sides for ventilation and avoid internal condensation.
Heavy duty ribbon weaving handles near the air vents to make covering and uncovering easy and convenient.
Disadvantages
Color fades after long sun exposure.
Dimension: 44" x 32" x 24"
Weight: 3.81lbs
Material: Polyester Canvas
Customer Rating: 4.8/5
The Ultcover fire pit cover guarantees to fit any rectangular shaped fire pit table and offer top quality protection. It is constructed with 600D polyester canvas complex with waterproof backing making it tough enough to keep rain, hail, snow, dust, leaves and other outdoor elements from destroying your fire pit. It guarantees 100% coverage for your fire table from the sun to keep it looking fresh and clean.
Advantages
2 air vents on the sides stay open to prevent wind lofting and prevent inside condensation to prevent rusting.
Equipped with plastic clips and heavy duty elastic draw cords to secure to fire table leg for a secure, snug fit even with high winds or severe weather.
100% guarantees waterproof and breathable with 3 years warranty.
Disadvantages
Does not cover the legs if your table has them.
Prone to molds.
What to Consider When Choosing Your Fire Pit Cover?
Shape and Size – Obviously, the shape and style of your fire pit is the very first thing to think about. Once you determine which cover you like, make sure that you measure your fire pit precisely and compare with the size or dimension of the cover. You want a secure, snug fit so that it will not billow around when the wind is high. Always ensure that you get full coverage of your fire pit and of course, it should also look neat, stylish or elegant against your backyard or patio setting.
Material – Choose a material that is waterproof and can withstand the outdoor elements. It is also better to get the type that can withstand high temperature so that you can feel secure about your cover's quality even after long exposure to strong sunlight. Also, make sure you pick 600D or above material because it means the fabric is sturdier and less prone to tearing.
Ventilation – Make sure that your fire pit cover has enough vents or has breathable fabric to maintain good air circulation. This prevents moisture from forming on the inside of your cover which leads to your fire pit rusting. Proper vents also help in anchoring the cover in case there are strong winds.
Warranty– Consider the product's warranty in case it gets shipped to you with damages or if it fades, leaks after a few, early uses. Most fire pit covers usually last until the end of the specified warranty by the company. It's better to be prepared and to understand these things.
Protecting your investment in a good, high quality fire pit is not something to take lightly. If you are meticulous and not easy to please when choosing your fire pit or any outdoor equipment that you want to use for a long time, you should also be picky and highly discerning in choosing how to protect your fire pit.