The idea of having an area where you and your family, as well as your guests and friends can enjoy a warm, cozy fire is pretty attractive. Most people are excited with the thought of having a fire pit in their own backyard because of the many benefits and function that it provides the family. After all, who does not get excited with the prospect of barbecue, roasted marshmallows and s'mores over the weekend?
Unfortunately, the excitement and eagerness to own or have a fire pit built certainly wanes when you start considering the cost. While building a DIY seems pretty feasible, you end up considering the amount of work involved, cost of materials, how much money a contractor will demand from you and of course, the amount of upkeep and maintenance it requires.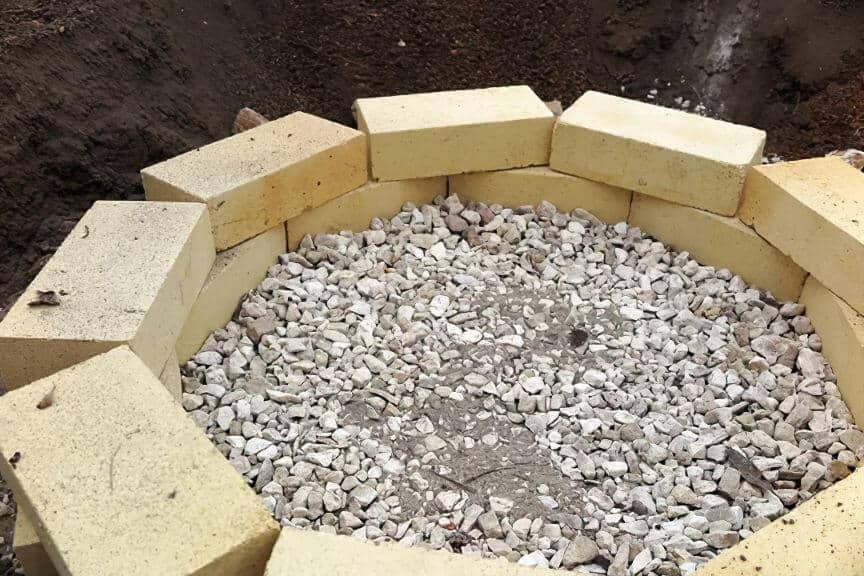 Cost of Fire Pit
It is the cold, hard reality that having a fire pit, whether installing or buying one will definitely cost you somewhere within $700 to $1,500. You can probably expect the least amount you would be spending to be not lower than $300. Nevertheless, it is foolish to expect that you will not be dishing out some serious dough unless of course, you do not want a good, sturdy, reliable fire pit.
The cost of fire pit usually depends on the materials that you will be using. You will also need to consider the supplies you are going to require as well as the fuel type that you will be using in the fire pit. Keep in mind that there are some materials that will not work with every fuel type and their maintenance are also not the same. Plus, you have to think about whether you will need to hire a contractor or require an electrician or a gas expert's help in setting up your fire pit.
So, before you totally get discouraged or maybe you just want help in figuring out how much it will truly cost to have a fire pit, here are some tips of the trade to help you make a good, sound decision.
Type of Fire Pit
There are different kinds of fire pit available for people nowadays. The area or space available in one's home is also a good thing to consider before deciding on what type of fire pit you are willing to invest on.
Above Ground Units
Most people with small spaces or backyards usually opt for the portable type which usually run on propane gas. These above the ground units normally do not need assembly and are probably the least expensive options. Products like these are easy to set up and are pretty simple like metal bowls with legs where in you can burn a few woods in it. Usually, the cheapest ones cost around $60 to $70.
There are some units that require some assembly and are far sturdier, heavier and definitely can last longer but will cost about a couple hundred dollars in the market. Usually, these types of fire pits are available online or in home improvement stores.
It is true that you will spend less on an above ground fire pit or a portable one however, you have to consider how much of its functionality fits your lifestyle or how you plan to use it. Some of these gas-powered fire pits are limited when compared to the traditional ones. Also, you do not want to buy a cheap unit and expect it to last you a couple of uses. You might end up paying more than you bargained for.
In-Ground Fire Pit
Traditional fire pits are built in-ground and although they will definitely cost more than simply going to the store to buy a portable one, you are more guaranteed of having a good quality made fire pit which can last a long time. It can cost about $1,000 upwards depending if it is high-end custom built.
Fire Pit Materials and How Much They Can Cost
Again, the cost of getting an in-ground fire pit will definitely vary and depend on the materials you will be using. It is natural to have a certain idea or concept on how you want your fire pit will look, so definitely, that is something you should plan for as well.
The most common materials that are used in building a fire pit are concrete blocks, stones, brick and pavers.
Concrete Blocks – These are the largest but the less expensive option when it comes to building materials you will want for your fire pit. Using concrete blocks and mortar will cost you about $110 to $125 per project. People tend to stay away from concrete blocks because they only think of the rectangular shaped ones however, there are now rounded types and blocks with decorative front as well. This material can be used for gas charcoal or wood fuel type fire pits.
Stone or Field Stone – You can gather your own field stone or buy from your local quarry in order to build a great fire pit out of stone. However, if you do not have the time or patience, you will most probably shell out around $300 to purchase this material. It comes in many colors as well as shapes and sizes which can be great for a more decorative or creative fire pit. They work well with charcoal or firewood fueled fire pits.
Paver or Fire Brick – The material will cost you about $280 to $300 for bricks or standard pavers. These usually are used to line the outside of your fire pits. Fire bricks are used because they can withstand intense heat and they also radiate heat very well even if the fire has died down. You can use firewood, charcoal or gas with these materials.
It is also good to note that the size of your fire pit and how deep it is will also affect the cost of materials you will use to build it, so put that into consideration when thinking of fire pit costs. Calculate the dimension of the stones or blocks so you can figure out how much you will need.
Fuel Types and How Much They Can Cost
You have to put into consideration the type of fuel you will be burning in your fire pit. It will definitely make a difference in the cost, especially with the materials you will use.
Gas Fire Pits – These are pretty convenient and usually are used by pre-made or above ground units which make them reasonably affordable. You can opt for the propane type which usually runs up to $300 but of course, you will need to replace the tank once it runs out. You can also opt to connect with the gas line that runs in your home however, it will cost double since you will need to hire a plumber to connect to it as well as buy additional materials for piping. Also, you will have to pay the monthly gas bill.
Wood Burning Fire Pits – Wood is the traditional and probably cheapest form of fuel for your fire pit but you will need to have a constant stock of it. You can actually buy a cord of fire wood for around $300. Some people pay between $120 to $500 depending on the type of wood, where you are located and how it is cut. Seasoned wood also costs more.
Charcoal Burning Fire Pits – This is also one of the most common and easy to procure type of fuel for your fire pit. You can readily buy a bag or two in most home improvement stores or gas stations near you. The cost of charcoal is around $10 per 20lbs. So, the total cost will depend on how large your fire pit is and how long you intend on keeping it lit.
Final Thoughts
You can always opt for a DIY fire pit project which will probably cost you around $200 at the very least however, you might not end up having the most efficient or functional type of fire pit. Plus, if you install it wrong then all that money and effort will go to waste.
You can hire a contractor and they will probably charge by the hour. The cost of the labor will run from $200 to $480, depending on various factors. It does cost significantly more than doing the work yourself but you will be guaranteed a stable, safe, proper-functioning and long-lasting fire pit which will be worth the money in the long run.
There are a lot of things to consider when thinking of the cost of a fire pit but it is always important to factor in the safety as well as the longevity of the unit. It is easy to pick the cheaper option but you might end up spending more in the future in terms of replacement and maintenance. Keep in mind that whatever you plan on shelling out, the cost of the fire pit should be worth every penny every time you use it.

Hi, I'm Adam and I'm a HUGE fan of Food and Cooking.
Do you enjoy grilling sessions with your family while staring at the beautiful fire pit flames?
Flame Gorilla is the site to learn how to have that perfect backyard experience.