What is a pellet grill?
Pellet grills are designed to cook your favorite food slowly under a very low temperature. This kind of grill used ignited woods and as systems of fans to heat meals to a specific temperature. Somehow, we can say that it is more likely outdoor convection oven than a grill which also has a smoker in it. You can use pellet grill to bake, grill, smoke and even for braised food. You can cook almost everything in your pellet grill.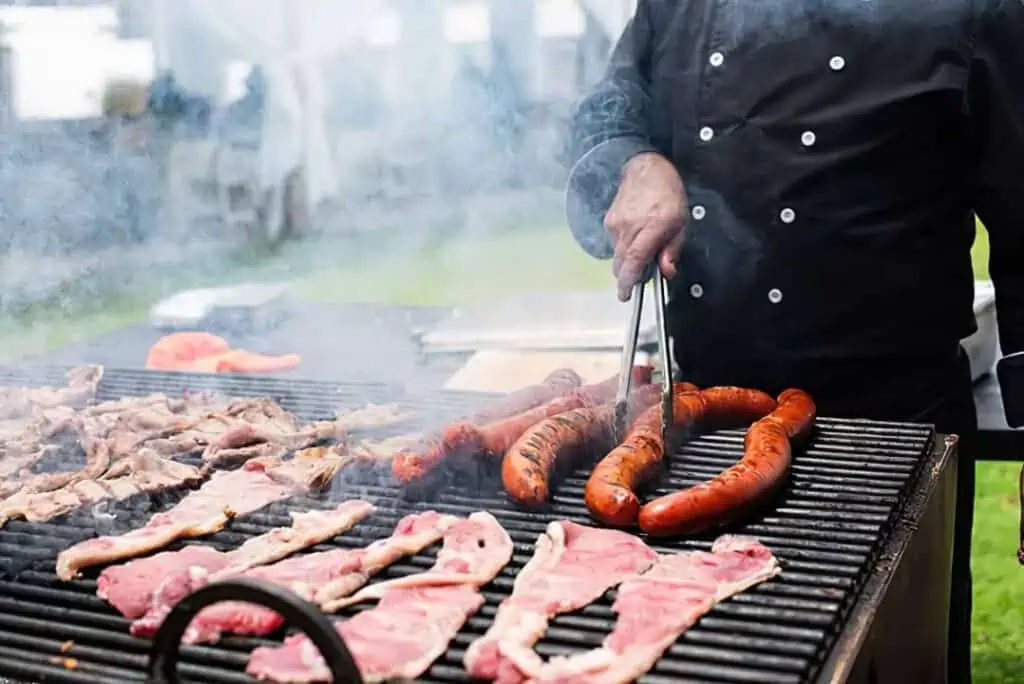 How does a pellet grill work?
From the hopper to the chimney, pellets grill burns food grade wood pellets to generate heat and smoke to cook and give flavor to your food. To give you more knowledge on how your pellet grills actually do its job, here are the step-by-step process on how a pellet grill works.
First, pellet feed by the gravity from hopper going to the auger.
Second, as it rotates toward the burn pot, the pellets move along the auger.
Third, the Hot Rod burns the pellets to start the combustion as pellets fall into the burn pot
Fourth, with the help of its fans it produces flames and intensify the fire
Fifth, the heat and smoke rise and deflected by the heat to produce a more even heat as possible.
Sixth, the heat and smoke are channeled with the drip plates upward to baste your food.
Lastly, for your pellet grill easy to clean, the dripping process would be carried through the management system to the removable grease tray.
Remember: Heat is generated from burning wood while the electronic features are only there to regulate the temperature and control the fire.
How does a pellet grill control the temperature?
First thing first, we will be needing an electronic controller control to understand how does a pellet grill control the its temperature. Pellet grills utilized an electronic control panel where it would listen to or take command from.
Listen: The controller listens to the temperature readings which comes from the cook box to probe and make decision on what to do next with both fan and auger.
Command: The controller give command to the Hot Rod to start fuel and turn off at the end of its cycle.
Command: The controller manage the fun in order to regulate the airflow and the rate of combustion. The fan can adjust its intensity depending on what the fire needs.
Command: The controller commands the auger to turn and feel the fuel. Great amount of fuel increases the size of the fire and heat being output.
Note: The Master Control Unit (MCU) manage the desirable temperature throughout the entire cooking same with the smoking process.
Does food taste better on a pellet grill?
As the most awaited season for team barbecue approached, the grilling season also takes in. We cannot deny the fact the joys it brings when our family and friends gather together to share some delicious food full of smoky flavor. But did you ever wonder why this classic barbecue food taste seems addicting?
Technically, whenever you cook with pellet grill, you are cooking with wood, so basically you can expect to have a taste and smell of wood in the finished product which taste way better than cooked in another grill. Some people would really prefer food cooked on a pellet grill for the reason that it offers a smokier and less burnt flavor which you usually get with a charcoal grill. In addition, the benefit of a pellet grill is that your preference of wood pellet also changes the flavor.
When should I clean out the ash on a pellet grill?
After enjoying your grill food, you might worry how can you still use and restore your pellet grill again. Well, this time we will going to teach you a proper way of restoring your grill.
Remember ash isn't your pellet grill would love to friend because when the ash builds up, the more it can affect its performance. A pellet grill that is full of ash takes longer to start or worse may not start at all.
You really have to clean out the ash management system which is located at bottom of pellet grill every cookout. This will make sure its great performance at start-up every time. Once you've run through a bag of pellets from the top to bottom, always take a look inside the grill around the burn pot. You need thorough cleaning since its not just for the burn pot. The entire system needs to be in optimal condition to maximize its function.
Is pellet grill worth it?
If you are a person who loves baking and grilling then, you must consider owning a pellet grill. Pellet grills are worth the price since it can also be used for other cooking methods beyond grilling. You can reach a high temperature which is perfect for baking sweet desserts. You can also boil some corn and other vegetables as your side dishes. Cooking barbecues and other methods can also be done using these grill.
Not only do pellet grills cost less upfront, but they pretty cost less over the time. You can get a good wood pellet grill for just a half of what it would cost to buy a gas grill of the same size and with the same features.
With pellet grills, you can get a bag of wood pellets for around the same amount as a new tank cost. That bag can last longer though, which helps you saves you some bills. Pellet grills are more affordable than charcoal models too because a bag of wood pellets costs so much less compared to a bag of charcoal briquettes
Here are some other reasons why pellet grill is worth to have:
Managing the temperature of the grill is easy.
You have an ample time to do other household chores since you won't to check your grilling food from time to time.
You won't have to worry carrying heavy propane tanks
You can pick a temperature setting which will then maintain that temperature.
Pellet grill comes in a range of prices that is cost effective.
Most of the top pellet grills can last for years or so depending on how take care of it
The grills are not hard to clean at all.
6 Advantages of Having a Pellet Grill
There are many options available and accessible tools when it comes to grilling nowadays. Pellet grills are one of the most popular ways of grilling. This grill is not complicate to operate at all which also a comes with an easy set and go feature. Pellet grills produced faster heat when compared to traditional charcoal grills. The wood pellets hold no additives and burn cleanly, with very little ash produced. Below is the list of benefits of owning a pellet grill at your home.
1. Safety.
The firepot has an enclosed stainless body wrapped with a stainless-steel diffuser and a drip pan. The chances of causing any damage are extremely low as long as you maintain minimal cleaning. Pellet grills cook with no open flame. Direct cooking over fire rises the anticipation of flare-ups and grease fires which makes the pellet grill one of the safest outdoor cooking tools.
2. Versatile.
This advanced pellet grills have a temperature control system that would allow slow and long cook. You can roast, smoke, and barbecue grill with a pellet smoker. There are pellet grills that offer the option of direct grilling: they are versatile than most grilling options available.
3. Handy.
Pellet grills offer several features that make grilling easy to use since they have simple controls that are not hard to understand and follow. Other grills and smokers, such as charcoal smokers, demands a bit of expertise to get the meat grilled perfectly. The wooden pellets used in the pellet grills are commercially flavored, and the smoke is subtler than some of typical wood chunks.
4. Fast Cooking
Since we are living in the so-called busy era, the idea of cooking food faster using firewood and smokers is now becoming a trend. Pellet grills save time and can help you cook the food faster and with less hassle.
5. Variety
If you are also beginner like me, it would be best if you try cooking with firewood pellet grills and smokers. It comes with different sizes and shapes for the cooking experts. The pellet grills are made having the thought as to what the customer's need and preferences for convenient cooking tools.
6. Quality Flavor
One of the greatest edges of having a pellet grill is the quality and flavor of food you could have on them. Unlike charcoal, you are in a position to vary the flavor with the type of wood pallet you actually prefer.
Wrapping it up…
A pallet grill helps you grill food in a short time with less smoke. They are best choice for those who love spending time in their outdoor space together with their families and friends. You can adjust the grills without constantly checking over the grill. If you like to smoke or grill food, a pellet grill is considered convenient and valuable product for a great grilling experience just for you.

Hi, I'm Adam and I'm a HUGE fan of Food and Cooking.
Do you enjoy grilling sessions with your family while staring at the beautiful fire pit flames?
Flame Gorilla is the site to learn how to have that perfect backyard experience.