Selecting the color of your fire glass is as hard as selecting what color of paint you will going to have for your home. You will be going to undergo thorough thinking if you really want to achieve a spectacular color combination outcome. These will all depends on your own taste considering your home décor as well as on what choice of mood you want your fire pit evoke.
What Color Glass Looks Best in a Fire Pit?
Here are some colors you can choose from.
If you are with warm colors, then you can choose orange, red, and yellow which tends to make you feel cozy and comfortable.
If you are into cool colors, you can have green, blue and purple, this can give spark feelings of calm and serenity.
If you want something extra, choose bold and bright colors like rich meridian blue which offers passion and power vibes.
If you are into elegance and luxury, then gold, clear and silver shades would be your first choice in your list.
While others would prefer a solid single color glass for their fire pit, there are also some who would love to have a mixture of two or more shades that would make a very customize and unique look. Your fire pit can achieve an extravagant look if you can mix colors that would perfectly go together. We are here to give you some most popular glass blends just for you.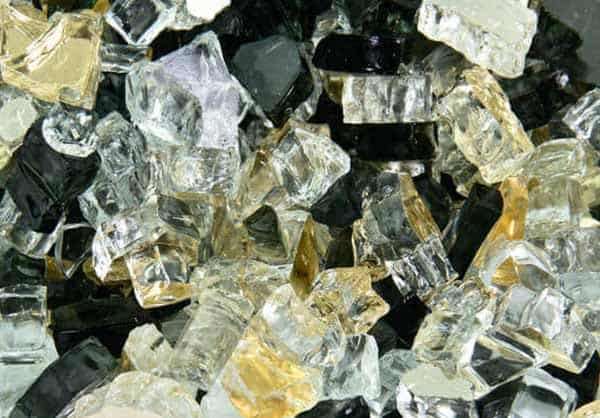 Sin City


Black, gold, and white.

This power trio gives a very elegant combination which highlight your sophisticated and elegant taste. This color combination would work best if you have a modern style home.


Southern Ocean


Brightness of teal, light blue glass.

This gorgeous blend will take you to the crystal-blue waters of Pacific island. This color combination will suit to any time of occasion and would looks best near any water features like pools.


Irish Green with Irish Green Reflective


Bright blue-green.

This is a mixture of both reflective and non-reflective fire glass. The non-reflective Irish green glass shows off a much deeper color while reflective counterpart mirrors the firelight to great effect. This blends reflect those who have a creative and fun personalities.


Prairie Gold.


Green, brown and yellow.

This combination creates warm, rustic color tapestry which reminds you the harvest time in a rural landscape vibe. This blend would work more perfectly together with a little touch of white glass.


Dakota


Brown, yellow and white.

This blends gives off an earthy effect which offers the feeling of warm and inviting. With the touch of white fire glass as an accent to tone down the other two colors, this would work way more than you could ever imagine.
These are just few of proven and tested fire glass blends. Always bear in mind that you can make your own version of blends by mixing any types of fire glass. Any color glass would look best depending on what color glass you personally prefer.
Different Styles of Fire Glass
There is misconception that whenever they hear the phrase "fire glass" they only think of tempered glass. Where in fact fire glass comes in different styles that you can choose in the market in today's time. It comes with different sizes, shapes, colors and finishes. Thus, the quality of product may vary depending on brands. Below is the list of the most popular styles that you can choose from for your fire pit.
Tempered fire glass. This is made out from extra-strong tempered glass. This fire glass style has a reflective finish on one side that adds a flickering look to the pieces. Using one of two methods, the color of the tempered fire glass may have achieved. One, the glass itself may have color in it, or two, the fire glass may have a colored reflective backing.
Crushed fire glass. This is a gravel-like glass which comes with different colors and sizes. The random shapes and sizes paired with coloring of this style of fire glass will give a magnificent look by adding a vigorous color and texture to this glass. Crushed fire glass has several sizes, we recommend to use 1/2" to 3/4" size range.
Fire glass diamonds. Also known as Zircon fire glass (American fire glass). This fire glass provides both luster and larger, rounded glass piece. The rounded shapes may have a slight diamond look, yet with smooth and gently rounded edges. Fire glass diamonds are made out from colored glass which can be either opaque or clear. With iridized finishing touch, gives the glass a wet look and this combination of fire and water appearance is truly an incredible piece.
Fire beads. This style of glass is usually called "half-marbles" because of its flattened and rounded shape. Fire beads gives off much of the same rich color and luster as fire glass diamonds yet with smaller, rounded coin shapes.
Fire glass 2.0. This fire glass is the newest in the group since this is just recently induced by American Fire glass to the market. This glass has modernized look which has a flat cube shape in a high-luster finish. This glass has a bunch of variety of colors with a ½" size.
How does fire glass work?
This has something to do with science. Fire glass serves as permeable filler for your fire pits and fireplaces. This actually means that when you placed the fire glass over stove or burner, it will allow the gas to pass across it and eventually fuel a flame on the surface of the fire glass.
Natural gas is lighter than air, therefore, it is easily rising to the surface of the glass. Propane gas is way heavier than air which means that it requires the gas to be dispersed close to and in the direction of, the surface of the glass. With the help of gas that is fueling them from bellow, the flames will gracefully dance on the bed of fire glass and would look like they are rising directly out from the glass. This would add a great impact for your lovely home displays.
Is fire glass safe to use for fire pit?
Many are wondering for fire glass safety. To answer this question, fire glass is pretty much safety. Yes, you read it right, fire glass is safety to use for the reason that it is just made from glass having no any chemical additives or plastics in it. Fire glass does not create neither harmful fume nor hazardous smoke. This makes the fire glass sensible and clean burning choice usage that you will enjoy together with your family, friends including your fur babies. You will not have to worry about the air being polluted as you burn wood and other combustibles. Which is a great news for your household, neighborhood and most especially for our Mother Earth.
Moreover, fire glass is considered safe that you do not have to use a screen because fire glass is intentionally designed exclusively for use in fire. Most fire glass is made to eliminate sharp edges that may future accident. In addition, this kind of glass won't crackle and pop or spray red-hot cinders which gives full access to your view from where you are sitting.
How long does fire glass last?
Fire glass lasts longer that you expect it would. Fire glass is heat resistant which means it does not melt, burn, or change color, this we can conclude that it can past 2 decades or even more.
However, the amount of direct exposure to sunlight can affect the lifespan of your fire glass. There are cases that a certain fire glass can only last from 4 to 8 years. To give you an insight, the dark –colored fire glass that is placed in the state of Arizona, which has a sun throughout the year will have much shorter lifespan than a fire glass that is placed in northern New York, which has fire minimal sun light exposure.
Moreover, the moment you get your fire glass installed in your fire feature, you would wish to maintain it looking presentable for as long as possible. Here, we give you some key points on how you can extend the longevity of your fire glass on your fire pit.
Always make sure that your fire pit is covered with a stainless-steel cover.
(The downside to this is that you cannot be able to enjoy the beauty of your glass when it's under cover) Turn over your fire glass to avoid the surface of the bed received direct exposure of sunlight because it will tend to destroy its color.
Wrapping it up…
The best way to upgrade your fire pit is by adding fire glass to it depending on your own preference. This provides no soot or ashes plus fire glass just requires minimal maintenance. Nevertheless, just like with some decorative objects or ornaments, glass can collect dust and dirt over time. But with proper care it'll shine longer and will provide that beauty of flame you needed.

Hi, I'm Adam and I'm a HUGE fan of Food and Cooking.
Do you enjoy grilling sessions with your family while staring at the beautiful fire pit flames?
Flame Gorilla is the site to learn how to have that perfect backyard experience.