How can't bacon-wrapped grilled chicken drumsticks be good? One of my good friends says that he'd eat a poop if it was wrapped in bacon! However, you don't have to suffer like that, you can have it all good. This recipe is easy and delicious.
I made this recipe up the other day when I had some drumsticks and bacon but no plan. I just thought I'd make a spice rub, wrap it up and grill it. I've done similar before, but with more herbs, less spices. I really like the spiced version, it really accents the smokey saltiness of the bacon. My wife simply said "These are the best drumsticks I've ever had." That was enough for me, I decided to post it.
What you need:
Chicken drumsticks, skin on
Thick-sliced bacon, one slice per drumstick
1 tsp onion powder
1 tsp garlic powder
1/2 tsp paprika
1/4 tsp ground ginger
1/4 tsp freshly ground black pepper
Sea salt, to taste
Toothpicks, if desired
How to cook the grilled chicken drumsticks:
First, prepare the spice rub mixture by mixing the onion powder, garlic powder, paprika, ginger and black pepper. You can alter the amounts a bit to taste, if you want it more spiced then add a bit more ginger and paprika, you can even add a bit of dried cayenne pepper or the like if you want a bit more kick.
Next, as your grill gets heated up for indirect heat cooking, prepare the chicken by sprinkling the spice mixture over all the meaty surfaces. Try to really coat it well and gently pat the mixture into the skin so that it sticks.
Then season the chicken with sea salt, to taste. A healthy dose of salt will really make the other spice and bacon flavors pop so don't skimp on salt, although most bacons will add a bit of its own. Gently pat the surface again to press the salt into the spice mixture and skin.
Now you are ready to wrap the grilled chicken drumsticks in bacon! I generally start toward the fat end of the chicken and wrap it tightly, spiraling down. If you do it carefully, you can end up with the starting end tucked in under the rest of the bacon. If so, you don't even really need toothpicks to secure the bacon, just keep the free end down so the weight of the bacon-wrapped chicken holds the free end in place. If you prefer, or your wrapping job leaves something to be desired, you can use toothpicks to secure the ends of the bacon in place.
Those bad boys are ready to grill! If you did not use toothpicks to secure the bacon, be careful to transfer the drumsticks to the grill so that the free end of bacon is kept tucked under it and held underneath. As it cooks, the bacon will get crispy so once it is done it won't fall off. You want to use indirect heat, as if you were roasting the chicken. This will help in three ways: 1) The chicken will roast slowly, allowing it to cook completely without burning the surface or drying it out, and 2) The longer cooking time allows all that good grill smoke to flavor the chicken (especially if you use smoking woods in addition to your charcoal), and 3) The bacon will slowly crisp up nicely without burning as it can do quickly over a high, direct heat. I like to start them out with a fairly hot indirect heat, around 450 degrees or so, just at the start and then close down the vents (or gas) after about 5 minutes to bring it down to about 325 to 375. This gets a nice crust going on the outside but then lets the grilled chicken drumsticks slowly cook to the desired internal temperature.
I cooked mine for about 45 minutes but your mileage may vary depending on the size of your drumsticks and the temp of your grill. Whereas a lot of chicken that cooks or smokes slowly can benefit from occasional basting, you really don't need it here because of the bacon. The bacon slowly renders its fat as it cooks, coating the surface of the chicken nicely.
That's basically it! Once they are done to your liking, simply take them off gently and let them rest under foil for 5-10 minutes before serving with your favorite side (such as bacon-wrapped asparagus!).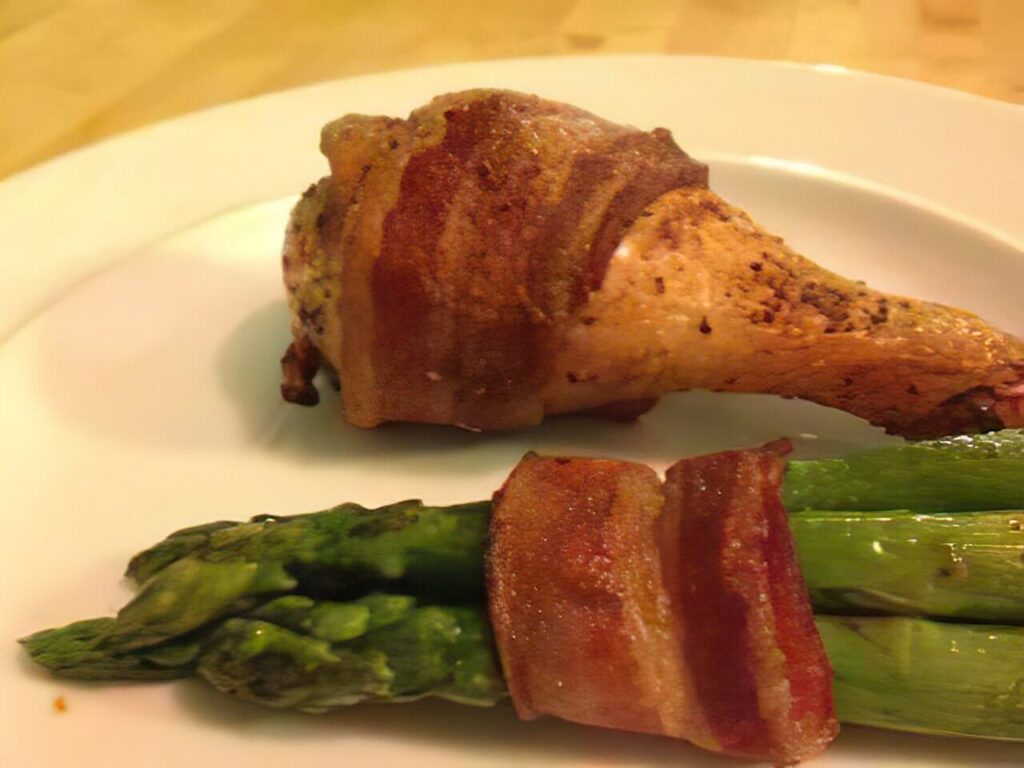 Enjoy!
Hi, I'm Mhen and I'm a HUGE fan of Food and Cooking.
Do you enjoy grilling sessions with your family while staring at the beautiful fire pit flames?
Flame Gorilla is the site to learn how to have that perfect backyard experience.