So what the heck is a Sojoe fire pit anyway?
It's a funny name, but this is a well-designed and very functional fire pit grill!
In case you haven't seen one, the Sojoe fire pit is a deep metal fire pit with straight sides (different from the typical bowl-shaped cast iron or copper fire pits) which have decorative images cut into the sides. They are painted a pretty terra cotta-like color and come in many different decorative styles, from star & moon to Kokopelli. They are also a barbeque pit with a grill grate and mesh screen lid included! They even have some cool grill accessories such as a rotisserie grill.
So, what are the advantages of a Sojoe fire pit?
Here are a few to consider…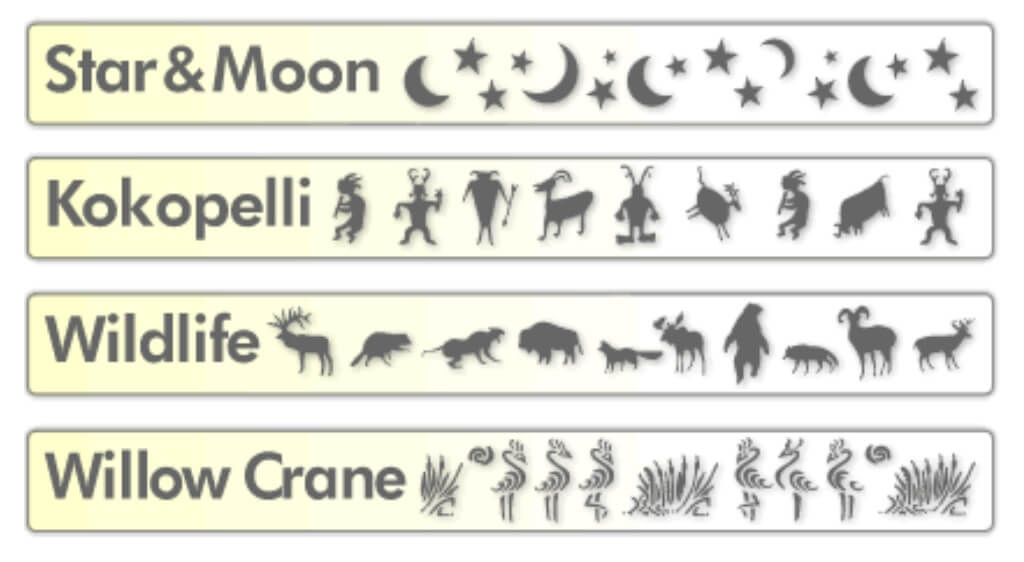 Various Decorative Styles – The Sojoe fire pit comes in four decorative styles. Each firepit has a cutout decoration around the sides. These include the "Star & Moon", "Wildlife", "Kokopelli", and the "Willow Crane". There is mesh covering the cut outs on the inside of the grill. This interesting decoration is unique and stylish and looks great when your roaring fire gets going! You can see the fire light shining through the holes. Otherwise, this is a stylish fire pit grill with a rustic natural finish which is durable, attractive and blends beautifully with outdoor settings.
Durability and Functionality – The Sojoe is 17″ high and 32″ wide (at the foot rest). The cut outs on the side improve ventilation so your fire burns hot and evenly! The ring around the rim of the fire pit doubles as a footrest and handle for carrying. The firepit is made of cold-rolled thick steel which is very strong and durable, giving you many years of use from your Sojoe fire pit. Each fire pit includes everything you need to get started with a spark screen lid, cooking grill and fire poker.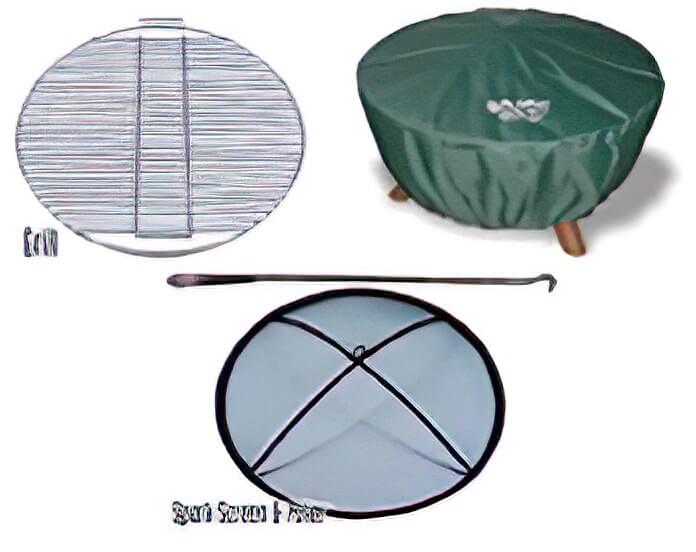 Accessories – Every Sojoe comes with a spark screen cover, a fire poker and a cooking grill. This means that you are ready to enjoy your fire pit grill safely as soon as you get it home! However, there are a couple additional accessories available which are specifically designed for the Sojoe fire pit. A vinyl weather cover that fits the Sojoe perfectly is available to help protect your barbeque pit from the elements, prolonging the life and beauty of your fire pit. Recently, Sojoe has introduced a new motorized rotisserie specifically build to fit onto your Sojoe fire pit! This allows you to cook large roasts easily. Whether its a leg of lamb, whole chicken, duck, pheasant or even a suckling pig, this inexpensive addition turns an already functional fire pit grill into an outdoor cooking dynamo!
Portability – The Sojoe fire pit is relatively compact and lightweight (65 lbs). Its footrest doubles as a handle for carrying. This means that your fire pit is ready to go with you anywhere! It can fit in most cars or trucks with easy so you can take it to the beach, lake, on your camping trip or to the summer cabin! Check with your local laws before starting an outdoor fire in a public place!
Perfect for Cooking – I've said it already, but I'll say it again. The Sojoe is perfect for grilling! It was designed from the ground up with outdoor cooking in mind. The included grill and optional rotisserie will allow you to grill and roast endless recipes while enjoying your wood fire.
Go check the Sojoe out! You'll probably be as impressed as the Flame Gorilla© is!