What other food can be best served as an appetizer, than nicely cooked chicken wings. Whether its festive Bbq night at home or special outdoor dinner, chicken wings are a delight for every meal.
We love them to the core for their classy and juicy flavour inside and that crispy texture from the outside. But besides Bbq or buffalo chicken wings, what other recipes have we tried to smoke these super scrumptious treats?
Not much, right? No worries, because if you are in dire need to cook something new for you and your family, then these Smoked Chicken Wings recipes will definitely make you popular among all.
Wings are at their best, tastes amazing when infused with strong and deep smokey flavour. Besides good blend of spices, this would need marination and just the right amount of grilling using special wood chips.
Unlike stovetop recipes, these chicken wings come with the convenience of not spending several hours in the kitchen. All it needs is you to marinate them with spices and let your smoker do the rest.
For more inviting and rich taste, prepare special sauces to baste these wings while grilling. These sauces are not only good for the flavour but give a tempting and irresistible aroma to each.
White Smoked Wings
These white smoked wings are best known for the earthy garlic and soy sauce taste. Instead of using other tangy spices, here the wings are flavoured with nothing but mustard and sugar which them a distinctive mild flavour.
INGREDIENTS
3 lbs. chicken wings
1/2 cup margarine or 1/2 cup butter
1 cup soy sauce
1 cup brown sugar
3/4 cup water
1/2 teaspoon dry mustard
3/4 teaspoon garlic powder
DIRECTIONS
Heat margarine in a saucepan over medium heat.
Stir in water, mustard, sugar, soy sauce and garlic powder. Cook until sugar dissolves.
Pour the sauce over the wings and toss them to coat well.
Marinate the chicken for 2 hours.
Preheat the smoking grill to 275F.
Arrange the wings on the smoking grill and cook for half an hour then flip to cook for another half an hour.
Serve warm.
Recipe from Genius Kitchen
Dr Pepper Smoked Wings
This recipe is one good way to flavour the chicken wings with delicious Dr Pepper and our favourite hot sauce. If you are not a spice lover, adjust the seasoning as per the desired taste. Serve the wings with some creamy dip to balance out the spice.
INGREDIENTS
1 lb. of chicken wings (about 12-15)
Cooking spray
Salt & pepper
1 can (12 oz.) Dr Pepper
¼ cup hot sauce, such as Franks Red Hot
2 Tablespoons brown sugar
1 teaspoon cornstarch
DIRECTIONS
Preheat the smoker to 275F.
Season the wings with salt and pepper generously.
Arrange the wings in the centre of the grill, cover the lid and cook for 15 minutes.
Flip them and continue smoking for 10 minutes.
Meanwhile, mix dr. pepper with hot sauce and sugar in a saucepan.
Bring the mixture to a boil then reduce the heat to low.
Whisk in cornstarch and stir cook for 2 minutes.
Once smoked, arrange the wings in a greased baking dish.
Pour the sauce over the chicken wings.
Broil the wings for 5 minutes in a preheated broiler.
Serve immediately.
Recipe from Foodie Misadventures
Mahogany Smoked Wings
Prepare a nicely coloured, smoked wings are seasoned with a perfect blend of honey with molasses, soy sauce and chilli sauce. These sauces penetrate deep into the wings and make it extremely delicious. When smoked, the aroma speaks about the taste itself.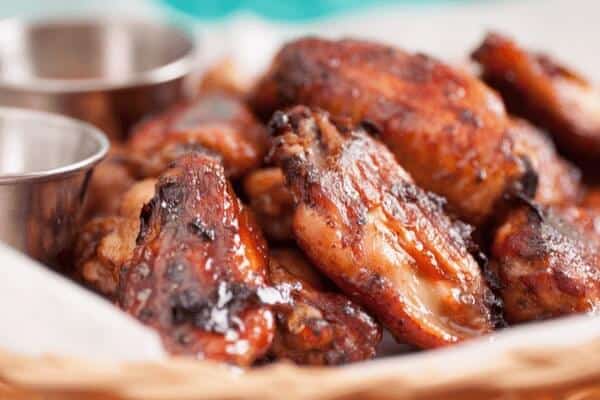 INGREDIENTS
3 pounds chicken wings split and tips discarded
1/2 cup soy sauce
1/2 cup honey
1/4 cup molasses
2 tablespoons chilli sauce
1 teaspoon ground ginger
2 cloves garlic, finely chopped
DIRECTIONS
Preheat the smoking grill over medium heat.
Mix all the ingredients in a large bowl along with chicken wings.
Marinate the chicken for 1 hour in the refrigerator.
Add the wings to an aluminium baking pan.
Place the pan on the grill and cover the lid.
Smoke the chicken for 60 minutes.
Serve hot.
Recipe from Tasty Cookery
Hi, I'm Mhen and I'm a HUGE fan of Food and Cooking.
Do you enjoy grilling sessions with your family while staring at the beautiful fire pit flames?
Flame Gorilla is the site to learn how to have that perfect backyard experience.