What better way to feed a party of hungry guests and it is good to be made every day of the week. Try out these amazing treats and you will not only provide a delicious meal but a healthy one too.
The outcome of these recipes are juicy smoked chicken breasts and the chicken is infused with wood smoke in each bite.
Chicken breasts are one of the most popular items to be smoked on a smoker at home. Smoked chicken recipes are much healthier than beef or turkey. Smoking meat is very rewarding as it can dramatically add more flavor to the chicken with marinades, seasonings, rubs and smoker wood chips.
The smoked recipes below will provide you with an easy list of ingredients and step by step instructions and comes with a good range of flavours which is sure to please your guests.
Try them out. You will enjoy cooking. And remember, the temperature of smoking is very important, so you might need to use a smoker thermometer to know exactly.
Hot and Spicy Stuffed Chicken with Bacon
Hot and spicy stuffed jalapenos are stuffed into chicken breasts wrapped in bacon. It is basted with BBQ sauce and smoked for best flavours. Try this amazing recipe and it will taste like no other.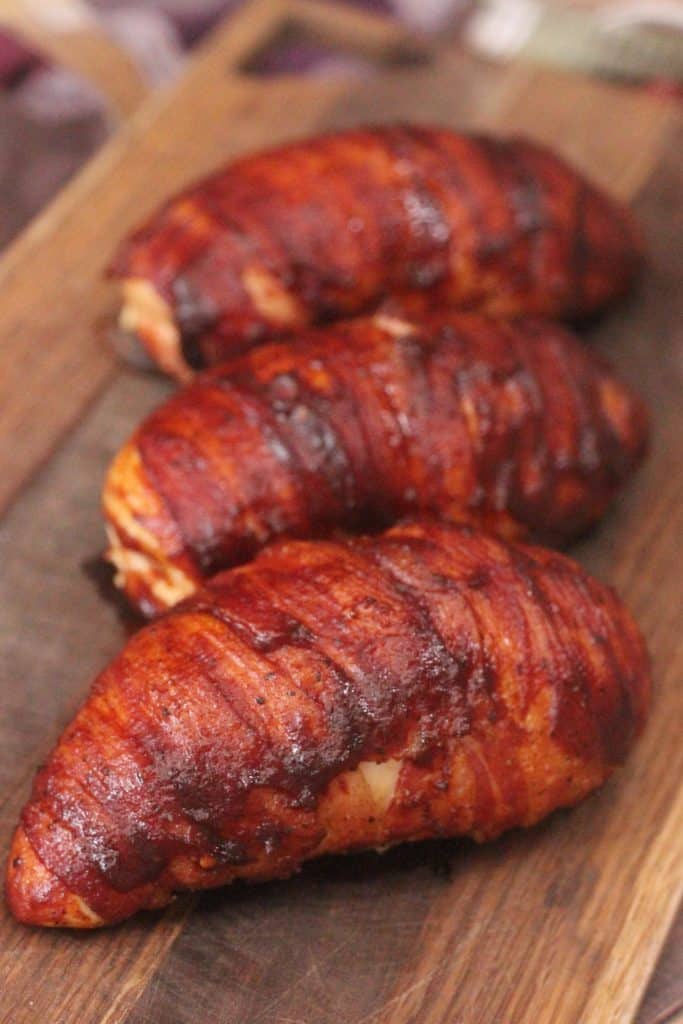 Recipe from Hey Grill Hey
Canadian Delight
A spicy and sweet Smoked Chicken Breast Delight. The breasts are glazed with maple syrup for flavor. Use a blend of maple, hickory and peach chips when smoking to get the best results.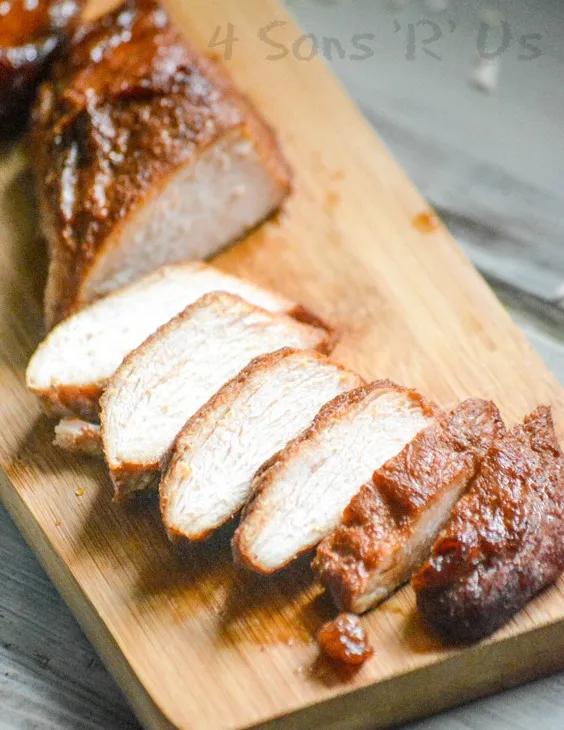 INGREDIENTS
5 boneless, skinless chicken breasts
2 teaspoon chipotle powder
1 teaspoon salt
1 teaspoon garlic powder
1 teaspoon onion powder
0.50 teaspoon pepper
0.35 cup maple syrup
DIRECTIONS
Preheat the smoker to 250F.
Use a blend of maple, hickory and peach chips.
Place all the ingredients in a bowl except for the chicken.
Combine well.
Insert each chicken breast into the mix.
Massage the meat with the use of your fingers until the meat is well coated.
Place the seasoned meat in the pre-heated smoker.
Baste with maple syrup.
Cook the meat for 3 hours until an inserted meat thermometer reads a temperature of 165F.
Transfer the meat from the smoker into the platter.
Baste the meat again with maple syrup.
Serve warm.
Recipe from 4 Sons 'R' Us
Smoked Chicken
Some people like to BBQ/grill chicken, others like to smoke chicken . As for me I prefer the smoked chicken. To have a crispy skin on the chicken it has to be smoked around 325-350 F temp.
Anytime you smoke your meat it comes down to what flavor of wood do you like. Apple wood chips gives you a nice flavor. Once you try my recipe I can guarantee you you won't go back to BBQ/grilling.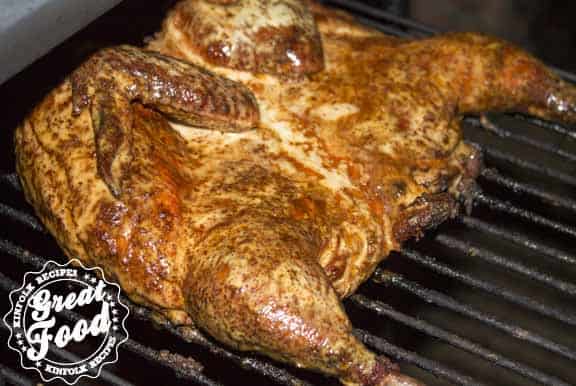 INGREDIENTS
1 whole chicken butterflied or halved
Smoking wood chips preferably apple or cherry
For the Brine
1-quart apple or orange juice
1-quart water
1/2 cup kosher salt
1/4 cup brown sugar
2 tablespoons molasses
DIRECTIONS
Put the wood chips in your smoker and turn the smoker on ( mine is gas), by the time you put your bird in the smoker the temp should be around 350F. Butterfly your chicken.
Whisk together apple juice, water, salt, brown sugar, and molasses until solids have dissolved. Put the chicken in the brine, breast side down, and place in refrigerator for 1½ hours.
Remove chicken from brine and pat dry with paper towels. Season both sides of chicken liberally with your favorite BBQ seasoning.
Place chicken, skin side up, in your smoker. Maintain a temperature around 350 F degrees, until breast meat registers 155 degrees and thigh meat registers 160 degrees on an instant-read thermometer inserted in the thickest part of the meat. It took me a good 3 hours to smoke this bird.
When you happen to have an extra chicken laying around, make this smoked chicken salad.
Recipe from KinFolk Recipes
Hi, I'm Mhen and I'm a HUGE fan of Food and Cooking.
Do you enjoy grilling sessions with your family while staring at the beautiful fire pit flames?
Flame Gorilla is the site to learn how to have that perfect backyard experience.