A portable grill is a great, convenient way to cook on the go for your outdoorsy types! While you may have a huge, fancy grill at home with all the bells and whistles, it's not very portable. Many home barbecues are too big to even fit in most cars unless you have a truck.
The solution is a portable barbecue. Most producers of grills have a portable line and come in gas, charcoal and even electric models. For example, find out more about the Weber portable grill line.
Safety note: Some areas have specific rules and laws regarding fire or grills in public places. Check with your local laws before using a grill or fire pit at a park, beach, campground, or another public outdoor area.
Why should you want a portable grill?
Because you can cook all the same delicious grill recipes that you can cook at home wherever your are!
They are perfect for a camping trip or a picnic at a park or the beach.
Most types of portable barbecue are compact and fit easily in the trunk of your car, even if you don't have a big truck.
Some portable grills are so small you can even carry them on your back when hiking and camping.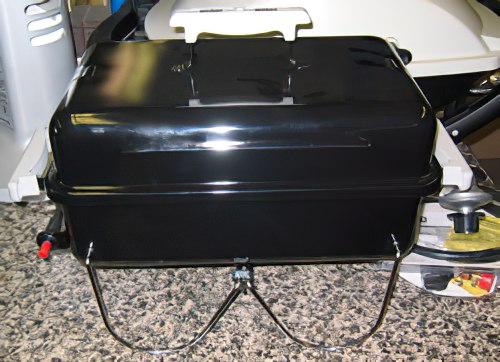 Types of Portable Grills:
Portable charcoal grill – A portable charcoal grill is great because all you need is a bag of charcoal for hours of grilling fun wherever you go. No worry about refilling gas or finding an outlet. Plus all the great flavor advantages of charcoal cooking.
Portable gas grill – Portable barbecues also come in gas versions. Most run on disposable liquid propane canisters which are small and easy to carry around. The disadvantage is that they can run out of fuel on a long trip and may be harder to find than charcoal. Most can hook up to larger, refillable propane tanks as well.
Portable electric grill – Electric grills have an electric heating element which provides intense heat for all your outdoor grilling needs. Obviously these require an outlet or generator to supply the electricity so they are not the best grill option for camping trips or the beach or anywhere where an electrical outlet is not easily accessible.
Have fun with your portable grill! They cook great food wherever you go!