By now you already know all the advantages to an outdoor fire pit. But a portable fire pit is even better! Just think, you can bring your barbecue pit anywhere you go! Going to tailgate with friends before the football game? Bring your fire pit along! Move it around your backyard, put it on your patio, you can even throw it in the back of your car on your next road trip.
There are several brands that make fire pits that are portable. Look around before you buy one because they vary a bit in their specs and features. The Sojoe fire pit and the California firepit are great examples of portable fire pits which can be used as a barbecue pit. Arctic makes nice portable pits which are more upright, like an outdoor fireplace. They aren't suitable for grilling but are great for sitting around for warmth.
Here are a few things to consider or look for when buying a portable fire pit:
Size – Even portable firepits vary in size. This matters depending on what you plan to use your outdoor fire pit for. If you've got a big pickup truck or SUV then you can haul around a huge fire pit without a problem. Otherwise, make sure your fire pit will fit in your car. If you are just going to use it in your backyard then the size doesn't matter as much, go for a big one if it fits! You can find fire pits which are relatively small, with a diameter of 22 1/2″ like a big Weber grill. They just go up in size from there.
How portable is portable? – Besides the size, one portable fire pit may be more portable than others. First of all, think about the weight. Some fire pits are made of thicker metal. Different types of metals weight differently as well. So even if a fire pit is free-standing and theoretically portable, make sure you can pick it up and move it around relatively easily. Also, some portable fire pits (like the one pictured here) have wheels on a couple of the legs and a removable handle on the other side so that it can be tilted up and easily wheeled around. This is especially helpful for larger or heavier outdoor fire pits.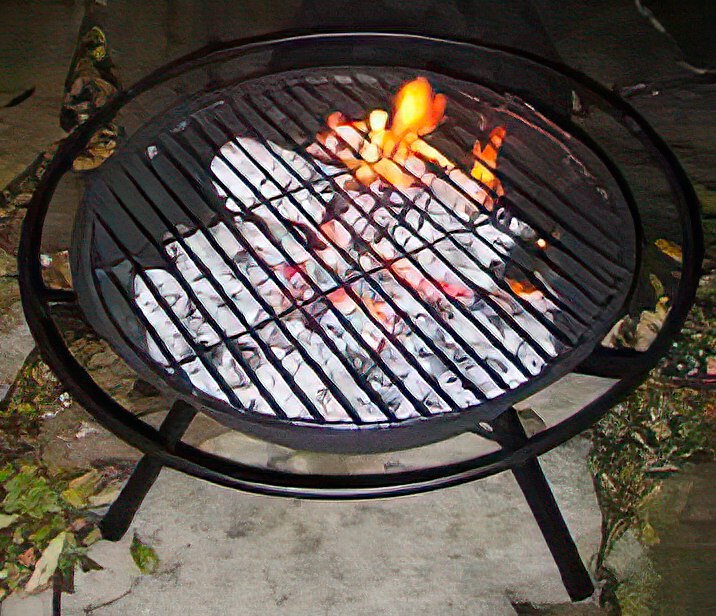 Design and versatility – What do you want to use your portable fire pit for? Most are designed to be able to place a grill grate over it to make it into a barbecue pit for wood fire cooking. Many even come with the grate. Most also come with a mesh lid. Some types, like chimineas and other upright fire pits, are not quite suitable for grilling. So if cooking on a barbecue pit is important to you, be sure to find one with the capability and accessories for being both an outdoor fire pit and a barbecue pit.