My Homemade Lakeside Fire Pit
I used your basic fire pit plan for a 5′ diameter pit in our backyard. I modified it by using 4″ x 8″ x 16″ concrete block standing on end to form the outer ring with a 2″ space between it and the fire brick on the inner ring. The height of the 16″ block was a little lower than the fire brick, so I added a layer of mortar to the top of the blocks to make them dead even with the brick. Because I made a round pit with a 1/4″ gap between the inner edges of the concrete blocks, the outer gap was close to 1″. I filled it with standard concrete mix. I then used a 1/2″ notched trowel to apply thin set to one side of 1″+- thick stones and set tham around the perimerter of the pit. I filled the gap between the blocks and the bricks with mason's sand, then set the capstones on top. I piped a darker grout between all the stones. Other than labor, I have a little less than $200 in it. I also built two permanent 5-0 long benches with backs which are angled along two adjoining sides of the fire pit and face the lake we live on.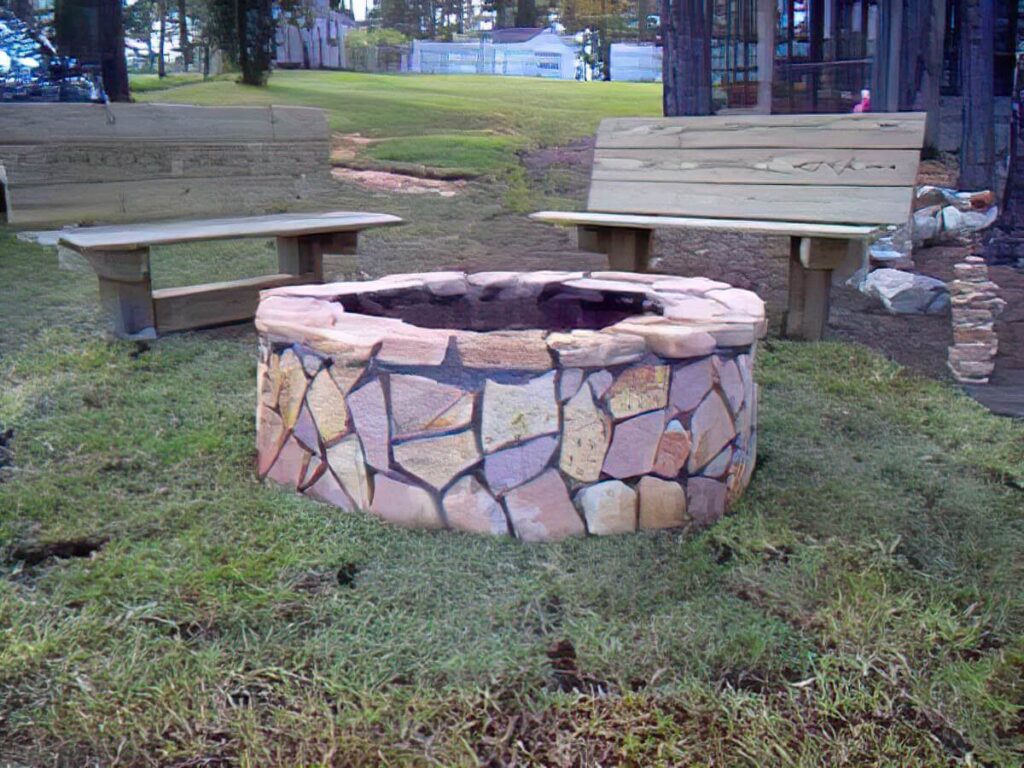 Still some clean-up and scrubbing to do, but this is the "magic" fire-pit. I finished the benches Saturday afternoon and we've built two fires. Every time, magically, neighbors have shown up to drink beer.
It's worth every penny just to hear the neighborhood wives ask their husbands why they can't do something like this.
Your instructions gave me a great starting place and the confidence that I could do it. Thank you.