Infrared grills are nothing new in the market. More and more people recognize the convenience of this kitchen appliance. However, knowing the infrared grilling pros and cons can help you make an informed decision before making a purchase.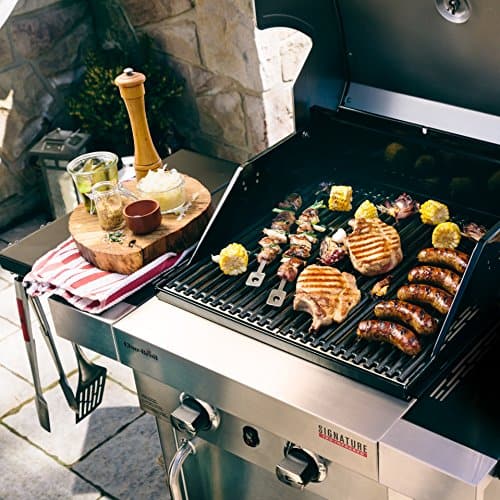 How Do Infrared Grills Work?
Ever since man has subdued the fire, he has tried to improve the taste and improve the process of grilling food. The infrared grill is an example of infrared technology in the kitchen.  But before we start, let us first tell you how conventional grills work.
A conventional grill works quite simply: a stream of hot air is directed upward, directly onto the food that is being cooked. Due to the intense effect of heat, moisture disappears from the product. As a result, the dish becomes dry. To prevent this from happening, you often have to water the meat with wine or sauce.
But the infrared grill works differently. An infrared grill can run on gas or electricity to heat a surface, which then emits infrared waves into the food. There is a special plate in it above the burner. When heated, it gives off heat around the entire perimeter. Food on a wire shelf or baking tray is cooked evenly and remains juicy. The meat is fried in its own juice, which imparts a delicate taste to the finished dish. 
The undoubted advantages of an infrared grill are:
Safe cooking. During all cooking the heat is distributed evenly, so the fat dripping from the meat doesn't catch fire or splatter.

On conventional grills, the grill heats unevenly. The meat burns in the center and remains half-baked at the edges. This does not happen in an infrared grill, because the heat is directed to the entire food at once. 

Infrared grills require 3-5 minutes of preheating, which means they heat up faster than traditional grills.

The infrared grill cooks the food correctly, evenly. This frees you from constant monitoring, you don't need to turn over the meat constantly.
Is Infrared Grilling Healthier?
The infrared heating technology is a grill with flames inside the cooking grates, while infrared elements is placed in between. The purpose is to control the heat better and more evenly distributed when grilling food. It is believed to have more significant benefits when cooking food for the family.
One of the benefits of using an infrared grill is enjoying delicious and flavorful food. Unlike traditional grills, preheating with an infrared grill doesn't take much time as meals are cooked faster and tastier. As a result, the nutrients and juice in the meat is retained as it's cooked.
On the other hand, there are some health risks posed by infrared heating because of the high temperature used. If you're not careful or knowledgeable about cooking, you might burn the food which isn't healthy to consume. According to experts, burnt food can cause cancer and other diseases due to the carcinogen present in the diet.
Are Infrared Grills Better?
When it comes to barbecued food, it's essential to find a cooking partner that is energy-efficient and fast-cooking. It is why many users are now choosing infrared grills to prepare and cook their barbecue, steak, and other grilled recipes.
But what are the advantages of an infrared grill? Here are just some of the benefits you can enjoy when you choose infrared grill over a traditional charcoal grill:
Evenly distributed heat
With the uniform heating surface of infrared grills, you can effortlessly cook your meat while retaining its nutrients. The heating technology is located underneath the ceramic tile, so heat is equally distributed while grilling.
Faster ignition
Preheating with infrared grill takes less time because infrared radiation directly heats the food. It is an ultimate edge from other types of the grill in the market.
High temperature mode
You can set your infrared grill to high temperatures to thoroughly cook your meat. The heat can be set up to 700 degrees Fahrenheit. As a result, users can easily prepare their recipes that need a higher temperature than regular cooking.
Energy-efficient
Since infrared grills provide faster cooking and less ignition, you can save from energy consumption in your home.
Juicy food
Since there's not much time consumed in an infrared grill's ignition, the juice and nutrients of your food is retained while grilling. Many users say that cooking with infrared grills gives more delicious food than other types of cooking grills.
Grilling is an excellent option if you want to cook fish, steak, chicken breast, vegetables, and other daily food items in your kitchen. The infrared grill guarantees you to retain the rich flavor and nutrients of your food even after it is cooked, especially when using a grilling bag!
Is Infrared Cooking Bad For You?
If you are curious about the disadvantages of infrared grilling, it's no secret that there are drawbacks to consider for sure. All grilling products have their pros and cons, so you need to know them before you even make a purchase. As for infrared cooking, the following are some of the disadvantages you need to know:
Not Good for Soft Dishes
Because of the high-temperature cooking of most infrared grills, it's not ideal for soft dishes like veggies and fish as they tend to get overcooked quickly.
Heavy and Not Easy to Transfer
Due to the massive structure of infrared grills, it's hard to move it from one place to another. They are less portable and can be inconvenient to use in different locations, such as from indoors to outdoors.
It's Expensive
Most importantly, infrared grills can be expensive for other users. Unlike traditional grills, infrared heating appliances are designed with advanced features as well as modern technology to provide better results.
The pros and cons of infrared grills are essential to consider before you decide to invest your hard-earned money in this type of cooking equipment. After all, you deserve to get the best grill for your favorite kitchen recipes, such as barbecues and other meat dishes.
Best Infrared Grill
If you're looking for the best-infrared grill at this moment, there are some helpful tips you need to know. For instance, find an infrared grill that suits your budget, provides better features and comes with an excellent design that complements your exact needs.
One of the most well-liked products on the market today when it comes to cooking grills is the hybrid infrared gas grill. True to its name, the hybrid grill can be used as an infrared grill or as a traditional gas grill for your home cooking. It is an excellent option for those who regularly cook at home, with grilled food as the star of their kitchen.
Takeaways
Preparing daily meals with an infrared grill makes the process a lot easier while enjoying good food with the family. With more pros than cons, this product is indeed an excellent investment for those who are looking to purchase a quality grill that fits their budget.
What are the characteristics of infrared grills, advantages and disadvantages, what is important to know when you want to buy this type of grill for the kitchen? Now, when you know that the grills with infrared technology are worth your attention we invite you to сonsult our next article about each model and choose your best infrared bbq grill. 

Hi, I'm Adam and I'm a HUGE fan of Food and Cooking.
Do you enjoy grilling sessions with your family while staring at the beautiful fire pit flames?
Flame Gorilla is the site to learn how to have that perfect backyard experience.