Not all grills are for outdoor cooking!

An indoor grill can be an important addition to any budding grill gourmets cooking portfolio. While to some a stovetop grill and sandwich maker may seem like a second-class citizen compared to a real grill or fire pit, there are some advantages to grilling indoors. For one, whoever heard of making a sandwich on an outdoor grill?
There are several types of grills that can be used in the kitchen, from a simple stovetop grill pan to a sandwich maker or panini press. And who can forget those fun indoor hibachi grills like the ones used in Benihana!
For ease of care and speed of cooking, grilling on a stovetop grill is superior in many respects. And if you've never had a panini pressed sandwich or Croque Monsieur, then you are in for a melty, toasty treat!
Find out more about the Pros and Cons of grilling in your kitchen.
For the adventurous grill master, you can also cook in your fireplace! Fireplace cooking is fun and how impressed will your guests be when they walk in to see their dinner cooking right in front of them?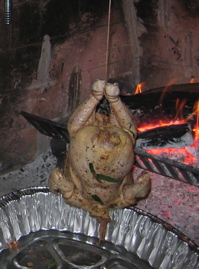 Explore the different forms of indoor grilling: