Planning to have a fire pit? Learn how to build a fire pit area to get the ambience that you desire.
The best way to enjoy a fire pit with its warm, cozy, blazing fire is to gather friends and loved ones around it. This is probably one of the greatest spaces where you can bond with your kids, close friends and even with your in-laws! Plus, do not forget your favorite pets cozying it up with you as well.
There is nothing like a good, warm night where you can just lounge in a relaxing manner while you are holding an ice-cold drink in hand or taking turns roasting marshmallows to build the best s'mores with your in-ground or portable fire pit. This is why the right type of seating in or around your fire pit area is very important.
You cannot expect to enjoy the soothing and calming atmosphere a fire pit provides if you and your people are seated in stiff, uncomfortable chairs around it. It would absolutely dampen the mood and ruin whatever relaxation you have in mind. So yes, building a fire pit or incorporating a portable fire pit in your backyard means considering the fire pit area, especially the seating space that you will be providing for yourself and your guests.
But, before you start building your fire pit area, you have to consider the following:
Style Aesthetic – This is important if your backyard or patio area has a landscape theme or if you have a design in mind that you want to continue throughout the entire space. You have to consider that whatever furniture you will add to your space fits your style or design of your fire pit perfectly.
Material – The seating area should not just showcase style but functionality and of course, sturdy and strong furniture that is meant to withstand the outdoor elements and weather. You do not want to be constantly repairing or changing your furniture because it can get expensive in the long run.
Shape – Consider the shape and size of your seating area by the fire pit. This will help you select the proper furniture and accessories that will best.
There are quite a number of different chairs, lounges, tables and benches to choose from when it comes to picking the type of seating you want for your fire pit area. Here are some of the styles that you might want to consider.
Adirondack Chairs
These fire pit chairs are probably the most popular type of fire pit seating or outdoor seating usually found in outdoor areas of the house. It's the most traditional type of fire pit seating and they are comfortable, have wide arm rests which is ideal for drinks or a plate of food and it also sits low on the ground to give you that wonderful, relaxing position. Adirondack is also made with different materials so you can have choices.
Wood Furniture
It might look and feel like it is pretty simple but sometimes, an all-wood furniture setting can be the style your fire pit area just might need. It sets a comfy, welcoming vibe which can be quite inviting for guests to gather around the warm fire. It can also come in different shapes and sizes for varying style and design.
Circular Benches or Round Sofas
A circular formation made with a long bench that wraps around the fire pit area is also a good idea to create that intimate and cozy atmosphere by the campfire. It can also seat a lot of people together which makes for good bonding. Rounded outdoor sofas also are a good idea if you want to go with thick cushions to sit on.
Outdoor Wicker Furniture
You can also consider wicker made furniture that is perfect for outdoors. It can create a bohemian feel style to your space. It can be playful yet clean if you are more into that style of fire pit seating area.
Tree Stump, Concrete Stools, Old chairs etc…
If you are into refurbishing and doing DIY projects, you can consider reusing old tree stumps or make concrete stools to make your fire pit area a little bit more rustic and outdoorsy. Plus, concrete stools will make for sturdier and weather resistant chairs. However, you have to consider how comfortable it will feel. You can definitely be nostalgic and go with old furniture that you want to reuse and keep part of the home.
Now that you have a few choices to consider when it comes to the type of seating you might place in your fire pit area, it is time to get into the process of building that fire pit area where all the magic happens.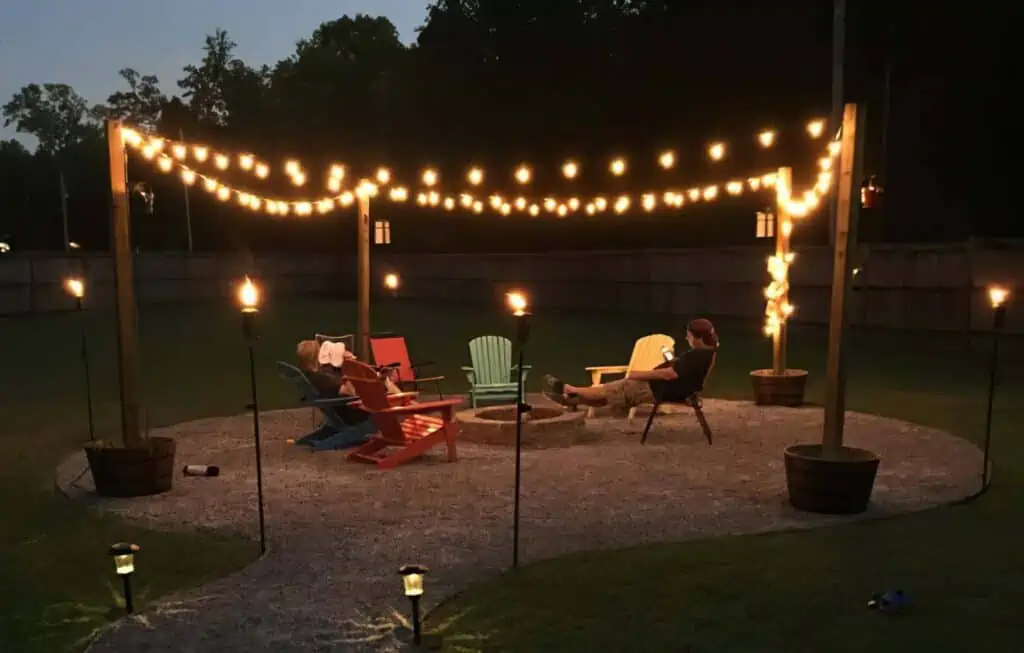 How to Build the Fire Pit Seating Area
Step 1: Outline the seating area. This is considering that you already have your fire pit situated, start to outline the area where you want your seating arrangements will be placed. Consider the size of the furniture that you will want to set up as well as how far they are from the fire pit.
Step 2: With a landscape edging, outline the seating area. Make sure that you consider a walkway if you plan to build one that will lead from your house to the fire pit or from your patio to the fire pit area. Shape it according to the space you have in mind (i.e., circular, square, rectangle etc…)
Step 3: After you have finished outlining everything with the edging, you may want to spray the area with weed or grass killer to clear the area before putting in the gravel. Wait for 24 hours for the solution to dry.
Step 4: Roll and stake down some landscape fabric in the seating area.
Step 5: Get your gravel and start spreading it out evenly in the outlined area using a rake.
Step 6: Once the gravel is patted down, settled evenly, it is time to decorate your fire pit with the furniture you selected. Do not forget to add comfy pillows and comfortable blankets. You can also add some lighting fixtures and solar lighting along the path as well as add a few plants.
TIP: Laying gravel is pretty exhausting and time-consuming part of building a fire pit area so you might want to consider hiring a professional to do the whole thing. This is important if you have a huge fire pit area in mind. However, if you have the manpower, patience and energy then a DIY trip like this will do the job.
How to Build a Fire Pit Area on Your Patio or Deck
There are portable fire pits that are gas fueled that can be used on wooden decks or patios that are attached to the house. However, double check the manufacturer's manual to ensure that you can use your portable fire pits on decks without fire proof matting underneath. Safety should always be your priority.
Step 1: Identify the area where you want to place your portable fire pit. You should consider if you will be using a fire pit that doubles as a table or will it be something smaller. The size and shape will definitely help you in measuring and envisioning the entire seating area set up.
Step 2: Arrange the furniture around the fire pit depending on how you want you and your guests to be situated. There are some who place the fire pit on the center while some might prefer it to be in a corner which will create a fan-like setting for your furniture to ensure that everyone gets to be warm and comfy.
TIP: If your portable fire pit or fire pit table is rectangular in shape, you might want to consider a long bench that follow the wall for more space for seating. You can also consider a love seat for a more romantic or cozier setting. LPG fueled fire pits are best for these areas since it will be burning fire cleanly and is smokeless, ashless and debris free.
Conclusion
There is nothing more fulfilling than being able to look out of your house and see a place where you can make and share even more memories. Creating your fire pit space or area is a great way to let your style flow. This will also ensure that the place you have set up will provide the comfort and functionality you have envisioned it for. Always consider a laid back, highly comfortable space when thinking or planning a fire pit area to build. You want a place to relax, chill and just enjoy!

Hi, I'm Adam and I'm a HUGE fan of Food and Cooking.
Do you enjoy grilling sessions with your family while staring at the beautiful fire pit flames?
Flame Gorilla is the site to learn how to have that perfect backyard experience.