I have to admit something, I think I got this idea for a grilled turkey leg recipe when I went to the Renaissance Festival last summer. They serve those big whole drumsticks that you hold in one hand and gnaw away at while chasing it down with a big stein of ale. There is something so primal about chowing down on these hearty snacks. It reminds me of so many old movies of the knights around the round table eating big, darkly glazed turkey drumsticks.
However, the ones I got at the fair weren't as good as I had hoped for. The excitement was there, but not the flavors I was hoping for. In fact, turkey often disappoints me because its flesh is not as strongly flavored as some meats. Therefore, it requires a bit more help to make it truly succulent, juicy, and delicious. We'll that is why I came up with this great barbecue turkey leg recipe. Brining the meat ahead of time adds flavor and seals in those savory juices so that the meat stays tender and juicy. Grilling slowly with the basting mixture brings a sweet and zesty glaze to the surface, taking the fun and flavor of whole turkey drumsticks to a new level.
What you will need: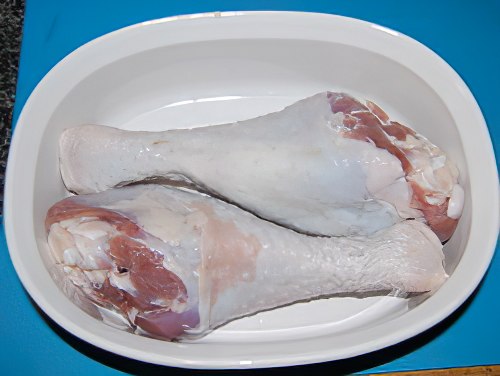 Turkey legs – I usually plan for one per person you will be serving. They are quite a bit larger than chicken drumsticks.
Brine Solution:

4 quarts of water
1 cups of coarse kosher salt or sea salt
1/4 cup brown sugar
Basting Mixture (adjust the ingredients to your taste, more honey for sweeter, more Worchestershire and BBQ sauce for richer, more vinegar if you want it more tangy):

Honey
BBQ sauce – You can use any bottled BBQ sauce you like. In a pinch, you can just use BBQ sauce without the other additives, but I personally like to get creative and make my own concoction. Alternatively, you can make your own BBQ sauce with tomato paste, Worchestershire, sugar or honey and any other additives you'd like. Get creative and try a few different styles.
Worchestershire sauce
Red Wine Vinegar – Make sure you use a good, richly flavored red wine vinegar. Most of the standard grocery store brands are watered down and flavorless. If no high end vinegars are available you can also use Balsamic vinegar which tends to be richer and darker, but not as acidic.
Salt to taste
Salt, pepper and olive oil
How to make this Grilled Turkey Leg Recipe:
Prepare the brine solution of water, salt and sugar. Double or half the ingredients for smaller or larger batches depending on how many turkey legs you are preparing. You will need just enough to cover the turkey drumsticks completely. Make sure to mix the salt and sugar in completely so that they are totally dissolved before adding the turkey leg.
In a large container pour the brine solution over your turkey drumsticks so that they are completely covered. If necessary you can use a plate or bowl to weigh the legs down to keep them submerged.
Refrigerate for at least 4 hours and up to 24 hours, preferably overnight. Take out about 1 hour before cooking to bring to room temperature.
Remove the turkey leg from the brine and pat dry.
Just before cooking, drizzle and rub with olive oil and season with salt and freshly cracked black pepper.
Prepare your grill for indirect heat grilling. I also like to add smoking woods to add aromatic wood smoke flavor.
Prepare the basting mixture and mix completely so that honey and all the other ingredients are fully incorporated. This can be done up to a day in advance and stored in the refrigerator.
Start grilling your BBQ turkey legs over indirect heat with your grill lid closed as much as possible. Begin basting with the basting mixture frequently to begin developing a rich, dark caramelized glaze.
Turn the turkey drumsticks periodically and continue basting frequently. Be sure to keep the lid closed between basting to retain heat and smoke.


Total cooking time will vary depending on your grill temperature but most turkey legs will only take about 20 to 30 minutes over moderate indirect heat. If you are cooking over higher direct heat they may cook faster but be careful not to let them burn. You can check the doneness with a meat thermometer or by cutting one turkey leg open if need be. However, after brining the turkey will be fairly resistant to over-cooking and will retain moisture well.
When done, remove from the grill to a platter or plate and cover in foil to rest about 10 to 15 minutes.
That's it! Serve these big bad boys up with plenty of rich beer and your favorite BBQ side dishes. Enjoy!
Hi, I'm Mhen and I'm a HUGE fan of Food and Cooking.
Do you enjoy grilling sessions with your family while staring at the beautiful fire pit flames?
Flame Gorilla is the site to learn how to have that perfect backyard experience.