I love skirt steak. It is a delicious cut of meat that doesn't break the bank. I have lots of great grilled skirt steak recipe ideas but this one is one of my favorites. Another is my Spicy Skirt grill recipe.
This one is inspired by delicious Mexican cooking which often uses lime juice to brighten up the flavor of meat and add a zesty tang. The anchovy sauce in this grill recipe is subtle but adds a great savory, saltiness to the meat which really brings this dish to another level.
What You Will Need:
Skirt Steak – Don't skimp, get a nice big cut of skirt from a good butcher. It is not an expensive cut of meat so it won't break the bank. About a pound is good for at least a couple people, more if this is not the only thing being served.
Several limes
A few green onions, minced
A 2 oz jar of anchovy filets, olive oil drained – Again, don't skimp, get a good brand as the flavor is much milder and better.
Garlic – A clove or two, minced.
About 1/4 cup water
Olive oil, salt and pepper
How to Cook this Skirt Steak Recipe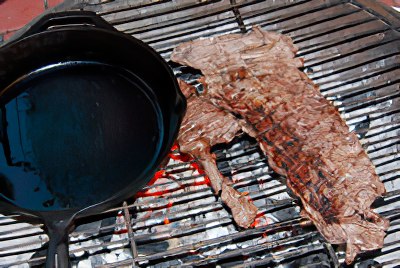 When your grill or fire pit are almost ready, squeeze a bunch of lime juice over the meat and rub with generous salt and pepper. Let sit 10 minutes or so.
After draining the anchovies, chop them and mix in a bowl with the chopped green onions and garlic.
Grill the steak over high direct heat to sear them. They are generally pretty thin so will only need a few minutes on each side to get some nice color and leave the inside rare to medium-rare. Alternately, you can cook the steaks in a skillet on the grill if you prefer.
Have a hot skillet ready on the grill. I like to then throw the steaks for a couple minutes into the skillet to finish cooking and give off a bit of their juice into the pan. When done, remove the steaks and cover with foil to rest.


Add a tbsp or so of olive oil to the skillet and immediately dump in the mixture of anchovies, green onion and garlic. Saute for a minute or two and then deglaze the pan with some water, or wine if you prefer. Stir thoroughly, scraping up any brown bits and letting the liquid reduce a bit.
When the sauce is reduced to a rich, brown, pour it out into a serving bowl.
Serve the steaks with the sauce to be poured on top. Be sure to also garnish with fresh wedges of lime to be squeezed over the finished steak just before eating.
Enjoy This Lime and Anchovy Skirt Steak Recipe!

Hi, I'm Adam and I'm a HUGE fan of Food and Cooking.
Do you enjoy grilling sessions with your family while staring at the beautiful fire pit flames?
Flame Gorilla is the site to learn how to have that perfect backyard experience.