Do you and your family enjoy grilled chicken? I am sure you have chicken on the table at least one day of the week as everyone is sure to enjoy it.
It is good to be made for lunch or dinner time and the chicken can be coated with mouth-watering marinades, rubs or sauces.
You can throw the chicken on the grill on a BBQ night on any of the days and you are on your way to adding a slightly tangy flavor to each bite of the juicy grilled chicken.
The perfectly grilled chicken seasoned with the marinades makes the flavors incredible.
These are perfect and awesome Grilled Chicken Marinade recipes to follow with easy ingredient list and guidelines.
If you're like us and while grilling you like to add a little marinade on top, definitely remember to use a plastic squeeze bottle so you don't end up making a mess of your BBQ! They really keep things tidy.
Chef Paul's Easy Marinade
This herb filled marinade comes together beautifully in this easy marinated grilled chicken. This recipe adds rich color and there will be no leftovers as everyone will want a second serving.
Recipe from From Valerie's Kitchen
Brown Sugar Balsamic Grilled Chicken Marinade
You are on your way to grilling a fantastic dinner with this marinade. It is so simple you can prepare the meal just in 20 minutes. Marinate for 24 hours for a juicy and moist chicken.
Recipe from Delightful E Made
Miracle Rub Chicken
Honey, cilantro, and lime make the perfect marinade for the chicken. The rub comes together quickly and the chicken is soaked up in the delicious flavors. The result is a sweet and tangy chicken.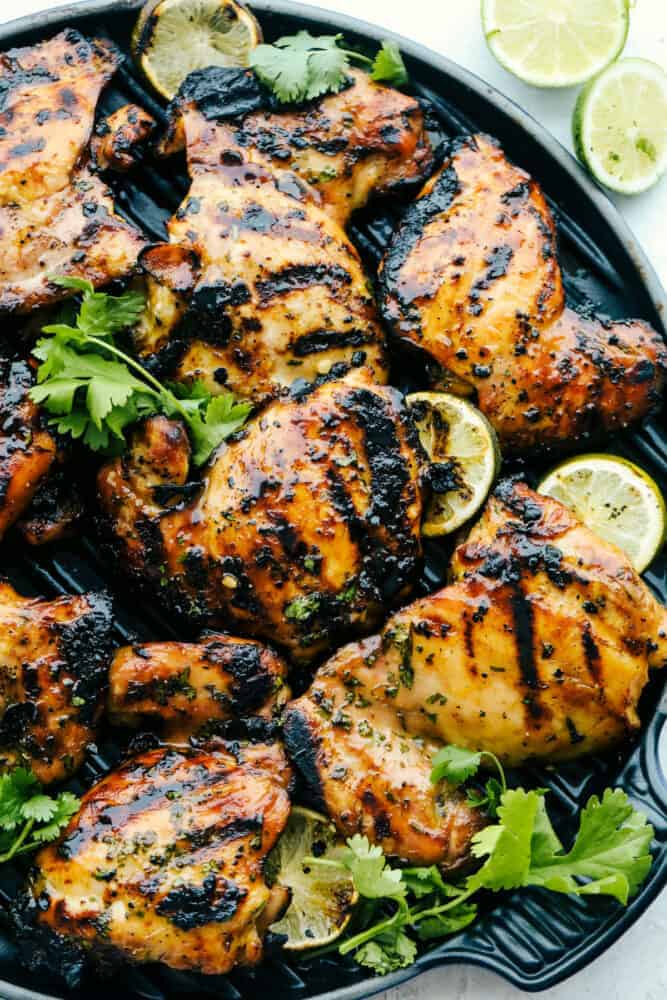 INGREDIENTS
2 lbs skinless and boneless chicken breasts
0.50 cup honey
0.25 cup lime juice
1 tbsps olive oil
2 tbsps Soy Sauce
2 minced garlic cloves
0.50 cup chopped cilantro
0.50 tsp salt
0.25 tsp pepper
DIRECTIONS
Insert the skinless, boneless chicken breasts or thighs into a Ziploc bag.
Place the lime juice, soy sauce, honey, garlic, olive oil, cilantro, salt and pepper in a bowl.
Combine all the ingredients in the bowl.
Fold in the marinade over the chicken and secure the bag.
Allow marinading the chicken for 3 hours or 24 hours.
Set the grill to medium-high heat.
Place the chicken on the grill and grill for 4 minutes per side until done.
Serve warm.
Recipe from The Recipe Critic
Singapore Style Chicken Marinade
This low carb marinade has so much flavor. The tender chicken is marinated in the thick yogurt marinade which is simple but delicious in flavours. The chicken is filled with natural juices.
Recipe from Joy Filled Eats
By the way, I also do a post about Grilled Chicken Wings Recipes, hope you like it.
Hi, I'm Mhen and I'm a HUGE fan of Food and Cooking.
Do you enjoy grilling sessions with your family while staring at the beautiful fire pit flames?
Flame Gorilla is the site to learn how to have that perfect backyard experience.