I recently had the opportunity to try out the new high-end Grill Daddy BBQ tools and I won't beat around the bush, these tongs and spatula have replaced my old grill tools as my go-to grilling equipment! Have you ever burnt the hairs off your knuckles while working on the grill over high heat? I know I have countless times! Well one of the clever features of these tools helps make that a thing of the past!
They also makes high-end grill cleaning tools, which I have not had the chance to try out yet. But these grill tools have convinced me. What's so great about them you ask? Well, read on and I'll run down the advantages of these bbq tools.
Buy these tools online at BuyGrillDaddy.com or Amazon.com
now!
First of all, I've said it before, but really the most important tools for the serious griller are a good solid tongs, a spatula (for flipping less hearty foods like fish or some veggies that can't handle rough tong action), a nice long basting brush and a meat thermometer (for those of you who haven't perfected the poke the meat method of testing doneness). These BBQ tools supply all of these with just two tools and interchangeable attachments.
The Advantages of Grill Daddy grill tools: General Features and the Heat Shield
One important thing to note right off the bat is that the manufacturing and material quality of these tools appear to be first-rate. They feel solid in your hand, they have interchangeable parts that work easily and fit perfectly. Both the tools have a solid, molded, ergonomic handle that feels good in your hand.
In addition, both tools, the tongs and spatula, have a neat new addition that really does work, the heat shield! The Grill Daddy heat shield is a thick piece of metal that covers the tool grips, kinda like the hand guard surrounding the grip of some swords (so you can feel like a real grill warrior!). The metal is thick enough and wide enough that it shields the heat from the grill so that you don't burn your knuckles as you turn or baste your meat. Whats even cooler about the heat shield is that it swivels with gravity so that it is always facing down, even when you have to turn and twist your tongs to flip meat! So your hand is always protected no matter what position you are in! The machining of the parts is excellent so it really does swivel smoothly and quickly as you move the tool's position.
Another general feature of these tools that I like is that they have removable tips so that you can swap with different available tools and even take the tips off and throw them in a dishwasher! The basic tools include a tongs (with both sides removable) and a spatula. The tips are interchangeable so you can even put a spatula on the down side of the tongs to have a hybrid spatula-tongs! There are even some other tips available like the wider fish-flipper spatula, a grill fork and even a basting brush!

The Grill Daddy Tongs

As mentioned above, the basic tongs are solid, ergonomic and well built. The heat shield is a welcome addition when turning multiple things on your grill while working over high, direct heat. In addition to providing heat protection, the heat shield swivels up to latch the upper arm of the tongs to lock it closed for easy storage. Finally, for difficult to flip items, you can remove the bottom part of the tongs and replace it with the spatula attachment for a hybrid spatula-tongs!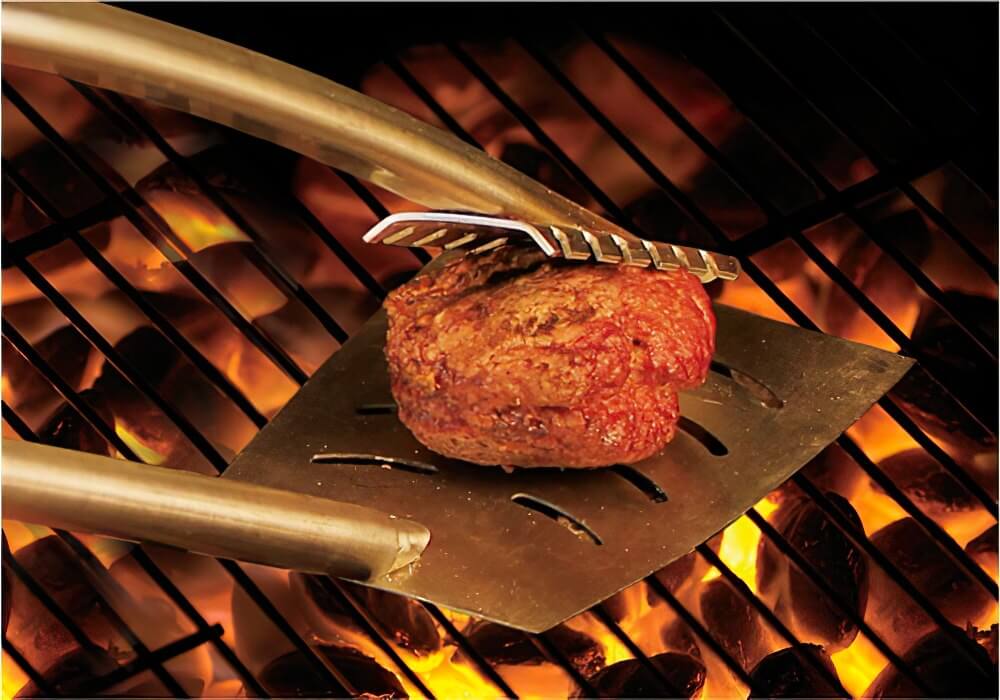 The Grill Daddy Spatula
The spatula has a couple cool features as well. In addition to the heat shield, the spatula is telescoping to keep you further from the heat while allowing for easy, compact storage. The handle of the spatula also acts as a storage sheath for a nice, compact meat thermometer so that you always have it on hand when you need it.
Other Attachments
Although I haven't tried them yet, this company makes a few other attachments that can be used interchangeably on the spatula handle. You can swap out for a wider fish-flipper spatula for fish and other wide foods that you can't flip with a tongs. They also have an angled basting brush attachment which is nice because I find that trying to baste frequently to be difficult because of how hot it gets with most short basting brushes. The long, extendable handle with heat shield and angled brush probably make that a lot easier and more comfortable. Finally, they do also make a grill fork attachment for those of you who like to use forks. As I've said before, I personally don't see the purpose of a grill fork since all it does is poke holes in your food that you don't want, but to each his own.
Where to Buy Grill Daddy BBQ Tools
All of these grill tools are available online directly from the company for very reasonable prices at BuyGrillDaddy.com.
For those of you who prefer Amazon or have a gift card or credit just begging to be used, all the tools are available on Amazon.com
as well.
Disclaimer: Grill Daddy Brush Company supplied samples of these Grill Daddy BBQ tools for evaluation. However, the words and opinions expressed on this page are all mine.