Here is a fun dutch oven braised rabbit recipe. If you are eager to try out some dutch oven cooking on your campfire, fire pit or fireplace, this is a good simple start! This dutch oven recipe is not hard to do but is impressive and really tasty too! If you don't have access to rabbit, the same type of recipe can be done with most any poultry such as chicken, game hens, pheasant, guinea hen, etc. If you really want, you can cook this rabbit recipe on a stovetop as well.
Get more info about Dutch Oven Cooking.
What You Will Need for this Braised Rabbit Recipe
A large heavy duty pot with lid (a cast iron dutch oven works best)
2 slices of bacon or pancetta, chopped (you can skip the bacon if you prefer)
Extra virgin olive oil
1 medium onion, chopped
1 leek, white part, sliced
1 celery stalk, chopped
Any other aromatic vegetables you would like (fennel bulb, carrots, celery root, potatoes, garlic, etc.)
1 rabbit, whole or cut up (or poultry)
2-3 cups chicken or veal stock
Fresh thyme and one bay leaf
Coarse salt and freshly ground black pepper to taste
How to Cook this Dutch Oven Braised Rabbit Recipe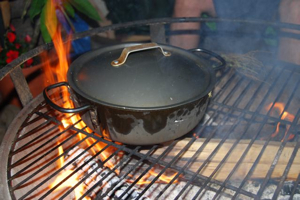 Get your heat source, whether a campfire, fire pit, grill or fireplace, nice and hot.
Place the dutch oven directly over your heat either by laying directly on your grill grate or hang it by its handle over your fire.
After allowing the pot to heat up somewhat, add a couple tablespoons of olive oil and the chopped bacon. Sauté for a few minutes until the bacon is starting to brown and throw off its fat.
Season the rabbit on all surfaces with salt and pepper. Add the rabbit and cook briefly on each side to brown all the surfaces. Remove to a plate and hold.
Add the onion, leek, celery and any other aromatic vegetables you want to include and stir. Sauté until the onions soften and turn translucent but before they change color.
Add back the rabbit, along with any juices which have accumulated. Add the bay leaf and a few sprigs of fresh thyme.
Pour over the stock just to partially cover the rabbit. Season well with salt and pepper. Cover.
Let sit to slowly braise. Occasionally check to stir and adjust the heat as needed to maintain a light boil. After a while, flip the rabbit.
Continue to braise until the meat is tender and starting to fall off the bone. This varies considerably depending on the heat of your fire, the type of meat and the size of the rabbit or poultry.
Remove from the heat and let rest a few minutes before serving. Be sure to spoon over some of the juices and vegetables on each plate.
Voila! Delicious aromatic braised rabbit done old-fashioned style in a dutch oven over an open fire!
Enjoy!
Hi, I'm Mhen and I'm a HUGE fan of Food and Cooking.
Do you enjoy grilling sessions with your family while staring at the beautiful fire pit flames?
Flame Gorilla is the site to learn how to have that perfect backyard experience.