This Chorizo-stuffed dates wrapped in bacon Grill Recipe is a killer! This grill recipe is so great because not only is it delicious, with unique and exotic flavors, but it is also super easy. Stuffed with spicy Spanish chorizo, these dates explode with flavor, salty, spicy, smokey, and sweet all mixing in each bite for a perfectly balanced treat. It is versatile too, as you can cook this directly on the grill, in a grill skillet, or even in a skillet on your stovetop if you prefer to stay inside.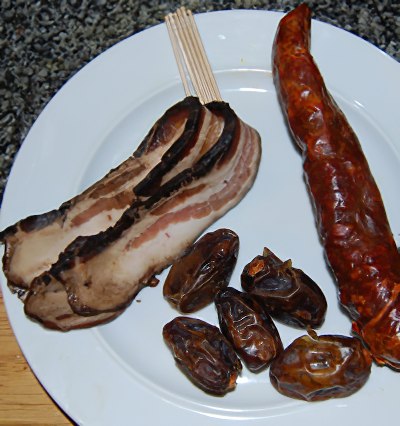 What You Will Need:
Cured Spanish Chorizo – Not the uncooked Mexican type which is soft. You need the cured, hard Spanish chorizo which is available at most gourmet food and cheese shops.
Medjool Dates
Bacon – Preferably thick-sliced quality smoked bacon.
Toothpicks
How to Cook these Chorizo-stuffed Dates Wrapped in Bacon
First, slice down the side of each date and remove the pits.
Next, pull the casing off of the chorizo and slice it into thick chunks that will fit within the middle of the dates.
Stuff each date with the piece of chorizo and squeeze shut around it.
Cut the bacon strips in half, lengthwise.
Tightly wrap the stuffed dates with a piece of bacon, securing it through the middle with a toothpick.
Now simply prepare a hot grill and grill them, turning occasionally until all the bacon is nicely browned. You can either grill these directly on the grill grate or in a hot skillet on the grill as pictured here. Alternatively, if you prefer to cook inside, this can be done just as well on a skillet on the stove; however, you don't get any smokey flavor from the charcoal or wood.
Now just let them cool slightly and pop those yummy morsels in your mouth!

Hi, I'm Adam and I'm a HUGE fan of Food and Cooking.
Do you enjoy grilling sessions with your family while staring at the beautiful fire pit flames?
Flame Gorilla is the site to learn how to have that perfect backyard experience.