I had not tried this bourbon pork tenderloin recipe until recently and it blew me away. My guests too! This grill recipe is just simply delicious, with an interesting smokey sweet flavor that is perfectly complemented by the aromatic smoke aroma added by cooking on a barbecue or fire pit. While there are a number of ingredients, this barbecue recipe is also quite easy, not taking a lot of time or effort.
Pork tenderloin is one of my favorite cuts to grill. It is tender and delicious but also relatively inexpensive, particularly compared to beef tenderloin! Another favorite pork tenderloin recipe is my Cider-Brined Pork Tenderloin.
To enhance the smokey flavor in this pork tenderloin recipe, consider using some smoking wood in your grill. Hickory, Mesquite, and especially Apple woods all add a savory, aromatic aroma and flavor to the glaze if you add it to your charcoal or wood just before throwing the pork tenderloin on the grill. Be sure to cover the grill as much as possible to hold in that great smoke to fully permeate the meat and glaze.
Ingredients:
1 – 1-1/2 lb pork tenderloin
For the Spice Rub:
2 tsp sweet paprika
2 tsp dark brown sugar
2 tsp coarse salt
1 tsp mustard powder
1 tsp black pepper
1/2 tsp garlic powder
For the Bourbon Glaze:
4 tbsp unsalted butter
1 clove garlic, minced
4 tbsp Bourbon (I used Maker's Mark but any decent Bourbon or whisky could be used.)
4 tbsp dark brown sugar
2 tbsp Dijon-style mustard
1/2 tsp ground cinnamon
1/4 tsp ground cloves
Salt and pepper to taste
Instructions for Bourbon Pork Tenderloin Recipe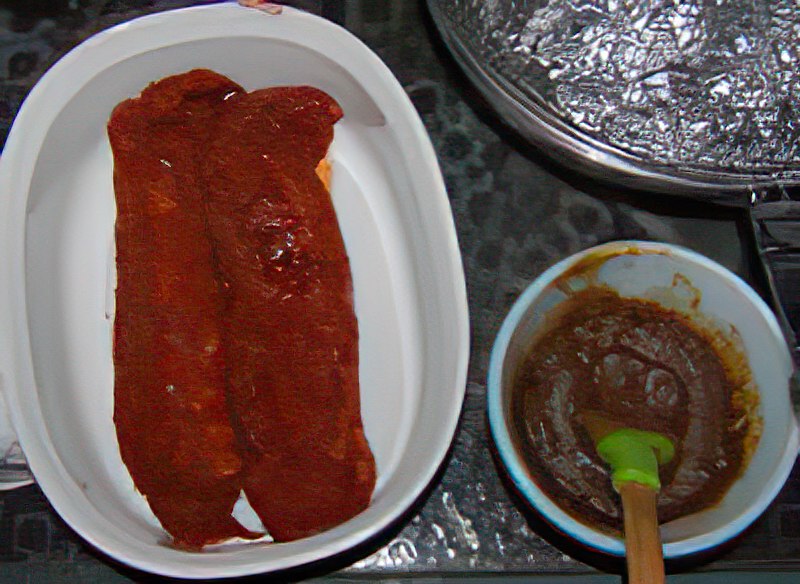 1Mix the spice rub ingredients (salt, sugar, paprika, pepper, mustard powder and garlic powder in a small bowl and mix thoroughly.
Pour the spice mixture over the pork tenderloin and rub into all its surfaces. Cover and marinate in the refrigerator at least 1 hour, up to 4 hours.
Meanwhile, prepare the glaze by melting the butter in a sauce pan over medium heat and adding the minced garlic. Cook about 1 minute.
Add the Bourbon, sugar, mustard, cinnamon and cloves and continue to simmer briskly over high heat, stirring almost continuously until it is thick and syrupy, about 2 to 4 minutes. Remove from heat and add salt and pepper. It should be well seasoned for the saltiness to stand up to the sweetness. Pour into a bowl and set aside.


Get a hot grill or fire pit started and grill the tenderloins over high heat, turning occasionally until golden brown and cooked through. After the surface is seared a bit, baste the tenderloin on all sides with the Bourbon glaze repeatedly until all the glaze is used up during the final 5 to 10 minutes of cooking. This will take 3 to 4 minutes per size, about 12 to 15 minutes total depending on the heat of the grill and the size of the tenderloin. The internal temperature should be close to 160. Note that pork tenderloin is generally fairly small and thin, so it can overcook quickly. Try to avoid overcooking to maintain moisture and juiciness in the meat!
Note: the smoky, sweet flavor of the glaze can be augmented nicely by smoking woods. If you want, add some hickory, mesquite or apple smoking wood chips or chunks to your fire shortly before cooking the pork. Try to cover the grill with its lid during most of the cooking to hold in all that yummy, aromatic smoke!
Transfer to a cutting board and let rest for a few minutes under aluminum foil.
Slice into thin medallions on the diagonal and serve. If there is extra pan drippings and glaze it can be spooned over the meat.
That's it! Delicious smokey and sweet, this great pork tenderloin recipe will have your guests coming back for more!
Enjoy!
Hi, I'm Mhen and I'm a HUGE fan of Food and Cooking.
Do you enjoy grilling sessions with your family while staring at the beautiful fire pit flames?
Flame Gorilla is the site to learn how to have that perfect backyard experience.