If you are among the thousands of fans who like to throw a party in the parking lot of the stadium before the game starts, then read on to find out everything about the best tailgate grills for your consideration.
OUR TOP PICK
Weber 10020 Smokey Joe 14-Inch Portable Grill
TOP REASONS TO BUY
Very well made for the price
Ultra portable design
No propane tank needed
KEY FEATURES
Porcelain-enameled bowl & lid
Plated steel cooking grate
147 square inches of cooking space
These grills are great if you want to do some serious tailgating no matter the time of year, what sport you prefer, or whether you are going for a camping trip.
Here are the best ones for 2022:
Reviews of the Best Tailgate Grills for 2022
Weber 10020 Smokey Joe 14-Inch Portable Grill ( Our Top Pick )
SPECIFICATIONS
Porcelain enameled bowl and lid
Plated steel cooking grate
147 square inches of cooking space
BENEFITS
No propane tank to lug around
Perfect for a bit of grilling while camping
Affordable tabletop tailgate grill
Weber's experience in making quality grills extend to making this one of the best portable grills on the market.
It is a small, lightweight, portable grill that can be used at home, during camping, on the beach, or anywhere you need a capable charcoal grill. With its sleeky compact design, this portable charcoal grill will let you cook a meal anywhere you go and you will get the authentic charcoal grill taste.
It's super easy to use, clean, and maintain. Small enough that keeping it clean is not a problem, but not too small to limit your cooking which is perfect for a tailgate party. This portable charcoal grill is not designed to cook large portions and works better with several small pieces like steaks or hamburgers. So, you'll have to choose the appropriate foods when using this tailgate grill.
The hooded design helps create good convection heat inside which cooks the food faster, without drying it out. As a portable charcoal grill, there are no temperature control settings. You'll have to depend on the air vent mounted on the lid to control the airflow inside.
While it is an affordable charcoal grill, it is still made from high-quality premium materials. The heat resistant rubber handles are made of durable stainless steel. The porcelain enamel coating is meant to prevent rusting which means the grill should last for long which is the reason why this portable grill makes it to our best tailgate grill list.
The legs are made of aluminum and although they feel a little weak, it's necessary to take the portability of this grill into account. Sturdier legs would make it heavier and therefore less portable and it's small stature means more complicated folding legs are unnecessary. Although the legs are not the most solid part of the grill, they perform the job adequately.
The cooking grate is metallic and triple plated with a nickel alloy which makes it resistant to corrosion and prevents the food from sticking to it. It also helps with the dispersion of heat along the cooking surface.
Overall, it is a nice little grill made with quality and portability in mind as far as weber tailgating grills go.
Advantages
Practical, easy to transport and assemble for tailgate grilling, travel adventures, or where the fun is
Porcelain-enamelled bowl and lid which prevents rust through and burn off for years of use
Burns more evenly and better than expected with the no-rust top-mounted aluminum vents
Disadvantages
Need to monitor the temperature
Ashes sometimes clog up the vent holes
The grilling surface is a mere 147 square inch area
Coleman RoadTrip 285 Portable Stand Up Propane Grill ( The Runner Up )
SPECIFICATIONS
Up to 20,000 BTUs
Cast Iron Body
285 square inches of cooking space
BENEFITS
3 Adjustable burners
Folding legs and side tables
Interchangeable Cooktop
This portable gas grill sure is heavy weighing in at just under 47 pounds and features aluminum quick fold legs and sliding side tables. Fully assembled it measures 45.6" D x 19.5" W x 35" H.
This means the Coleman RoadTrip shouldn't have any trouble fitting on the back of your truck or in the trunk, but you may need a hand to lift it in or move it up a flight of stairs.
Once you're ready to light it up though you'll be greeted by 3 burners with a push button ignition and an adjustable burner range between 3,250 and 20,000 BTUs giving you the flexibility to cook directly or indirectly with multiple zones on its massive 285 square inches of cooking area.
But what's really neat are the interchangeable porcelain enameled cooktops, need a griddle or what about a stove? Simply switch out the grill plates and you'll always have exactly the grill you need.
Coleman RoadTrip 285 Portable Stand Up grill does what it says it does, it's not as portable as some of the other models we looked at but if you need a more serious portable grill you can't go wrong with this sleek and modern looking grill.
It has only two serious weaknesses. I really don't like asking people for help so the idea of needing two people to carry it up a flight of stairs or into the trunk of a car is a huge negative for me. Next, we have a rather horrible water tray design, that is frankly far too shallow.
This causes two problems, namely it's extremely difficult to remove without spillage, and who doesn't love dumping greasy water all over there grill before they move it. Secondly, if you fill it up but the ground isn't perfectly level it's going to spill.
Advantages
This is one of the prettier gas grills with a premium look, so while it's not the cheapest tailgate grill it feels justified.
Great quality of life features, 3 temperature zones each with its own burner and the interchangeable grill plates make a great package.
My back really appreciates the stand-up design.
Disadvantages
It weighs too much for most people to transport easily.
The water tray design, come on Coleman just make it a bit deeper.
Sometimes the 3 burner design is great but sometimes it feels to flexible.
Char-Broil Grill2Go X200 TRU-Infrared Propane Gas Grill
SPECIFICATIONS
Portable tabletop infrared grill
Push-button ignition
200 square inch cooking grates
BENEFITS
Propane powered
Aggressive side handles design
Perfect tailgate size
Let's continue with a grill from a company that has been making grills and burners for seventy years: Char-Broil. All those years of experience mean they know grills and they sure put out some great ones, like this one.
As a portable infrared gas grill for tailgating, it is meant for grillers who like to grill just about anywhere. It has a sturdy, rugged build, which makes it a great tailgating grill, for camping, the beach, or to take on any kind of excursion. A quality that belongs to be part of the best tailgate grills.
And its portability is a perfect fit for a tailgate party. This portable infrared gas grill has a simple and lightweight tabletop design, so you can just relax or do other things while your food is grilling. The top handle is designed to let you open the hinged lid easily. Compared to a large gas grill, it is simple in size and shape. The main downside that we see is that aesthetic appeal won't work for everyone.
The grill box and the lid are made from cast aluminum. The cooking grates and lid latches are made of stainless steel plate that concentrates heat from the single 9,500 BTU burner. The model incorporates the signature Char-Broil TRU-Infrared cooking system, which uses radiant heat instead of convective heat to cook your food.
This means the food is cooked faster without losing any moisture. You can cook a steak in five minutes and it will come out juicy and flavorful only if you are acquainted with the temperature adjustment mechanism and can handle it with expertise.
An excellent portable liquid propane tailgate grill, with a large cooking area measuring 200 square inches, that sets the value and performance bar high.
Advantages
Grill a meal anywhere with it's sturdy and convenient die-cast aluminum build and stainless steel grilling surface with push-button ignition.
Cooks the juiciest meal with no flares up using its TRU-Infrared cooking system
Cooks your meal faster and evenly inside out while being super economical on fuel as it burns very hot without going all the way up
Disadvantages
Hard to regulate temperature and becomes too hot
The cooking grate is challenging to clean
You'll need a liquid propane tank on hand.
You'll probably want to invest in some side tables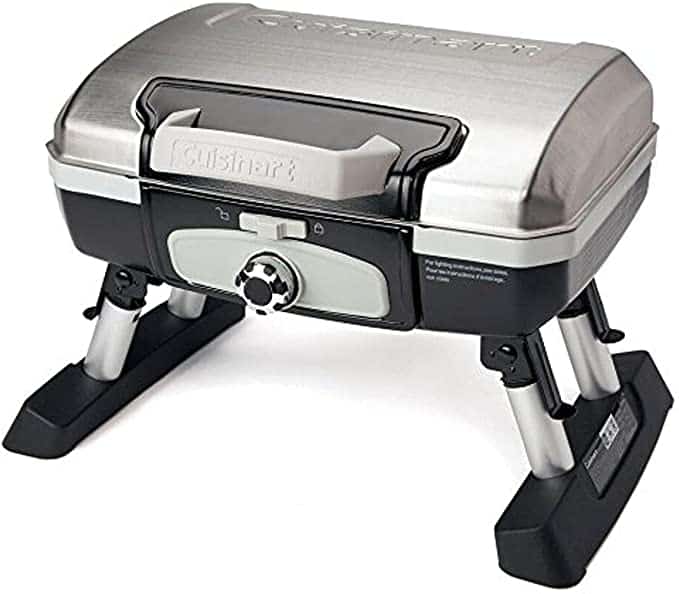 Cuisinart CGG-180TB Petit Portable Tabletop Gas Grill
SPECIFICATIONS
Dishwasher safe
Single 5500 BTU stainless steel burner
Portable 145 square inches tabletop grill
BENEFITS
Its a propane tabletop grill
Briefcase type styling
It is a fully portable small-sized propane tailgate grill intended to deliver great performance, so you won't miss grilling on a full-sized one too much.
Cuisinart Stainless Steel Petite Tabletop Grill is fueled by propane and has a start ignition for easy lighting. This portable grill has been solidly built and is meant to be durable. Because of its small size, it is best for situations where space is limited such as making a meal at a tailgate party or on small decks, RVs, or boats.
The 145 square inches of cooking area also helps keep the heat near the cooking surface which makes it more energy and fuel-efficient than larger counterparts. This portable gas grill heats up pretty quickly for having only one stainless steel burner and will also cool off quickly.
With the included carrying handle, this stainless steel grill is so easily moved around making it great for taking it with you whenever and wherever you need to. The foldable legs allow for easy storage when you're not using it.
The lightweight and portability make it a great grill for tailgating or to take on camping trips, fishing, hiking, and grilling on the beach. It's compact but sturdy enough to cook whatever is thrown at it with no problems.
Cleaning is also made easy since the removable porcelain-enameled cast iron cooking grate can simply be put in the dishwasher. The problem lies with the dripping tray, which fills up quickly. A potential fire hazard and big flareups may occur if you are not paying close attention while you're cooking with this grill. Also, the absence of a thermometer remains a major concern among users.
Generally, this is a decent freestanding tabletop gas grill that is easy to set and you can take anywhere.
Advantages
Energy-efficient compact design that takes little space with durable folding legs convenient for any travels
Distributes heat evenly with its high performing 145 square inches of cooking area
Easy clean up after your meal with its spill resistant drip tray and removable porcelain enamel coated grill grate
Disadvantages
The dripping tray has a very small capacity, so it fills up quickly
Heat consistency was hard to determine since it has no temperature gauge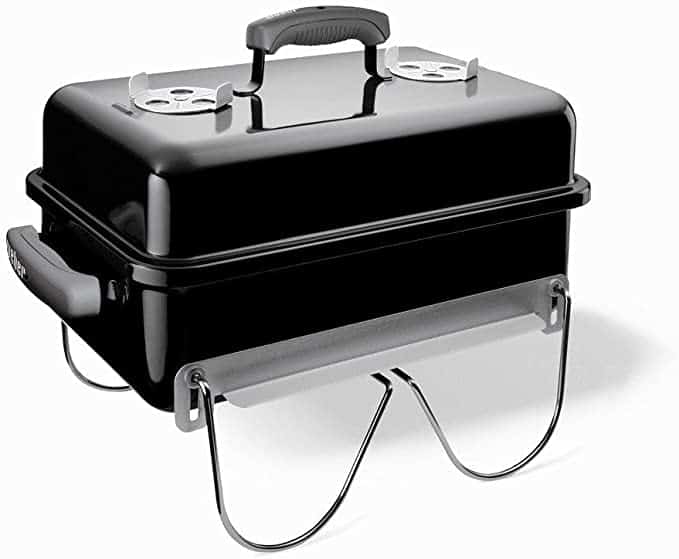 Weber Go-Anywhere Charcoal Grill
SPECIFICATIONS
Measures 12" X 21" x 14.5"
Weighs: 15lbs
160 Square inches of cooking area
BENEFITS
Will follow you anywhere
Easy to clean
Lots of vents
Measuring in at 12" X 21" x 14.5" is the 15 pound Weber Go-Anywhere that carries almost like a briefcase and is practical to bring pretty much anywhere and grill on any surface.
Normally I'm a bit anxious about grilling on the back of my truck but the curved aluminum legs were a lot taller and stable than I expected. Likewise, on grass, the rounded feet were perfectly stable.
The cooking area was also surprisingly spacious measuring 160 square inches, this is more than enough grilling area for 4 mid-sized steaks, or 6 of my large homemade burgers, or enough hot dogs to feed a whole baseball team.
This model features 4 vents, two on the lid across from the carrying handle and two on the bottom, which gives you a fair bit of adjustability with the temperature. Which you'll need because the Weber Go-Anywhere is great at heat retention.
Don't let its light weight fool you, the build quality is extremely high with a porcelain enameled body that's just heavy enough not to bounce around while on the road and one of the best lid locks I've ever seen that will keep the lid from falling off. Ever.
I'm not a big fan of the lid holder hook design though as I have many a horror story involving a dented grill lid, but that seems like more of a me problem.
Clean up is almost a cinch with easily removed grill grates that scrub down when you're done.
Advantages
This is a great model if you're slightly more serious about tailgate grilling. You can bring it anywhere and it doesn't break the bank.
I really can't say enough nice things about the lid latch, you will never have to worry about the lid popping off on the road.
Easy to scrub down, great at keeping the warmth in and yet cools down fast when you're done. It's just a great design.
Disadvantages
The lid handle could have been a bit higher, it's hot that close to the lid.
It's not very tall so I'd suggest investing in a simple aluminum table to put it on, your back will thank you.
The only way to remove the ashes is to scoop them from the bottom.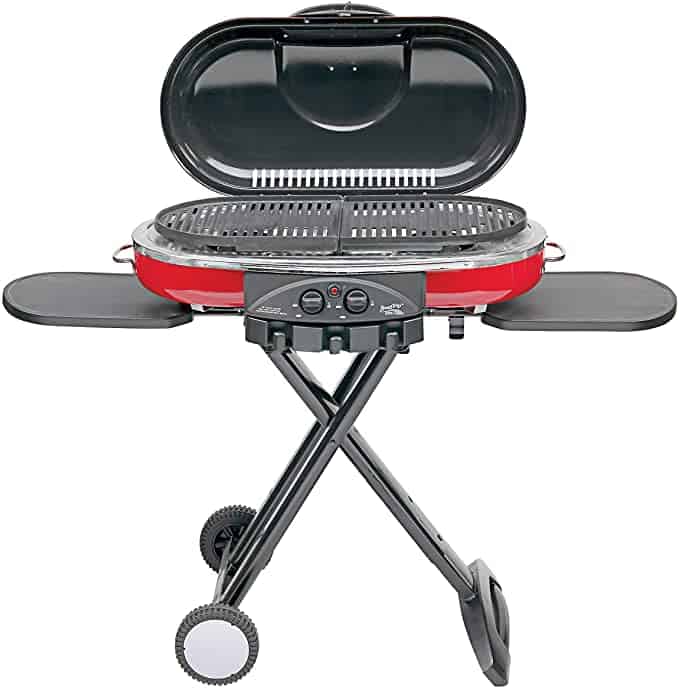 Coleman Roadtrip Propane Portable Grill LXE
SPECIFICATIONS
Cast iron cooking grate
20 000 BTUs of grilling power
Portable propane tailgate
BENEFITS
285 square inch cooking area
3 Year warranty
One of the largest cooking surfaces
When you think of a tailgating propane grill, you think of something that's light and portable. That is exactly what the Coleman Roadtrip is. It is small enough to be carried on your camping trips, or when you go picnicking. A portable grill, indeed.
Pick a spot for your tailgate party, pop it up, fire it the burner and you're good to go. Of course, with the included wheeled stand, you can also use this portable stand up liquid propane grill right in your backyard or on your apartment balcony. This model is easy to set up, despite its size.
You'll almost feel like you're getting a full-sized grill experience, with its two burner design. The cooking surface of Coleman Roadtrip is large enough to let you cook food for up to six people at a time, which is not bad at all. As one of the most versatile portable tailgate grill on the market, this surely got tons of features.
The cooking grids are made of porcelain-coated cast iron and they heat up fast. And the stainless steel construction of the Coleman Roadtrip makes the high-heat painted surface won't flake They can be swapped for griddle or stove grates, giving you the possibility to cook different kinds of food at once.
It even has two side shelves for putting your cooking utensils on or to use as extra prep space.
The temperature adjustment on this portable stand up propane grill is also pretty much easy. The cooking power comes from the two independent burners, which allows you to easily control the temperature.
The collapsible stand design is super convenient. It's great for when you're taking it out or for when you want to store it away so it won't be in your way if you're a little constrained for space. But we would not recommend this grill for travelers who has to travel long distances on foot or across rough terrain.
Although quite heavy, the Coleman Roadtrip portable liquid propane grill is small enough to be cleaned with ease.
Advantages
Easy fold and pop with a wheeled stand for mobility and storage.
Ample 285 square inches of cooking area on the grates to grill and precise control on grilling power with its dual burner design. It really is the propane tailgate grill you've always wanted.
Interchangeable two porcelain enameled cast iron grill grates and removable metal drip pan for easy cleaning
Disadvantages
It's unsuitable for rough, uneven surfaces or transport.
The lid clearance is not high so you may want to limit your food choice.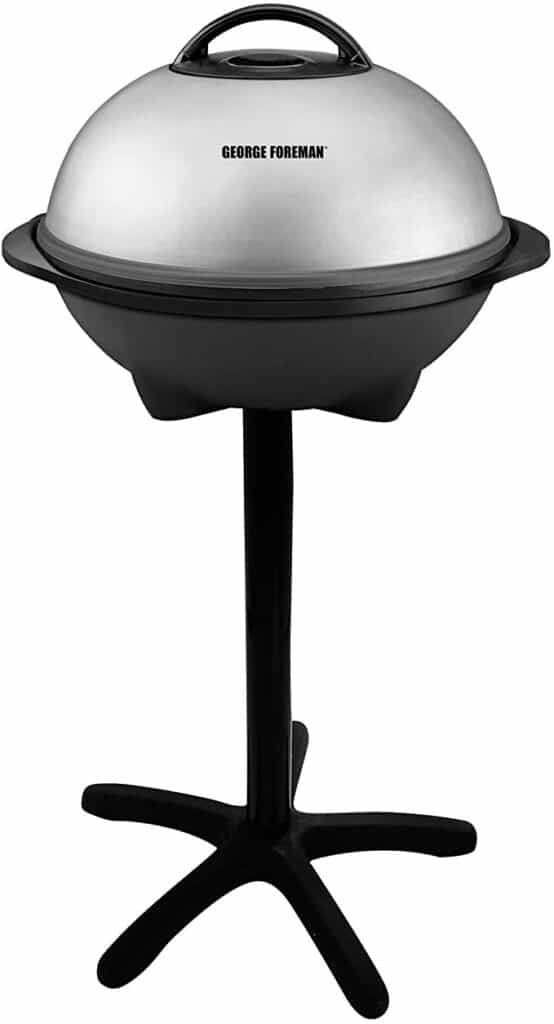 George Foreman GGR50B Electric Grill
SPECIFICATIONS
Built-in Temperature gauge
Removable grill plate and grill stand
Cast iron grill grate
BENEFITS
Easy temperature management
Apartment friendly
240 square inches of cooking area
This model blends convenience and function. Set up is fairly easy, and the build is very sturdy.
This stainless steel grill includes a removable grilling plate, a drip tray, a domed lid with an adjustable vent, a power cord that includes the temperature adjustment knob, and a stand.
The stand is made out of plastic and aluminum and the stabilizing legs all clip together, so you won't need any tools when putting it together. Since the stand is removable, you'll be able to take this grill from outside to the countertop in no time. Perfect portable grill for a tailgate party.
The George Foreman tailgating grill plate has a non-stick coating to make it durable, easy to clean, and lets you cook without using butter or oil.
With the five individual heat settings, you can cook using slow heat or you can set it to searing temperatures.
Thanks to the electronic controls, the temperature is perfectly maintained and the grill can self-regulate by turning the heating element on or off. There is no need for you to intervene, just set the temperature and let it do what it is intended to do.
You'll also get the versatility of outdoor and indoor grilling which it makes to the list of the best tailgate grill. You can use it outside with the included stand or put it on your counter, a picnic table, or another non-flammable surface. It won't be a problem, since the body of the grill itself has feet at the bottom. It's lightweight enough for you to take tailgating or on any excursions.
This electric portable grill is constructed with two materials, just like the stand. The quality of the materials seems appropriate for the price range, but that is not to say that they are of bad or cheap quality.
Advantages
Fully electric system with reliable thermostat for absolute ease. Since it has no burner and uses no fuel it's completely apartment friendly.
Perfect for indoor or outdoor use with its removable grill stand making it convertible.
Large circular grilling surface with fat-removing ribbed grill plate that is easy to clean up.
Disadvantages
The power cord could be a few feet longer
A little bit lightweight, so it could topple in heavy winds
To Sum It Up Your Best Tailgate Grill Choice is:
Now it's time to say what the Best Tailgating Grills to choose from in 2022 is.
We think the Weber 10020 Smokey Joe 14-Inch Portable Grill has deserved this honor. It's easy to assemble and easy to use.
Although it is good for cooking small portions, it also offers enhanced portability, which is a major concern in tailgating.
It's powerful and has the potential to be the soul of your tailgating parties. So, choose the right and appropriate grill and get ready for a great tailgating party! Until the next tailgate series.
Things to Consider While Choosing a Tailgate Grill
Looking for a great portable gas grill for tailgating? Wondering what the best tailgate grill is? What additional features are you looking for for the best grills? With so many options out there, it's easy to get confused. Here are some of the factors to take into consideration.
Type of Power Source for the Grill
This is the first consideration you may want to check with. When planning to do some tailgate grilling, you should always consider what type of fuel do you want to cook with. Whether you want a gas, charcoal, or electric, it will again depend on your comfort zone as both have their share of pros and cons.
A propane grill for instance will mean lugging around a 20-pound propane tank, whereas an electric grill means you have to make sure you will have ready access to electricity.
Frequency of Use
Whether it's for regular or occasional use, always consider how frequent your use of the grill will be. Generally, propane tailgate grill or and tailgate charcoal grills undergo more wear and tear because they are constantly being transported around, and therefore, it is good to go for high-quality products for frequent use.
Durability
When planning to get your tailgate grilling, you'll want to carefully examine the construction of the grill. Most tailgate grills are well-built so, in all probability, you are hardly required to compromise on the durability aspect while choosing the best grill for tailgating. Getting a good grill is always better than getting a cheap grill.
Temperature Control Facility
A temperature control facility is a must-have in the unit you choose. Not having one can create serious problems during tailgating.
BTUs:
You may want to consider how efficiently your grill creates heat? Higher numbers of BTUs mean the grill burns more fuel and produces more heat from its burners. Sounds like the best choice right? But this is not necessarily the case. The standard BTUs needed for a grill is between 75 and 100 BTUs for each square inches of cooking area. The weight of the grate and the construction of the grill, and how tight the lid fits is the key variance to see if it captures and retains the heat well.
Number of Burners and Grill Size
Whether you choose a single burner unit or one with two burners, it will depend on how many people you will usually be cooking for and how fast you want it to be done. Put simply, more food requires more square inches of cooking area. You may also want to consider the foods you're going to cook. Will you be cooking hot dogs, a whole turkey or a couple of skewers? Lastly, when choosing the best tailgating grill for you, you should consider if it will fit your lifting threshold and fit into your vehicle.
Tailgate Grill Frequently Asked Questions
What are the different types of grills for tailgating?
Choosing the right grill is one of the most important things to consider when tailgating. You can choose between Propane Gas Grill, Charcoal Grill, Pellet Grill, and Electric Grill.
What to bring to a tailgate party?
Tailgating can be absolutely amazing, just don't forget to bring your portable grill, foods, drinks, disposable eating utensils, cooler, tailgating games, rain gear or poncho, and mini first aid. If it's a season kick-off, you may want to bring your favorite team jersey.
What are the common tailgate foods to grill?
Try to come up with the foods that need minimal prep once you get to the tailgating site. Handheld food like Steaks, hamburgers, bacon, skewers, ribs, and hot dogs will make a lot of things easier.
How can we handle the foods safely?
The number one rule is to don't cross-contaminate foods. Always keep raw meat and poultry separate from anything by packaging securely. Always keep the food in a cooler. This holds bacteria at bay.
How long can one cylinder last on a propane gas grill?
Higher heat input will have a shorter runtime as compared to grills with lower BTUs. You can expect a one-pound propane tank to provide about one and a half hours to two hours of grilling time on high heat.
What are BTUs?
The British thermal unit or BTUs is widely used in the US for rating the energy of stoves, air conditioners, and grills. Higher BTUs heat up your grills quicker and makes grilling your food faster.