Looking for a Square Fire Pit?
A fire pit is a good focal point when it comes to landscaping. It is both visually and socially beneficial especially when you are going for that grand, elegant backyard design. The elegance provided by a fire pit is not only for style but also an ideal gathering place to share food, stories or a warm, cozy night by a roaring fire.
One vital step in selecting the ideal fire pit for your home is choosing its shape. You might not think it's a big deal but when it is significant when it comes to ensuring that your fire pit area is efficient and in line with your landscape's style and your home's architecture. Most people expect their firepits to be round but before you decide, you have to consider some points on why you might need to select a square shaped one.
A square fire pit will have sharp right angles and straight lines which will aesthetically look more modern or structured. It is usually formal looking when incorporated with a blend of bold materials into its design like brick or using stacked flagstone looks. There is no mistaking the high-end, classy feel of a square fire pit and here are a few more reasons why you should get one:
Square fire pits are ideal for neatly fitting into a smaller space or a square enclosure which is usually present in a modern home's design aesthetic.
Square fire pits are also the perfect complement if the backyard features a long seating wall or retaining wall which can easily accommodate a long arrangement of outdoor seating like sofa sets.
Square fire pits are also the perfect fit for yards with privacy walls and square or rectangular swimming pools which complements the strong geometry of a modern home's architecture.
Square fire pits make elegant and attractive statement piece that can also act as a divider between two spaces.
A square fire pit can come in different designs. You can opt to have an in-ground one built from scratch if you have the space but if you are working with limited yard space the above ground types like square fire pit table or rectangular fire pit bowl. To help you narrow your search for that ideal square fire pit, here are the top 10 best ones available online.
Best Table Type Square Fire Pit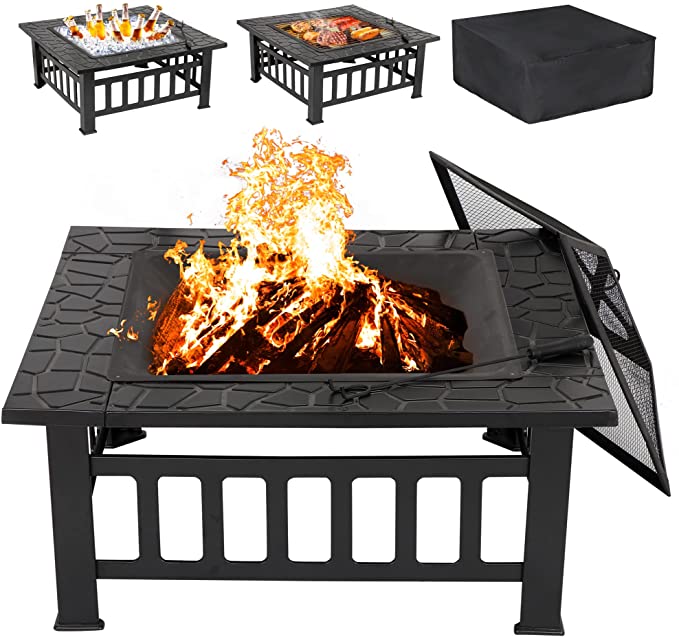 Dimension: 32 x 32 x 14 inches
Fuel Type: Wood
Material: Alloy Steel, Faux Stone, Iron, Metal, Stone
Finish Type: Steel, Stone
Customer Rating: 4.3/5; Amazon's Choice for square fire pit.
This LEMY outdoor fire pit table is constructed from durable steel structure with strong frame and steel mesh making it highly suitable for heating and grilling food in your backyard or courtyard. The artificial stone line design is decorative and elegantly charming which makes it a great statement piece in your patio as well. It features a deep bowl which can hold a lot of wood. It is also powder-coated to be rust resistant with 4 metal legs ensuring its sturdiness and stability for long time use.
Advantages
Comes with safety mesh to cover fire source and prevent sparks or debris from flying.
Easy to assemble and install with complete hardware accessories.
Comes with rain cover to protect from rain/water damage when not in use.
Equipped with BBQ grill, charcoal rack and poker.
Disadvantages
No auto-ignition and only uses wood/fire wood.
Some consumers found the bowl too shallow.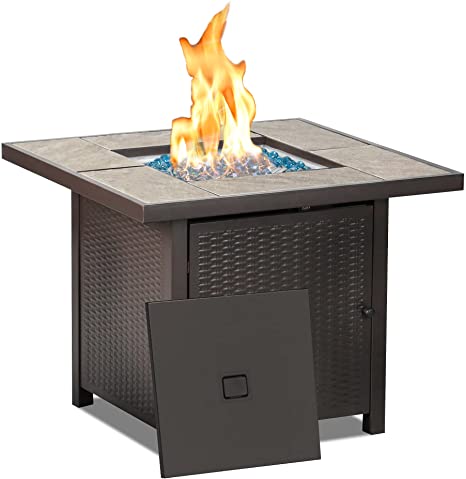 Dimension: 32 x 32 x 25 inches
Fuel Type: Liquified Petroleum Gas
Material: Alloy Steel, Stainless Steel
Finish Type: Stainless Steel
Customer Rating: 4.6/5
The Bali square fire pit table is both an elegant and efficient addition to your backyard, balcony, terrace, courtyard or patio. It can function as a cozy fire pit or a stylish table when the fire pit is not in use. It has 50,000 BTU stainless steel burner that can be hidden under advanced beautiful glass stones that bring out pretty flames, perfect for a relaxing night out. The table also comes with 6 pieces of table ceramic tiles that can be removed or replaced upon your taste. Piezo ignition and valve knob to ignite and adjust your flame is conveniently hidden to keep that simple yet elegant look.
Advantages
Fire pit table base has space to fit/hide a 20lb propane tank inside as well as easily pull it out if it needs replacing.
Comes with fire pit cover lid when not in use.
Assembled gas hose regulator.
Disadvantages
Does not come with protective cover when not in use.
Warmth ideal for small number of people.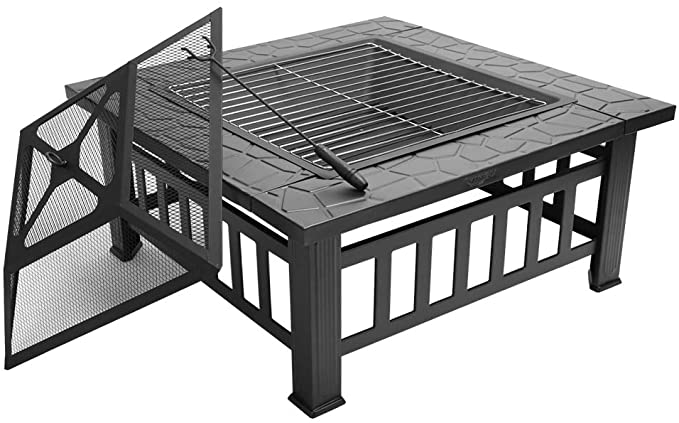 Dimension: 32 x 32 x 14.3 inches
Fuel Type: Wood
Material: Alloy Steel
Finish Type: Steel
Customer Rating: 4.5/5
The fire pit table from FCH is constructed with thick cast-iron steel that has a heat-resistant finish. It is designed to look simple but elegant which will easily fit into any design aesthetic you have for your backyard or patio. It is lightweight enough to be transported and taken with you to the beach or if you are go RVing. It can accommodate up to 6 adults around by the fire while sharing stories or toasting marshmallows. The log grate holds charcoal or firewood and is designed to have efficient air flow and circulation to keep the fire steadily burning.
Advantages
Equipped with mesh spark screen top to keep ashes and embers from flying out.
Comes with cover to protect from rain and poker which is designed to grasp and life mesh so it's easy and safe to add more wood without burning your hand.
Drain holes in the pit allows water to filter out the bottom.
Edge of the square shape is broad enough to put your drinks on.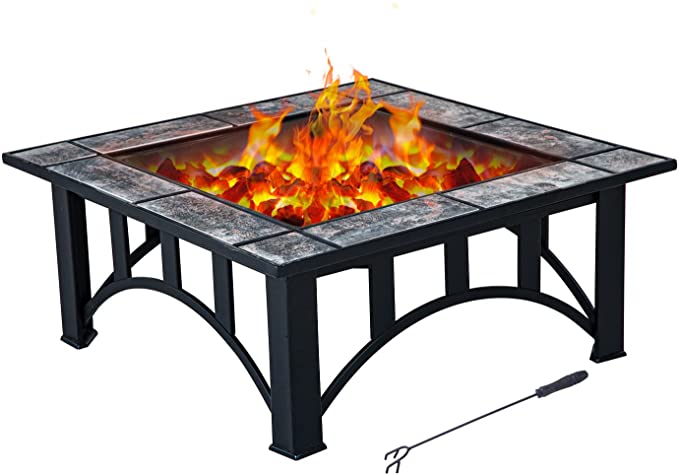 Dimension: 35 x 35 x 14 inches
Fuel Type: Wood
Material: Alloy Steel, Ceramic
Finish Type: Paint, Steel
Customer Rating: 4.5/5
Grand Patio's fire pit table is a wood burning pit that is made of high-quality steel making it a sturdy and stable structure. It is coated with heat-resistant paint and is anti-rust as well. You can be sure that this fire pit does not easily shake or tip over when used to entertain your guests in a backyard bonfire, garden party or just plain relaxing on a cozy evening. Since it uses wood, it can be used not just a fire pit but also for barbecue. If you are not in the mood for anything warm, you can use it as a table or an ice bucket! Fill it with ice cubes and keep your beer cool as you chill outdoors.
Advantages
Tile pattern table top is elegant and stylish.
Large wood burning capacity.
Easy to assemble without need to buy additional installation tools.
Equipped with spark screen for protection against flying embers and fire poker to tend the wood as it burns.
Disadvantages
Grill for barbecue not included.
Handle screws have issues with bolt holes.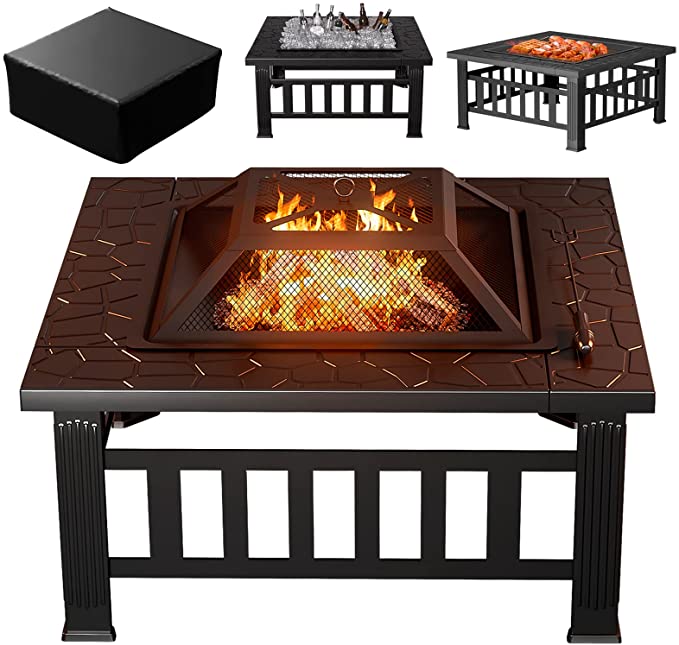 Dimension: 32 x 32 x 14.4 inches
Fuel Type: Wood
Material: Iron
Finish Type: Steel
Consumer Rating: 4.8/5
The Devoko outdoor table is popular probably because of its multifunctional feature. You can use this as a fire pit, large table, barbecue grill or an outdoor ice bucket making it the perfect accessory to decorate your backyard, poolside or patio. Its wide table top is fit enough to place your drinks and food, keeping it within reach. The heavy duty steel frame design is solid and durable with the fire pit treated with high temperature coating to make it rust resistant. It also comes with step-by-step installation instruction for easy assembly.
Advantages
Equipped with mesh spark lid to prevent ash, spark or embers from flying everywhere.
Comes with poker to safely remove lid and tend burning wood.
Bottom of brazier has drain holes to drain water and easily clean it.
Comes with grill grate, fire grate, square brazier, log poker and waterproof cover.
Disadvantages
Some screws were difficult to assemble.
Dimension: 35 x 35 x 13 inches
Fuel Type: Liquified Petroleum Gas
Material: Metal, Faux Stone, Stainless Steel
Finish Type: Painted
Customer Rating: 4.6/5
Cosiest fire pit table features an ultramodern grayish-green faux stone appearance which makes it a chic addition to your patio or backyard. Warm up with this centerpiece as you enjoy clean burning propane flame as the natural red lava stone pieces radiate warmth during your evening get-together. This square fire pit is built to last with its fire retardant magnesium oxide and stainless steel burner bowl. You can easily light up that fire with a push of the button and adjust the flame's intensity to your liking through its adjustment knob.
Advantages
Large table surface to set your wine glass, brandy snifters or keep coffee mugs warm.
Comes with metal lid to cover when not in use for fire and can work as a table.
Equipped with waterproof cover to keep it clean and dry when not in use.
Comes with wind guard to keep the flames steady.
Side handles for easy grip when being moved.
Disadvantages
Propane gas tank has to be placed separately. No tank storage.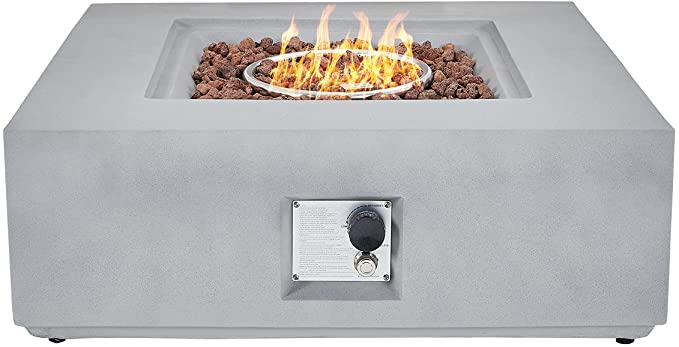 Dimension: 35 x 35 x 12.8 inches
Fuel Type: Natural Gas
Material: Magnesium Oxide Composite
Finish Type: Stainless Steel
Customer Ratings: 5/5
The UPHA fire table is made out of sturdy, flame-retardant magnesium oxide and stainless steel burner bowl which is safe and reliable for outdoor use. It uses propane gas so you can expect a clean and stable combustion which means warmth without the extra smoke. It offers an elegant, unique, classic concrete style and has built-in side handles so you can easily move it around to fit whatever setting you want. It uses stainless steel burner which you can set efficiently on the bed of lava rocks and start enjoying a cozy fire.
Advantages
Auto-ignition and adjustable knobs to easily ignite and adjust your fire's height.
Equipped with weather-resistant cover which protects the fire pit when not in use.
Comes with touch up pen in case the surface is scratched so you can repair worn out parts and keep the table looking fresh and beautiful.
Disadvantages
Gas tank is placed externally since it has insufficient space inside the fire pit. You need to buy a separate tank table to hide the propane tank.
Best Bowl Type Square Fire Pit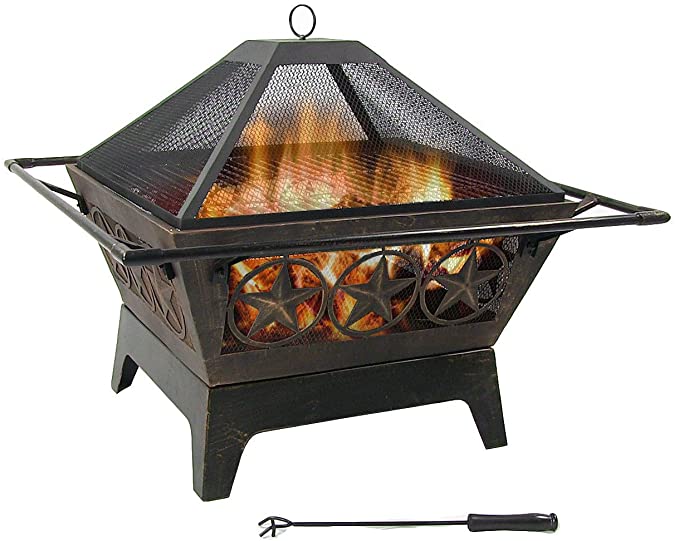 Dimension: 32 x 32 x 26 inches
Fuel Type: Wood
Material: Alloy Steel
Finish Type: High-Temperature Paint
Customer Rating: 4.5/5
The Sunnydaze square fire pit has a steel fire bowl that is 9.5" deep and is made from heavy-duty thick steel which is durable than other iron or metal fire pits. The bronze-colored high temperature paint makes it heat and rust resistant making it the perfect camping, outdoor cooking or grilling companion. Its elegant, 3-star pattern design also makes it a good eye catching piece for your backyard or patio. The steel mesh screen on the walls allows you and your guest to view the fire in multiple angles as well as provide enough ventilation for consistent fire.
Advantages
Cooking grill has 40lbs limit and can be folded in half.
Rail feature makes it easy to move and clean.
Includes a folding square cooking grill grate, spark screen and poker tool
Built-in wood grate which elevates wood for better airflow.
Disadvantages
Wood poker is too small.
Paint comes off when left unprotected outdoors.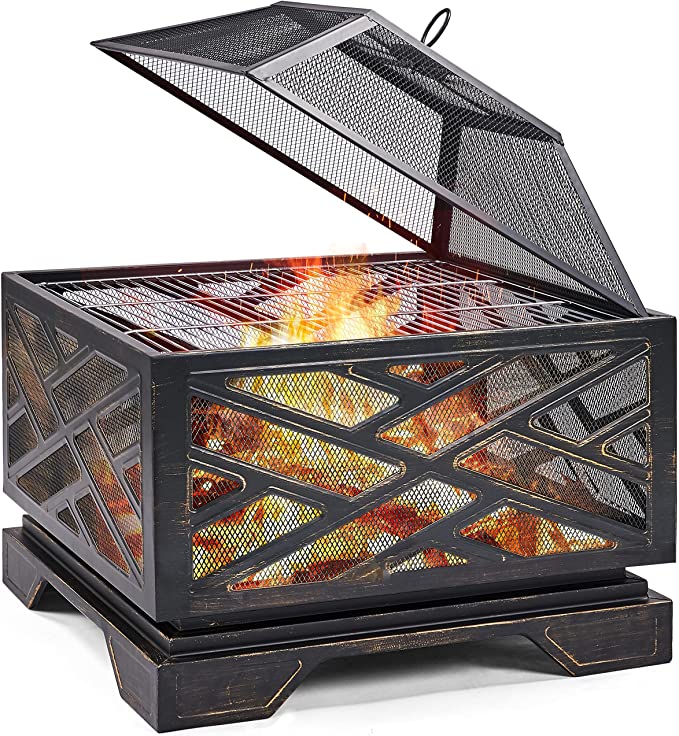 Dimension: 25.98 x 25.98 x 25.59 inches
Fuel Type: Wood
Material: Alloy Steel
Finish Type: Steel
Customer Rating: 4.6/5
The Yaheetech square fire pit has a12" deep wood-burning fire bowl which can provide enough heat for warmth as well as some outdoor cooking. The deep bowl offers ample space for plenty of firewood making it easy to light up as well. It has 8 air holes at the bottom ensuring good air flow to help maintain the fire while the mesh walls ensure sufficient oxygen content for consistent burning. The lightweight fire pit is easy to assemble and can easily be transported to a campsite, the beach or simply repositioned around the backyard or patio.
Advantages
Equipped with a spark screen for protection and fire poker to handle burning wood.
Comes with chrome-plated cooking grate for your barbecuing pleasure.
Easy to set ups (it only has 5 parts) and has all hardware, tools and instruction manual included.
Solid leg support to prevent tipping or shaking.
Disadvantages
Prone to rust quickly.
Does not include protective cover.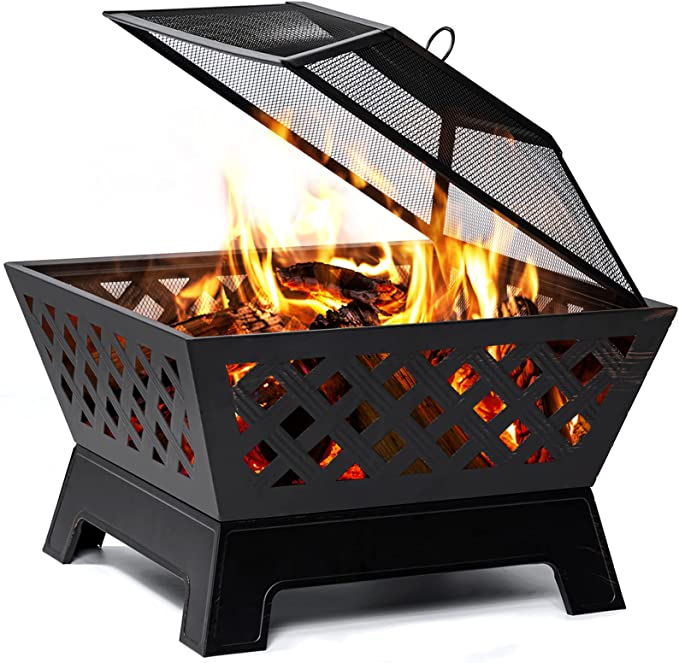 Dimension: 26 x 26 x 24 inches
Fuel Type: Wood
Material: Stainless Steel
Finish Type: Painted
Customer Rating: 5/5
This outdoor square fire pit from Singlyfire has a 9.5 inch deep fire bowl which is ideal to hold ample space for firewood perfect to be used as a fire pit, barbecue grill, bonfire for your backyard, camping or outdoor entertaining events. The frame is made out of heavy-duty steel so it does not wobble or topple easily and durable enough for long use. The mesh crucible are treated with high temperature resistant coating to make it rust and weather resistant. It also has 9 hidden air holes covered with raised ledges to promote airflow to keep your flame stable and constant. Can keep 4-6 people warm and cozy.
Advantages
Equipped with ash plate with removable and easy-clean heat shield at the bottom so the ash will not fall directly on the grown to avoid fires and protect your lawn.
Has water drainage holes to keep water out and easily clean the fire pit.
Includes spark screen to protect from flying ash and embers as well as fire poker to safely move wood.
Heat-resistant basin can withstand temperatures up to 930 degrees Fahrenheit.
Disadvantages
Grill grate is not included.
No protective cover included.
What to Consider When Choosing a Square Fire Pit?
Design/Functionality- Consider what you want from your square fire pit before picking one. Do you want the type that can double as a table but does not grill or do you want the bowl type that you can barbecue over but cannot use as a table? You should also think about whether you need it more for its function or for aesthetic purpose. Would you benefit more from a multifunctional square fire pit or do you just need a simple one?
Fuel Type – Consider if you want to deal with wood and ash or a clean, smokeless and ash free fire. If you want to be able to cook or grill using your fire pit, then wood or charcoal would be more ideal since the temperature can reach the ideal cooking degree. However, if you don't want the hassle of having to start a fire with wood or kindle and you are just looking for a warm and cozy fire for entertaining, then the gas type fire pit should be just perfect.
Size – The size of your square fire pit is also something you should consider. Consider how much space you have in your area that will accommodate your fire pit as well as the number people that can gather around it. Also, do you want a square fire pit that you can conveniently transport or are you going for a more permanent fixture?
Material – Always consider the construction material used to build your square fire pit. Opt for materials that are sturdy, strong and not easily corroded by the elements. Of course, its resistance to high temperature should also be considered since you will want a fire pit that can last for a long time.
Accessories- It is important that when you purchase a square fire pit, it comes with the necessary accessories to make installation and use seamless and easy. Fire pits that come with its own protective cover is also a must so that you can be sure your equipment will not suffer from the outside factors.
There is a certain advantage in having a square fire pit since it can have a more uniform distribution of heat into its surroundings however, square fire pits tend to be highly more efficient in terms of space which makes them suitable for smaller yards and quaint patios. Large furniture can be difficult to arrange around a circular fire pit while a simple square or rectangle shape easily accommodates moveable outdoor furniture which can seat people in a straight retaining or seating wall. It all boils down to what your space actually can accommodate and how much your architecture and design aesthetics weigh in choosing what you truly need.