No matter how much you love your patio grill, one thing is for sure: there are times when you're away from your home and wish you could have it right there with you. Well, with these best small gas grills, you can.
These grills are small and light enough for you to take them with you anywhere. Camping, tailgating, anything. Take it with you on your fishing trip and you can cook your catch right there.
Whether you already own a large grill, or just want to purchase your first grill, a small grill might be something to look into. Let's take a look at the complete reviews of some of these.
Is a Small Gas Grill as Smart Investment?
A full-sized grill can be an oasis of features. If you're a serious griller, you might feel that you can only get a good grilling out of one of those full-sized grills. But that might not be true.
Small propane grills have become so rich in features that they can almost replace larger grills. And there's even a plus. Something you can do with a tiny grill that you can't do with a large one: take it with you anywhere.
Light Weight and Portability
Full-sized grills are usually heavy, so you wouldn't think of loading one up in your car and take it on a camping trip. Maybe it wouldn't even fit your car, unless you drive a large pick-up truck.
And even then, carrying all that weight might be cumbersome, at the very least. Also, you might have just a small backyard with your studio apartment and not too much of space to set up an elaborate barbecue.
That's where mini gas grills come in. They're large enough for use in your backyard, but small enough that you can actually carry them around.
Standard Features and Build Quality
Unlike the common misconception that being smaller in size implies less potential, compact gas grills can actually be as powerful as the larger ones. And they don't really compromise in features or build quality.
Cost-Effective
Besides, small bbq grills are never as costly as larger grills, they're much cheaper. So, they're perfect if you're just curious about grilling and are not sure if it's really the thing for you, or if you just don't want to spend too much money.
Reviews of the Best Small Gas Grills for 2022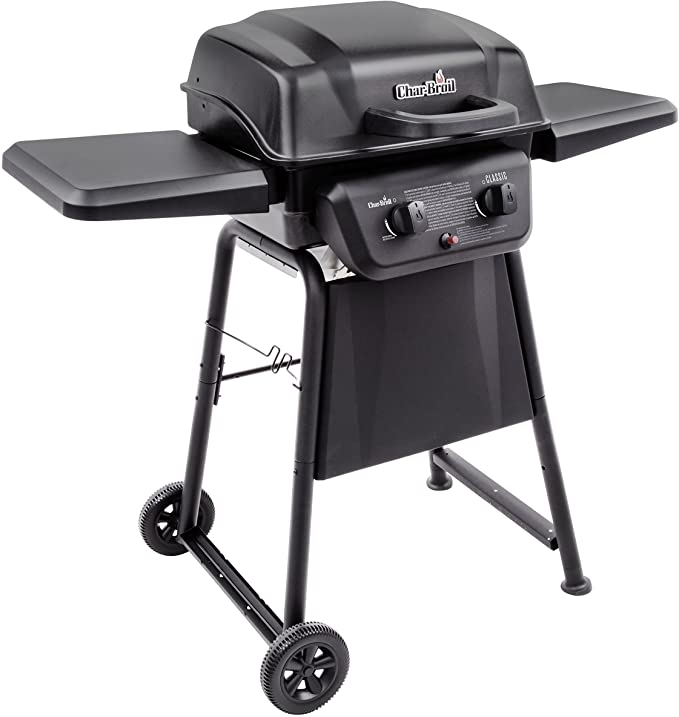 Char-Broil Classic 280 2-Burner Liquid Propane Gas Grill
This one comes from the reputed brand Char-Broil, a company that has been making grills and burners for seventy years. They do make good grills and this one is light enough to be easily portable.
We think this is a great mid-size gas grill. It is stylish and very solidly built and has two stainless steel in-line burners, which provide great cooking performance.
The lid and grates are made of steel and are porcelain coated, which makes them durable and easy to clean and also prevents food from sticking.
The main surface provides ample cooking space. It also has two metallic side shelves that give you plenty of space for preparation or for keeping your cooking utensils.
Two out of its four feet have 6-inch wheels for easy transportation, and the other two are fixed, for stability.
This is a fine grill at a very reasonable price, with the added benefit of portability. The only problem while transporting the unit is that the side shelves do not fold.
Overall, it's great as a starter grill, in case you're not sure if you will really use a gas grill that often or perhaps want to try one before investing in a more expensive model.
Advantages
Good build quality
Uncomplicated flame control
Very easy to assemble
Disadvantages
It does not come with a cover
A thermometer is not included
The side shelves do not fold
Coleman Road Trip Propane Portable Grill LXE
When you think of something small, you think of something that's light and portable and that is exactly what this Coleman unit is. A one is tiny enough to become top-rated small camping grill that you will take on your camping trips or when you go picnicking and the name is pretty much suggestive of its USP too.
But you can also use this grill right in your backyard or in your apartment balcony. So, really, we're looking at quite a versatile little grill out there.
You'll almost feel like you're grilling in a full-sized grill when you use the Coleman. The cooking surface is large enough for ten burger patties, so you can cook dinner for up to six people at a time. Not bad.
The cooking grids are made of porcelain coated cast iron, and they heat up really fast. They can be swapped for griddle or stove grates, giving you the possibility to cook different kinds of food at once.
It even has two side shelves for putting your cooking utensils or to use as cutting boards. The grill gets its cooking power from the two independent burners and being independent, they give you the chance to easily control the temperature.
The foldable design of the unit is super convenient. It's great for when you're taking it camping or for when you want to store it away, ensuring it won't be in your way if you're a little constrained for space.
Since the grids are coated with porcelain, cleaning them is fairly easy. In fact, since the grill is so small, cleaning the whole thing should not take too much time.
Advantages
Stand with wheels included
Can be folded for transport or storage
Plenty of space for cooking and preparation
Disadvantages
It tends to rattle when being transported
It is a little on the heavy side
Char-Broil Portable 240 Liquid Propane Gas Grill
Another great grill for grillers on the go. This one again comes from Char-Broil, so you know you're getting a quality product built with materials of top quality, and with all the knowledge and experience that this company has in manufacturing these units.
This grill features a design that favors function rather than style. And that is fine, because it is strong and feels well-built and sturdy and will surely have no trouble to take some roughness out on these trips with you.
The lid is built in painted porcelain, and it has sturdy steel legs which provide a lot of stability. These legs cannot be folded or removed, however, so whenever you're transporting it, the legs will be sticking out, which also means it takes more storage space.
The cooking surface, with a porcelain coated wire grate, is large enough for eight burgers, or two to three steaks. You and your family will not go hungry in those camping trips and you'll be able to monitor the temperature at all times with the included thermometer.
Because of its size, the Char-Broil can only feature one single burner, but the lid has some depth, meaning that the heat will flow inside and you should have no problem cooking your food.
All in all, this grill has good quality, is easy to use and campers and hikers will appreciate its rugged design too.
Advantages
The flame is controlled by an easy-to-use knob
It has a temperature gauge mounted on the lid
The temperatures do not get exceedingly high
Disadvantages
The carrying handle is on the larger side
The lid lacks latches to secure it while it's being transported
Non-foldable design consuming more space
Fuego Element F21C Carbon Steel Gas Grill
Okay, this might not be a grill to take in all those camping trips. But it has such a small and interesting design, that we wanted to include it here.
The Fuego Element model will definitely stand out during all those BBQs with friends and family, and it will look great in your backyard or deck.
The grill looks and is very compact, but don't let it fool you. Even with its small footprint, it has a large cooking surface with a porcelain enameled cast iron cooking grate.
With its powerful burners, this grill can reach high temperatures in no time. And its design is not just about how it looks, it's also about providing balanced heat when cooking through the use of two circular burner and semi-spherical cover, which allows the heat to flow evenly inside.
Since it's very compact, it's also very light, and it can be moved around easily using the included wheels, which also lock when you need to provide stability.
Its small size also makes it the perfect grill if you are a little bit space-constrained: if you have a small patio or for use on a small balcony. The lack of cover is, however, a real problem that might make it a little vulnerable when being carried outdoors.
Advantages
Unique, stylish design
It does not take up much space
Easy assembly
Disadvantages
Does not include a cover
The lid handle gets very hot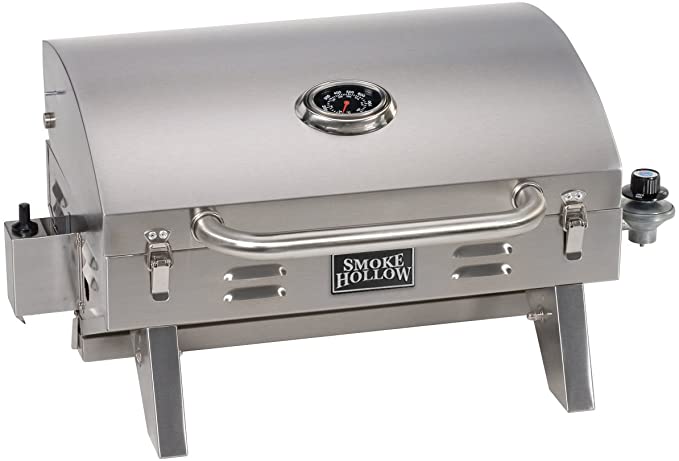 Smoke Hollow 205 Stainless Steel Table Top Propane Gas Grill
This is an impressive, small propane grill, definitely built for grillers on the go. It's ultra-light, ultra-portable and can be used in any situation. It's perfect for tailgating, picnics, boating, camping and hiking trips.
It's build in stainless steel, so it's meant to be used outdoor and to stand a little bit of rough treatment. It features a single burner, which is also made of stainless steel, but the way it's designed allows for the heat to be spread in a way that it works as if there were two burners.
This grill is a great choice if you're looking for a grill with a solid built that will have no problems working well anywhere you take it.
We must say that the overall quality of this grill is far better that what you see in grills of this price range. So, you'll be spending your dollars well here.
It even features a warming tray, which is definitely not something you see every day in grills of this size. So, if you're someone who likes to, or would like to grill, during all those outings, this grill is something you might want to give a try.
Advantages
Includes a lid lock, for easy transportation
Durable, sturdy construction
Thermometer included
Disadvantages
No temperature zone regulation
Surface temperature can get high
Final thoughts
Now that we've seen the best rated small gas grills for 2022, it's time to make a choice.
Ours is the Char-Broil Classic. We think it's just great. It perfectly blends portability and the ability to be used as a backyard grill and incorporates some of the features and design language of larger grills, such as the side shelves and independent burners.
This is a great grill that can really be used anywhere, from your backyard to camping trips, to the beach. Overall, your choice should be based on your specific requirements from the grill so that you lay your hands upon one that fulfills your criteria in all sense.
If you haven't felt satisfied with these options? Don't worry, we have a list of best gas grills for you, check it out and grab one!