It does not matter if there is a special holiday or you are having a simple dinner at home, the presence of roasted chicken is always an exciting treat for the senses. There is just something wonderfully delicious about chicken or turkey which has been slowly roasted in a rotisserie oven. The crispy skin and rich flavor always seem to turn out juicier, more appealing and healthier!
There are a lot of stores that sell rotisserie-cooked chicken but having one in the comforts of your own home has its advantages.
Easier and Efficient Cooking – You can simply set up your chicken and the oven does all of the work for you. It bastes as it rotates the chicken, evenly cooking it as well as keeping all the juices inside. It is also great for cooking large portions so you can feed a lot of people with one go.
Energy Efficient – Rotisseries saves more energy than most conventional oven because of its smaller size. It heats up faster so you can prepare your meat in a quicker time for lesser money spent on the electric bill.
Healthier Cooking Method – Ovens such as rotisserie tend to cook less greasy food and they significantly reduce fat content which makes it a healthier option compared to other methods of cooking.
All in all, it is very wise to invest in a good rotisserie oven especially if you constantly host a huge gathering with family and friends. It alleviates the stress from constantly watching if your poultry is evenly roasting as well frees up your conventional oven to prep and cook for other meals.
But of course, there are countless of rotisserie ovens that you can choose from and in order for you to pick the best options for you, here are the top 10 rotisserie ovens available on Amazon.
The Instant Pot is the #1 best seller in toaster ovens in Amazon. It is constructed from stainless steel and a pretty compact size that can easily fit your kitchen countertops. Its dimensions are 13.23 x 13.23 x 14.37 inches and can hold enough food to cook for your family. Plus you can expect even and crispy textures with 95% less oil. Instant Pot has one touch smart programs to easily customize your preferred function like air fry, broil, bake, roast, reheat, dehydrate and of course, rotisserie.
Advantages
Accessories included: Rotisserie spit and forks, rotisserie fetch tool, rotisserie basket, drip pan and 2 cooking pans.
Free Instant Pot app (iOS and Android) to provide recipes for your favorite meals.
Top heating element with fan optimizes cooking and baking.
Easily adjustable temperature from 95-400 degrees Fahrenheit.
Fast pre-heating
Disadvantages
Emits a chemical smell during first use.
Makes a loud sound when using.
Cannot fit pizza larger than 4".
You can expect top chef quality cooking from Emeril's 9 in 1 air fryer with its 360° all around cooking with 5 all-over heating elements. This means evenly cooked meals on all sides! It has an XL capacity of 930 Cubic inches with a dimension of 19" x 15" x 9.5" and can actually roast a whole turkey. It is made from brushed stainless steel and can slow cook up to 10 hours. It can also cook 40% faster than regular ovens. The pro-grade rotisserie built in guarantees healthier and juicier chicken or turkey any time!
Advantages
Extra versatile LCD digital display.
Memory feature to remember your last pre-set cooking time and temperature.
Accessories included: crisper tray, rotisserie spit, pizza rack, baking pan, drip tray.
Includes a cook book with recipes written by world-renowned chef Emeril himself.
Disadvantages
Outside of the oven gets too hot.
Not a good fryer.
Rotisserie capacity is smaller than it is advertised.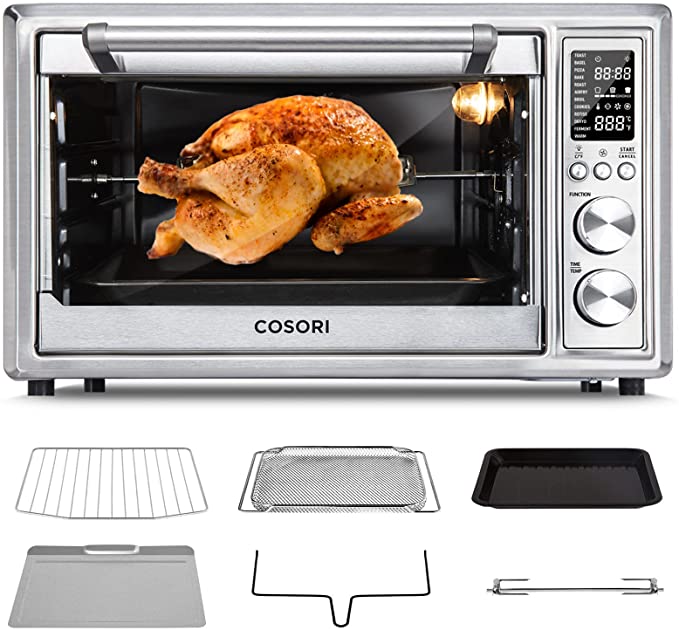 The COSORI oven helps reduce your cooking time with its smart air frying toaster oven. Its convection fan promotes fast and even cooking which is perfect for a rotisserie chicken recipe. It can cook for 5-7 people with its 32-quart/30-litre air fryer toaster oven and can fit a 13-inch pizza and up to 6 slices of bread as well. It can also be used to broil, roast, dehydrate, ferment etc… It features 3 rack positions with rapid-heat circulation of 360 degrees as well as a high precision LED display.
Advantages
Accessories included: crumb tray, fry basket, food tray, wire rack and rotisserie fork set.
Includes 100 recipe book.
Cooks 30% faster.
Large capacity but takes up little room on your countertop.
Constructed from durable stainless steel and easy to clean.
Features 2 speed fan and 5 heating elements.
Disadvantages
Glass door and top of the oven gets extremely hot.
Greasy mess when cooking.
The Hamilton Beach convection countertop toaster oven is Amazon's best choice for rotisserie ovens. It comes in two colors (black and stainless) and is constructed from stainless steel. It is small but has an extra-large capacity that can fit two 12" pizzas, cake pans and casseroles. Its rotisserie revolves while self-basting to lock in food's flavor and juices and can fit a 5lb chicken.
Advantages
Accessories included: Removable drip tray, rotisserie skewer & lifter, 2 oven racks, broiler rack and 2 baking pans.
Convection bakes faster and more evenly.
Bake and broil settings has 2-hour auto shutoff for safety.
Contoured knobs make it easier and safer to maneuver.
Disadvantages
Outside of the oven gets extremely hot.
Lacks interior light.
Preheating takes time.
This rotisserie is Amazon's Choice in Ronco ovens. This classic rotisserie is large enough to cook up to 2 whole chickens at the same time or a 12lb turkey but still compact to not look bulky or take up too much kitchen space. This rotisserie oven is pretty easy to use with its three simple digital control settings which are Roast, Sear and No Heat Rotation. It guarantees to brown, crisps and cook food evenly with its rotation speed and perfect preset temperature.
Advantages
Perfect for Keto and low carb meals.
Features auto shutoff with 3 hour timer.
Accessories included: multi-purpose basket, rotisserie spit, carving platform, removable drip tray, oven gloves and food ties.
Interior of oven surface is simple to clean up with a damp cloth.
Removable glass door and drip pan is dishwasher safe.
Disadvantages
Rods for rotisserie is not as sturdy as it looks.
Produces a lot of smoke when cooking.
Spits rotate slower than usual.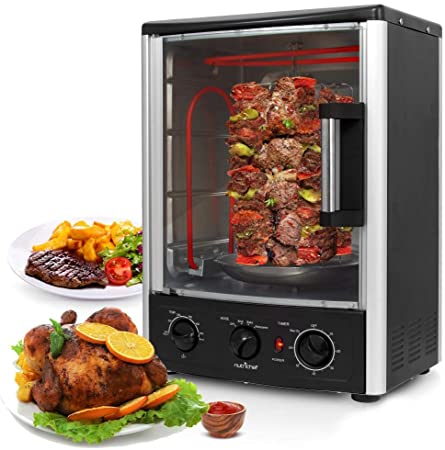 The NUTRICHEF rotisserie is Amazon's Choice for its innovative style and design. The unit dimensions are 13.4" x 12.2" x 18.9 with a 24+ quarts capacity. It is versatile to cook or prep any meal with its multi-function ability like baking, roasting, broiling and of course, rotisserie cooking. It also has a rotating kebob rack that ensures tasty results with any meat you want to skewer and cook. The size and its 10.59lbs weight makes it fit on top of available counter space without being too bulky.
Advantages
Heat-resistant tempered glass door.
Includes accessories like Kebob skewer rack, bake pan and grill racks.
Stain resistant and it's easy to clean.
Energy efficient and time saving cooking.
Disadvantages
Only holds 110V.
Front heavy and can fall on you if not securely placed on surface.
Rotisserie spit rod might be too short for some.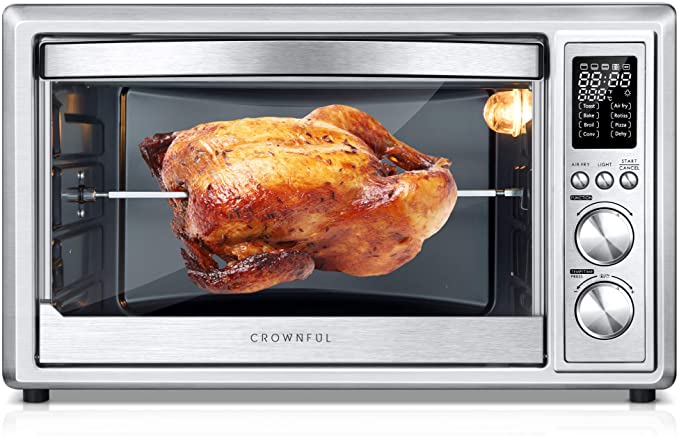 The multifunctional air fryer oven from Crownful boasts of 8 presets for different types of cooking and recipes. Enjoy toasting, air frying, baking etc… and most especially, rotisserie roasting! This oven adopts uses 360 degrees hot air circulation and requires little to no oil use. It has an extra-large 32 quart capacity and has enough space for a 5.5lbs whole chicken. You can confidently make large batches of food for family and friends. Its dimensions are 20.08 x 15.16 x 12.16 inches and weighs 19lbs.
Advantages
Accessories are non-stick and easy to clean.
Built-in LED display that shows different setting for time, temp and cooking mode.
Includes accessories: Wire rack, food tray, rotisserie fetch tool, rotisserie fork, air fryer basket, crumb tray and tray handle.
Temperature: 150-450 degrees F
Disadvantages
Produces too much smoke.
Top and back gets extremely hot.
Makes loud noise when used.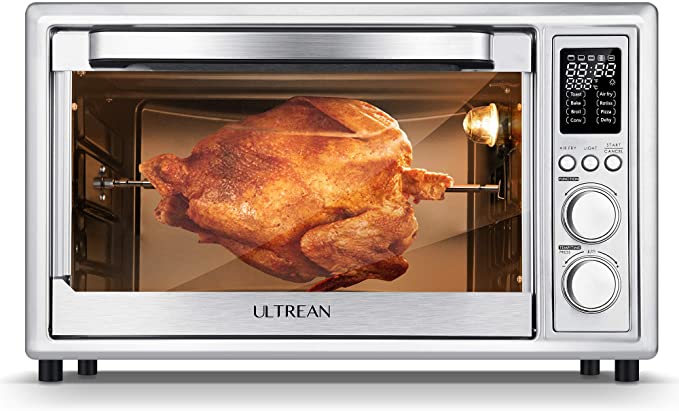 If you are looking for a large air fryer oven with rotisserie the one from ULTREAN is Amazon's choice. Its dimensions are 20.08 x 15.16 x 12.13 inches and weighs 26.4lbs so it does not take up too much countertop space. It has 8 preset functions which allows you to cook different meals with a simple twist of a knob. It has a large 30L capacity which is perfect for family feasts. The spacious space for its rotisserie oven can hold up to 5.5lbs of chicken.
Advantages
Large LED display easily lets you time and set up your oven to desired temperature and function.
Utrean air fryer reduces 75% less oil which means crispy chicken skin but healthier.
Built-in interior light for better observation of the whole cooking progress.
Accessories: grill rack, tray handle, food tray, spit handle, air fry basket, rotisserie fork, crumb tray and a bonus 50 recipe book.
Easy to clean and dishwasher safe accessories.
Disadvantages
Preheating takes too long.
Steel frame is too thin and can get extremely hot.
Elite Gourmet's extra-capacity oven is stylish and has a 24.5 quart capacity that can cook family-sized meals perfectly. It can bake, grill, roast, toast, air fry, dehydrate and perform rotisserie functions with a high-power convection fan that heats up to 140-450 degrees. You can also fit 12" pizzas in its XL cavity. It also features a 60-minute timer that automatically shuts off at the end of every cooking cycle.
Advantages
Accessories included: non-stick coated bake pan, air fry basket, removable wire rack and rotisserie spit.
Dishwasher safe accessories for easy clean up.
1 year limited warranty.
2 fan speeds and has an oven light.
Interior can be easily cleaned with damp soft cloth.
Disadvantages
Glass has tendency to crack under intense heat.
Air fryer fan reported missing or not working by some consumers.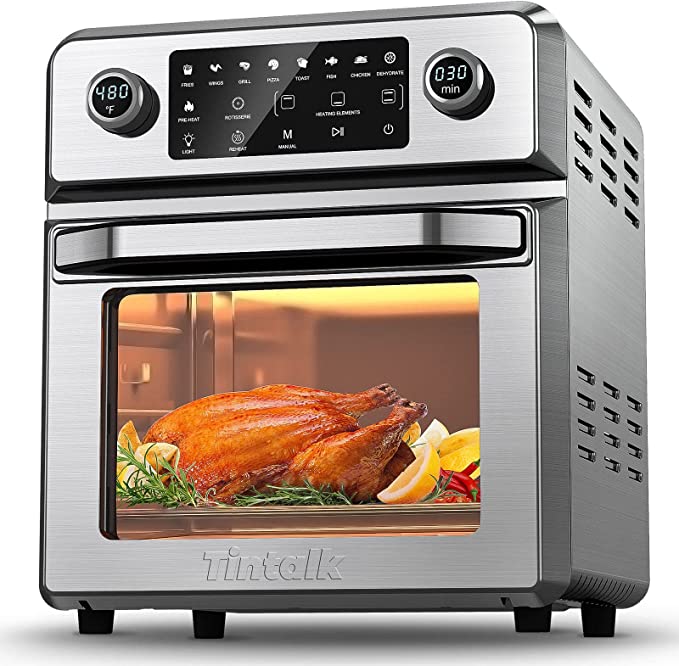 The Tintalk air fryer and rotisserie oven is constructed with pro-grade stainless steel interior and has 304 food grade stainless steel instead of tin plating which ensures the safety of your food. It has a 16 quart capacity oven which can prepare a meal for up to 8 people. It has 3 separate tray tiers for multi-function capability. It combines 360 degrees hot air circulation with temperatures up to 480 degrees Fahrenheit ensuring easy and even cooking. The sensitive touchscreen and intuitive icons has 10 smart presets at your fingertips which minimizes the guesswork and making this oven a beginner-friendly kitchen companion.
Advantages
NTC temp probe and PID chip algorithm ensures smart temperature control system and stable cooking process by 100 times per second.
3 customized heating modes.
Accessories include: drip tray, grill tray, rotisserie forks, mesh basket, wire rack, removal tool, rolling cage, tong and a glove.
Includes 50+ recipes book for more cooking ideas.
2 year warranty and lifetime technical support.
Disadvantages
Cannot bake without convection.
Inner glass prone to shattering.
Manual needs English version.
What to Consider When Choosing the Right Rotisserie Oven for You?
Size– Always consider your counter space before you choose a rotisserie oven for your kitchen. You have to remember that you should be able to fit a whole chicken or at least a medium sized turkey in your oven so, make sure that your equipment has a steady and sturdy space to sit on. If you're a little tight on space, you can actually opt for a vertical rotisserie oven but since it lets the juices and oil drip towards the drip tray, your meat might come out a little dryer as compared to the horizontal oven.
Non-Stick and Easy to Clean – You want your equipment to provide convenience and not extra workload so, choose an oven that can be easily wiped down with a damp washcloth. The accessories such as the trays and spits should be non-stick so that you can easily stick it into the dishwasher with ease.
Temperature Adjustment – Usually the temperature adjustment feature can be found in high-end rotisserie models. If you can afford one, it is better to get an equipment where in you can have control over your cooking temp. This allows you to ensure better food quality and a result that is up to your taste.
Function- Although you might have just rotisserie cooking in mind, an oven with additional features is a good idea since it can literally do a lot of recipes in one single unit. A versatile oven will always have more benefits. Also, you have to make sure that your rotisserie oven has display windows and oven light so you can check your food as it cooks.
Durability- Obviously, you will want an equipment that is built to last and not disintegrate after just a few uses. Think of how often you will be using the unit and then invest in a durable model out of stainless steel. Also, check that the rotisserie spits and forks are sturdy and strong enough to carry the weight of the meat you plan to roast. Durable materials are a must-have!
Price- If you are on a tighter budget and don't plan on roasting chicken or turkey often, you can opt for a toaster oven with a rotisserie function. However, if you are thinking of using your rotisserie oven often, then opt for a commercial grade unit that can hold the load and the frequency of usage. It can be pricey but will definitely suit your needs.
Always keep in mind that getting a rotisserie oven is an investment and at the end of the day, the quality of your meal is all that would matter. It is always a good idea to enjoy your food not just when you are feasting over it but also while preparing and cooking it. The ease, efficiency and convenience provided by a rotisserie oven should be found in your kitchen especially when you are fond of entertaining and feeding a large group of family and friends.