Having troubles controlling your temperatures while grilling? Do you have a hard time trying to read your current BBQ thermometer? Want to be able to relax away from the grill for a change and concentrate on other things? Or maybe you want to just be able to cook at night time without having to have a flashlight. Well look no further because what you need is the best wireless meat thermometer.
Just attach the thermometer to the grill and you will be able to control everything from your phone or a remote using bluetooth or an application that you download.
Let's take a look at what options there are and see what is the best to purchase.
Reviews of the Best Wireless Meat Thermometers for 2022
ThermoPro TP20 Wireless Meat Thermometer
This is one serious WiFi meat thermometer intended for serious chefs. The probe wires are rated for temperatures of up to 716 degrees Fahrenheit (380 degrees Celsius).
It comes with an extended five-year warranty on the sensor. So, if you have any problems or incorrect temperature readings, the company will replace the probes – no questions asked!
With this top rated wireless thermometer, you will find all of the features you would expect to find in a professional kitchen gadget. It has a large and simple LCD display that shows just all the important and necessary information.
With the twin probe design, the thermometer can be used to read the temperature of the food as well as the oven, grill or smoker. The screen is back-lit and it can be used in low light conditions or even night time.
There are preset temperatures for nine different types of meat: ground beef, ground poultry, veal, chicken, pork, beef, poultry, lamb and fish. There are also settings for different levels of "done-ness": rare, medium rare, medium, medium-well and well done. You can also manually set your own temperatures.
The receiver also has alarms, a countdown or count-up timer, and can operate when it is up to 300 feet away from the base. It runs on 4 AAA batteries.
As far as meat thermometers go, this unit is great! It's difficult to come up with downsides.
Advantages
Dual probe design with individual receiver
Readings in degrees Celsius and Fahrenheit
Includes timers and alarms and backlit display
Disadvantages
No alarm when the temperature drops too low
Beeps loudly every time a button is touched
Silipower Wireless Digital Cooking Thermometer
This one is a wireless thermometer designed to work with your Android or iOS mobile device. Just download the free app and you can monitor your food as long as your phone or tablet up to 170 feet away. You can engage in chores or watch TV without worrying to be constantly coming to the grill or oven to check on your food.
The model comes with six stainless steel probes, so you can monitor several individual pieces of food, and you can monitor your meat and temperature at the same time. That makes it one of the most versatile BBQ thermometers out there.
The temperature readings go from -58 to 572 degrees Fahrenheit.
The thermometer has preset temperatures for eleven types of food including: beef, veal, lamb, chicken, pork, fish, turkey, hamburgers, etc. All of the preset temperatures can be re-programmed to suit your personal taste.
The companion app is clear and has an intuitive interface. It includes timers and alarms, which the thermometer does not offer by itself. If you're used to carrying your phone in your pocket, you'll never have to worry about missing the exact moment to take your meat off the grill.
On the down side, the thermometer is not waterproof, so it might get damaged if you leave it sitting outside next to your grill or smoker.
Advantages
Six probes to monitor several food items at once
Companion app is easy to use
Large LCD display
Disadvantages
Not water-proof
No built-in alarms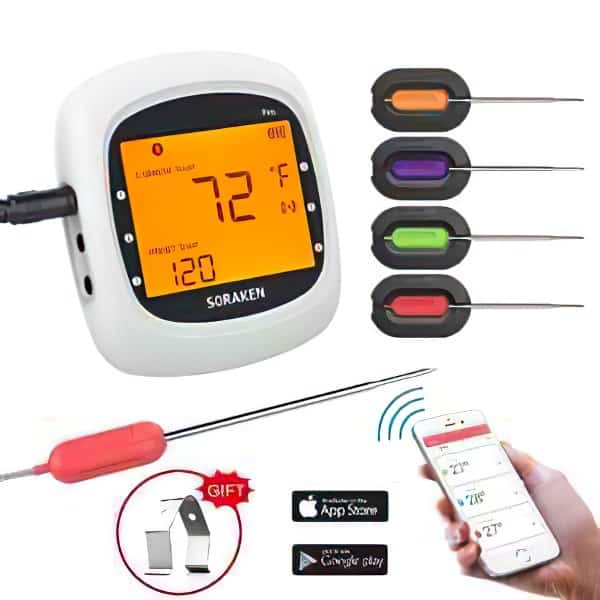 Soraken Wireless Remote Thermometer
Another digital meat thermometer designed to be used with mobile devices. Since phones and tablets are so ubiquitous now and you're likely to have your phone with you most of the time. We don't think this is really an issue and you'll be able to use this bluetooth meat thermometer with no problem.
The range is pretty huge: up to 170 feet. So, you'll be good to go as long as your device is within that range.
This remote thermometer has four probes to allow you to cook your food accurately by giving you the ability to monitor the temperature of your meat and that of the oven, smoker, or grill. Temperature measurements range from 32 to 572 degrees Fahrenheit.
The wire is made with metal braiding and upgraded Teflon core capable of withstanding temperatures of up to 716 degrees Fahrenheit.
There are preset temperatures and cooking levels for eleven kinds of food. You can set high and low temperature ranges and set the timer. You can also configure your own settings manually to suit your taste. When the time is up or the temperature has been reached, the thermometer will beep and the LCD will flash to let you know. You'll never have to worry about overcooking or under-cooking.
The unit also has a magnetic back, making it very convenient especially for grilling. Just attach the thermometer to one of the non-heated grill to make sure it does get in the way.
The free companion app can be downloaded on any mobile device running Android or iOS.
Advantages
Built-in alert system
Large LCD screen
Disadvantages
The probes aren't dishwasher safe
Lumsing Wireless Thermometer
This is another one of those remote BBQ thermometers that you have to use with a mobile device, it does not come with a receiver at all. There is a basic LED display that you can use, but to do things remotely, you will need to pair it with your Android or iOS device.
Fortunately, that is easy to do. The thermometer can connect with a tablet, phone, or laptop using Bluetooth and it delivers constant updates.
Instead of having to carry some new gadget around the house, all you need to do is keep your phone handy, which is something you probably already do anyway.
Because of this, the thermometer is very easy to program. This is taken care of through the app's interface, rather than through a few plastic buttons. The companion app has been designed to be incredibly intuitive and easy to use.
The specifications of this unit are pretty nice. It's available in both one-probe and two-probe versions. We recommend the two-probe version. It's not too much more expensive and being able to monitor the temperature of the oven or grill along with the food comes in pretty handy.
The Bluetooth transmitter works up to 300 feet away, while long cords on the temperature probes enable you to place the base fairly far from your oven or BBQ.
Best of all, the brand offers a lifetime limited warranty with every unit sold. They're pretty confident in the durability of this product, so you don't have to worry about it breaking or burning out.
As far as downsides go, the temperature probes only go up to about 482 degrees Fahrenheit. Although you certainly don't want your meat to get anywhere near this hot, it is kind of a limitation on how you can use it to measure your oven or grill temperature.
It's probably best if you remove the probes from your heating area before you broil or sear anything. But other than that, this digital meat thermometer is pretty great.
It's perfect if you don't want to carry around an extra gadget, want a user interface that is easy to use, or even if you just think that using your phone for cooking is kind of cool. It's probably not for you if you're into more serious, heavier cooking.
Advantages
Well designed app interface
Easy to use and program
Comes in more than one version
Disadvantages
Probes cannot withstand too high temperatures
Maverick ET-732 Remote BBQ Smoker Thermometer
This is a two-probe, wireless meat thermometer for smoker that can be used to monitor both barbecue and food temperatures. It includes its own receiver.
The probes plug into a transmitter that sends data to the receiver up to 300 feet away.
There are two probes in the box: a short, straight one to measure the barbecue temperature and another one in the shape of an L with a sharp point to be inserted into food. The transmitter has two labeled inputs, one for each probe.
The display has a transmitter that shows the probe temperature in an alternating pattern. Degrees in Fahrenheit or Celsius can be selected on the back of the transmitter.
We found the cables that come with it to be a little short, though.
The display on the receiver works in two modes. In thermometer mode, it displays the temperature of each probe. The food probe can be set to alert you when a certain temperature has been reached. The barbecue probe has an upper and a lower limit that will sound an alarm if the temperature goes outside those limits.
The temperature limits are set through a procedure that requires pressing on the light/mode button to lock them in. If this is not done correctly, the setting will go back to their previous values. We thought this was a little bit confusing.
The barbecue alarm won't go off until the temperature goes above the lower limit, so you won't have to listen to beeping while the unit heats up. If the thermometer and the receiver lose communication, there will be an audible and visible alarm to let you know what has happened.
The other mode is the timer mode. You set a time and the timer will count down until it reaches zero, and at this point an alarm will sound and then the time will begin counting upward.
The timer can also act as an up-counter by setting the initial time to zero. The alarm sound for the timer is different from the temperature alarms, and both modes can be used simultaneously.
This remote thermometer is one of the most popular ones in the market, and there is good reason for that. It is well-made, the transmitter is resistant to water, and it's accurate. If you follow the instructions, it is reasonably easy to use.
Advantages
Well-built and comes with receiver
Water resistant properties
The thermometer alerts you if communication is lost
Disadvantages
Cables are a little short
It can be a little difficult to program
Conclusion
Now is when we say what the best wireless meat thermometer is for 2022. This really will depend on what your needs are, since we have thermometers that go to high temperatures and others that will only work when there's not so much heat.
So, what we say is, if you're a heavy-duty cooker that takes grilling or smoking seriously, you should go for the ThermoPro TP20 Wireless Meat Thermometer since it's just a thermometer and does what thermometers are supposed to do.
But if you like something that has lots of bells and whistles and can be controlled with your phone, then go for something like the Silipower.
Why Should You Go for a Wireless Meat Thermometer?
If you're cooking indoors typically an instant read thermometer is sufficient for reading temperatures. To read more about best instant read thermometer. However when cooking outside with fluctuating temperatures, smoke, bugs and heat, trying to read temperatures can become somewhat difficult.
This causes you to constantly be checking on your food releasing any heat or smoke build up within the grill causing you to lose flavor during the cooking process.
A wireless meat thermometer gets rid of those problems. The concept is rather simple:
a transmitter,
a couple of probes and
a wireless receiver.
Although the receiver is not always part of the package, you can also pair the remote meat thermometer with your mobile device for the same purpose.
Now you will be able to check on how your meat or chicken is doing from anywhere in the house. You will also have the choice to get an alert once a certain temperature has been reached or a certain time has elapsed.
Factors to Look for in a Wireless Meat Thermometer
Also, make sure you look for other features such as these when you're getting a wireless meat thermometer:
Accurate Readings
Accuracy is about the most important thing for any meat thermometer. You don't want to have your food undercooked or overcooked so the more accurate the readings, the more reliable is the accessory.
Remote Range
If you live in a very large house, you'll want to get a remote meat thermometer with the widest range possible. You should also note that the range given for any particular wireless thermometer is a maximum, and can be affected by physical interference such as walls.
Durable Probes
When buying remote meat thermometers, do check the durability of the probes. The best probes can withstand high temperatures degrees or more and have equally tough cables that won't melt when they're exposed to the heat of an oven or grill.