The only way to deliver the best cooked meat to the table and protect against food borne illness is to take its temperature with a thermometer. One of the most convenient ways to do this is with the best instant read meat thermometer.
With an instant read thermometer you don't have to wait a long time for the thermometer to reach the final temperature and display the readout. You just put it in and you'll be able to check the temperature instantly. This is great because you don't have to keep the oven or grill door open and you won't expose your hands to all the heat and risk burning yourself. Here you go:
Reviews of the Best Instant Read Thermometers for 2022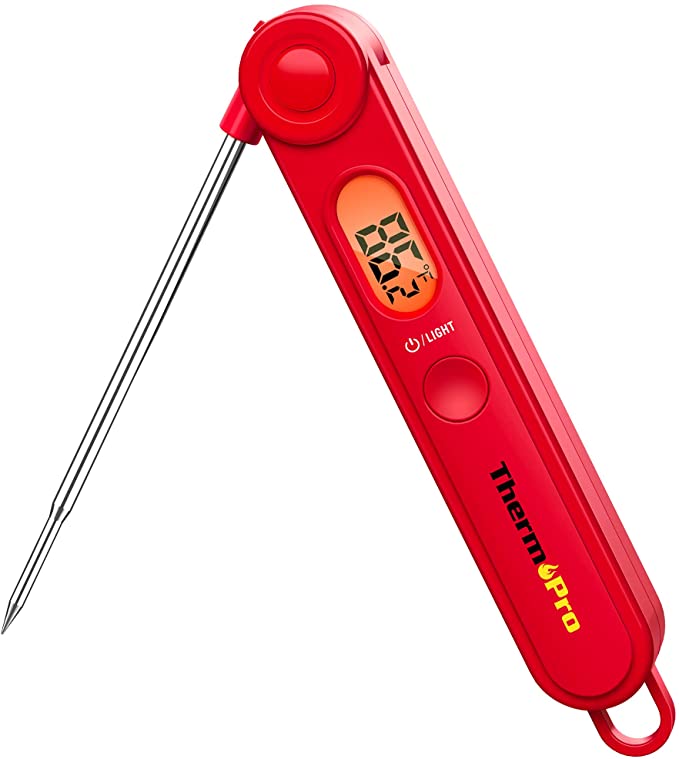 ThermoPro TP03A Digital Food Cooking Thermometer
This is one of the best instant read meat thermometer for grilling that has some nice features. This device offers a lot of quality, especially for its price. The brand is known for making solid products to which there is no exception. There's a reason why they are one of the leading brands of high-tech digital and wireless cooking thermometers out there.
This thermometer has accuracy within ±0.9 degrees Fahrenheit. That makes for an extremely accurate thermometer. The speed by which the unit reads the temperature is also very good. It only takes about 4 to 7 seconds to reach a reading.
The 3.9 inch probe on the unit is 180°. This feature comes in handy when you want to get to hard to reach areas on turkeys and roasts. When the thermometer is not in use, the probe folds completely inside the body and locks in place by means of a hinged button. Just push the button to unlock the probe again. This helps avoid damaging the probe in between uses.
This model has a wide temperature range of -58 to 572°F (-50 to 300°C), making this a very versatile device. It's great for indoor or outdoor cooking, grilling or even baking. The temperature read out has a selector to choose degrees in Celsius or Fahrenheit.
Advantages
Simple design and easy to use
Very accurate with 180° rotating probe
Auto power down function and wide temperature range
Disadvantages
The display is not backlit
It's not water proof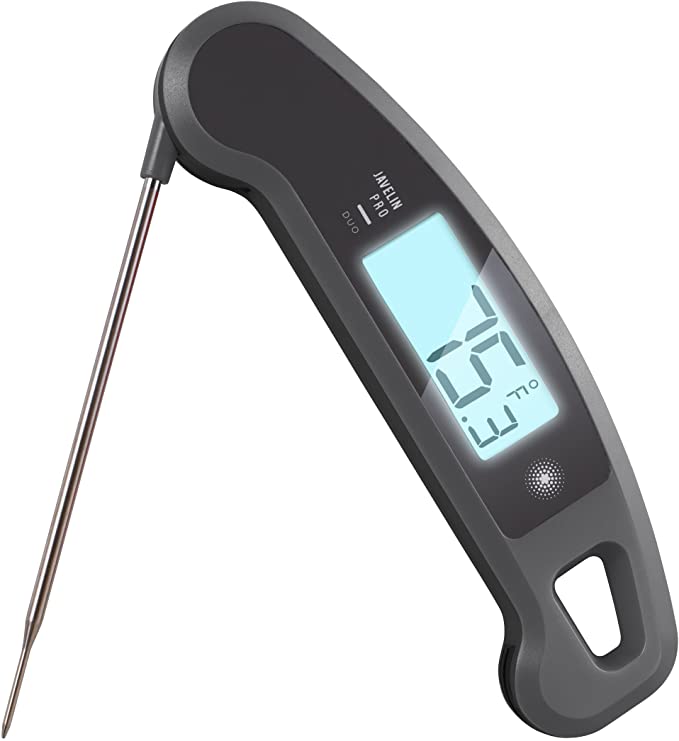 Lavatools Javelin PRO Duo Ambidextrous Backlit Instant Read Digital Meat Thermometer
This is one of the best kitchen thermometers and has a lot of great features. The build is both simple and sturdy, which happens to be one of its best perks. The rotating display is another great feature of this particular model. It's a two-inch display and it's easy to read, lights up automatically and is useful in low light environments.
The display on the thermometer rotates automatically, so if you change the angle of the thermometer, the display rotates to always show the right side up. The read times are very short, about three seconds, and it has accuracy within 0.9 degrees Fahrenheit. The Intelligent Stabilization Alert and temperature display hold is a combination that makes the unit one of the best digital thermometers out there. Three seconds after inserting the probe in your food, the thermometer will beep, alerting you that the temperature has been read.
The locked in temperature will continue to display on the screen for several seconds. This makes it easier to check temperatures inside an oven. You just insert the thermometer, wait to hear the beep and take it out. While the unit is great for checking the temperature on single food items, it won't give you a reading on your grill temperature and it cannot be used to display several temperatures at once.
Advantages
Auto rotating display and motion activated backlight
Very fast read times and high accuracy
Auto shutdown feature, auto-sleep and motion-wake
Splash proof design
Disadvantages
Too high a price
You cannot leave it in the oven or grill
Palermo Instant Read Digital Meat Thermometer with Long Probe
This one comes from a family owned and operated business. They aim to provide quality home goods at affordable prices for the everyday consumer. The unit can be used for measuring the temperature of BBQs, liquids, food and even candy. It's perfect for kitchen and outdoor cooking, grilling.
It has an internal folding, tapered probe that minimizes the footprint left on food and also makes it easier to use and store. It also includes an auto on and off function which shuts the thermometer down when the probe is folded and turns it on when it's taken out. Temperature is easy to read and the folding probe makes the thermometer very compact.
The probe is thin and goes into food rather easily. The temperature readings are about four seconds, so it's very fast. One single AAA battery can provide this thermometer with up to 4000 hours of continuous use. It also has the ability to display both degrees in Celsius or Fahrenheit and comes with a 90-day manufacturer warranty, so if you have any problems, the unit will be replaced right away.
Advantages
90 degree advanced design
Competitive price point
Disadvantages
It can be difficult to open the probe
Mister Chefer Instant Read Thermometer
This is a very fast instant read thermometer that measures temperature in 3 seconds and with an accuracy of +/-1 degrees and a wide temperature range of -58 to 572 degrees Fahrenheit. There is also a calibration function for maximum accuracy. It has a backlit display, so you can read the temperature in any environment. It also has a magnet inside so it can easily be attached to the refrigerator when it's not in use.
The thermometer is waterproof, so you can wash it without having to worry about water getting inside. The long folding probe is convenient for easily and safely getting the internal temperature of any cooked food. It also works great with deep frying, baking and beverages, like beer, wine, milk water, tea and coffee. This is probably the best instant read meat thermometer for smoking, too.
The tip of the probe is very thin and has anti-bacterial coating. It will not leave any visible traces on food. When the probe is closed, the thermometer switches off automatically. However, there is some functional problem with the probe that can often come off the thermometer causing occasional difficulty and interruption.
The body of the thermometer is made of strong ABS plastic, so it's meant to be durable and withstand a few drops. The probe is made of stainless steel and will not break easily when bent. Plus, it comes with a lifetime money back guarantee if for any reason you are not satisfied with the product.
Advantages
Sturdily built and water proof
Very fast
Lifetime warranty
Disadvantages
The probe can get stuck at times
Surround Point Digital Thermometer Talking Instant Read
The unit measures temperatures in the range of -58 to 572 degrees Fahrenheit (-50 to 300 degrees Celsius). This is one of the best food thermometers that can be your best friend in the kitchen or while grilling. It can be used with BBQs, deep frying goods, baking bread and for testing the temperature of liquids, such as the bottle that you feed your baby.
The unit has a feature that broadcasts the detected temperature to voice, something that comes in very handy while grilling at night or in outdoor events making it one of the best steak thermometers. It's a fast thermometer that gives results in about four seconds. It also features an auto shut off function. The temperature is displayed in Fahrenheit degrees but you can switch it to Celsius just by pressing a button.
The accuracy is within one degree with temperatures ranging from 4 to 392 degrees Fahrenheit (20 to 200 degrees Celsius), and within two degrees with other temperatures. This ensures that the results will always be precise. The long, sharp probe is made of stainless steel which slides easily in and out of your meats. There is also a money back satisfaction guarantee with this thermometer.
Advantages
Voice feature
Well built
Wide temperature range
Disadvantages
Variable accuracy depending on the temperature
Conclusion
Let's see now, what is the best instant read meat thermometer for 2022? We really liked the ThermoPro TP03A Digital Food Cooking Thermometer. It is loaded with some of the best features which comes with a strong probe and is a good value for money too. To look at some other great thermometers for grilling and smoking, take a look at this article.
Why Do You Need an Instant Read Thermometer?
Anyone who is serious about cooking, smoking or grilling knows that a thermometer is a must have. So, why is it so necessary? Let's understand the following factors:
Convenience
An instant read digital meat thermometer is so convenient because you don't have to wait a long time for it to hit its final temperature read and you avoid burning yourself by keeping a safe distance from the heat source.
Accuracy
Instant read thermometers provide the accuracy necessary to know when a home-baked loaf of bread or a well-cooked pork roast is done. Traditional analog thermometers may need to be constantly calibrated and it can be hard to tell exactly what temperature they're reading. Besides, some of them can be a few degrees off which can be enough to make a difference and can result in undercooked or overcooked foods.
What to Look for in an Instant Read Thermometer?
These are what we think are the main features to consider when purchasing the best rated instant read meat thermometer:
Design
The most popular design nowadays is one with a hinged, folding probe that has no sleeve. These tend to be more sophisticated. The other design that can be found is a wand-style probe with a sleeve to protect it.
Functionalities
With some thermometers you just stick them in and wait for a read out. Others require that you navigate a small number of buttons that let you change the temperature units, hold the readout or calibrate the temperature.
Range
Cooking thermometers should have a temperature range going from below zero to about 500 degrees Fahrenheit or higher.
Speed
How fast does it read the temperature? That is one of the biggest factors to think about when getting the best quick read thermometer of this type.
How to use an Instant Read Thermometer?
It does not matter how accurate or expensive a thermometer is. It will do you no good if you don't know how to use it. And by that, we mean you gotta know how to stick it.
Locating the Cooler Area of the Meat
With accurate meat thermometers, you don't necessarily want to hit the very center of the meat. What you want to do is try to find the coolest part of the meat. You would think that the coolest part is located in the center, but it doesn't really have to be. Meat has different parts such as connective tissue, fat, muscle, bones and water which are all substances that transfer heat differently. So just aiming for the exact physical center will not always work.
Pushing the Thermometer All the Way
So, don't worry about hitting the center. Aim for that general area. Rather than trying to guess when you've reached the center, push the thermometer all the way through until it comes out on the other side or the meat. If it's a whole turkey or a prime rib, push the thermometer probe until it hits the bone.
Pulling the Thermometer Back
Once you've done that, slowly pull the thermometer back through the meat. As the tip enters the meat, the temperature reading will rise quickly and it will start to drop as you get closer to the center. Keep slowly pulling the thermometer and you will eventually hit a low point. After that the numbers will start to rise again. The minimum point is the temperature reading you should go by.