Are you one to stick to your guns when smoking with charcoal because of the char-broil aromas only a charcoal smoker can give?
With this type of smoker, the key thing that resonates is flavoring. Making it very unique and setting it apart from every other kind out there.
As a result, we share with you the best charcoal smokers there are based on their cooking surface area, fueling design, pricing and durability.
If you are considering getting one of these or a second buy, delve deeper as we help you locate the best charcoal grill smoker there is on the market to fit your needs well.
Reviews of The Best Charcoal Smoker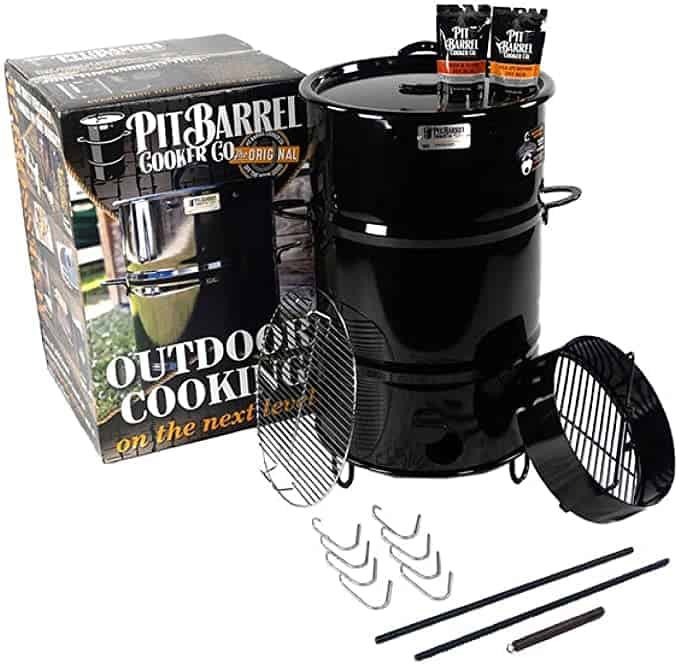 Pit Barrel 18″ Cooker Package
This smoker has a simpler approach making it seamlessly easy to use. Instead of having only grill grates like many other smokers, it is comes with hooks that allows you hang your meat when smoking. The idea of camping and cooking at night will resonate with you.
For its simple design, it could be argued to be an expensive option, but its strong build with hooks and standard grates cover its cost making it a versatile device. If you have a big budget and want something different, this will be a pampering buy for you.
It has good heat distribution due to its cylindrical design that holds high temperatures giving you a very even cook on your food.
One amazing thing about this smoker is its method of exuding flavors. When cooking meat hung over the charcoal fire, the juices of the meat drip onto the fire which then return to the meat as smoky flavoring making the aromas from your backyard unresistable.
Finally, this device is a "set it and forget it device". Once the fueling and damper settings are set correctly, with the help of the operating guide (for beginners), the device is able to keep temperatures at the standard you wish to cook with for over 3 hours without any interruptions in temperatures.
Advantages
Great construction quality
Easy clean up
Versatility
Simple to use
Disadvantages
Expensive
Not enough grill grates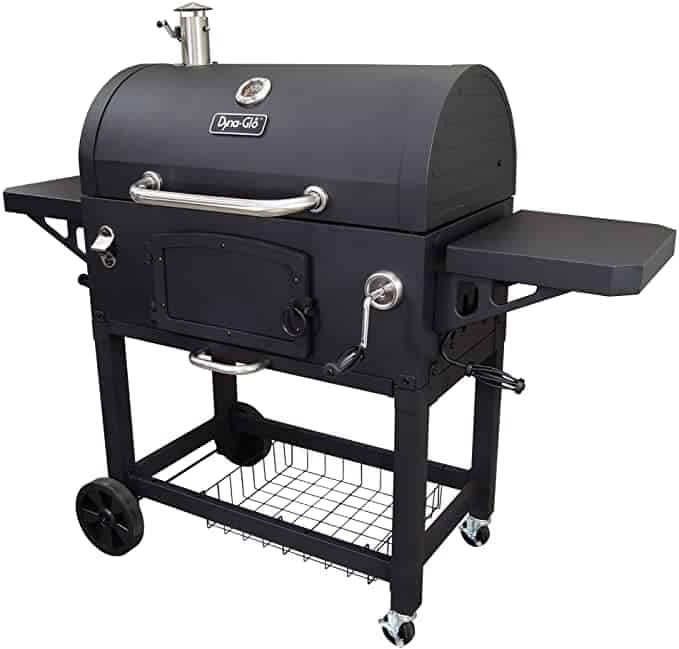 Dyna-Glo DGN576DNC-D Premium Charcoal Grill
This smoker is made to handle heavy duty smoking.
It is a dual smoker for smoking and grilling without any extra adjustments to perform its duties well.
This Dyna Glo version comes with over 800 square inches of cooking surface area making it one of the best charcoal wood smokers for the money. It will double up to feed many individuals giving you space to make at least 30 hamburgers in one go.
Heat adjustment is made easy with a charcoal basket adjustment system giving you total control over the heat level you may want at any point in time.
The fueling approach to this smoker is a front door loading type making fueling very safe for the user while cooking. It has a built in thermometer and a stainless steel smoke stack with an adjustable flu that allows you to not only adjust heat from within but also the flavors.
The cooking grates are made with heavy duty cast iron and coated with porcelain enamel. Therefore you are sure to have beautiful grill marks on your food when you are done. This makes it one of the best charcoal grill smokers there is to find on the market.
For more durability, this smoker sits in a heavy duty cast iron build meaning this baby will weigh a ton. To help you move it around easily, 2 wheels made from heavy duty resin are attached with 2 other wheels with lockable casters for stability.
Attached are 2 side shelves and a basket shelf beneath for keeping utensils or extra food while you cook. The side shelves are ideal for cooling, slicing and serving your food.
Advantages
Great pricing for its quality
Slidable cooking grates
Front door fuel loading
Disadvantages
Lid doesn't close tightly
Needs a little modification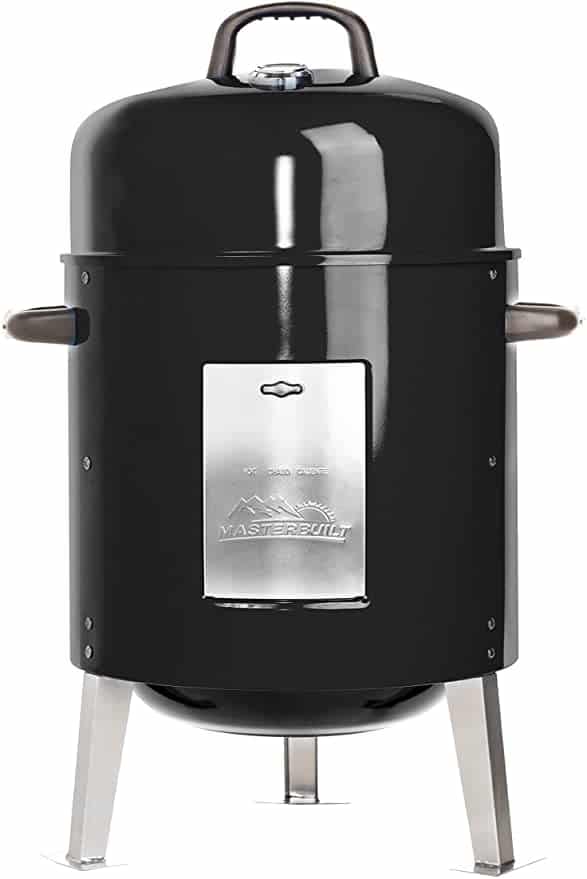 Masterbuilt 20060416 Charcoal Bullet Smoker
This is the cheapest smoker thus far and comes with some great features that we love.
For under $200, it seems unbelievable for the quantity of food it makes. It is very portable and lightweight making it one of the best small charcoal smokers for tailgating parties.
It contains 2 porcelain coated racks, a porcelain coated water pan and charcoal pan. Do not contest its quality for its price as it proves to be long lasting.
It is a front door fuel loading unit which considers the safety of the user when using it. This is a great feature to have since most other charcoal and wood smokers lack this modern fueling invention.
It comes with a easy to read, built-in thermometer saving you even more for its price. What else can you ask for if you are on a tight budget?
Its cooking size is also a blessing for the amount of food it can make.
Advantages
Amazing food turnout
Great pricing
Good for a beginner user
Portable
Disadvantages
Cannot hold high temperatures
Poor airflow provision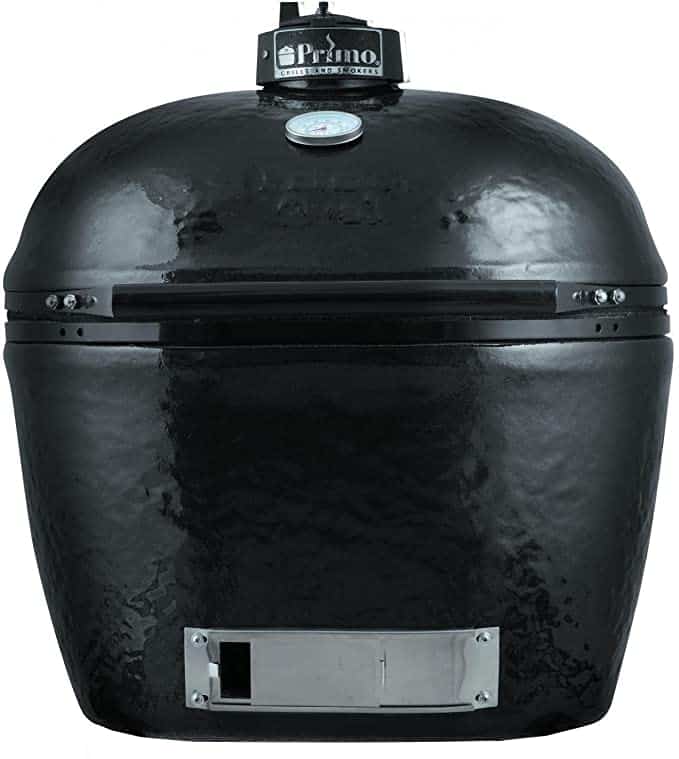 Primo 778 Extra-Large Oval Charcoal Smoker
Before you scream out loud on the price tag of this smoker, let's consider a few things that are worth the investment.
This ceramic smoker is one of the few ceramic smokers available on the market today making it a luxurious option to own for its magical food turnout.
It offers a wide cooking space with its patent and ceramic oval shape being is one of the best designs proven to hold heat for a more even cook.
With this device, you have the best of five worlds in your bosom; smoking, grilling, baking, roasting and searing.
For its petite size, it offers a wide cooking surface area of 400 square inches which can be increased to about 680 square inches with grate extensions. You are therefore guaranteed enough food to feed a large party with this smoker.
Constructed with one of the most fantastic ceramic makes on the inside and out finished with a lead free, scratch resistance shine. At the same, luxury does not mean carelessness, so this oval will need to be handled with care to avoid breakages for its ceramic make.
If you are one that is driven by quality to boost your ego, get one of these and you will be all smiles anytime you're in the backyard.
Advantages
Very long lasting
Lifetime warranty
A versatile machine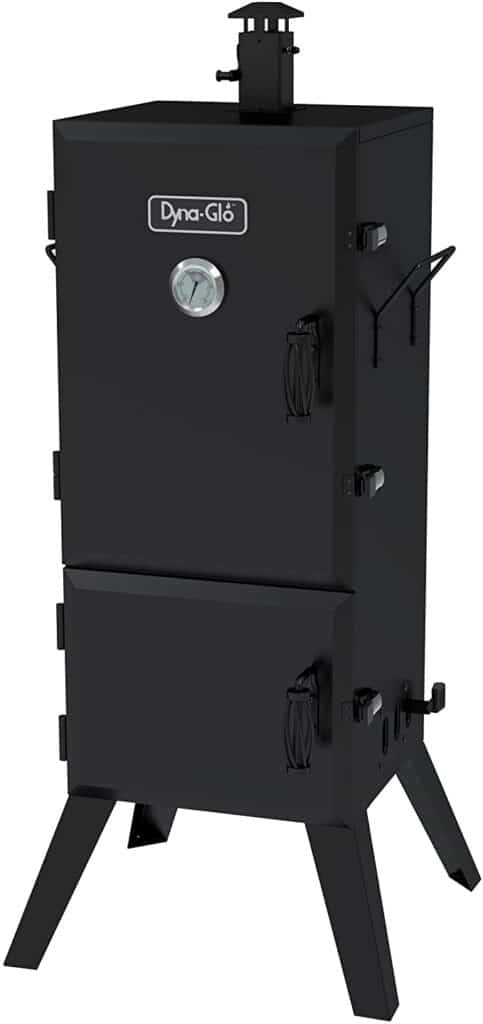 Dyna-Glo DGX780BDC-D 36″ Vertical Charcoal Smoker
This Dyna Glo cooker is one of the best vertical charcoal smokers to get for a large family or to host big parties because of its wide cooking surface area.
At a cooking surface area of 784 square inches, there's so much that you can do from smoking turkeys, sausages or pork chops. It is definitely one that should be considered for its good pricing.
The stainless steel build makes it very durable for the outdoors even with inconsistent weather changes. However, it is better to purchase a cover for it so you can keep it in good shape for even longer.
It is a dual door unit with an upper compartment for cooking and the lower compartment for heating. This sets it apart from many other charcoal smokers on the market as it takes into consideration the ability to load fuel while cooking without having to lose heat during the cooking process.
It is very easy to assemble, however, do ensure to follow the manufacturer's guide to avoid any damages.
This device holds heat well while cooking and comes with a temperature gauge that is easily readable for heat adjustments when necessary.
Advantages
Roomy for more food quantities
Handles are heat resistance
Lightweight
Disadvantages
Smoke leaks out easily
Handles come off easily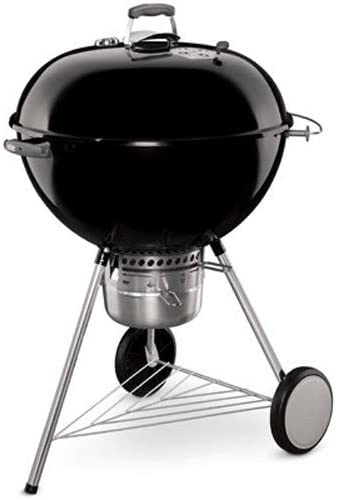 Weber 16401001 Original Kettle Premium Charcoal Grill, 26-Inch, Black
Although this smoker has a high price tag, it is a great value for the money considering its set up. It is constructed with pressed steel and coated porcelain enamel giving you longer usage without any major repairs.
This dual purposed device gives you the option to grill and smoke with just a few changes here and there. Search for extensive guides on the internet to aide you with this set up.
It has a decent cooking surface area with the ability to make food for 22 servings in one round making it the best choice for bigger families.
The cooking grates are heavy gauge stainless steel which contribute to its durability. This however does not affect its mobility since it is easily movable with a 2-wheel attachment.
It is also so easy to assemble that even a teenager would have no problem putting it together.
Advantages
Good cooking area
Inexpensive
Easy assemble
Durable
Disadvantages
Thermometer reads wrongly
Weak legs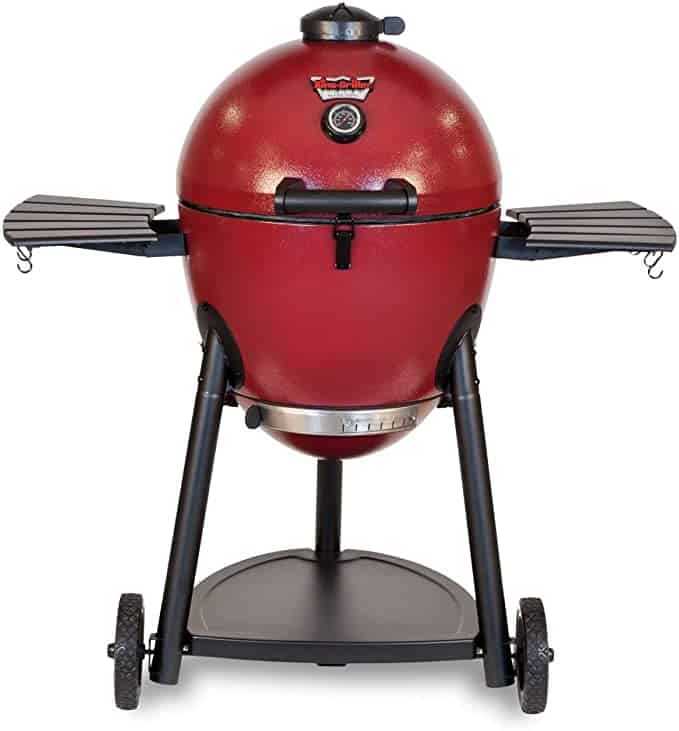 Char-Griller Akorn Kamado Charcoal Barbecue
At a high price, this Kamado style smoker is an excellent contender to beat its competitors for the amazing work it does.
The recent models have seen some improvements in its weight originating from a heavy duty ceramic build to a lighter make with a 22 gauge, double insulated wall. This makes it more durable and less expensive as compared to other kamado style smokers.
Also, this insulated design contributes to fuel efficiency as it holds heat for longer periods of time which then reduces the amount of charcoal that is needed.
It comes with two foldable black metal shelves for extra working space, a locking lid that secures smoke and heat while cooking, a temperature gauge that is easy to read and an easy-to-remove ash tray.
This Akorn Kamado allows you to smoke at least 14 pounds of food on its extremely sturdy cast iron cooking grates equipped with a solid warming grate making it an ideal one for a very large sized party.
Mobility is no longer an issue with this smoker. The new lightweight steel build coupled with a two wheel attachment makes it easy to pull it around anytime you want.
This product will last a long time due to its powder coated steel outside and porcelain coats on the inside. You are likely to use this device for more than 6 years if you invest in a cover.
Advantages
Good value for money
Lightweight
Quality cooking grates
Disadvantages
Untight lid that leaks smoke
Weber 721001 Smokey Mountain Cooker
This Weber has a strong build with a well thought out approach for a long lasting use. It is built with a pressed sheet of steel and then coated with porcelain enamel.
This smoker for under $200 with its compressed steel build is lightweight and easily moved around with two wheels attached to its legs.
This Weber kettle is a portable smoking and grilling device which allows the user to switch between the two cooking options with just a little configuration.
The charcoal is closer to the food when cooking unlike many other smokers which speeds up the cooking process to about 15 to 25 minutes of cooking depending on the quantity of food being cooked.
Fueling is easier and more efficient. All you need to do is lift up the grill grates and add charcoal. Also because of its circular design, fire is directed at the centre of the smoking area which contributes to the direct heat reducing the use of excess charcoal unlike with rectangular grills.
Finally, cleaning up is made easy with this Weber grill. The grill grates are petite and fit well in a sink making washing them a very easy thing to do. The ashtray also easily fits in a trash bag for easy offloading and with the help of a stain remover spray.
For the amateur user, this is a highly recommended option for an easy and quick result.
Advantages
Affordable for its quality
Rust free build
Space saving
Well sealed and air tight
Disadvantages
Inner paint could peel faster
Weak handles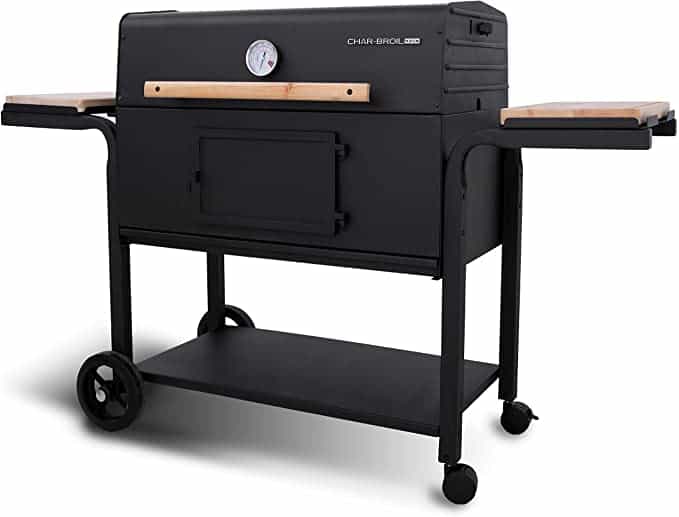 Char-Broil CB940X 08301390-26 Charcoal Grill
This smoker is constructed of heavy gauge steel, cast iron cooking grates with a porcelain coating. With construction materials like this, you are sure to not have to deal with rusting.
The cooking surface area comes in a little disappointing. Although looks may be deceiving, the cooking surface area is on the smaller side making it ideal for very small families.
The temperature control is special for its adjustable fire pan which gives you total control when managing heat. It also comes with an easy to read and effective thermometer for good food results saving you some money from buying an extra device.
You will be guaranteed safety when loading charcoal with its front door fuel loading feature. This is one of the safest fuel loading designs that you can have preventing you from burns while adding fire to the hot smoker.
It comes with 2 side shelves for extra working space. Simply place your smoked meat on one shelf, leave it to cool, slice it and serve all from one position.
Lastly, cleaning is made easy with its ash removal system. Once the smoker cools, all you need to do is to remove the ashtray and empty the content in the trash.
Advantages
Attached wheels for mobility
Easy clean
Adjustable fire grate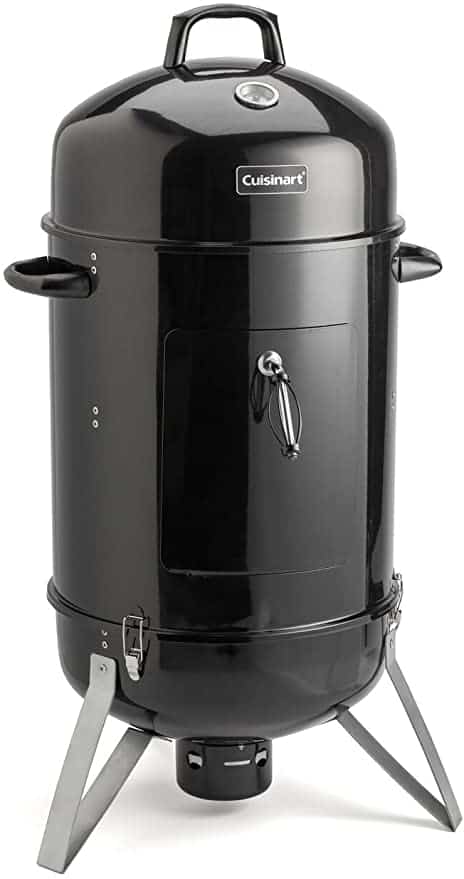 Cuisinart COS-118 Vertical 18″ Charcoal Smoker, Black
One of the cheapest choices on this list comes this smoker with a space saving design. You practically can keep this on your balcony and smoke from there.
The exterior of this device is made with a strong steel structure, a strong securing lid, cool to touch handles and a vertically hinged door which is durable for a good while but will need to be covered if left outside.
The smoker comes with a porcelain enameled coated water bowl, a latched base, a built-in thermometer, a water and charcoal pan, and a steel charcoal grate. This is great value for its cost.
It produces a good amount of food, however, for its weight it is not suggested to cook heavier items of food on it. Some hamburgers, sausages and 5 pound meat should keep it stable for a longer period. With this smoker you might have to start cooking in advance to have enough food to go round.
Otherwise, this unit is one of the easiest to assemble devices on the market with tips and recipes included.
It would be an ideal gift for a newly wedded couple.
Advantages
Decent cooking area
Budget friendly
Great features
Space saving
Disadvantages
Unavailable parts
Poor thermometer read
Our Most Loved Option
With this amazing collection of charcoal smokers, choosing just one almost seems the hardest.
However, there is always that one that shines above every other and here we have the Pit Barrel 18″ Cooker Package as our best charcoal smoker in this series.
This unit meets all the prerequisites we chose for this review and tops it off with its flavoring system.
Now, remember that the charcoal smoker is distinguished by its ability to provide the best flavors, hence why we believe that the Pit Barrel Cooker tops the rest on this.
We also like it for its "set it and forget it", making it super user friendly. We are sure you don't want to be standing by a smoker all day to make a decent meal.
Finally, it is a space saver and can sit well on a balcony.
Why a charcoal smoker is a great choice
Let's stress on flavoring some more
There are many types of equipment like this with various fueling options but nothing beats the authentic blend of fiery charcoal, flavored wood and the marinated spicing in your meat.
Most fueling smokers come with the option to add wood chip flavors to your food but nature cannot be cheated.
For this reason, the natural blend of these two types of fuel create substantial grilling flavors on your food which should be an unbeatable reason for choosing this device.
Cheap Fueling
Electricity can be expensive if you find yourself in a locality with a lashing bill to cover costs for electricity. Which is why charcoal comes in handy to help out.
Considering outdoor barbecues like a tailgating party, there might not be a convenient electricity source nearby to help you light up your device and smoke at ease. However, with charcoal, all you need to do is carry some briquettes with you and your party will boom.
Charcoal is one of the cheapest materials to find and can be found in every store nearby.
You can buy as much as you want and preserve them for future use.
Of course, other types of fuel has its own advantages and disadvantages, you can read more here to know more about other kinds of smokers using different types of fuel.
Heat Control
This is one of the most important reasons why we love charcoal fueling. The ability to hold a good amount of heat that is evenly distributed across the grill.
Charcoal may take a bit longer to light but with good airflow in your smoker, you should be up and running in no time.
Once your fire is lit, all you need to do is arrange your coals in a manner that fits your grilling needs and you will be good to retain a standard level of heat that cooks thoroughly.
Read our how-to-guide to aid you in managing this process.
Things to consider when buying a charcoal smoker
Consider the build of the device
Fiery coals can damage your smoker if it is made with a poor quality material. Do not compromise in this field just to save a buck.
For an evenly regulated amount of heat in your smoker, this can only be achieved with a great build and strong materials.
Smokers made with cheaper materials tend to get too hot and may become a safety hazard when cooking and/or may deform the shape of the smoker over time.
Again, do not compromise on this as it is better to invest in great quality.
Consider your serving size
It is always better to add 5 additional people to your serving size to keep you safe from shortages when serving.
If you are cooking for two and you think that this is too large of a number, consider preserving the leftovers for the coming days. This will save you a lot of energy from having to restart your unit to cook over and over again.
For the party lover who must have an event at home every weekend, make a purchase that will serve big numbers. Very soon the good word from your house will reach the streets and your guests will not resist a moment to try your delicious meals.
This does not require you to be like everyone else if you are a young professional living all by yourself. Scan through our options below to find something that will serve your needs well.
Be safety conscious
When choosing a smoker, highly consider the style of fueling that it comes with.
There might be the need to fuel your unit a number of times as it cooks. You do not want to hurt yourself from the heat coming from the device in this process.
Find a fueling style that allows you load charcoal and wood in the simplest way possible and/or will allow you adjust your coals without stress.
We care about your health and we advise you to take this option seriously when making your purchase.
Be wise on spending
Spending comes with many different earning levels. From our list of recommended products, we share varying prices for the different products and we urge you to go for a quality option.
Let the thought of money be the last thing on your mind when considering making an investment like this.
Scan through all the other needs and once you are certain of what you want, weigh that against your budget and make a purchase that will serve you well.
Don't get too cheap when making a decision. At the end of it all, the quality the smoker is what matters most.