Smoking is great way to cook your meats but the process of getting everything ready and starting your smoker can be quite time consuming. Thankfully, this doesn't have to be the case anymore.
In this article we share with you the best gas smokers that do amazing jobs by cutting down on the time consuming aspects of smoking which come in handy and are very easy to use.
We have graciously handpicked 10 of the best propane gas smokers for the money. These smokers are very effective and loved by many users.
In this review, we discuss their effectiveness considering their construction, their easy-to-use design, cooking space, pricing, part availability on the market and safety mechanisms.
If you are worried about getting those smoky flavors in your food because this isn't a charcoal fueled smoker then worry no more! Most of these propane smokers provide you with a great option for this.  See this guide that teaches how to make the best of your gas smoker.
Brace yourself with comfort and trust us as we go through the list to pick the one that best fits your needs.
Here are some of the best gas smokers for sale:
Reviews of The Best Gas Smoker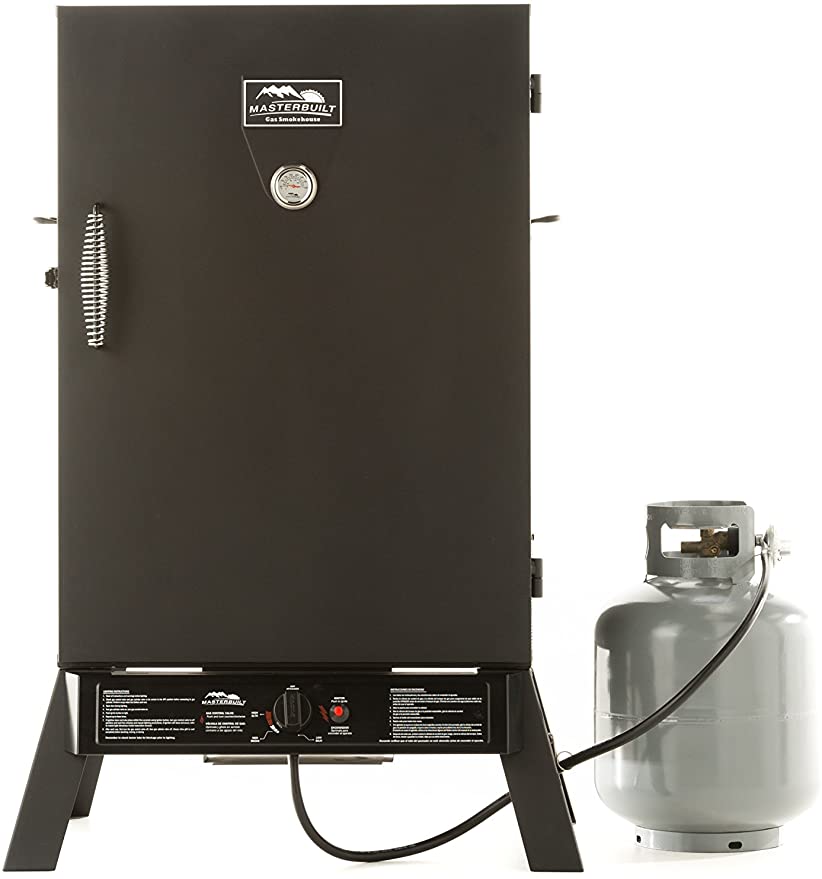 Masterbuilt 20050211 Black Propane Smoker
We love this smoker for its size and food quantity turn out. It is a 40-inch sized smoker with 4 interior chromed smoking racks that has the ability to cook up to 100 pounds of meat. This makes it very handy for camping and tailgating parties.
This smoke hollow propane smoker contains 4 stainless steel burners which guarantees enough fire for quick cooking, a push button ignition, gas control valve powered by a Type 1 regulator and a hose. Two things are therefore checked off your list here; safety and an extra saving on parts.
Thinking of the smoky flavors in your food that you wish to have? This type of smoker serves that purpose. It comes with an built in porcelain coated wood chip tray that allows you to fill in your choice of wood to exude amazing aromas into your food while it cooks.
You will not need to stress over finding the right steel water pan to aide you in creating moisture for your food while it cooks. This smoker solves this problem with its built in water tray.
Checking temperatures are also sorted out with its built in temperature gauge. While temperatures are a key part of smoking, you can be guaranteed an accurate read of heat while your food cooks instead of relying on thermometers that may mislead you.
Finally, we love this smoker for its black powder coated outer shell which is a standard classy finish to blend in the design.
Advantages
Plenty of cooking space
Easily heated
Great steel construction
Disadvantages
Slightly pricey
Poorly built wood chip box
Dyna-Glo DGY784BDP Vertical LP Gas Smoker
It's 36 inches is a good size when considering space and mobility. It is well constructed and will prove to remain in the same quality after a long while.
It comes with a push button electronic ignition for quick to start and easy lighting. Lighting a burner with a matchstick is old news and we are glad that this smoker comes with this modern technology. However, the disadvantage to this may be the inability to start up your device if there is no electricity available.
This is a smoker ideal for big numbers offering close to 800 square inches of space for cooking. If you are considering running a mini restaurant and are bent on saving some money in the process, this device will be a great option for you to choose from. Consider its cost, cooking space and durability.
It's dual door design create a good temperature control and uninterrupted cooking when there is the need to fuel with more wood. It comes with a built in wood chip tray as well as a large capacity water tray of great quality.
This Dyna-Glo device has proven to be long lasting, built with porcelain enamel coating to prevent heat damages from many hours of cooking.
Presenting the best for last, its temperature gauge is easily readable and includes a smoke flavor determination that helps detects the level of smoke flavoring that is ideal for the food being cooked. This feature is in short, amazing!
Advantages
Not easily rusted
Wide cooking space
Easy readable temperature gauge
Larger smoker box
Disadvantages
Doors not completely sealable
Slow heating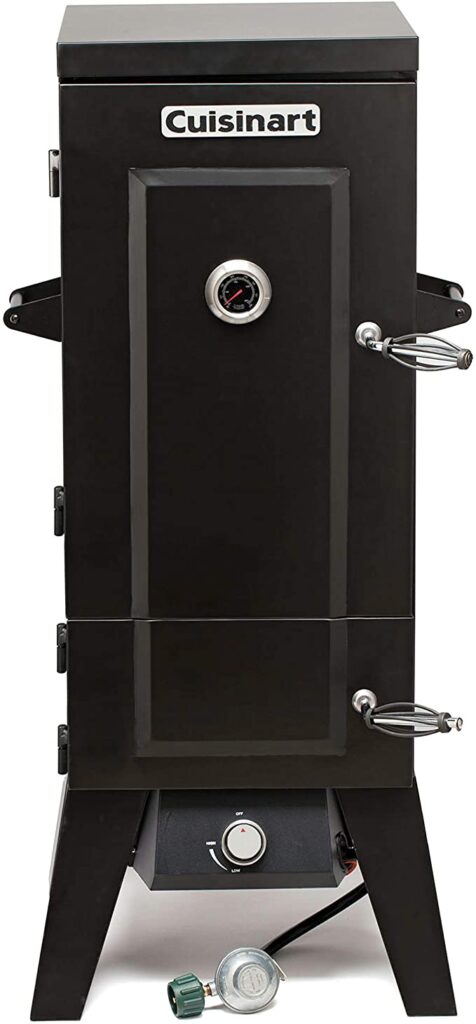 Cuisinart COS-244 Vertical Propane Smoker
Let's kick off with the most exciting feature of this smoker. It's vent design can be adjusted to make this device a table top. Isn't this cool? If you lack space for an extra table, you can easily have 2 people use this smoker at a table and dinner will not be interrupted at all.
This Cuisinart contains 4 (14 x 14) inch spacious cooking grates made to cook food for up to 8 people. The racks are also removable just in case you need to grill a larger sized portion of pork.
We love it for its petite size with side handles which makes it easy to move around without any problems of disassembling due to its solid build.
It also comes with porcelain enamel coated components which accommodate high heat temperatures without affecting its build up in anyway nor does it get too heated to handle, although we will advise the use of heat proof gloves when cooking at all times.
An extra feature to this smoker is a 40-inch propane hose with regulator saving you every cent possible, you will not need to make extra purchases of a hose and regulator.
Advantages
Easily readable thermometer
Durable construction
Good value for money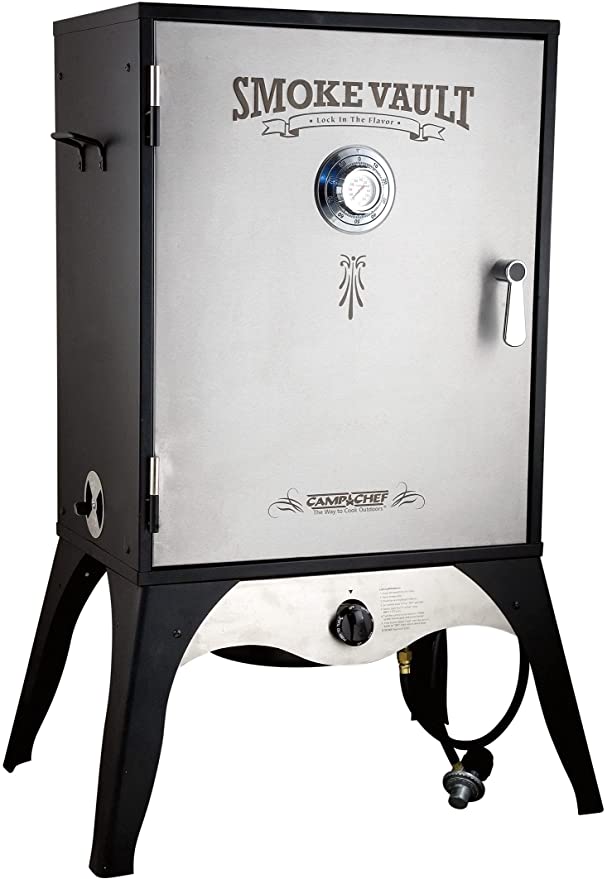 Camp Chef Smoke Vault Propane Smoke
At 24 inches in size, we could almost say this can be used as a table top smoker if you are a bachelor that lives in an apartment with a small kitchen.
Sizes are an essential aspect when grilling and we couldn't agree more with the Camp Chef company on this make.
It is one of the best propane smokers on the market to use with a matchless ignition system and very easily adjustable dampers to control heat.
In addition, this machine comes with a total package for the entry level user providing enough tips, guidelines and recipes to aide you in making some great food. We will highly recommend this to college students.
On the other hand, we might be saddened by the cost of this smoker. This might not be the best option for budget saving but we believe that this smoker caters to you with the great build that this cooking vault is made of.
This smoker includes 2 cooking grids and 1 jerky rack which is great for a decent number of people. It also fits a water pan for moisture creation and a wood chip tray for those smoky flavors.
Unlike many other smokers that will usually have one or two dampers, this version provides the user with 3 dampers for maximum heat control. One damper sits at the top of the device and the other two are on both sides of it.
Advantages
Easily assembled
Maintains even temperature within
Great construction
Space saving device
Disadvantages
Smoke leakage from doors
Poor air vent closure
Char-Broil Vertical Liquid Propane Gas Smoker
One of the best propane smokers under 200 on the market, let's delve in to see what it offers.
We describe this device as a big smoker, a great recommendation for a big family. With close to 600 square inches in cooking surface area and 3 cooking grates, this smoker comes with enough space to make food for a party without the worry of running out of food.
All three grates are coated with chrome for good durability and come with a cool to touch handle that makes handling safe. This means you can open the lid while cooking without heat proof gloves, but to be on the safest side, always go with heat proof gloves.
For an amazing price, this smoker comes with a water holding pan and a wood chip tray for moisture and smoky flavor respectively.
For managing temperatures, the Char-Broil company never ceases to amaze. Being one of the cheapest to find on the market, the smoker comes with an easily adjustable upper vent for easy heat control and a top grate that can be used for warming your food.
Furthermore, you will find an added long-lasting LPG propane regulator which means you get to save more money without having to buy a propane regulator from an outside source which might not be trustworthy.
Finally, this vertical smoker comes with 2 dual door partitions, one for firing and the other for cooking which aids in keeping heat in good flow throughout the cooking period.
Although this machine may be criticized for its poor quality make, we believe that this could be a good buy if you are on a tight budget.
Advantages
Economical price and gas usage
Easy to clean
Great food results
Lightweight for easy mobility
Disadvantages
Poor quality water and wood tray
Poor temperature control
Smoke Hollow 38202G 38-Inch 2-Door Propane Gas Smoker
The Smoke Hollow propane smoker seems to be head on with its competition producing highly competitive gas smokers to fit varying consumer needs.
This steel designed smoker is one that an entry user should go for. It is designed with durability and sturdiness making it a great buy for the money. You will be rest assured using this smoker with its simple design for easy use.
Most gas smokers fall short of hangers for cooking sausages, but this version of a smoker thought it wise to include this making it a unique feature for cooking diversely. If you are a sausage freak, your needs will be met with this one.
For the money, this device may seem to be on the high side, but we believe it is still competitive due to the features it brings to the table.
It comes a push button ignition system for easy fire lighting and external temperature gauge which aids for easier temperature check rather than an interior temperature gauge.
It contains 4 cooking grates with multiple adjustment levels coupled with the sausage hangers give you plenty of room to make food.
This Smoke Hollow propane smoker also comes with upper and lower level vents which is a key feature to have in a smoker for great airflow while cooking.
Advantages
Light weighted for easy mobility
Large cooking space
Separate meat and heat chambers
Smoke Hollow 38205GW 38-inch Propane Smoker
Everybody will attest to the fact that the window opening made with this smoker is one of the best features a smoker can have. This allows you check on the food while it cooks preventing the urge of opening the doors releasing the heats and smoke within.
It contains 4 chrome cooking grids which fall in a sizable range for making enough food for a party. Also to note that these grids are adjustable making moving food in the grill more desirable.
At an average price, this smoker might fall short in its heating capacity with complaints of overheating, but with a little attention control given to it, the best heat levels can be attained.
Another good thing about this machine is its 2-door design that separates the heat chamber from the food chamber making the control of heat easier without affecting the doneness of the food. These doors come with strong-lock latch systems and cool-touch spring wires that allow the doors to lock tightly and safely. It also comes with a large porcelain-coated water pan and wood chip tray that are long lasting.
With the great packaging the manufacturer has put in place, avoids shipping damages before the customer receives the goods.
Advantages
Good heat control
Exceptional window feature
Decent cooking space
Disadvantages
Unreliable temperature gauge
Drips out juices when cooking
Difficult to find brand new nowadays
Weston Outdoor Propane Vertical Smoker
Like most of the smokers mentioned in this series, the Weston propane smoker contains many great qualities at an affordable price.
Starting with its construction, it has a total stainless steel build that resists wear and tear from weather changes. It has a built in water tray that is porcelain coated to avoid rust and the wood chip tray is built with a cast iron base to hold up to heat for longer periods of time.
If you prefer to cook with enough space around your food, this Weston version provides you with 4 chrome plated removable and adjustable cooking racks to cook up to 14 pounds of food.
It also comes with two sausage hooks allowing for more room to cook your meat dishes diversely.
In solving the problem of securing smoke and heat within, there are lock clamps added to its doors which allows you close the doors securely and safely when cooking. However, we will advise that heat proof gloves be worn when opening the door as they could get very hot.
At a size of 36-inches, you will find this smoker to be lightweight with heavy duty carrying handles for easy mobility, and also has an external temperature gauge with easy to read temperatures.
Advantages
Cooks bigger portion of food
Long lasting
Easier temperature check
Pretty external finish
Disadvantages
Poor leg stand
Quite short
The Highly Recommended Choice
Having gone through this list of amazing gas smokers, our best propane gas smoker under $200 is chosen based on its cooking area, overall size and other quality features.
For this reason our top-notch choice is the Masterbuilt 20050211 Black Propane Smoker, 40-Inch
This best propane gas smoker offers the largest cooking size of 1,307 square inches for its affordable cost which makes it a great investment and ideal for a party.
Considering its 40-inch size and lightweight build, this device can be easily transported around making it easy to have a barbecue away from home with friends and loved ones.
Finally, you will also find it to be easily fired up and heated with its quick spark igniter and 15,400 BTU burners which can be easily regulated for the most desired heat.
It is indeed the best value for the money.
Still not sure why you should buy a propane smoker?
It is the one of two fastest options that you can find
We are not sure why you would want to spend eternity trying to grill. Time is of critical essence which directly correlates to your food making.
While traditions are great, grilling as your grandfather did is okay, but is this necessary? With modern technology, you can get the same results as the old methods of grilling.
There is no doubt that propane smokers are a total blessing to the world of smoking as they come with the essentials of every smoker but also beat the best in competition with their fast approach to cooking. In approximation, you are most likely to save 1 to 2 hours of cooking time when using a gas fueled smoker.
For this reason, you can now have enough time to marinate your food for a longer period. On the other hand, if you have a work deadline or need to start prepping for dinner, a gas smoker will save you the time and headache.
Is it of a good size?
Gas meat smokers vary in sizes that can fit in almost any kind of space. Space is an essential factor when purchasing a device like this.
One thing that we like about the gas smoker is the fact that they are mostly vertical designs. They contain enough cooking area within but also have an exterior design which utilize height space rather than width space.
This could easily fit into a storage shelf if you desire to have it stored this way.
Gas smokers do not require a lot of accessories to get running, just a propane tank. If you have claims that the tank will eat up some extra space, most tanks come in cylindrical shapes that will still save you space.
Therefore, keeping your backyard spacious and beautiful to behold is guaranteed when using a vertical propane smoker.
Are they beautifully designed?
Smokers are a contributing factor to beautifying the exteriors of your home. Which is why we believe it is intentional that gas smokers are designed to fit this need.
Most propane smokers are rectangular in height, a great finish on the outside and contemporary coloring that pops out class when positioned in the backyard.
We love these smokers if you are wanting a simple look for your backyard. A small design tip, consider purchasing one of these devices with an exterior color that will match your backyard or a neutral color if you want to play safe. From a distance, you will realize the beauty it exudes onto your property.
Check for easy mobility
Mobility is key. Many of us don't want to be burdened by holding up 3 to 4 people after a party to help reposition a smoker. They can be easily moved around which is why it is good to have a propane smoker.
On average, most of these machines weigh 40 pounds and are designed like mini wardrobes which makes handling them easier than a traditional 3-in-1 smoker grill combo.
The need of carrying your smoker from one location to another gets solved with these types of smokers. They fit very well in the back of a truck and able to be moved seamlessly to the location of choice.
However, some propane smokers may be larger in size. We will advise that you consider your needs when purchasing just so you do not feel deceived.
How simple is it to assemble?
Most propane smokers on the market come with easy to comprehend manuals to aid you in building your device once it is delivered to you.
Unlike other heavy duty smokers, these machines are like cabinets and may only need a few screws tightened here and there. Fix the cooking grates, set up the dampers and place the water and wood chips trays where necessary and you are ready to grill.
If you are not comfortable doing this yourself, kindly seek an expert to help you as to not damage your investment.
One of the easiest use to have
It almost seems as though gas smokers are designed for entry level users.
Many of the best propane smokers come with very easy to use technologies to aide the consumer. Aside from being propane gas fueled, they are also the best natural gas smokers that can be found on the market making fueling easy.
They usually come with quick start ignition systems, easy-to-use cooking grates and built in thermometers that will help you practice those recipes.
What should then be your consideration for your purchase?
Go for a great build
Before making your purchase, spend quality time researching the various products on the market and reading as many propane smoker reviews before finally making a choice.
Do not rely on brand names as some brand names may have produced good products in the past but not the device you are currently going to purchase.
Some materials of build to look out for are stainless steel, porcelain, cast iron and chrome. These elements are very resistant to rust, very good heat holders and do not wear and tear easily. Stainless steel propane smokers may be one of the more popular choices among consumers for its resistance to rust and sleek looking design.
Consider the welding strength of the device just so you do not have the smoker's door coming of its hinges one month down the line.
It must be sturdy
Most propane smokers come with 4-legged stands to support the vertical build of the device.
Ensure to check for a stand that sits solidly on the ground. Do not compromise for a wobbly stand simply because its pricing is good. In just a matter of time, your smoker will be completely bent to the ground.
Check for warranty options in case you encounter unstable legs after a short while, so you can quickly report the problem to the manufacturer for a change or fix.
Consider this tip very seriously as many have overlooked this feature and had problems down the line.
Have enough room for temperatures
If the smoker comes with a temperature gauge, aim for one that has between 50 F to 500 F. Having enough room to adjust temperatures is the best treatment that you can give your food. If you have a smoker that falls short of this, please walk away.
However, if the smoker does not come with a thermometer of its own, you are always able to purchase a thermometer and attach it to your new smoker. .
Always ensure to consider temperatures are one of the key aspects for grilling food and cannot be done without.
What is your serving size?
We always advise to go for a bigger sized smoker even if you are aiming to feed just yourself and your best friend.
These devices are designed to last a long time like many other cooking equipment. There will be the need to cook for a few more friends pretty soon and the bigger size consideration will come in handy.
Look out for the dimensions of the machine's build and more importantly the cooking surface area. Most manuals will give you a serving size approximation or you can simply read about it online to help you make a good choice.
Go for a front-loading design
Most smokers now come with a front door loading design which makes placing and removing food from your smoker one of the easiest things to do.
It is also a safer and cleaner option to have as compared to a top load option which will only make your work more difficult when positioning food on the racks. When you need to open the door and make some food adjustments, you will have more control to turn food around with ease. This option will also prevent you from getting burns while working.
What is the product and part availability like on the market
Always go for one that is readily available on the market and has enough parts available to purchase.
In short, if there are limited supply of the products and parts, your smoker may be as good as scrap in a matter of one year as you will be unable to make quick fixes to it in case of any major damages.
Dual door options are better
The 2-door option allows you cook food in one area and make your fire in another area without any interruptions to your food while it cooks.
It is the ideal solution for loading more wood chips to your smoker as well as adding water to your water pan for moisture.
Many other types of smokers do not come with this feature so we like the gas smokers for this add up in design.