Grilling is more fun when you do it outdoors and cook up some delicious snacks even in remote places. So, here is a list of the best portable gas grills reviewed for you to be the expert grill master outside home too.
Grilling is always fun and grilled food is delicious. But why limit yourself to grilling only at your house or at your apartment. It's also nice to enjoy juicy grilled food on camping and fishing trips, or at the beach, right? Well, not to worry. We have a list of the best portable gas grills for 2022 here.
These are well-made, durable and nice gas grills that are made with the adventurous griller in mind, so you can take it with you and enjoy your favorite food in every outing.
So, here goes the list.
Why Should You Buy a Portable Gas Grill?
Like we said, grilling is fun. If you're here, you know that. But if you own a large, outdoor grill, you also know that those things are not the easiest to move around.
You can probably move it around in your house, take from the patio to your garage if you want to put it away, but if you ever want to go camping or hiking, then you know you will not be hauling that thing behind. And it probably won't even fit in your car unless you have a large truck.
For those times when you're out and about with your family or friends, but you still want to have delicious stakes, burgers and grilled vegetables, a portable grill is ideal.
Easy Fitting
Portable gas grills are easy to carry around, will fit almost anywhere and you can get a decent one even if you're on a budget.
Extremely Versatile
Plus, they're also versatile. Most of them can use either small, disposable propane tanks or the larger ones.
That means they're not just good for when you want to carry them around, but also for when you're constrained for space. You can use one of this on a boat, on your apartment balcony or your RV.
What Features to Look for in Your Portable Gas Grill?
Portable gas grills come with an array of features. You need to decide on which features are must in your unit and what you can probably do away with.
Now, your choice of a portable griller should be determined by factors like how frequent will you be using it, usually for how many people and so on. Accordingly, some of the features are:
Temperature Control
To maintain portability, the units usually have one temperature control. This is fine as long as you are choosing a single burner one. For those with 2 burners, two separate temperature controls are necessary to adjust accordingly.
Number of Burners
Well, portable grills with one burner can satisfactorily fulfill your grilling needs in a picnic and so on. However, if you wish to cook meat and vegetables together, it is wiser to go for the ones with 2 burners so that you can adjust the temperature for the desired result.
Grates Quality
The more quality made the grates are, the better will they be able to keep the heat in the cooking area. You have the option of choosing grates made of nickel, chrome, cast iron or stainless steel.
Cooking Area
Portable grills come with a range of cooking surface area with the standard being around 220-250 or less for some really portable ones. Go for one with a larger cooking surface if you are planning to use the unit often for picnic, tailgating and more of such outdoor uses.
Reviews of the Best Portable Gas Grills for 2022
Char-Broil Grill2Go X200 Portable TRU-Infrared Liquid Propane Gas Grill
One company that has been making that has been making grills and burners for seventy years is Char-Broil. All those years of experience means that they know grills and they have sure put out some great ones, like this particular Char-Broil model.
This is a grill meant for the adventurous grillers. It has a sturdy, rugged built, which makes it appropriate and great for camping, the beach, or to take on any kind of excursion.
The firebox and the lid are made from cast aluminum and stainless steel grilling grate and lid latches, and it has heat-resistant carrying handles on both sides.
It has a simple and lightweight table top design, so you can just relax or do other things while your food is grilling. The top handle is designed to let you open the hinged lid easily.
The grill also includes the Char-Broil TRU-Infrared cooking system, which uses radiant heat instead of convective heat to cook your food, which cooks food faster and without drying it. You can cook a steak in 5 minutes and it will come out with all its juices and flavors.
This Char-Broil grill can also be converted for use with a 20 lb. gas tank, in case you want to use it in a limited space environment, but won't necessarily be moving it around a lot.
Advantages
Rugged construction
Infrared technology cooks food faster
Can be converted to use a 20lb gas tank
Disadvantages
Gets really hot on the outside
Cooking temperature can be tricky to control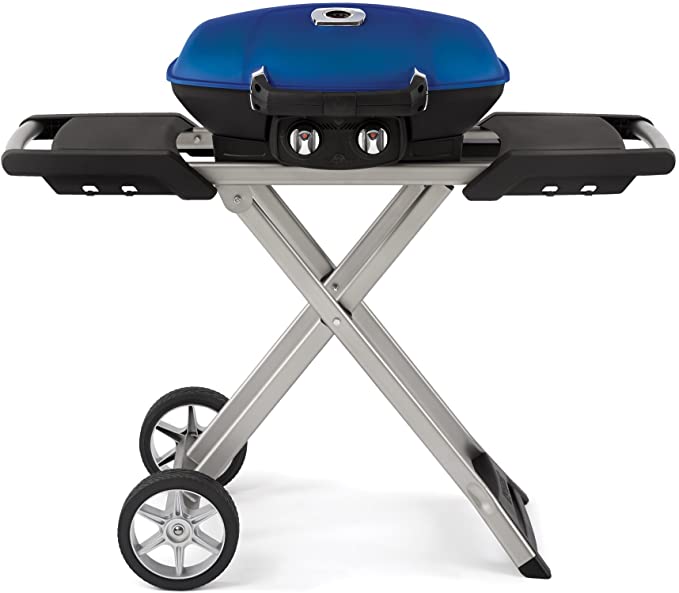 Napoleon TQ285X-BL Portable Propane Grill with Cart
The unit looks great and works even better. The manufacturer has been making grills for over thirty years, so they should know a thing or two about them by now.
This one is a looker. It has a stylish blue color design and it even comes with a cart, so you have support and mobility right there.
The cart's legs are foldable, so this makes this one the best portable gas grill for apartment balcony. After you use it, you can easily put it away. But don't think you won't be taking this one out. The wheels are all terrain, so you can just as well take this grill with when you're picnicking or tailgating.
It also has two side shelves, giving you room to prepare your food or to hang your utensils.
This is a powerful little grill, too. It has two stainless steel burners to deliver enough heat for you to cook lots of food at once. Its heavy weight can be bit of a problem when it comes to its portability though.
Advantages
Has a lid locking mechanism
Individually controlled burners
Can be adapted to be used with a full size tank
Easy assembly
Disadvantages
Does not have an adjustable vent
It is a little bit on the heavy side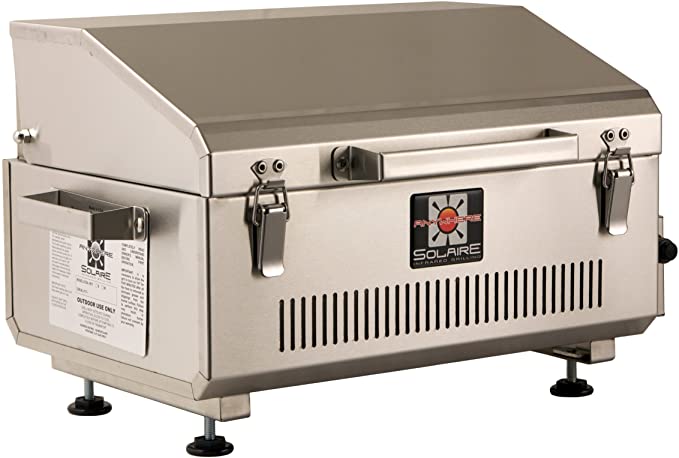 Solaire Anywhere Portable Infrared Propane Gas Grill
This unit from Solitaire is definitely not cheap. As grill prices go, this will cost you more than some larger gas grills. But there is a reason for that. This is the most powerful grill in our list, and no doubt the first you'll think when you see it is "Quality".
The grill has a straightforward design. It has a commercial grade stainless steel construction that is all welded, so it's very robust and there are no little hinge pieces that could come off.
It features V-shaped stainless steel grids, with infrared technology. This combination reduces flare-ups and keeps food flavor when it's cooked. The grill provides lots of evenly-distributed heat, all the while remaining compact.
This certainly is a top-rated portable gas grill, with a burner design that is the same as the one used in restaurants. So, you'll have professional quality, juicy food anywhere.
Advantages
Professional burner design
Can be adapted for use with larger tanks
Very easy assembly
Simple heat control
Disadvantages
Grease is not exactly easy to drain
Sometimes blows out if there's too much wind
Grill grate is hard to clean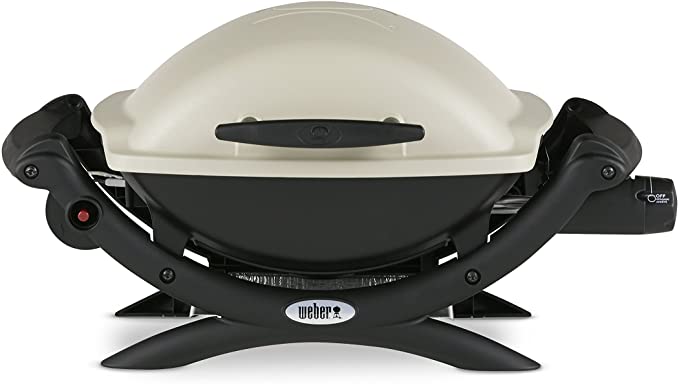 Weber 50060001 Q1000 Liquid Propane Grill
The unit is a super portable grill with a sturdy, ergonomic design and the performance that users of Weber grills have somewhat come to expect.
It has large grip and side handles and sturdy front and rear cradles, porcelain enameled cast iron cooking grates that heat up quickly and cook evenly. The body and lid are made of durable, light-weight cast aluminum.
The grates are split, so you can remove one and, with the right griddle, you can have a grate/griddle cooking combination. However, the absence of a thermometer for temperature control can be a bit difficult especially, for the beginners.
The weight and size of this grill are definitely meant for portability. But even though it is designed to be moved around, like the other portable grills featured in this list, it can be adapted to be used with larger gas tank. This little grill is also the perfect portable grill for RV.
Advantages
Grate/griddle cooking possibility
Comes fully assembled in the box
Disadvantages
No thermometer for temperature control
Some parts are not easy to clean
The gas connector can get in the way when carrying it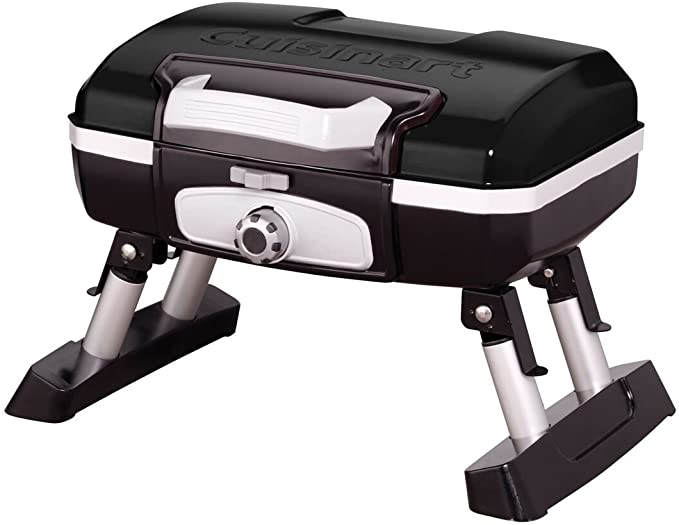 Cuisinart CGG-180TB Petit Gourmet Portable Tabletop Gas Grill
The model from Cuisinart is the best small portable grill and it's meant to deliver great performance. Cuisinart is a company that has made a name for itself in manufacturing all sorts of kitchen appliances for almost five decades.
Because of its small size, this grill is perfect for situations where space is limited, as well as situations where you need to grill on the go, while you're camping or at the beach.
It weighs less than 12 pounds and includes a carrying handle. This grill is so easily moved around and it's great for taking it with you whenever and wherever you need to. The foldable legs allow for easy storage when you're not using it.
This is a great grill for all your fishing and hiking trips, or if you just like grilling out in your front lawn. It is compact, but sturdy enough and will cook whatever is thrown at it with no problems. It's also easily cleaned, with a removable grate that you can throw in the dishwasher.
Advantages
Portable, light design
The lock keeps the lid secure when moved
Easy to set up and easy to put away
Disadvantages
The drippings catcher fills up quickly
No thermometer for temperature control
To sum up
These are what we think the Best Portable Gas grills for 2022. We've gone from the ones that strongly favor style, to the ones that are more about performance.
So, which one is the best or the most recommended? We think the Napoleon is pretty cool. It has a sleek design that doesn't compromise durability, and it includes a cart with wheels, so that you can move it around and you don't have to worry about finding a place to put it on. But it can also feel heavy at times.
If it's portability you're after above everything else, then the Cuisinart is for you. It's super light and is also resistant, so it can be taken anywhere.
You have the last word, but we want you to have all the info on what portable propane grill you can purchase for all those times when you're out somewhere and just want to have a burger made by yourself.
A portable gas grill is enough for you? We prepared a bigger and comprehensive article for you who want something more: Best Gas Grills on the market