Few can resist a rack of perfectly smoked ribs, and nothing compares to the unique flavor a low and slow smoke creates. Of course, to achieve that, you need a quality smoker—and many pellet smokers can offer you just that.
Since there are a plethora of options out there, though, we decided to give you more than a quick description of what we consider to really be the best. That way, you can narrow down your options and find the perfect fit for your next BBQ.
To start, we'll get right to the point with six of the best pellet smokers on the market in 2022—but stick around. We've also put together an in-depth buying guide and answers to all your smoky questions. Let's get to it.
Review – Best Pellet Grills 2022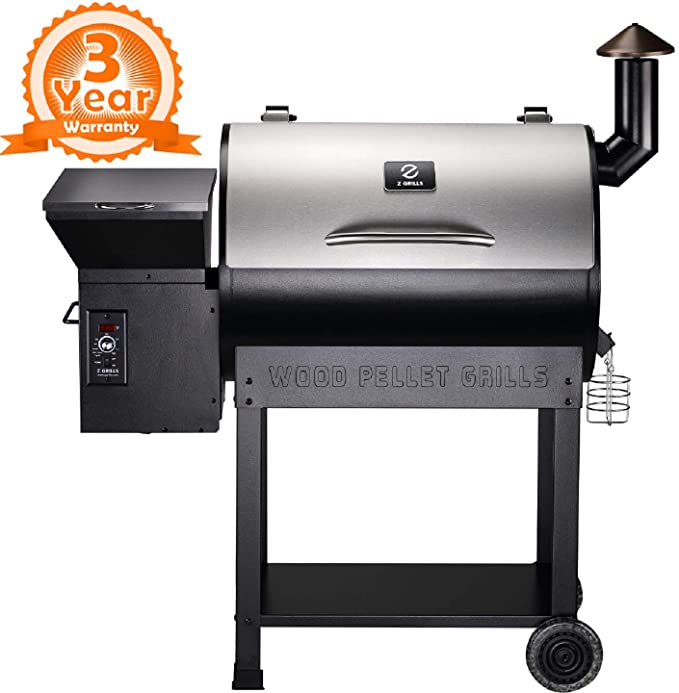 Z GRILLS ZPG-7002ENC 8-in-1 Wood Pellet Grill and Smoker
The Z GRILL ZPG-700 Series Wood Pellet Grill and Smoker Features at a Glance:
Cooking Area: 19.2 x 26.25 inches (504 square inches)
Smoking/Warming Rack: 6.9 x 27.5 inches (190 square inches)
Cooking Temperature: 160°F to 450°F
Hopper Capacity: 20 pounds
Shutdown Recycle Mode
Digital Controller
Z Grills made something special with this new model grill and smoker. It has multi-use purposes and a nice look to it with stainless steel construction.
This is a US brand that's been on the market for the past 30 years, offering high-quality products since the beginning. It's not a high-end brand in terms of price, but it is in terms of what it has to offer.
It's easy and efficient. It only takes the push of a button to put everything in motion. The temperature control eliminates starter fluid, leaving you with nothing else to do. It's also low-cost when it comes to fuel consumption.
Accuracy is a strong point in this smoker, the maximum temperature fluctuation is 10 degrees, with 450 degrees Fahrenheit as the limit. Cook ribs or grill some chicken—you can do pretty much anything with this model, including grill, smoke, bake, roast, sear, and barbeque
Since there's a steady flow of heat, the smoky flavor is going to leave a good impression even from the first use.
Advantages
A well-known US-based brand that's been on the market for 30 years
Easy grill temperature control and even heat
Digital temperature control for a hands-off cooking experience
450 Degrees maximum heat
Versatile—eight cooking options
Shutdown recycle mode
Great system for stopping temperature fluctuations
Disadvantages
Small hopper size—only 20 pounds of pellets
Low capacity for food
Hard to carry
Doesn't come with a meat probe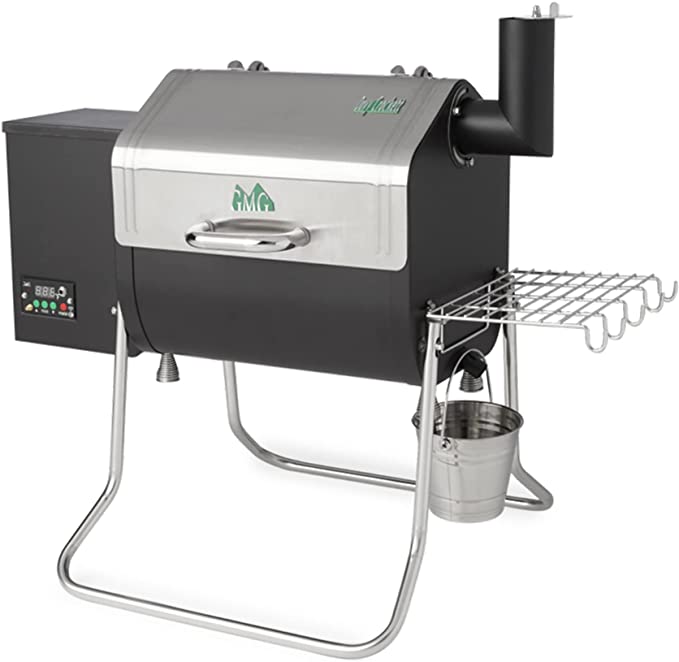 Green Mountain Davy Crockett Pellet Grill – WIFI enabled
Green Mountain Davy Crockett Wood Pellet Grill Features at a Glance:
Cooking Area: 17.6 x 12.6 inches (219 square inches)
Cooking Temperature: 150°F to 550°F
Hopper Capacity: 9 pounds
Wi-Fi Enabled with Smart App
Three power adapters
Comes with a Meat Probe
The Green Mountain Grill DCWF is an affordable option that offers pretty much anything you would want if you're looking for an occasional barbeque. If you're looking for a grill that's ready for a contest, this might not be your best option.

It comes with a lot of features, including Wi-Fi, a digital controller, a sensor for the grill temperature. It also comes with a meat probe, a convenience tray, and a peaked lid for rib racks.

What's also good about this model is the ease of carrying it around. It only weighs 68 pounds, plus it's foldable so you can fit it anywhere you want. It's the perfect camping grill, and even though it needs to be plugged to a power source since it offers adapters for three different power options, including the use of a car battery, you can take it outdoors without much of a problem.

Since it has built-in Wi-Fi, you can control it with your phone on Android or iOS.

We recommend the Green Mountain Davy Crockett Grill DCWF to anyone who wants to move around and enjoy some good food at the same time. It's not the cream of the crop in terms of quality, and from our perspective, it's more targeted to amateur pitmasters, but it offers more than enough value for the price, making it the best option for someone who wants a little taste of what pellet smokers are.
Advantages
Affordable
Wi-Fi enabled out of the box
Digital controller
Electric smoker with three power adaptors
Comes with a meat probe
Convenience tray
Foldable and super easy to carry since it weighs under 70 pounds
Disadvantages
Small hopper size
Low capacity for food
Hard to carry
Low capacity for food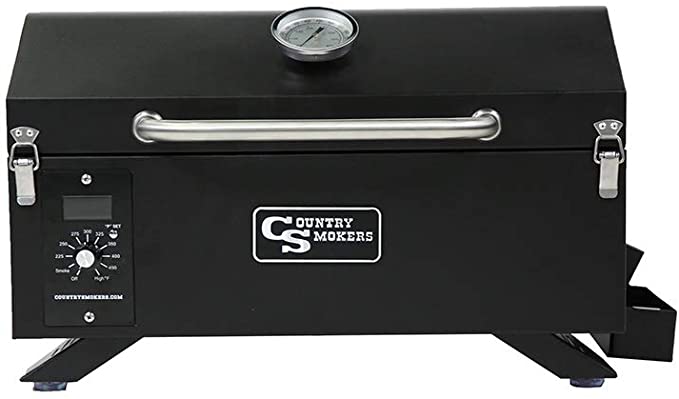 Country Smokers CSPEL015010497 Wood Pellet Grill and Smoker
Country Smokers CSPEL015010497 Wood Pellet Grill and Smoker Features at a Glance:
Cooking Area: 191.4 square inches
Upper rack: 64.6 square inches
Cooking Temperature: 180°F to 500°F
Hopper Capacity: 3.5 pounds
With a minimum temperature of 180 degrees Fahrenheit and a maximum temperature of 500 degrees Fahrenheit, this great outdoor pellet griller is getting more and more attention from BBQ lovers that are on the road most of the time.
It's obviously small compared to normal smokers, but it has enough room in the hopper to get around 3.5 pounds of pellets inside. The 256 square inches of cooking space is just perfect for grilling all kinds of foods pretty much anywhere.
It looks good, it gives a good flavor to your food, and it's all you need to take with you when going camping, fishing, or on a road trip. You can do a lot of things with it, from baking to roasting and grilling. You can even sear and BBQ with it if you want.
In terms of quality, it's not the best there is. The material is acrylic, so you can't expect it to have a long life, but when you look at the price, you can see why. It's really affordable, considering all its features. Plus, it's always good to have a grill like this around, you never know when an adventure might appear, and you have to hit the road.
Advantages
Affordable
Heats up to 500 degrees Fahrenheit
256 square inches of cooking surface for a portable grill
Easy to carry
Disadvantages
Small hopper size— 3.5 pounds
Low capacity for food
Acrylic is the main material rather than stainless steel
Camp Chef SmokePro PG24MZG Slide Smoker & Pellet Grill
Camp Chef SmokePro PG24MZG Slide Smoker Features at a Glance:
Cooking Area: 811 square inches
Upper rack: 382 square inches
Lower rack: 429 square inches
Cooking Temperature: 160°F to 500°F
Hopper Capacity: 18 pounds
Includes a meat probe
The Camp Chef SmokePro PG24MZG Slide Smoker is a stainless-steel tank. It has a chamber capacity of 3,778 cubic inches—more than enough to smoke just about anything you want. You can slide and grill, BBQ, roast, braise, and much more in just one place with this top-notch grill.
You can set, monitor, and control the temperature with one button, ensuring no smoke fluctuation for the perfect taste. It makes cooking super easy and stress-free. It comes with a meat probe, too.
Just like any other smoker that has an automatic temperature controller, you don't have to sit with your hands on it non-stop. In fact, you don't need to sit near it at all. Throw an eye from time to time, but otherwise, relax and wait for it to do its job.
Cleaning is a breeze, just pull out the lever and get the ash out instantly. This system is unique for the Camp Chef brand—if you want it, you can get it only here. Cleaning can be a hard part of the cooking experience. We guess that's why this company came up with a way to make it as easy as possible.
It has dual adjustable/removable shelves, and the cooking surface is huge, one of the largest on the market at a bit over 800 square inches of cooking space. If you have a bigger family and you need to cook different types of meat at once, then this is perfect for you. It's also an excellent choice for those who fish or hunt often.
Advantages
Built like a tank–durable stainless steel
Max temperature of 500 degrees Fahrenheit
Chamber capacity of 3,778 cubic inches
Set, monitor, and control the temperature with just one button
Easy, unique cleaning system
Versatile –dual removable/adjustable shelves
Great brand with quality products
Disadvantages
Not as affordable as other models
Hard to move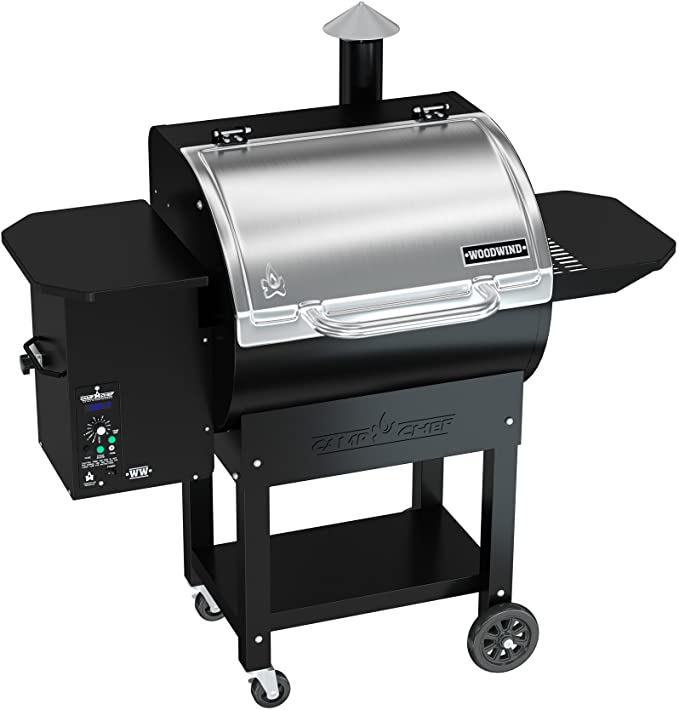 Camp Chef Woodwind Classic Pellet Grill and Smoker
Camp Chef Woodwind Classic Pellet Grill Features at a Glance:
Cooking Area: 570 square inches
Upper rack: 141 square inches
Lower rack: 429 square inches
Cooking Temperature: 160°F to 500°F
Hopper Capacity: 18 pounds
Another one from Camp Chef. This company is doing a lot of good things with its pellet grills.
This model is smaller than the one we mentioned above, but it's just as good. It has an automatic auger that feeds the smoker pellets, so you don't have to, digital control for the temperature, and much more so you can relax while cooking.
The temperature range is nice—from 160 degrees Fahrenheit to 500 degrees Fahrenheit. It's an electric smoker and made from stainless steel. The pellet grill and smoker combined have 570 square inches of cooking surface and enough space for you to cook whatever you want to, for as many people as you can handle. Go for brisket, ribs, whole chickens, whatever strikes your fancy.
What's also cool about this model is the patented ash clean system it has. Just like the other pellet grills from Camp Chef, cleanup couldn't get any easier. Besides the fact that you don't need to stand by and watch it, you don't even have to worry about dealing with the cleaning process, you just take the ash out with one pull, and that's it.
Advantages
Up to 500 degrees Fahrenheit
Durable stainless-steel construction
Automatic auger
Set, monitor, and control temperatures with a digital device
Easy, unique cleaning system
570 square inches of cooking space
Great brand with quality products
Plenty of food cooking options—sear, bake, barbecue, grill, and smoke
Disadvantages
Not as affordable as other models
Hard to move
No sear box (it's an expensive upgrade)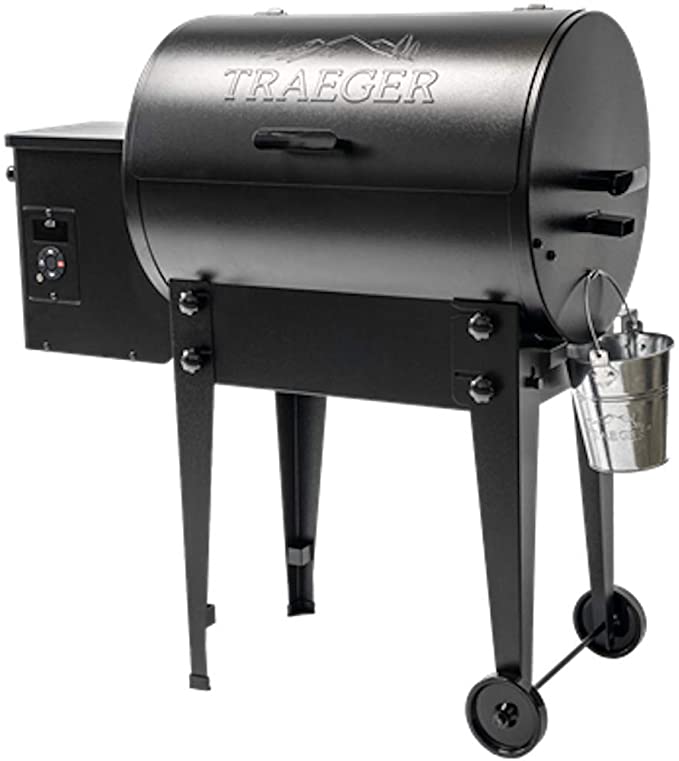 Traeger Grills Tailgater 20 Portable Wood Pellet Grill and Smoker
Traeger Grills Tailgater 20 Portable Wood Pellet Grill and Smoker Features at a Glance:
Cooking Area: 20 x 15 inches (300 square inches)
Cooking Temperature: 180°F to 450°F
Hopper Capacity: 8 pounds
Versatile folding design for travel
Non-stick grill surfaces
It was about time to mention something from Traeger on this list. After all, they are well known for their high-quality products. Some even saying they are king in terms of making smokers.

Well, this time, Traeger has only one place on this list, and surprisingly, this place is occupied by a portable wood pellet grill.

The Tailgater is a lightweight among Traeger smokers and pellet grills, but that doesn't make it any less worthy of a spot among the best pellet smokers. It's an all-around pellet grill that allows you to smoke, grill, bake, roast, barbecue, and braise. Whatever you want to do with it, you can.

It lends great flavor to the food (if you're using great wood), and it's really versatile with six options for cooking. Plus, it's easy to carry around, with foldable legs so you can throw it in the back of your car and go on a road trip.
It has a multi-position thermostat control, and an elite digital controller to keep temperature fluctuation in the 20-degree range.

It's definitely smaller than most pellet grills, with only 300 square inches of cooking space, but since it's portable, that sounds like a given. According to Traeger, this model can "comfortably hold up to 12 burgers, 2 whole chickens, 18 hot dogs, or 3 racks of delicious." It might not be 700 square inches, but when you look at that list of menu options, small is not the word that goes through your mind.

The maximum temperature probe for this specific smoker Traeger is 450 degrees Fahrenheit. It also allows you to cook fast or slow, and there's a smoke setting that's specifically made to give those delicious wood flavors.

As a big plus, the grill grates are made from a material that's anti-stick for fast cleaning. It works great with elite wood smoking pellets from Traeger, too.
Advantages
Up to 450 degrees Fahrenheit
Features six options for cooking food
Digital temperature control for minimizing the fluctuations
Easy to read bright LED display
Electric smoker with auto-start ignition
Great brand—considered the best of the best for smokers
Easy to clean porcelain grill grates
Versatile
Lightweight and easy to carry
Disadvantages
Not as affordable as other models
Smaller size than most pellet grills
No sear box
With our reviews wrapped up, it's time to move on to…
Everything You Need to Know About Pellet Smokers
We don't just want to make sure you get the best pellet smoker on the market—we want to make sure you know why it's the best, among other smoker information. We've crafted this in-depth buying guide and FAQ just for you. We'll even cover the best pellets to use in your new smoker.
First things first— How do pellet smokers work? You can't say a pellet smoker is better than another one if you don't even know how they work, let alone choose the best. Pellet smokers are unique compared to other options on the market, such as smokers and grills that run on gas or electricity.

The system behind pellet smokers is as close as you can get to natural meat smoking because it uses wood pellets as a source of heat.

Everything is controlled digitally, so you're not actually doing it old-school style. You can set the exact temperature you want, all through a small controller, usually placed on the outside.
There's a place for you to put the pellets in, then the smoker does its job by burning those pellets through the use of an igniter and fans for oxygen.

Looking at parts in the order of their importance, the controller comes in the first place. It's what sets the temperature for the cooking, so if that's not working well, you can say goodbye to good food.

There are quite a few types of controllers:
Three-Position Controllers
Expect to see this if you're buying a cheaper pellet smoker. These controllers have three settings. A low one for 225 degrees Fahrenheit, a medium one for 325 degrees Fahrenheit, and a high one for 425 degrees Fahrenheit.
The system behind them is based on a feeding cycle, meaning that your grill will get pellets only at a certain period, making temperature regulation quite hard for you. We suggest staying away from these types of controllers if possible.
Multi-position controller
As the name suggests, these controllers help you set the temperature at multiple degrees. They don't offer high accuracy, but they are still a lot better than three-position controllers. Usually, you'll see them on average priced pellet grills, and they offer a temperature fluctuation of up to 20 degrees Fahrenheit. Plus, grills that use these are often equipped with a display.
One-Touch Non-PID Controller
More expensive pellet grills have one-touch non-PID controllers that help you set the temperature in increments of 5 to 10 degrees Fahrenheit. They work the same way as the three-position controller or the multi-position controller, but the accuracy is a lot better. Also, they usually have meat probes and digital displays.
PID Controller
The last type of controller is the PID controller. These are the best of the best, offering accuracy up to a few degrees. That way, you can count on the fact that the temperatures are accurately displayed. With this controller, the grill gets pellets based on how you want the cooking temperature, not following a specific cycle. These also have displays and meat probes.
Pellet Smoker Features
Rest assured, compared to what other types of smokers can offer, pellet smokers are really futuristic. Some features might not even seem important, but having a few extra ones never hurt, so you might as well enjoy and make the most out of it.
The most common features in smokers include:
Grilling
Two in one—do more than just smoke your meat. Nowadays, a lot of pellet smokers include a grilling option too. Some even have a special compartment just for grilling. Next time you're doing a barbeque, you can mix things up and have fun. After all, it's all about the experience, and, well, the taste.
Wi-Fi
How does a remote-controlled pellet smoker sound to you? Well, lately, smokers come with this option—Wi-Fi control through an app on your phone. That means you can set or control the temperature on your grill wherever you are.

You no longer have to sit in front of it, making sure the meat doesn't burn, you can sit on the couch and relax with a beer in one hand and the phone in the other—changing the temperature with the press of a button.
Digital Meat Probes
To make things easy for meat lovers, specific brands of pellet smokers have a digital meat probe option installed, so you can check all the details directly on display, without using a stand-alone meat probe device.
Extra Features
Just like you get an update for your iOS or Android system once in a while, most companies offer certain upgrades for their smokers and grills as a way to keep an edge over the competition. You get your grill as a standard version, and you can buy additional options for it, such as a bigger hopper, racks for more cooking space, or a particular feature that you want.

This is also great if you find a pellet grill that you really like, and it doesn't have something that you need because you can add it at a later date, creating a version that's perfect for your needs.
Material Quality
More important than the looks and the features, is the quality of the materials used in manufacturing the pellet smoker. Of course, you don't want something that looks bad in your backyard, but you certainly don't want a smoker that gets broken fast.
Stainless steel is a must, and not only on the visible parts. You want high-quality material, preferably stainless steel, on the inside as well.
The components you should check first are the grates, fire pot, the flame detector, and the pan. That's where you want your stainless steel the most, because if those last, then your overall grill will outlive you. Coated or not, make sure everything is top-quality.
Do in-depth research on what type of steel the manufacturer is using if the paint is long-lasting or not, if the material has a predisposition to rust, and so on.
The better the smoker, the better the food. That's not just a saying. It's actually true because high-quality materials keep the temperature stable and make the entire cooking process easier.
Hopper Size
The next thing on the list that you must take into consideration before buying a pellet grill smoker is the size of its hopper. That's where you put your pellets before they burn. It's super relevant for how much you can cook at once.
The more wood pellets you can add into the pellet hopper, the longer you can cook. That's why a pellet smoker with a bigger hopper size is the right choice if you plan on slow smoking.
To get a good idea of how long your smoker can function on one fill, figure that one pound of pellets equates to one hour of cooking. That means you'll get about ten hours of cooking from a ten-pound pellet hopper.
Make sure you pay attention to temperature variations when calculating the cooking time, the colder the place where the pellet smoker is, the bigger the pellet consumption, resulting in shorter use.
If your dream smoker doesn't have a pellet hopper big enough for your needs, don't stress over it. You can always add an extension to it as long as it's compatible. Do your research before, so you don't waste money pointlessly.
Pellet Consumption
Unless you have an unlimited supply of pellets at home, take pellet consumption as a serious matter when you look at buying a pellet smoker.
Manufacturers vary, and finding a perfectly made smoker can be quite a journey. A smoker made of materials that are too thick or thin can cause issues.
If the material is thin, you'll waste a ton of fuel just to keep the temperature steady, because the heat gets out fast.
The opposite is not right, either. Thicker material makes it harder to reach certain cooking temperatures. You'll deal with the same problem but in a different shape.
Useful Life
Buying a new pellet smoker every other three months doesn't sound too good, does it?
If you want to stay stress-free, then look at the expected lifetime of your smoker. Smoker life expectancy is a combination of how high quality the materials are with what kind of guarantee you get for buying it. Certain brands might offer full repair service for free. Others might ask you to pay but give you a discount for an undetermined period.
One thing is certain, you need to make sure your pellet smoker will last as long as you need it to, and in case it doesn't, you have a warranty that helps you fix it fast, easy, and without any headaches.
Price
Smokers come in all shapes and sizes, and the price options are definitely plenty. Our advice for you is to buy something high-quality but not stretch over your budget.
Smokers at the high-end might be a bit pricey, but in the long run, you'll have more benefits than you'd have if you buy a cheaper and lower quality pellet smoker.
Make sure you balance your budget with your need for the object itself. If you're a big barbecue fan, and you plan to use the pellet smoker at least weekly, then go for something pricier because you'll end up saving more over time, and you'll also save yourself the stress that comes from seeing your pellet smoker break out of nowhere.
On the other hand, if you only BBQ occasionally or want something just for camping, you can likely slide by with a budget model. We reviewed a few affordable winners here already.
Compile a list of pros and cons for buying a cheaper/lower quality pellet smoker vs. a more expensive/higher quality one. Take a look at materials, warranty, and all the other aspects we're mentioning here, and then look at your desire and planned usage time.
Is Buying a Pellet Smoker Worth It?
Before jumping head-on into buying the best pellet smoker in 2022, you first need to ask yourself if pellet smokers are actually worth the time and the money.
To cut to the chase, we want to start with the bad parts, then move on to the good ones. That way, you'll be pleasantly surprised once you're done with reading this section.
What's Bad About Pellet Smokers?
Pellet smoking a bit pricey compared to your traditional gas or electric smoker. Prepare to shell out up to 10x more for a high-quality pellet smoker. Of course, you can find something okay at a lower price close to what you would spend for a gas/electric one, but that means you'll also get fewer features and not as good quality.
Pellet smoking a bit pricey compared to your traditional gas or electric smoker. Prepare to shell out up to 10x more for a high-quality pellet smoker. Of course, you can find something okay at a lower price close to what you would spend for a gas/electric one, but that means you'll also get fewer features and not as good quality.
If you want to sear the meat, you'll have to settle for something less tasty. Unfortunately, pellet smokers are unable to reach extreme temperatures, thus making searing harder than with your usual smoker. Even worse, it doesn't put out that much smoke, making the meat less tasty. Though if you're the type of person that believes in the harmful effects of heavily smoked food on your health, then you'll see this as something positive rather than negative.
Fewer models are portable. You see, pellet smokers are a bit techier, and they need electricity to function. That means you can't really go anywhere with it unless you have a source of energy to use. Some models do offer compatibility with things like car batteries, but for many options, camping might be out of the question. If you just need a smoker for at-home use, though, you won't be disappointed in what a pellet smoker has to offer.
Harder to find the heat source. You can't find quality pellet options everywhere like gas is, so you need to buy extra to avoid running out when you least expect it. That's a big downside for most because a spontaneous BBQ might be out of the question if you don't have enough pellets in your provisions.
Enough with the bad stuff, let's take a look at what makes a pellet smoker worth it.
What's Good About Pellet Smokers?
It takes all worry out of cooking. You don't have to stay near it, unmoved for hours like a doorman. You just put the right settings in, and you can enjoy some quiet time while the meat is basically cooking itself.
It offers easy temperature control. Once you set the cooking temperature, you don't have to worry about it going too low or too high. It might fluctuate a bit, but not more than a few degrees, and that's not something that can damage the quality of the end result.
Cheaper in fuel consumption. Both charcoal and gas are more expensive than pellets, which means you will spend less in the long-term even if the upfront cost might be more significant.
Super easy to clean. You only need to clean a pellet smoker once every few months, and it doesn't take very long, compared to messier options such as charcoal.
Is Traeger the Best Pellet Grill?
Traeger is among the best-known pellet griller brands. Most think it's the best brand by a long shot in terms of pellet smokers since this company was the first one with this type of product on the market.
They do take things a step forward in any area compared to other companies, but that's something you will see in the price tag too. The temperature control, the size, materials, and additional features in Traeger grills are usually superior, but not always, and not in everything.
There are plenty of other brands that offer high-quality pellet grills at lower prices. They might not have temperature control as precise as a Traeger, or maybe the hopper size will not be as ideal, but one thing is true— you can find what you need in other places as well.
To make the best decision for your needs, take into consideration brand recognition and history, but don't neglect other companies because of that. Analyze things clearly starting from the technical description, up to the testimonials, and only after deciding for yourself if a Traeger grill is what you need.
Do Pellet Smokers Give Good Flavor?
The short answer is yes. They do give a fantastic flavor if you're using the right wood. What's even better is the fact that you can use a different type of wood to mix things up and change the taste from time to time. You simply can't get the same flavor from a charcoal or propane grill.
Granted, there is some degree of skill involved. Cooking at the improper temperature, unstable temperature, or choosing poor seasonings can lead to a poor taste just as it can with any other cooking method. Overall, though, pellet smoking is a fairly easy way to get a delicious hunk of meat.
Best Wood Pellet Flavors
As mentioned, the quality and type of pellets you use can drastically affect the flavor of your meat—or vegetables—whatever you're smoking. Pellet flavors vary based on the type of wood they are made from. Popular options include:
Alder
Apple
Cherry
Mapple
Mesquite
Oak
There are different types of wood pellet options made in different ways, with different effects, as well. We won't go into much detail, but basically, you can use wood pellets for cooking at high or low temperatures, fast or slow, depending on how you like it.
Our Top 3 Picks: The Best Wood Pellet Brands
Just as the type of wood matters, so does the brand. While you wouldn't expect much variance in quality in a product like wood pellets, surprisingly, there's quite a bit. We have a couple of favorites we'd like to share.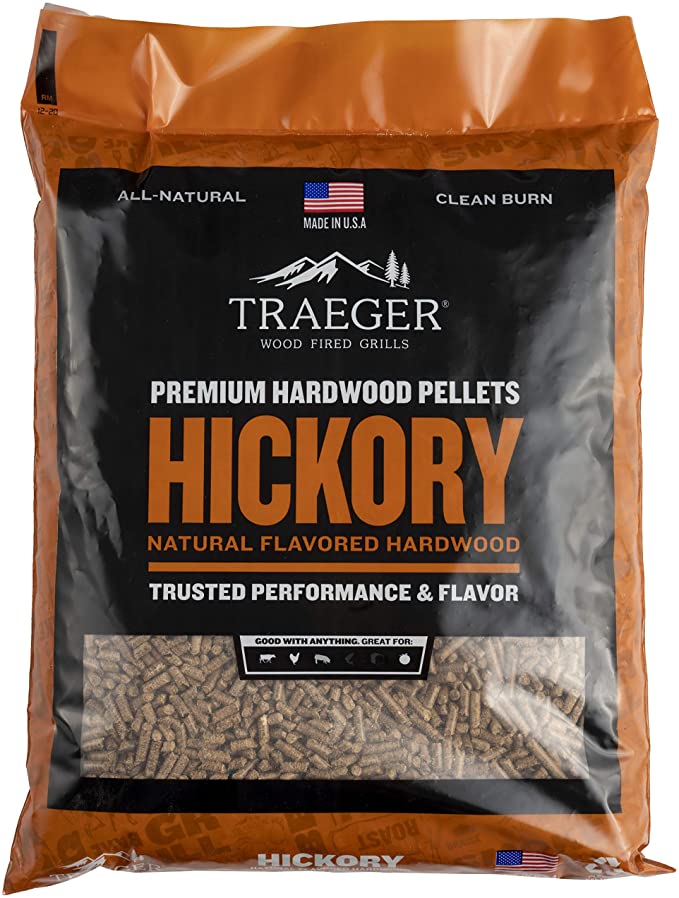 Traeger Smoking Pellets 100% All-Natural Hardwood
Traeger has some great smoking pellets— which is no surprise considering how they are positioned on the market as the best of the best among grill manufacturers.

Their pellets are made from natural hardwood with no fillers whatsoever. They are also super affordable for how much you get, and they don't burn quickly, so they'll stick with you for quite some time.
Trager has plenty of flavors to choose from, including apple, maple, Texas, turkey, alder, oak, and pecan. You have no shortage of options from this brand.

Texas beef and turkey are the best from all these flavors, in our opinion. Probably because they are a combination instead of just an individual flavor. Of course, you might think otherwise. It all comes down to taste, which is definitely subjective.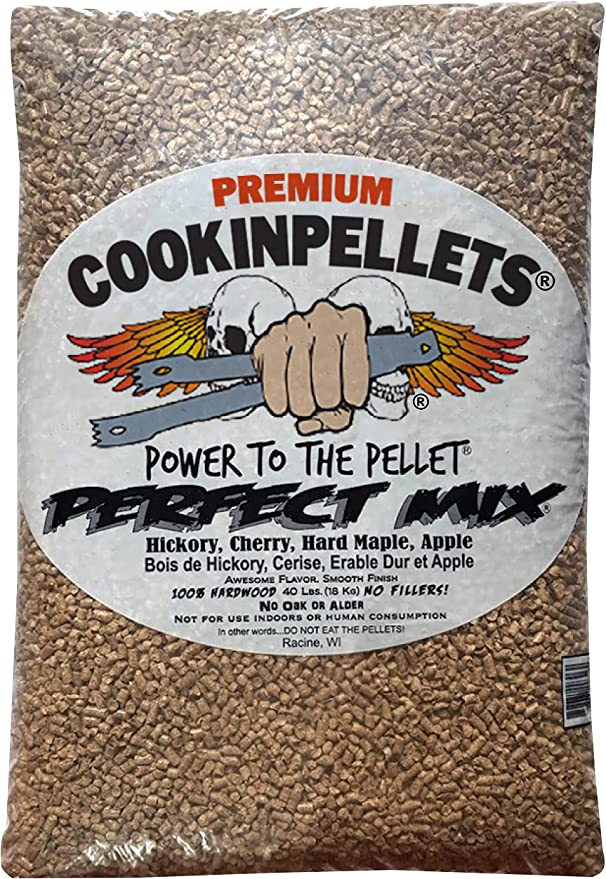 CookinPellets 40PM Perfect Mix Smoking
CookinPellets is another popular pellet pick among professionals. Their wood pellets are easy to use and affordable.

You can get them in four flavors, including cherry, hard maple, hickory, apple. Each is 100% hardwood with no oak or alder filler. These pellets don't burn fast. A slow-burning pellet is more cost-effective, but keep in mind that they can also reach higher temperatures and may not be best for smokers with lower heat thresholds.
CookinPellets can also be tricky to find, so we recommend stocking up when you find them. They come well-packed and won't go bad no matter how many you buy or how long you keep them in storage.

Plus, this product comes with a guarantee. Using improper fuel in your smoker can void the warranty. CookinPellets guarantees that if you're using their products, you will not have any problems with losing your warranty.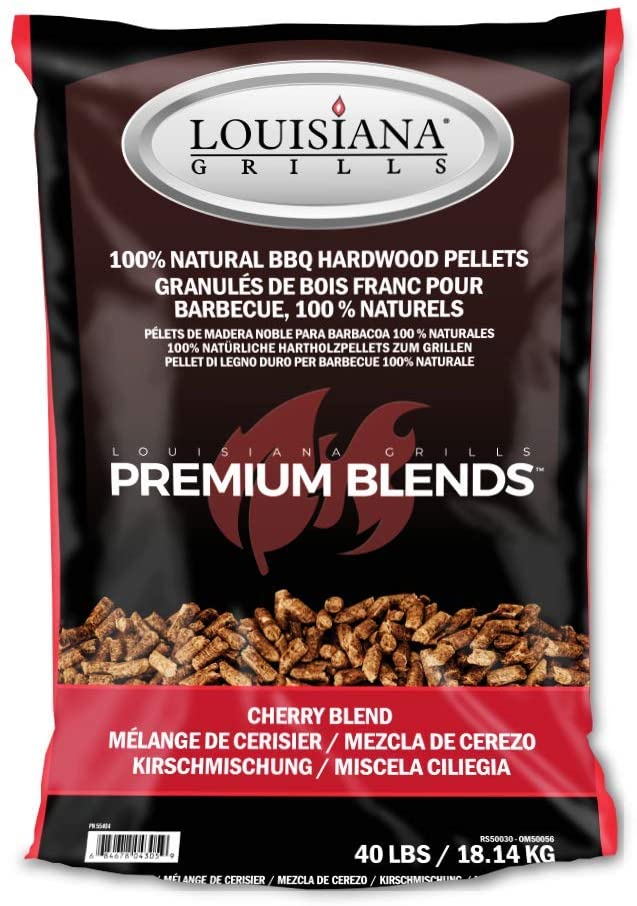 Louisiana Grills 55404 Pennsylvania 40-Pound
Joe Traeger, the first owner of the Traeger Grills, is a partner of Louisiana Grills. You know that's a good sign because Traeger is known for its high-quality products.
This specific product comes in cherry, Georgia pecan, Texas mesquite, competition blend, maple, and New England apple. Once again, this is a matter of taste, and we can't really say which one you'll like the best, but we like the maple and the cherry.
It's also good to know that this product is really affordable, and you can choose from a selection of bag sizes to suit your needs.
Advantages of Owning a Pellet Smoker
There's no end to the types of meat you can cook on a pellet grill. Also, there are a lot of options when it comes to how you can cook that meat.
Versatile
What's best than versatility? You can cook whatever you want (brisket, pork ribs, chicken, fish) fast and easy by pushing a few buttons. That's what makes smoker grills amazing, and that's why they are loved by most pitmasters. Plus, they come with digital controls to maintain stable cooking temperatures. Some even have Wi-Fi, so smokers make cooking easy.
Quick
When you're hungry, and you want something good to eat, there's no time for waiting. With a pellet grill smoker, you can get some tasty food done quickly. The pellets heat fast, thus saving a lot of your precious time.
Top-notch temperature regulation
Pellet smokers and grills rank among the best when it comes to regulating cooking temperatures because they have features like digital control, remote control through Wi-Fi apps, and certain add-ons that stop temperature fluctuations. Traditional grilling makes it a lot harder, and if you want to cook food that tastes good, you don't need to deal with problematic temperatures.
Perfectly even cooking
Evenly cooked food, that's what any food lover needs. You don't want it burnt on one side and not even properly grilled on the other. With smokers, you can easily cook food evenly because there are no temperature fluctuations. You can also create more smoke to cook the food from all sides.
Variety
There are a lot of pellet grills companies out there. The options are pretty much unlimited. That means you can choose something that fits your needs perfectly, not like a normal charcoal grill that might come in only a few variations. You can also choose from a variety of wood pellet types to change the flavor of your food as much as you like.
Can You Grill on a Pellet Smoker?
Smokers offer a lot of options for cooking. Grilling is definitely on the list for many models. You can do so in a few different ways.
You can use smoke to grill. This is a non-evasive way, so to say, and the perfect temperature for this method is under 275 degrees Fahrenheit. It's something that gives a unique flavor to your food, so you must try at least once.
You can grill directly. There's a special area in most pellet grills for this. You just have to put the ingredients in the right place and set the temperature to how you want it. The rest is magic, especially if you have a digitally controlled smoker that does the cooking for you.
You can grill indirectly. This option is a bit trickier but just as good of an option as the others.
All the above will lead to a slightly different flavor, which you prefer will likely take some trial and error. Either way, it's nice to know that pellet smokers aren't one-trick ponies—some can handle as many as eight cooking functions.
Are Pellet Smokers Healthy?
Not many people wonder about whether pellet smokers are healthy or not, but for those that do, we've got you covered.

You may have heard about the health risks that come with grilling and smoking, but are they really true?

The medical world is full of articles and scientific papers that talk about a multitude of subjects, but the thing is—there's a lot of exaggeration too. There's on an old saying, "only trouble is interesting," and that holds very true in the media. It's not uncommon for factual data to be misconstrued and twisted until it's not so factual anymore.
There are real risks that come with smoking and grilling food at high temperatures, but that's pretty obvious. Everything in the extreme is bad for our health, even more so if those high temperatures come from charcoal or gas and not wood.

If you keep your grilling and smoking experience in a balanced area, you'll get the best out of it without putting your health at risk. On the other hand, if you're going above and beyond to cook your food at high degrees just for the sake of the flavor, you might have some problems at some point.
Don't overindulge, and you should be okay. Of course, that can apply to anything else, fried food, junk food, fish, fruits, vegetables—no matter what you want to eat, if you're going overboard with something, you will regret it.

It's also important to consider the quality of your wood and of your ingredients. As with a smoker, obviously, anything in the wood will end up in the smoke–and so in your food, contamination is a real risk.

Always buy from reputable pellet brands and store your pellets in a safe location.
The Best Way to Store Smoker Pellets
That last line might have you wondering, how do you store pellets? We're glad you hypothetically asked.

Keep them dry. First and foremost, store your smoker pellets in a dry location. Moisture can not only affect the way your pellets burn but the quality of the smoke they produce. They can also make it difficult to get your smoker up to temperature—if they burn at all. Even worse, wet wood can begin to mould if given the time.

Get an airtight container. Ditch the original packaging. Unless that is, they came in an air-tight container. We recommend using a five-gallon bucket. This is the best option because its affordable, stacks and stores well, and ticks all the boxes for good pellet storage. It's dry, protects them from pests, and doesn't even let moisture from the air in.
If you have a little extra budget, you can also get specialized pellet storage containers with a filter that removes sawdust while you pour. Traeger makes a nice 20-pound container.

Don't leave them in the hopper. If you have remaining pellets in the hopper after smoking, empty them back into your storage container. If stored in your hopper, they can begin to rot, which on top of being difficult to clean and no good for cooking, can damage your smoker.
How to Tell If Your Pellets Are Bad
On the same thought train as pellet storage, it's important to know how to check if your pellets are past their shelf life. We know, how does wood go bad? We don't know, maybe moisture, but it does, and there's a simple rule to follow:
If it doesn't snap, it's crap.
Take a pellet between your fingers and break it in half. You should get a nice clear snap. It should also look shiny. If they look dull and break easily or crumble with no snap, whether you stored them right or not, they likely won't burn right. Consider replacing them.
Pellet Stoves vs. Pellet Smokers
Try not to confuse pellet stoves with pellet smokers. Pellet stoves are used as a form of home heating, and pellet smokers or grills are used for barbecue, smoking, grilling, and so on. If you're using pellet stoves instead, you are in trouble because those are not really safe.
The ones used for grilling are made out of natural materials that are a lot safer and are better at reaching certain cooking temperatures. The smoke is not as unhealthy as the smoke produced by a pellet stove.
Stove pellets also create a smoke that would leave your food with a terrible flavor because they are used for heat. Manufacturers are less stringent about what they make them from, and the quality of the materials used, because you're not supposed to keep your food in the smoke they produce, let alone cook it.
Wrapping It Up:
Pellet smokers are becoming more and more popular, and that's not really a surprise given the benefits they offer. We looked at six of the best pellet grills for 2022. Now that you've seen what we have prepared for you, it's time to make a decision

While the best smoker for you is going to depend on your needs, if we had to point you in one direction, it would be towards the Z GRILLS ZPG-7002ENC 8-in-1 Wood Pellet Grill and Smoker.
This model is nicely sized to meet the majority of home smokers' needs. Its intuitive design makes the cooking process nearly hands free. It maintains a stable, accurate temperature, and it's brought to you by a reputable brand—what more could you want?

Well, you could want something more travel-friendly. In that case, we'd go for the Green Mountain Grills Davy Crockett Wood Pellet Grill. This option is not only Wi-Fi enabled to allow you to fish on the river while your dinner cooks, but it can be run off a car battery—perfect for travel. It's also lightweight and features a foldable design.
If you're a power smoker and do a ton of hunting and fishing, we recommend you go bigger and opt for the Camp Chef SmokePro PG24MZG Slide Smoker. This model has an impressive 3,778 cubic inches of smoking space. It has a combined grill surface of more than 700 square inches and is built like a stainless-steel tank—this thing is sure to stand the test of time.

You can fill your new pellet smoker with Traeger, CookinPellets, or Louisiana Grills pellets for the best results. All the above offer a wide range of flavor options to suit your needs.

And that's all folks. We hope this guide has told you everything you wanted to know about pellet smokers and helped you purchase the best pellet smoker on the market.
Hi, I'm Mhen and I'm a HUGE fan of Food and Cooking.
Do you enjoy grilling sessions with your family while staring at the beautiful fire pit flames?
Flame Gorilla is the site to learn how to have that perfect backyard experience.