Sharing a great meal with family and friends is one of the most important activities in our day-to-day lives. Decades of traditions have been built through family-style meals where the entire group gathers while sharing food at one table. Now, the unique Korean-style barbeque is taking a niche in most households all over the world, everyone wants a Korean bbq grill in their homes.
Korean barbequing is different from the more universal known form of grilling because it utilizes smaller and more tender cuts of meat like pork belly, chicken, beef short ribs and beef tongue. In the US, barbeque means large cuts of meat like briskets, whole chicken, big rib-eye, or sirloin steaks.
Another feature that makes Korean BBQ unique is that people can actually gather around it and enjoy cooking while eating in one table. This is due to the fact that the grills are smaller, more portable and uses butane cylinder as to wood burning fire. While there are some Korean grills that utilizes charcoal, the amount needed is a whole lot lesser than one would usually have when cooking in the traditional outdoor grill or fire pit.
Korean barbeque is also healthier in a way because most grills have an efficient way of draining or siphoning the fat off the meat while it is cooked. This ensures that you get less greasy pieces of pork belly without worrying that it is drowning in its own fats.
Having a Korean barbeque feast with guests is not only convenient but also a fun way of eating meat fresh from the grill. It is also highly efficient and enjoyable since no one is standing out alone, outside, to mind the grill. Everyone actually can get in on the act of cooking and eating without leaving anyone out!
Here are the 10 Best Korean BBQ Grills you will find in the market today!
TECHEF
The TECHEF stovetop Korean BBQ Non-Stick Grill Pan with Agni portable gas stove burner is made in South Korea. It is stylish, sleek and easily placed at the center of the family table. The cookware is made with high quality Teflon ensuring a non-stick, efficient grilling of any type of meat. The unique swirl channel design slowly drains oil while cooking to ensure great flavor to the meat as well. It also comes in a slim and stylish design that sports a high power 2,800 kcal/hr. (11,500 BTU) as well as a safe, auto piezo electric ignition.
Advantages
Fat/Grease draining system for healthier cooking.
Automatic shut off system for safety
Magnetic locking system for easy butane cylinder installation.
Portable 14 x 6 x 14 inches grill pan and stove set.
Easy to clean
Highly equal heat distribution for optimized cooking.
Disadvantages
Thermal treatment from skillet might less in a year or under.
Scratches after a few uses.
Requires more ventilation in the room to limit being smoked up.
Elite Gourmet Smokeless Indoor Barbeque Grill
The Elite Gourmet 14 inch grill pan is large enough to allow you to cook vegetables and meat at the same time. It has a PFOA-free, non-stick cooking grill surface to ensure that you can cook all types of food with ease. This indoor grill has a removable 120V/1300W thermostat control that has up to 5 adjustable settings. It also comes with a slightly domed lid to keep oil splashes and smoke at bay.
Advantages
Removable drip pan and grill pan are dishwasher safe.
Heat resistant handles and base to avoid burning your hand.
Provides good grill marks and heats evenly.
Good for low-fat and healthy food on the grill.
Perfect for indoors and for first time Korean barbeque enthusiasts.
Disadvantages
Non-stick coating is flimsy and can stick to food after several use.
Runs on electricity which is less cost-effective than using butane or coals.
Works better with non-stick grease spray on the surface or oil.
Warning label states that product might contain cancer-causing materials.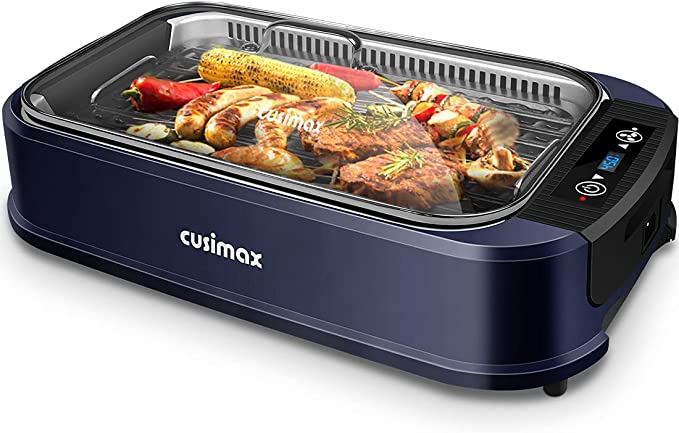 Cusimax Smokeless Grill
Cusimax offers an indoor electric griller perfect for your Korean barbeque nights. It sports double U heating tubes which consistently provides heat and cooks food fast while sealing moisture and flavor to the meat. The Turbo Smoke Extractor feature makes it extremely unique since you don't have to worry about triggering the smoke detectors inside your home. It comes with a glass lid that covers while you cook to avoid oil splatters as well. The smokeless grill uses a drip pan with cool water to immediately cool off grease drips, reducing smoke production by at least 95%.
Advantages
Perfect for small spaces like apartments or condos
Easy to clean. Non-stick grilling plate is removable and dishwasher safe.
Ultra-clear LED smart display to help adjust temperature from 200 to 450 degrees F.
Detachable parts make it easy to clean and disassemble for quick storage.
Disadvantages
Less energy efficient since it runs on electricity and not butane or coal.
Glass handle knobs and screws can cause scratches so handle with care.
Automatic shut off occurs in 90 minutes.
Needs more time preheating.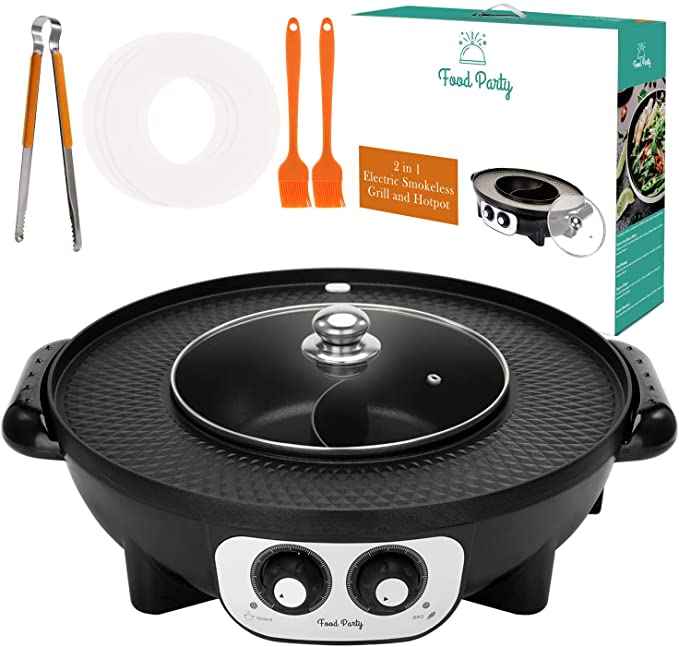 Food Party Electric Grill
Enjoy a restaurant style barbeque and hot pot party with your friends with Food Party's 2 in 1 electric griller. The material used for the pots and grill is safe and healthy as it is PFOA and BPA free. You can grill meat and cook your preferred soup in the hot pot separately with two different controllers to maintain each area in that perfect cooking temperature.
The purchase of the product also comes with:
1 silicone brush
1 cooking tongs
10 parchment paper
1 Asian grill and hotpot menu
1 user manual
Advantages
Smokeless cooking for indoor
Whole cookware can be soaked in the sink for easy cleaning.
Large enough to cater food for more than 5 people.
Easy to understand user manual.
Disadvantages
Bottom of machine is prone to cracking and melting.
Pot is not removable from base for cleaning.
Non-stick surface.
Electric cord heats up and may be dangerous if unattended.
IWATANI Smokeless Korean BBQ Grill
This barbeque grill has a burning time of around 217 minutes and weighs about 4lbs which is perfect portable device for a Korean barbeque night at home. The body material is made of steel and the grilling plate is constructed with aluminum die-casting. It also uses butane gas so it's energy efficient and has magnetic removable system as well as pressure-sensitive safety equipment. Users note that the grill is well built and efficient, perfect for indoor grilling.
Advantages
Easy to clean with soap and water.
Grill has efficient oil draining holes evenly distributed.
Non-stick works pretty well.
Smokeless grilling by just adding little water in the drip pan.
Even heat distribution for efficient cooking.
Disadvantages
Comes in Japanese instructions not English.
Not compatible with all brands/types of Butane gas.
Small and can probably cook for just 2 to 3 people.
Low heating trouble for some users.
AONI Raclette Table Grill
The AONI electric raclette grill is the perfect companion if you want to take your Korean Barbeque to a whole other level. You can grill meat, seafood and vegetables on the non-stick grill on top while heating up sauces and cheese in 8 separate trays below. You can easily adjust the temperature with the rotating switch that comes with light indicator and sound to tell you if the device is on or off.
Advantages
Non-stick grilling pan is efficient for almost any food to grill.
Electric grill can be cleaned easily with water or in the dishwasher.
Easily adjustable to suit whatever type of food you are cooking.
Fast and even heating surface.
Disadvantages
Surface can be easily damaged by scratching with sharp object.
The pans and top have thinner metal than most grills.
Some users say the built is poor with flimsy and bent brackets.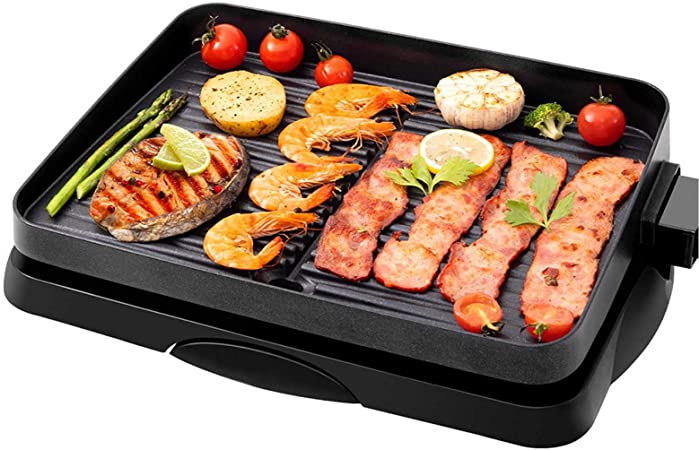 N++A Electric Korean BBQ Grill
This electric Korean bbq grill is perfect for indoor cooking with its 5 level power control that cooks at a temperature of 210 to 460 degrees Fahrenheit. It provides the perfect char-grilled texture that you look for when doing barbeque. The raised baffle prevents oil from spilling or splashing while you cook while the groove of the grill deepens from the middle to the side to guide oil flow towards the drip tray. It is PFOA-free with 3 layer Whitford nonstick coating with 1500W high power heating tubes that cook food evenly and fast.
Advantages
Cast aluminum material is durable, long-lasting and wear-resistant.
Easily clean the surface with warm water, sponge and soap.
Superb temperature control to suit any type of meat on the grill.
Meets ETL safety standards.
Detachable Griddle.
Disadvantages
Require enough ventilation in the room to prevent smoke build up while cooking.
There might be a peculiar smell upon first use.
4YANG 2 in 1 Hot Pot Grill
The 4yang grill delivers not just barbeque option but also provides you with two different flavors of soup you can enjoy. It has a grill pan and hot pot body. It is made from aluminum materials with a 44cm large-diameter baking pan, 3.6L hot pot body capacity which is capable of serving 5 to 15 people. This device also features an independent dual temperature control with 2200W double heating tube. It simply means you can control the heat from the grilling tray and the hot pot separately thus avoiding dry burning if a part is not being used as well as save electricity.
Advantages
Dual purpose perfect for a complete feast.
Fast heating (8 seconds).
Drawer style oil box to safely remove excess fats/grease.
Easy to remove pieces for easier cleaning.
Disadvantages
Slightly larger and heavier than most portable grills.
Power cord can burn extremely hot and might cause fire if unattended.
Heat distribution in pan is not equal.
KKTECT 2000W Electric Grill
Hosting a Shabu Shabu and Korean barbeque party is easier with the KKTECT 2 in 1 grill. The grill is made from cast aluminum alloy material which is environmental friendly and has a durable healthy, non-stick coating which is safe to use. The product has separate heating duct for the grill pan and the hot pot making it efficient in heating and cooking individual recipes at the same time while controlling the temperature.
Advantages
Grill pan can be separated for easy cleaning.
Temperature can adjust automatically.
Heats up pretty fast.
Big enough to feed up to 10 people but still convenient for table top.
Disadvantages
Pot is not detachable so it's tricky to clean.
Power cords are shorter than expected.
Smells like burning plastic upon initial use.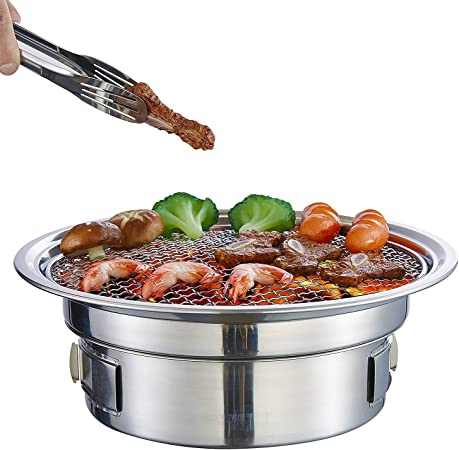 Byear Portable Charcoal Grill
A compact, portable charcoal grill is also a pretty good way to experience Korean barbecue in your home. This Byear grill has a diameter of 11.6 inches with enough grilling space for any meat. It is absolutely convenient for indoor and outdoor grilling as well. The material is made from high-quality stainless steel and weighs 3.3lbs. It requires only a little charcoal and has three vents on the side of the grill to control and adjust the temperature.
Advantages
Closed furnace design helps the grill to heat up quickly.
Small charcoal bowl reduces usage of charcoal but still achieves best barbecue temp.
Material is light but strong and does not easily rust.
Detachable design enables you to wash each part individually with water making clean-up easy.
Anti-scalding handle
Disadvantages
Ideal only for single or a gathering of 2-3 people.
If used on table top, you will need to put a heat-resistant board to prevent damage.
Final Verdict
Everyone seems to be into Korean BBQ these days and we're glad that we can offer you our top pick on the best Korean barbecue grill in 2022. All things considered, we think that the honor goes to CUSIMAX SMOKELESS GRILL.
This is the perfect electric grill that you can use indoors since it has a Turbo Smoke Extractor which guarantees you will not be smoked out of your apartment or any dining room you choose to have your feast on. It easily fits and caters to people who live in condos and apartments but can cook enough food to feed guests.
Users might be caught off-guard as it does have an automatic shut off 90 minutes into using it but this is just for safety precaution and you can simply just turn the unit on and continue enjoying your indoor barbecuing.
What to consider before buying your Korean BBQ grill?
Butane, Charcoal, or Electric – Indoor grilling will require you to consider which type of heat creating method that works best for you and the size of your place. Most portable grillers have easy and safe instructions on how to use and put in butane cylinder but if you are wary and scared to use charcoal or butane, you can opt for the electric grillers. However, you have to be extra careful as some cords can easily heat up during prolonged use and of course, you have to consider the effect on your electric bill.
Size and Build – It is imperative that you think about how big or small your Korean BBQ grill should be. Do you need one that feeds more than 10 people and is built with more than just grilling capabilities? Or are you content with the smaller units that can fit the size of your dining table? Are you doing hot pot or Shabu Shabu or just plain barbequing?
Quality of Materials – Remember, grilling means cooking with open flame and if the units you are using are not efficiently built to sustain prolong cooking under intense temperatures then you should purchase one of higher quality. You do not want harmful chemicals to permeate into your meat and of course, you want to avoid burning yourself as well. Always consider safety since you are cooking indoor.
One thing to keep in mind when doing your Korean barbeque with friends and family is the type of meat you will be cooking. It is imperative that you understand the difference between the standard size and thickness of the produce you put on your griller. Korean barbeque usually requires thinner slices so it cooks faster and more even which is essential to having delicious and fun dining experience. If you are more inclined to serve steak, thicker and bigger slabs of meat then it is better to just cook on a regular, outdoor grill.

Hi, I'm Adam and I'm a HUGE fan of Food and Cooking.
Do you enjoy grilling sessions with your family while staring at the beautiful fire pit flames?
Flame Gorilla is the site to learn how to have that perfect backyard experience.