Everyone likes barbecuing but not all can go outside and grill whenever they want. Let's face it, not all of us are outdoorsy. There are also times when we feel too lazy or busy to actually start a grill or wait for coals to be burnt enough to start cooking over it. Basically, there are moments when people just want to enjoy the delicious, mouthwatering goodness of barbecued meat in the comforts of the indoors.
Imagine sitting on comfortable chairs, especially if it's raining or snowing, and enjoying the smell and taste of smokey goodness that only barbecue can bring. It can certainly brighten any meal plan at any time of day. This makes an indoor grill an absolute must-have for every BBQ lover out there.
Advantages of Having an Indoor Grill
Indoor grills heat quickly which means faster cooking. They also produce less smoke.
Most indoor grills run on electricity so there is even heating which makes your food great.
Indoor grills have more specific controls which allows you to set up a certain cooking temperature for easier and efficient cooking of different foods.
Indoor grills are more versatile and easier to clean.
Indoor grills can be used all-year round since you do not have to worry about the weather outside.
Indoor grills are cheaper compared to your standard outdoor grills and easier to clean.
Disadvantages of Having an Indoor Grill
Indoor grills might offer a smaller cooking surface.
Indoor grills will not give the same strong "smokey†flavor as an outdoor grill will.
Indoor grills might have temperature control or settings but will not reach higher temperatures that a standard grill will. This can be a problem if there are some particular types of meat that requires a higher degree of temperature when cooking.
It is relatively clear that there are more advantages in acquiring an indoor grill. There are just certain conveniences that makes it the perfect choice if you want a quick, no-messy barbecuing indoors. However, choosing the perfect indoor grill for you and your family is a bit tricky. In order to help you, here are the best indoor grills found on Amazon.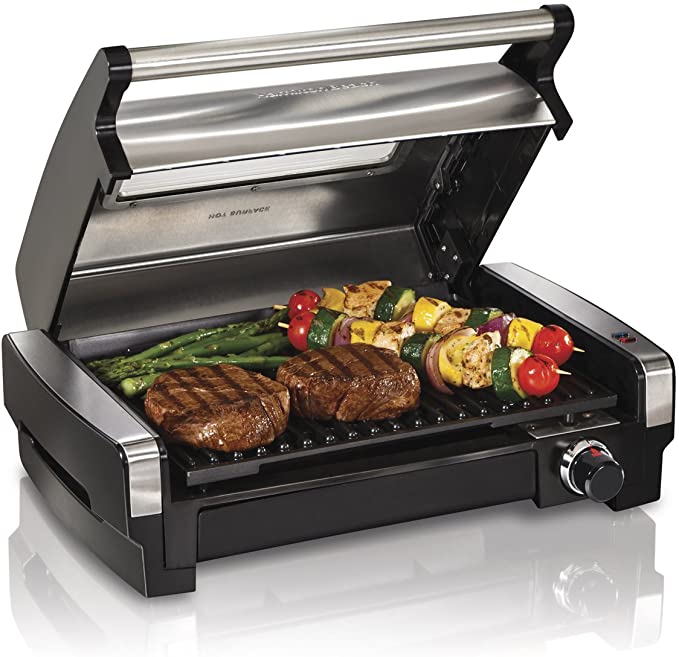 Hamilton Beach Electric Indoor Grill
Dimension: 12.4 x 16.73 x 6.81 inches
Weight: 8.14lbs
Material: Stainless Steel
This indoor grill from Hamilton Beach is Amazon's Choice for indoor grill. It has 118 sq. inch of grilling surface and can serve up to 6 people. It has a powerful 1200 watts and can cook more than just steaks or barbecue. You can grill chicken, fish, vegetables and even pizza. Sear your food at 450 degrees to lock in flavor and juices for that perfect grilling taste. Control your temperature with its adjustable dial so you can temper your meat at its different cooking time. It comes with a 1 year limited warranty.
Advantages
The hood comes with a window in the lid so you can see your food as it cooks and lessen the guesswork on its doneness.
Easy to clean with its removable indoor grill hood, non-stick plate and drip tray. All are dishwasher safe.
Drip tray is extra-large and can catch juices efficiently so you don't spill over the counter eliminating unnecessary mess.
Power and preheat light indicator so you don't have to try and just guess the temp of your grill.
Disadvantages
Teflon can scratch easily so use plastic tongs.
Cord might be too short and require extension wires if outlet is far from countertop or table.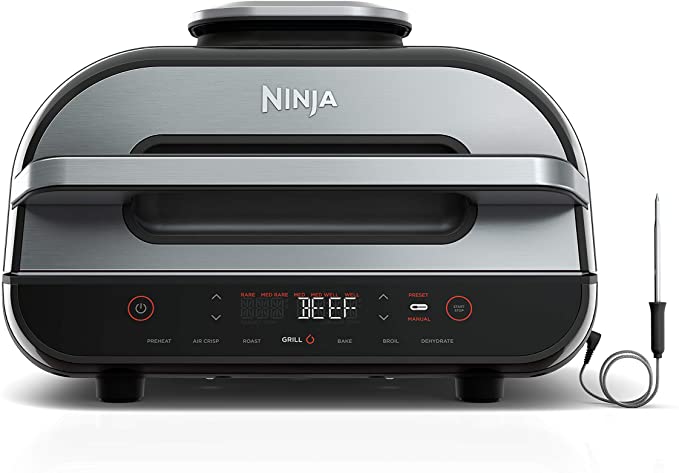 Ninja FG551 Smart XL Indoor Grill
Dimension: 15.7 L x 16.54 W x 11.05 H
Weight: 22.44lbs
Material: Stainless Steel
The Ninja Foodi Smart XL grill is not just a griller but also can be used as an air fryer so you can grill, sear, sizzle and even crisp any food in mind. It has a smart cook system and thermometer with 4 protein settings and 9 customizable doneness level. It uses cyclonic air grilling technology up to 500 degrees Fahrenheit which cooks or char your protein to your desired doneness while providing char-grilled marks and locking in that flavor. This grill can also transform frozen food to perfectly grilled food in under 25 minutes.
Advantages
Do the cooking with just one touch of a button.
XL capacity grill grate fits up to 6 steaks and sides at one time.
6 cooking functions: bake, broil, dehydrate, air crisp, roast and grill.
Cook up to 75% less fat.
Includes 4 qt crisper basket for French fries.
Includes splatter shield and cool-air zone to reduce smoke.
Dual-sensor smart thermometer continuously monitors temperature in 2 places for accurate results.
Includes: XL Grill, 9â€x 12†grill grate, 4-qt crisper basket, 4-qt cooking pot, thermometer, cleaning brush and 15 recipe book.
Disadvantages
Too heavy and big to store and can take up counter space.
Loud sound when cooking.
Instructions on how to use might take time to get used to.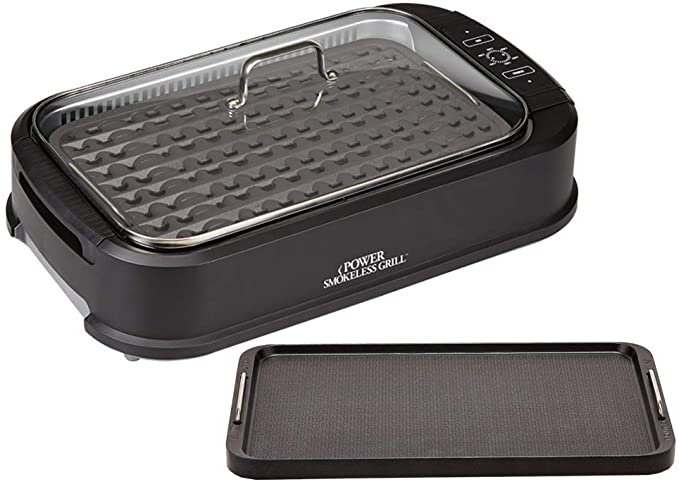 Power XL Smokeless Electric Indoor Grill
Dimension: 21 x 15.4 x 8.1 inches
Weight: 15.47lbs
Material: Die-cast Aluminum
This Power XL indoor grill is Amazon's Choice for smokeless grills and has a grilling surface (13.5†x 18â€) that can fit 3 entire racks of ribs, 8 large burgers and even an entire chicken. You can definitely feed a good number of people with good grilled tasting barbecue in any weather. It features a Turbo Extraction Fan which virtually captures all smoke making this the perfect indoor grill for those who have asthma or allergies and other breathing problem. Rapidly heats up so no long wait for the perfect temperature to cook.
Advantages
Non-stick ceramic grill surface so no need to use extra oil or fat.
Removable grill plate is dishwasher safe and lifts out easily for effortless cleaning and easy storage.
LED smart temperature control up to 450 degrees and glass lid for less guesswork.
Grill can interchange into a griddle perfect for eggs, pancakes and paninis.
Disadvantages
Fan defect issues making it not smokeless.
Drip tray might be a hassle to take out and clean up.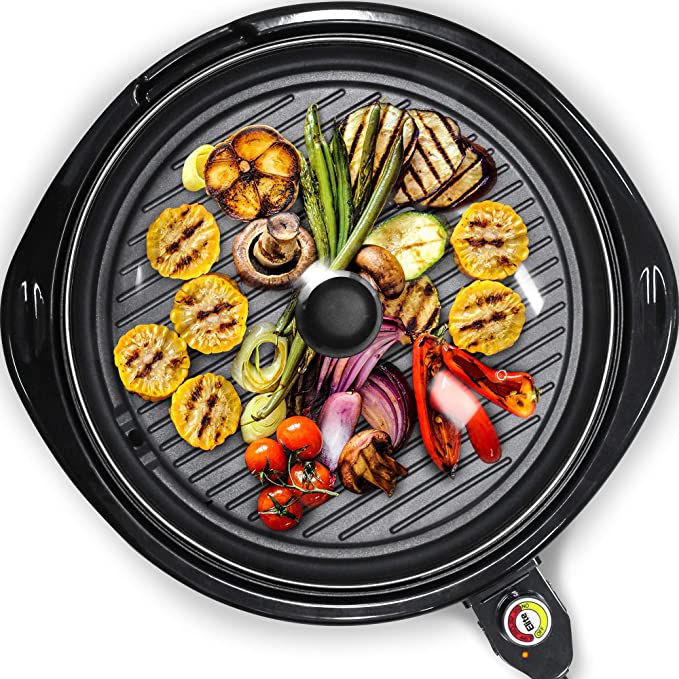 Elite Gourmet EMG-980B Smokeless Electric Grill
Dimensions: 17.2 x 17 x 4.1 inches
Weight: 6lbs
Material: Aluminum
The Elite Gourmet EMG-980B grill comes in three sizes 12â€, 13†and 14â€. This large 14†grilling surface can cook a steak, veggies, ribs and even a salmon all at once. This indoor grill features a circular heating element that enables the device to heat up faster and more evenly so you get an almost perfect cook on any of your food. Elite Gourmet grills are designed by BBQ lovers for BBQ lovers. It comes with removable parts like a grill base, drip tray, extra-large grill plate, tempered glass lid, thermostat control knob, instruction manual with recipe guide.
Advantages
Non-stick coating prevents food from getting stuck on the grill plate.
1300W thermostat control with 5 adjustable settings up to 450 degrees Fahrenheit.
Cool-touch base and handles to prevent hand burns or accidents.
Detachable parts are all dishwasher safe and easy to clean.
Disadvantages
Non-stick coating wears off after a few uses.
Surface is hotter near the electrical adapter.
T-fal GC7 Opti-Grill Electric Grill
Dimension: 14â€x 13†x 6â€
Weight: 11.6lbs
Material: Stainless Steel
The T-fal GC7 is a unique electric indoor grill because it is the first grill that cooks by adapting its cooking cycle to the thickness of the food you put on it. It has 6 automatic cooking programs for burgers, poultry, sandwich, sausage, read meat and fish. It has a 600 square centimeter cooking surface. It also offers 2 cooking modes which are for frozen food and the other is the manual mode so you can have control of what you are grilling.
Advantages
Automatic Sensor Cooking technology which immediately detects the number of items on the surface.
Indicator light and beep system helps in monitoring for high-precision cooking to prepare your food just the way you like it: rare, medium or well-done.
Removable non-stick plates and drip tray which are dishwasher safe for easy cleaning.
Disadvantages
Auto sensor eventually stops working after a couple of use.
Might take some time to learn to use it properly.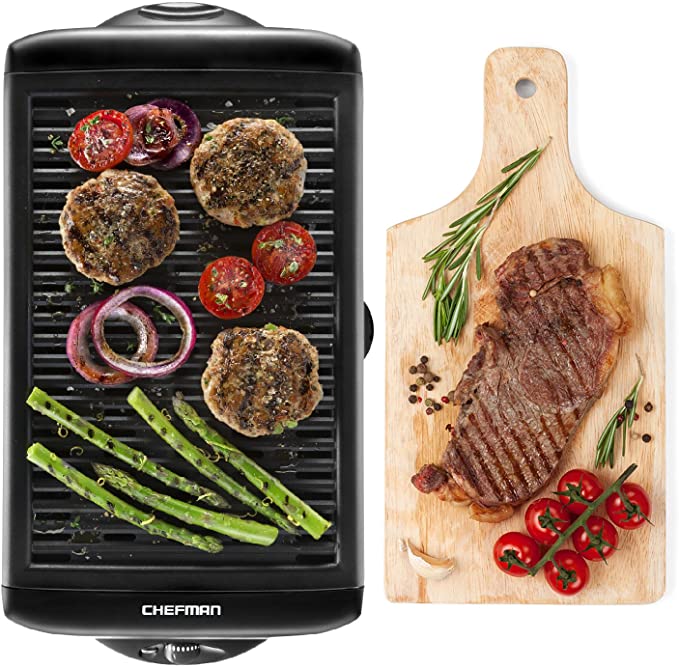 Chefman Electric Smokeless Indoor Grill
Dimensions: 20.8 x 10.24 x 3.54 inches
Weight: 3.15lbs
Material: Aluminum
The Chefman indoor grill features different heat zone so you can cook anything and everything at the same time just the way you like it. The extra-large cooking surface (150sq inch) enables you to cook different ingredients at the same time. The temperature control knob can make the grill go from warm to sear in minutes. It is a smokeless grill and but in order to achieve this feature, you have to fill the water tray with water between the minimum and maximum line. This enables the water to instantly cool the grease that falls which prevents it from sticking and creating smoke.
Advantages
Non-stick surface ensures clean surface and the food will slide off the grill directly onto the plate.
Parts disassemble for easy cleaning with the grill top and water tray dishwasher safe.
Safe to use with its overheat auto shut-off protection and cool-touch handles.
CETL approved with advanced safety technology which means long-lasting durability.
Disadvantages
Drip pan is difficult to clean.
Cross bars on grill are too widely spaced to achieve perfect grill marks.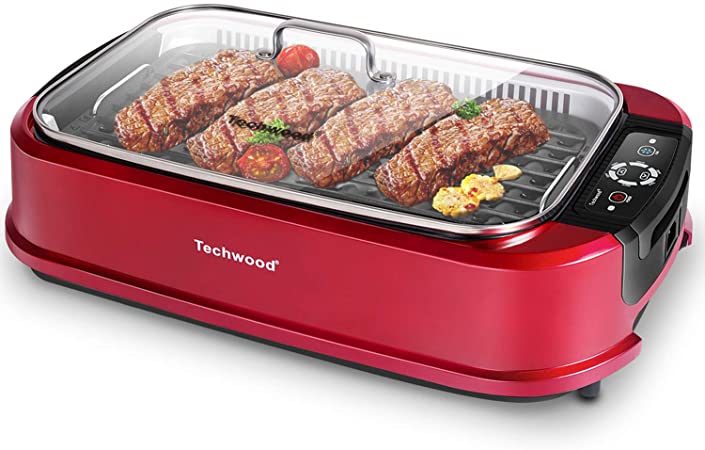 Techwood Indoor Smokeless Grill
Dimension: 21â€x 8.3â€x13â€
Weight: 14.32lbs
Material: Glass
Colors: Red, Black, Matte Black, Gray
Techwood indoor electric grill has adopted an advanced airflow technology and hidden fan which virtually reduces the smoke produced when cooking making it perfect for indoor barbecuing in small spaces like an apartment. It can go from 220 to 450 degrees Fahrenheit while providing authentic char-grilled texture and barbecue grill marks. Expect evenly grilled, juicy and browned results. The LED accurate digital temperature control allows you to get the right cooking temp for whatever protein you plan on cooking and it maintains a constant temperature all throughout the cooking process.
Advantages
Non-stick surface.
Grill plate and drip tray are removable and dishwasher safe for easy clean up.
Built-in overheat protection for safety.
Simple controls with 6 heat settings for precise cooking.
Disadvantages
Oil drips in hot coils produces smoke.
Fan just blows smoke around so it appears thinner.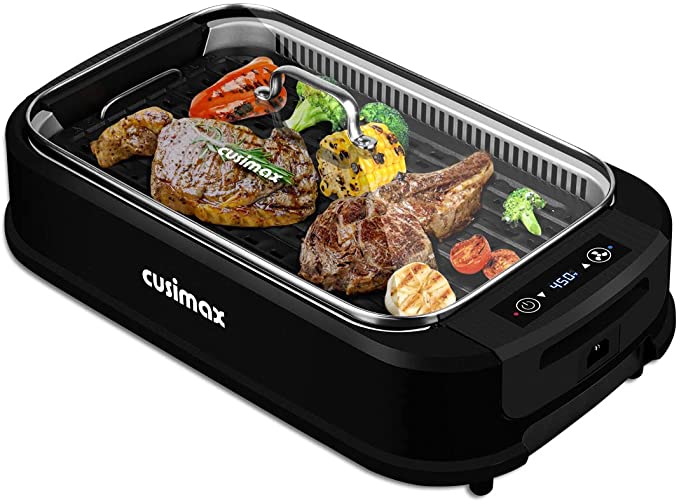 Cusimax Electric Indoor Grill
Dimensions: 20.24 x 13.46 x 8.35 inches
Weight: 14.85lbs
Material: (not stated)
The Cusimax electric indoor grill is the perfect solution for those who love grilling but have small confined spaces like an apartment. It has a turbo smoke extractor that takes away most of the smoke produces when grilling so it is perfect for using inside the kitchen. This grill is compact enough to be easily transportable and stored without taking too much space. The large cooking surface can go from warm to sear easily. It also has an automatic shut off after 90 minutes so you are safe from any unwanted burning incidents.
Advantages
Drip pan filled with cool water reduces smoke production by at least 95%.
Non-stick grill plate and drip pan makes it easy to clean.
Dish washer safe parts: glass lid, perforated heating plats, silver heat reflector.
Double U heating tubes to provide consistent, even heating for juicier steak.
Perforated grill plate filters out excess oil but leaves grill marks like a charcoal grill would.
Ultra-clear LED smart display helps you adjust temperature from 200 to 450 degrees Fahrenheit.
Disadvantages
Screw on handle are sharp so handle with care.
Fan issues after a couple of uses.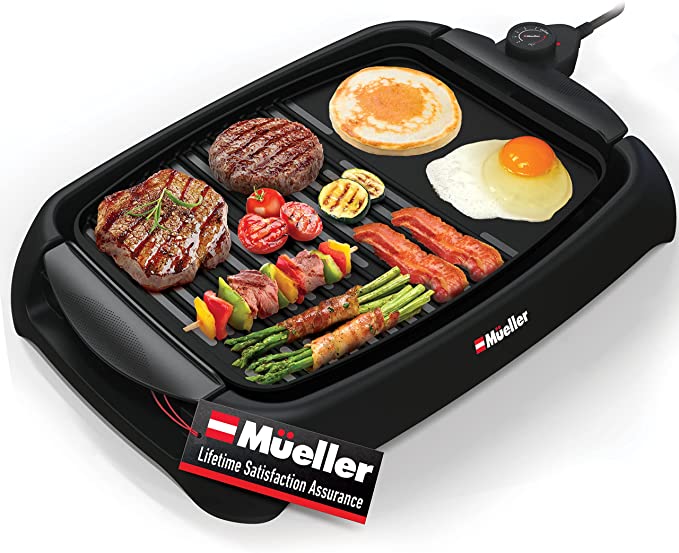 Mueller Ultra Electric Indoor Grill
Dimension: 17.9 x 12.4 x 3.6 inches
Weight: 4.44lbs
Material: (not mentioned)
The Mueller indoor grill is 2-in-1 because it is also a griddle. You can enjoy not just grilling barbecue but also create the perfect breakfast rain or shine. It has 5 different temperature settings and can go up to 400 degrees Fahrenheit and cook what you want with just a touch of a button. The adjustable heat control can prepare your meal at one time. It features a detachable temperature probe and cool-touch handles.
Advantages
Non-stick cooking plate so there is little or no need to add oil.
Easy to remove cooking plate and drip pan for cleaning.
13†x 10†cooking surface large enough to accommodate meat and sides.
Heats up relatively fast.
Griddle option on the side enables you to use both surface at once without switching.
Compact and easy to use.
Disadvantages
Not dishwasher safe.
Does not come with lid.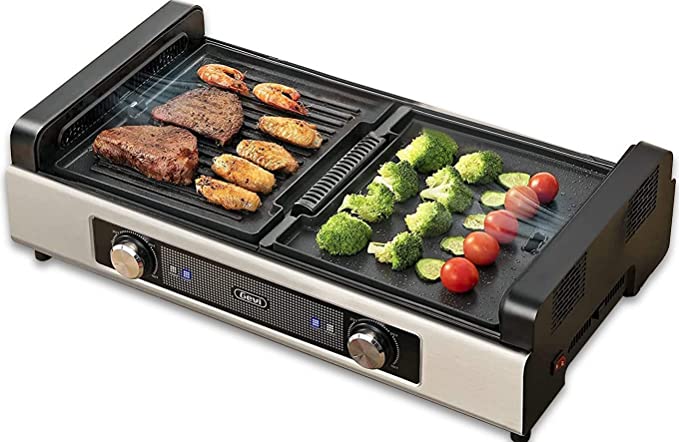 Gevi Electric Indoor Grill
Dimension: 17.7 x 15 x 14 inches
Weight: 12 Ounces
Material: Stainless Steel
The Gevi electric indoor grill is a 2-in-1 grill and griddle. It can accommodate different types of ingredients with its 2 cooking plates. The cooking plate has two different surfaces, one is a griddle while the other is a griddle. The fan is conveniently built into the side quickly sucks smoke which eliminates 95% of the smoke. It offers a large cooking surface (12.3 x 9.65â€) which can grill up to 6 servings for a family meal. It features 2 different turning dial that will adjust the temperature easily on each zone.
Advantages
2 cooking zones have independent heating system. You can cook on different zones without interfering with each other.
It can warm food or cook any meat with its 0 to 450 degrees Fahrenheit temperature.
Grill plate and drip tray are nonstick and removable as well as dishwasher safe for easy cleaning.
Built in handle makes transporting and carrying of the grill efficient and convenient.
Disadvantages
Lacks instructions.
Some units do not heat up.
Final Verdict
The Ninja FG551 Smart XL Indoor Grill is our best bet when it comes to being the best indoor grill in 2022.
This electric grill will not disappoint you in terms of cooking space as its XL capacity is more than enough to house 6 sizzling steaks at the same time. We also are impressed with its 6 cooking functions that you can conveniently use to suit whatever barbecue feast you have planned.
The Ninja Indoor grill also comes with a number of accessories which automatically makes it worth the purchase since you will not be spending extra dough to purchase additional items to fully experience its cooking prowess. Plus, defrosting and cooking meat in under 25 minutes? Highly efficient!
What To Consider Before Choosing an Indoor Grill?
Size – Always consider how many people are going to be eating out of that grill. You have to choose a cooking surface that can cook enough food for the number of people who are going to use it. Also, the size of the equipment itself should be considered since you might not have enough space for a larger indoor grill. Thoroughly check your surface area so that you can pick the right size of your indoor grill.
Power – Remember, indoor grills reach a more limited temperature so if you are more inclined to cook or grill food that require higher heat, make sure you pick a unit that has enough wattage. Also, consider how fast the unit can go from preheating to the desired temperature you need for cooking.
Style of Unit- There are indoor grills that features a grill and griddle in one equipment. If you are looking for something that does more than grilling then these are the units for you. There are also those that work as air fryer or has raclette features. So, it is better to have a clear idea on what you want your unit to do for you. Plus, make sure that you get a grill that is durable, safe and long-lasting.
There are both advantages and disadvantages when it comes to using and owning an indoor grill. It all really boils down to what the scenario is in your living space. If you live in an apartment without balcony access then a smokeless, electric indoor grill is the best option for you to enjoy that delicious barbecue. Also, if you are the type of griller who sometimes get a little lazy in prepping or firing up the outdoor grill with gas, coal or wood, then the ease and convenience brought by the electric feature of an indoor grill is what you need.

Hi, I'm Adam and I'm a HUGE fan of Food and Cooking.
Do you enjoy grilling sessions with your family while staring at the beautiful fire pit flames?
Flame Gorilla is the site to learn how to have that perfect backyard experience.