Cooking can be messy and whether you are a master chef or a simple home cook, you will always need to protect your clothes from the many hazards that you might encounter especially when you are handling a barbeque grill. This is why a grilling or bbq apron is a necessity in every home or restaurant to ensure that every cook or master griller is kept clean and tidy.
An apron is probably one of the simplest of all kitchen tools however, as grilling has come a long way, this essential piece of clothing has also evolved to better suit the needs of passionate home cooks as well as master grillers. There are now different types of aprons that not only keep splatters away from your clothes but also provide quick functionality as well as make you look good whether in canvas, waxed, cotton or leather.
If you are searching for the best grilling and bbq apron for men in the market, here are the top 10 picks, based on durability, function, and style, that are available in the market today.
Hudson Durable Goods Professional Grade Chefs Apron
This apron found at Hudson Durable Goods is made from breathable and soft 10 oz cotton.
It has its own towel loop found in the right hip area with a large Kangaroo style pocket in the front that can hold anything from your mobile phone, pencil or whatever you need to have with you while grilling.
The apron is a unisex stylish bib apron built with extra-long straps that use quick-release buckles as well as tie closure feature. This apron is used for a broad range of professional, commercial, or household use and comes in 5 different colors, all on the darker shade to keep you looking spotless in front of your grill.
Advantages
strengthened and reinforced with double stitch
equipped with grommets and rivets
highly durable
machine washable
4 deep and strong, custom adjustable pockets.
Disadvantages
air dry only as dryer can shrink and stress the fabric easily
less coverage for bigger, wider men beyond 50†waist
quick-release buckles might not clip on tight enough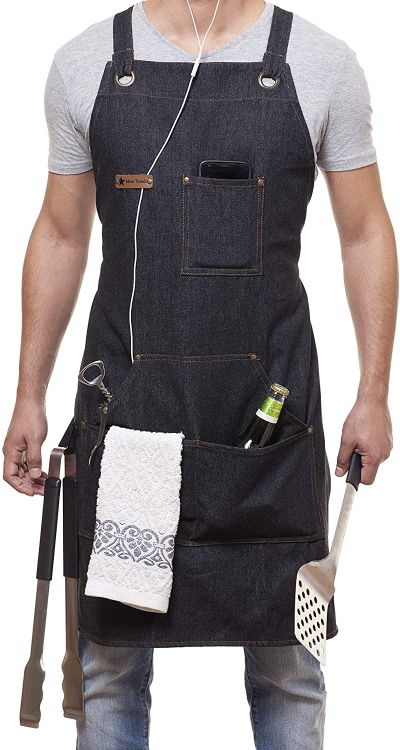 Arawak Brave Apron
Who doesn't love a denim? Arawak Brave's apron are made from breathable, soft yet durable hand-made denim. The denim fabric is created to provide maximum protection against splatters and accidents that might occur while cooking. It is 100% 10 oz cotton twill weave.
The denim is also quite unique and men or women can absolutely rock the chic style. It comes with extra-long straps with buckle for easy release and can be adjusted to suite a wide range of sizes. The apron comes with double stitched pockets that are large enough to hold kitchen tools as well as a towel loop strategically placed on the right hip side.
Advantages
Machine wash
Unique headphones loop feature
Stylish professional denim style
Solid brass rivets and grommets for sturdier straps and lesser neck pain
2 large kangaroo pockets in the bottom front
Disadvantages
Might bleed when washed with other clothes
A little difficult to put on by yourself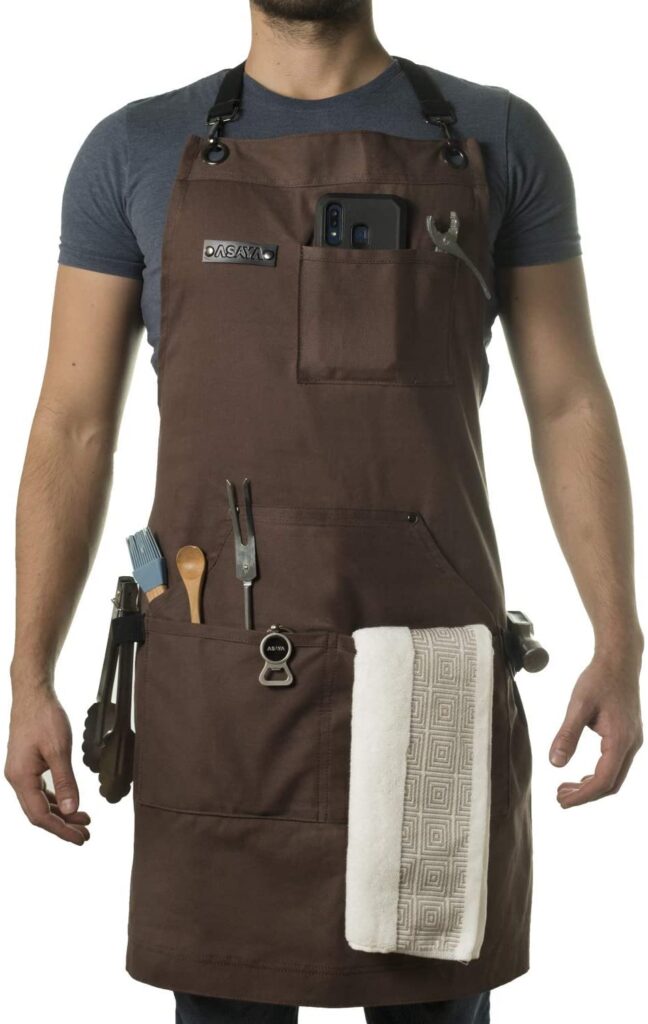 Asaya Chef BBQ and Work Apron
Asaya Chef aprons are crafted with high quality materials that are built to last a long time. It does not matter if you wear it in the kitchen or outdoors, the double stitched cotton canvas supported by brass hardware and leather will definitely keep your clothes spic and span.
This Asaya apron is designed for both men and women with cross-back straps that are easily adjustable to fit most medium to double XL sizes. The quick release buckles makes it easy to put on and pull off. It also comes with a free hand towel.
Advantages
3 large pockets to hold grilling essentials
comes equipped with a bottle opener
versatile utility clip
fits your style with 8 different colors
machine washable
Disadvantages
buckles might break easily
thick material makes it heavier than usual grilling apron
Outset Leather Grill Apron
Outset's grill aprons are made of durable, high quality leather which easily protects your clothes from hot grease splatters while barbecuing. Its durable brown-suede exterior is equipped
two large, deep pockets which are convenient enough to hold condiments, thermometer, towel or anything that you might need to make grilling more easy and enjoyable.
The design is extremely simple yet stylish with adjustable neck straps and a long tie which can be easily secured around a variety of waist sizes. If leather is not your thing, Outset also has a canvas material made apron with antique brass rings and cotton straps.
Advantages
Leather or Canvas made option
Flame retardant lining prevents the apron from catching fire
Provides coverage from chest to mid-thighs
Disadvantages
Leather is NOT washable
Air dry only
Straps might not be long enough for XL to XXXL sized person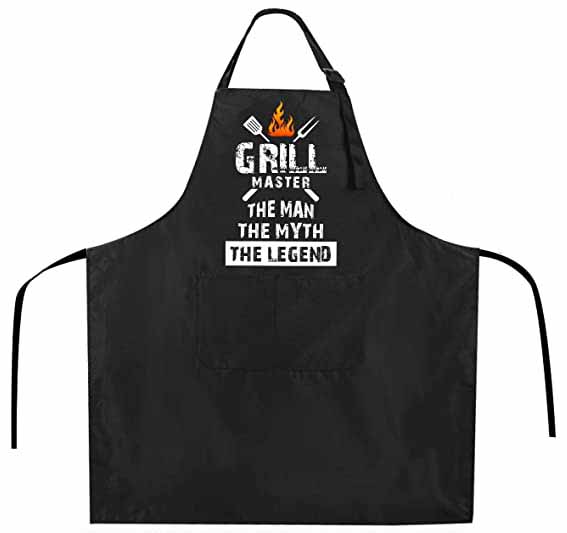 Rosoz Funny BBQ Black Apron
Aprons are great novelty gift items and what better product to give yourself or your best mates than the Rosoz apron! This apron might sport a funny quote but its three-layer composite material guarantees to protect your clothes. The fabric is breathable enough so you will not feel stuffy when in front of an open fire grill.
The funny BBQ apron is equipped with two large pockets that can hold anything from your secret barbeque spices to your special tongs and grill equipment. It holds your phone in too so you don't have to leave your steaks unattended. The apron comes in a one size fits all with an adjustable neck strap that is easy to put on and take off. It is truly a thoughtful and FUN gift to keep the grill master of the house stylish and appreciated!
Advantages
Water and Oil proof
Fun and stylish apron
Adjustable neck straps
2 24 inch-long waist straps
Disadvantages
Thinner than most aprons
Might not be made for heavy duty cooking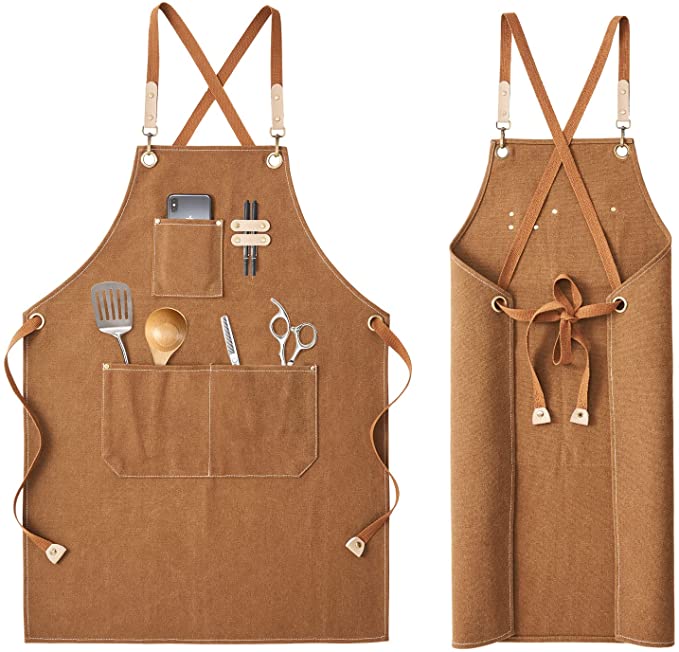 JELBOLIN Chef Apron
The JELBOLIN apron is made from heavy duty cotton and canvas that are widely used for professional aprons. The materials are reinforced with double stitches and joints in order to support whatever heavy duty cooking or grilling is required. It is an ideal smock if you want to protect your clothes from oil splashes and sauce.
The JELBOLIN style is made for convenience with adjustable cross back straps and tie closure that can easily fit different sizes of users, male or female. It is pretty stylish and easy to put around the waist with a neutral color that can match whatever you are comfortable to wear while barbequing or cooking.
Advantages
can be worn in 3 different styles
unique ring design prevents straps from falling
large multi pockets
leather rivets for convenience
Disadvantages
hand wash only
tie string might be too short on the waist for wider, larger men
straps are not intended for large people and might require customizing new ones
BBQ Grill Butler Apron
The Grill butler is made of high-quality waxed canvas fabric with genuine horse leather pockets which makes it highly durable. It is resilient and durable, able to withstand wear and tear so that you can enjoy its uses for a very long time. This apron is made for heavy-duty cooking but can also easily hold whatever kitchen tool you need to keep your grilling organized, even carrying your cellphone around as well.
The style and fit of this apron claim to be adjustable up to a triple XL size. It is ideal for men but can also comfortably fit the ladies too. The cool metal tones and dark color can easily provide a stylish, more professional look to help make you feel like a master chef.
Advantages
highly durable
made for heavy duty grilling
5 different size pockets
2 metal D-rings and leather belly pocket.
easy to wipe clean
Disadvantages
Stiff material (needs to be used a number of times to break it in)
XXL size might be smaller than expected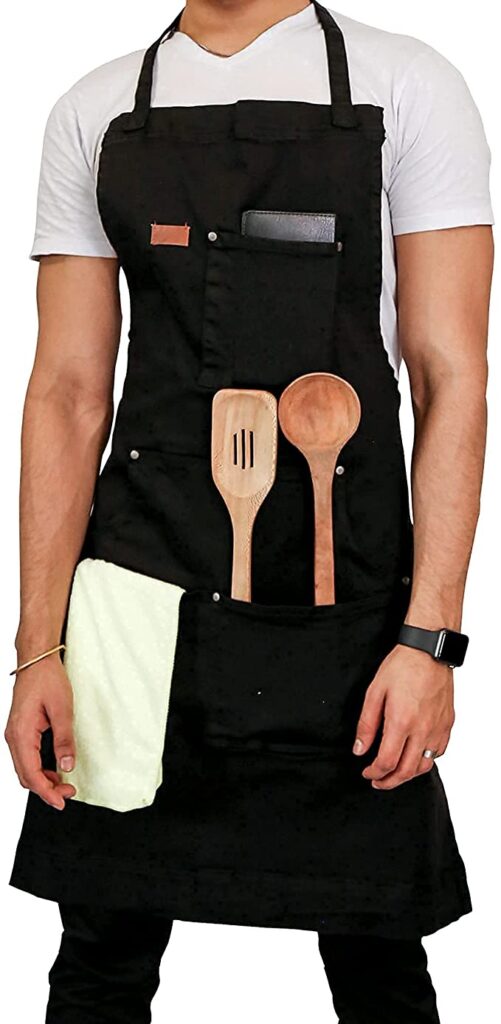 Donoroy Chef Apron
Donoroy apron provides large and comfortable cooking protection for you. The cotton fabric is thicker which provides better protection coverage against cooking mishaps but is lightweight and flexible enough, making this apron quite comfortable yet extremely durable. It is also equipped with a towel loop on the right.
The apron is 37 inches tall ideally made for unisex with soft straps and ties. The ties are extremely adjustable to fit a wide or narrow waist. Stylish colors come in Burgundy, Gray, Blue and Black.
Advantages
Pure cotton material makes it breathable.
Easily washable and has quick dry feature
Long ties that easily adjust for better fit.
5 6â€x8†pockets
Chest to knees coverage
Disadvantages
Not ideal for short people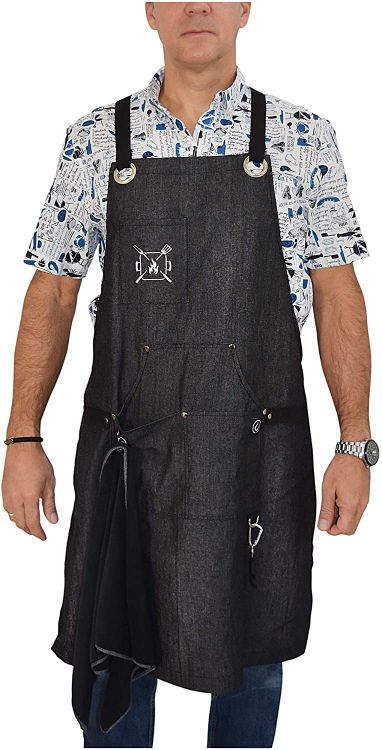 Grillnovations Professional Grade Apron
Grillnovations kitchen chef apron is versatile and sturdy enough to be used in front of a hot barbeque grill, ensuring that you keep your clothes clean. It is made from highly durable and breathable cotton soft fabric. It is made for both men and women with convenient cross-back straps for a great comfortable fit. The height is adjustable to 27 inches and can fit up to a 50-inch waist.
Advantages
Colourfast and machine washable for easy, non-fading clean up.
Embedded magnetic holder is convenient for keeping towels and small accessories close for easy reach.
Big pockets conveniently distributed to hold and evenly distribute weight of cooking tools when being carried.
Denim gray makes it pretty stylish.
Disadvantages
Might be too long/tall for petite sized cooks.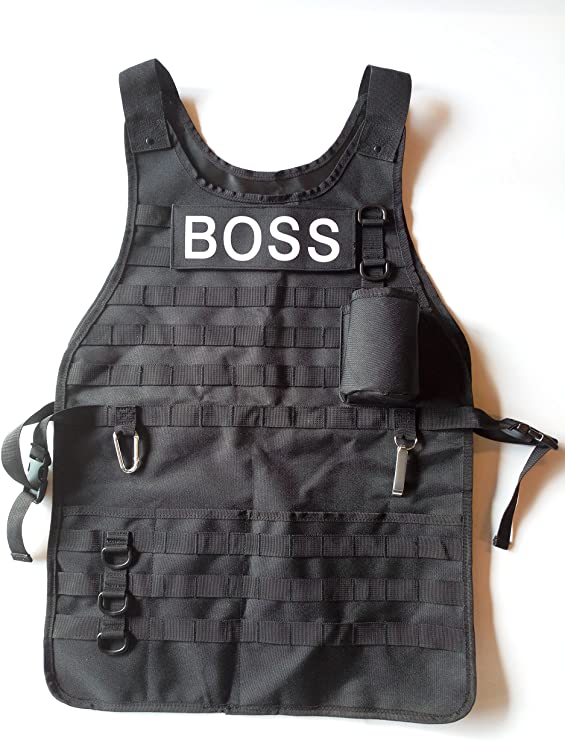 Caliber Gourmet Tactical Molle Apron
Most grilling and barbequing happens outdoors so the Caliber Gourmet apron is a good choice to bring with you for camping our outside grilling. This BBQ is made from Oxford material. This apron is made for outdoors and promises extreme durability.
The MOLLE system provides enough pockets to carry grilling equipment and condiments necessary to provide all your grilling needs outdoors without feeling too heavy. It can instantly make you feel armed and ready to grill whatever grub you want! Battle the grill like a pro!
Advantages
Made with MOLLE (Modular Lightweight Load-carrying Equipment)
Perfect for outdoor grilling and camping
Has a fun velcro label fastener for name patches
Hook closure design makes it easy to put on or pull off
Disadvantages
Not Machine washable because it has metal in it.
It's shorter than most aprons and isn't fit for tall men.
Material feels cheap and the style is not appropriate enough for normal backyard barbecue.
Final Verdict
Look your best whenever you are at the helm of your grill with 2022's best grilling and BBQ apron for men, the ASAYA Chef BBQ and Work Apron.
Although this apron weighs a tad heavier than most, the quality of its material truly provides you with something you can wear and rely on for a long, long time.
It is the perfect choice for any griller who wants to keep his or her tools handy and easily accessible without worrying about wear and tear. It protects your clothes from any backsplash from sauces or ash and soot but is not difficult to clean. Throw it in the washer and it's done!
What to Consider When Choosing the Right Grilling and BBQ Apron for you?
Apron Material & Fabric – Always consider what type of material the apron is made of. It is important that you pick the correct type which best suits your level of cooking. Cotton and canvas made aprons might be better for indoor or backyard barbecuing while leather and waxed types are better for heavy duty grilling. Also, keep in mind how your apron gets cleaned since every material has a different way of being treated and handled. Finally, consider how sturdy the apron is so that it does not wear and tear easily after just a couple of uses.
Mobility – You have to remember to consider the size, fit and comfort of your apron. Are you able to move properly and freely? Do the straps limit your arm and shoulder movement as well as cause neck pains? Keep in mind how busy you are while cooking and you should be able to work with ease.
Temperature – There are different temperatures involved in grilling especially when you are doing outdoor camping or heavy duty barbecuing. Make sure that your apron is able to withstand the amount of heat you regularly cook with and check if its easily flammable so you can protect yourself from any accidents.
Apron's Fit & Style – Consider the apron's length and coverage if it fits perfectly with your intended usage before choosing. Also, have a clear view on how you want it to represent your style as a cook whether professional or just a home cook who loves to entertain.
Functionality – In choosing the right apron, you have to think about how much you need to be carrying around with you. Consider the pockets and the utilities that come with the product. Will it conveniently carry your mobile phone for quick access? Can you actually carry your tongs as well as other utensils for barbecue without the apron being too heavy? Does it hold a towel as well as other things you want to help you keep clean and organized?
In conclusion, the great thing about aprons is that you can never have too many. It is very versatile and can be used not just for grilling and barbecuing but actually baking, regular cooking as well as ventures outside food like arts and craft, gardening, carpentry etc… It protects your clothes from more than just oil and sauce splatters so buying one, two or more for yourself is not a waste of money but rather a good investment. The important thing is that you know which type of apron you have to use for every scenario. Above all, you must remember the safety and efficiency it brings to you whether you are a master chef, master griller or a simple home cook with great passion for food.

Hi, I'm Adam and I'm a HUGE fan of Food and Cooking.
Do you enjoy grilling sessions with your family while staring at the beautiful fire pit flames?
Flame Gorilla is the site to learn how to have that perfect backyard experience.